Jõulusoovide puu
The Christmas wish tree is made up of the dreams and wishes of children in shelters and substitute homes, sent to Santa Clause. To make sure that these do not just remain dreams, pick a gift from the Christmas tree and make a donation to the best of your ability.
www.heategevusfond.ee/joulupuu
When there's a will, there's a way!
14.02.2015
On 14 February, at the initiative of and with support from SEB Charity Fund, 139 children from substitute homes and safe houses across Estonia participated alongside the 1,429 young skiing enthusiasts in the Tartu Maraton's children's races. This year, participants in the event killed three birds with one stone – they covered the proper race distance for their age, enjoyed the water park, and felt the Valentine's Day spirit in the big and friendly ski family.
The children's races were attended by children and youngsters from 17 substitute and replacement home families across Estonia: the NGO Vahtramägi replacement home Mäe Home, Sillamäe Lootus, Tartu Children's Safe House, Tallinn Shelter for Children, Siimusti Children's Home "Metsatareke", Foundation Elva Perekodu, NGO Maria ja lapsed substitute home in Tudulinna, Foundation Tartu Perekodu Käopesa, Tartu Koidu Centre, Tallinn Children's Home Centre for Infants and Disabled Children, Pärnu Children's Village, Kiikla Children's Home, Keila SOS Children's Village, Haiba Children's Home, Tallinn Children's Home Shelter for Children, Tallinn Children's Home Purde and Hooldekodu Homes.
236 new pairs of skis, 130 pairs of skates and 400 sledges
This year, the participants in the ski marathon who contributed to the purchase of winter sports gear for children without parental care were provided with special-design chest bibs for the marathon, in partnership with SEB Charity Fund and Klubi Tartu Maraton. Twenty-six ski enthusiasts made a contribution this year, and at the beginning of February, 236 pairs of skis, 130 pairs of skates and more than 400 sledges were given to the children with the support of the participants in the Tartu Maraton and the 7,000 permanent donors of the Fund, so that the children could enjoy the winter and physical activities.
Many little marathon-enthusiasts were skiing for the first time as they started on their 300 metre to 1.8 km long race track, and were very inspired by this great experience. An experience like this gives lots of positive emotions to children, helps them forget about their daily worries, and allows them to immerse themselves in the hobby world – all this develops their independence, go-getter attitude, readiness to take on responsibilities, and bravery.
The basics of falling and a live sports channel by the window
Children started preparing for their race weeks ahead. For many children, their skiing experience had been limited to sports days at school. And the smaller ones hadn't even had skis on before this winter. So, for quite a few weekends already, as long as there was some snow, children on skis were seen in action around several family houses.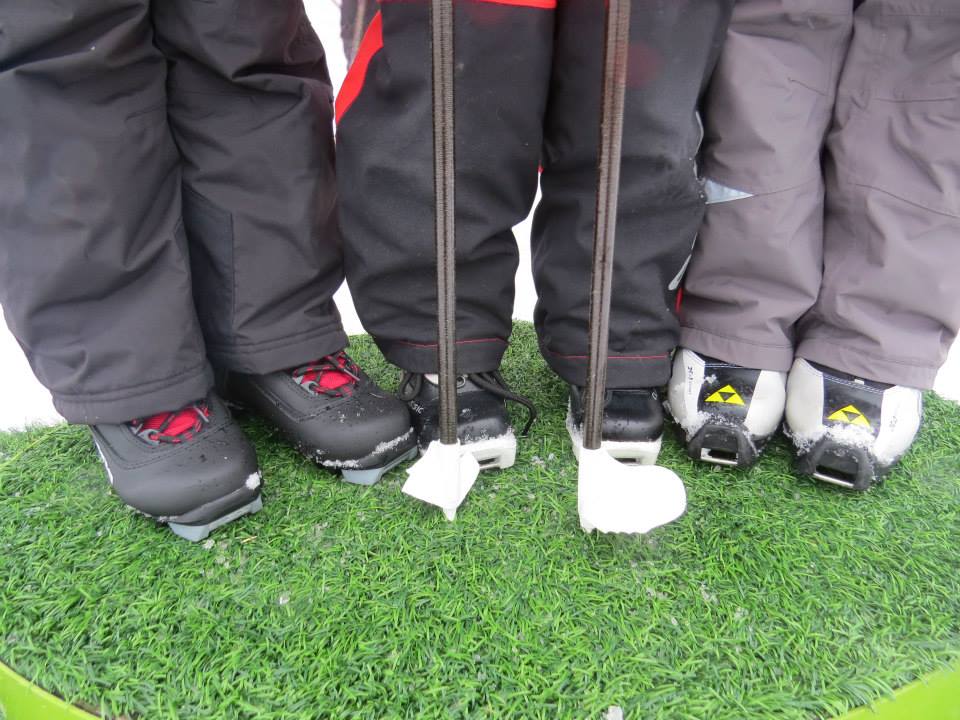 The teachers practiced skiing with the children every day. Children learned how to ski down slopes, practiced double poling and skate skiing – instructed by older children who had learned skiing at school. A teacher who had never skied before learned how to ski down slopes according to the children's instructions, saying it was a great experience: she felt empowered when she finally managed to stay upright when going downhill. The children had lots of fun watching her.
Going downhill, which seemed a bit frightening at first, was mastered by almost everybody, and younger children saw there is nothing bad in falling. The teacher fell many times and was not at all frustrated, but kept trying and trying until things started to work out. Every day when the pupils of the elementary school went to the hill behind the kitchen of the family home to learn downhill skiing, the children at home took seats on the chairs by the window to enjoy this "live sports channel". Together, they also checked online for the videos and photos of the children's races from previous years, so that they could have a sense of what to expect.
The children at some homes had almost a week to practice with their new skiing gear before the ski marathon. After school, they were glad to put on the skis and do some laps in the park to feel more confident about the upcoming race in Tartu. At one home, the skis that were ordered arrived the evening before: there was lots of joy and the children carefully hid their treasure underneath their beds, within their reach. In one family, the three little ones with Down syndrome were especially glad about the new skis. This Valentine's Day, they did not yet attend the marathon, but are now practicing a lot for next year's event – they started out with putting skis on in the house and eagerly waiting for the snow.
However, before the race, a wave of flu took down some of the sports enthusiasts, so their numbers were lower than expected. The stronger ones started their journey on Valentine's Day morning.
Great expectations and little fear
On the morning of the race, everyone was ready early: holding skis in their hand, sandwiches and swimming gear packed in rucksacks, while impatiently waiting for the bus to take them to Tartu. On the bus, some children eagerly chatted about the places they expect to achieve; others were talking about how to ski and how not to; how to use your legs and stay upright when going downhill. A few were a bit worried as they hadn't skied in a while and did not remember the correct techniques; a few were afraid of looking silly if their friend were to pass them by...
In some families, everyone was excited to compete in skiing, whereas in others, they were more modest, expecting to finish last in the race, and weren't even motivated by the fact that everyone is a winner in the children's races. The smaller ones were really eager to get on the track to see how their new skis slide, and nothing else mattered! Renzo and Reino kept asking impatiently how much more there still is left to ski.
It came as a surprise to some children that there is a song festival ground in Tartu, just like in Tallinn. The children learned that there is one similar to that in the capital, only smaller in size.
Friendly competition and snow-covered knees
The weather was a wintery spring day and good for skiing. Many of the children were very independent and informed, finding the registration desk as soon as they arrived, giving their names and receiving their numbers; after that, they found the start and finish lines on their own, and the older children put on their numbers on their own as well.
While some were trying on their gear and looking for skis and ski boots that fit, others were practicing standing upright on their skis – the winter this year has not given many opportunities for practicing. Some were able to enter the track right away, some had to wait a while. But all this was nothing, really, as it was nice to go and hug the mascots or play with the balloons while there was time. Older children used the opportunity to go and find their old friends, to watch the race together and share impressions. A 9-year-old boy was fascinated with the ski rental bus and, for him, the nicest person at the event was the one renting the skis.
Every start was exciting, filled with the spirit of competition and a slight feeling of anxiety. Every little head was thinking: "How will I do?" and "How will other children in my family do?" They eagerly rooted for their close ones, but had enough excitement left for others as well. Those skiing on the track worked hard to beat their friends. Friendly competition brought about quite a few snow-covered knees as they fell.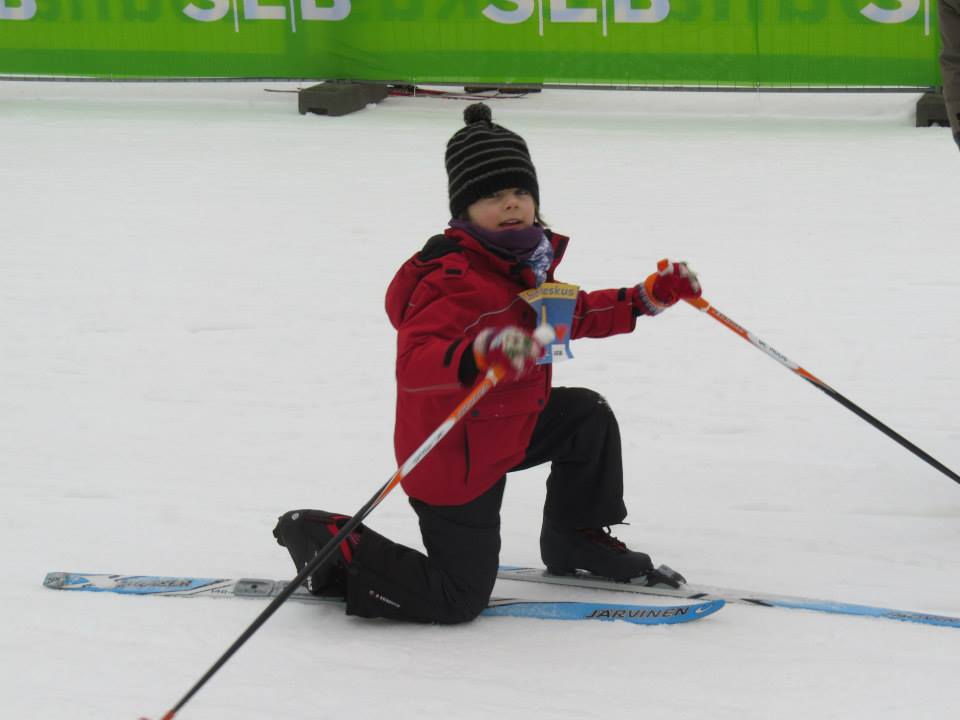 For teachers, it was nice to see that quite a few of the boys, who at first thought they were too big and cool to participate in a children's event, and wrinkled their noses at skiing, in the end complained the distance was too short and they would have liked to ski more and more. In any case, each one of them earned their diplomas and medals with honour. The joy in receiving these prizes was truly heartfelt.
A teacher wrote that it was a true pleasure to observe two girls from her safe house, who were skiing for the first time, and their more experienced friend was glad to share his/her knowledge and experience, assuming the role of a leader and feeling proud and experienced.
Falling is part of the deal
The teachers got to run with and root for every child, so in the end, they had run quite a few kilometres and were quite out of breath. This led to the conclusion that they need to start working out more, as the children were faster than expected on skis and they had to struggle to keep up with them. The older children independently kept an eye on their time to go to the start line. The smaller ones were instructed by their teachers. Everyone covered the distance expected and no-one even thought of quitting. Some had to be cheered every once in a while - if you can't go on anymore, you really do need to try harder.
The children were excited about the hill in the middle of the track and wondered about the age group starting at which they need to go downhill. As the hill was pretty steep and there was a curve right after the descent, a few children were afraid they would fall. The teachers cheered them up, saying there is nothing bad about falling – you get up and continue. In the end, nothing bad happened and everyone got down the hill unharmed. A few stayed upright, a few fell, but falling is really part of the deal. It was a nice touch by the organisers to put a few helpers on the hill, who helped the "big" little sportsmen up again.
Racing in a crowd also gave the children the opportunity to learn how to reckon with fellow competitors as well. They had to avoid bumping into others and when going up the hill, consider the risk of someone falling and sliding into them. A 7-year-old girl was on skis for only the second time in her life, and lacked both the necessary skills and the stamina, but with rooting and encouragement from her companion, she bravely raced the distance, clearly happy about her accomplishment.
Whoosh! up the hill and whoosh! down again
The bigger ones, who had quite a lot of time left before their start, covered quite a few kilometres practicing and warming up before the race. The smaller ones were summoned to do warm-up exercises at the initiative of a bear mascot before the race. A true sports enthusiast, Sergei (8) thought there is no point in doing the warm-up if he is not cold. The talk about the need to warm up before physical effort did not impress him much, but when his attention was drawn to the fact that all true sportsmen warm up before competitions, he began studiously participating in all exercises.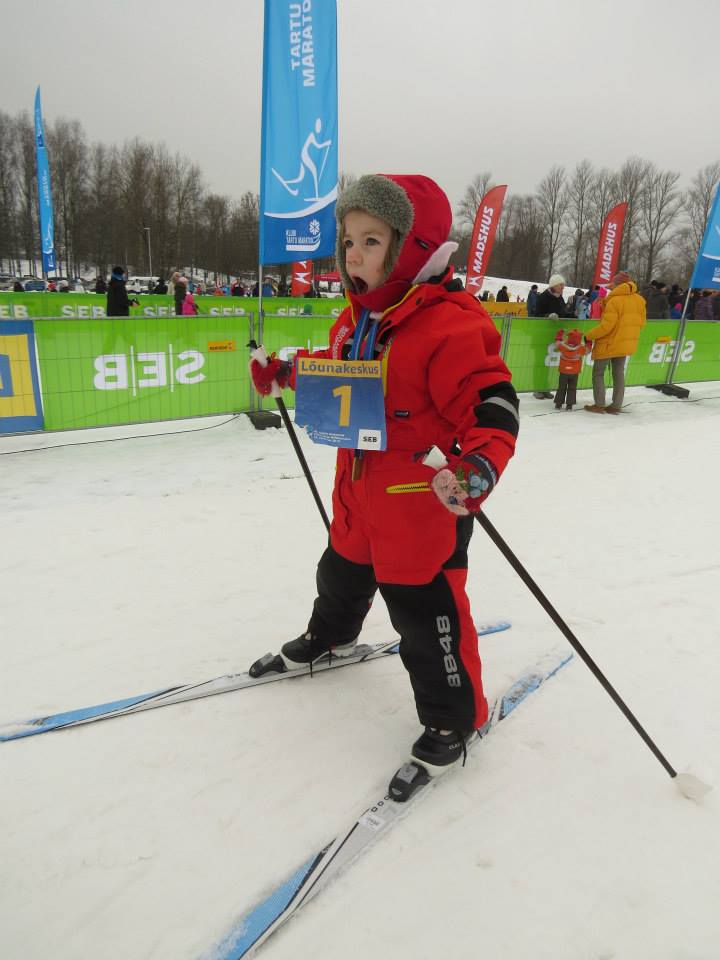 Twelve-year-olds Jane and Annaliise started out at a steady pace. Ahead, they were also faced with the hill that took them down a few times. This was very exciting for the children: afterwards, they eagerly described getting back up and skiing on. While the girls were taking on the hill, the boys were standing at the start, looking all matter-of-fact. The boys started out more energetically and they were quickly gone! Whoosh! up the hill and whoosh! down again. Before they knew it, they had reached the finish line. The boys experienced success with their speed. This time, the distance was only 1.8 km long, which was like a warm-up lap for the young sportsmen. But they achieved their goal!
Karina: "We were cold, but we had fun!"
Jekaterina writes: "We skied more than a kilometre and, in the end, got a medal. I didn't fall even once on the track or anywhere else. Skiing was cool!
I liked how everyone fell and we laughed about it together. I really liked how Toomas fell headlong into a snowdrift and how a man helped me get up. I liked skiing with the others because they were there with me and did not abandon me. I think this was the most exciting day of my life."
Karina adds: "We skied together and when we went down the hill, we fell and started laughing as it was so funny. We were cold, but we had fun!
Tatjana finished with blushing cheeks and said: "The skis were nicely slippery and it was a fun race. I had such a good time; I did not get tired, but my body got nice and warm."
Ainar and Janek aimed at covering the distance as quickly as possible, and so they raced to be among the first to finish. Natalja and Ele took their time to enjoy the race, get a sense the large crowd of skiers and slide on, accompanied by many skiers.
The children liked the track, as they said there were plenty of uphill and downhill parts and cross-country sections as well. Everything just in the right amount. For older children, who have had a bit more practice in skiing, the distance could have been a little longer. They just wanted to ski so badly.
On the track, everyone did their best. Even though her skis did not really hold while going up the hill and she lacked the correct technique, 12-year-old Ira did not give up and got up the hill on all fours. After all, the aim was to get to the finish line. Eight-year-old Nikita made such an effort on the final stretch to the finish line that, before the finish, his skis got tangled and he fell into the snow, but got up right away to accept his first skiing medal.
It was the first official ski race for Sergei, as well. Santa Clause brought him skis for Christmas, and despite his eager practicing, Sergei was worried about whether he would be able to finish the entire long distance. To provide him with encouragement, SOS-aunt Alla accompanied him onto the track, and he successfully crossed the finish line despite a few falls.
At the end of the race, 12-year-old Olga and 10-year-old Anton were quite upset because their skiing skills were not that profound yet, so they fell on the track and were in the way of others – who would like that! But they quickly felt better after having a cup of hot tea and heading towards the eatery.
Even though Renzo's skis kept coming off his feet, and he fell a few times and broke a ski pole, he successfully finished the race on his teacher's skis and was very satisfied in the end. Little Kertu's cheeks were blushing and she had a smile on her face when she came from the track. This was already her third marathon, and she really seemed to like it.
For the young skiers, the most interesting part was to get up the hill and down again – even though they thought getting up could have been a little easier. The track was nice and snowy even though the surroundings were quite bare – kudos to the track masters!
A taste of gold and a golden experience
The children really liked the fact that everyone got a medal. When the medal was put around his neck, Sergei felt like a true winner. Quite a few of the children wondered if the medal was made of gold. The boys bit on the medal to see if they were right. Kairo said this is how you test if it is real gold. He has seen it on TV while watching sports contests. He thought it's probably not real gold, but close to it. After all, he doesn't really know what gold tastes like... Anyway, now he can proudly line up the medals achieved in other fields with his football trophies.
Everyone was happy to have skied through the track. One boy said it was the best day of his life. After the race, quite a few children wanted to register for next year as well. Children need to be trusted and encouraged – this is how they get experience, the teachers admitted.
The atmosphere at the marathon was friendly, children inspired each other and were very excited. Tartu Maraton was attended by lots of children from all across Estonia, and they all enjoyed this feeling of unity.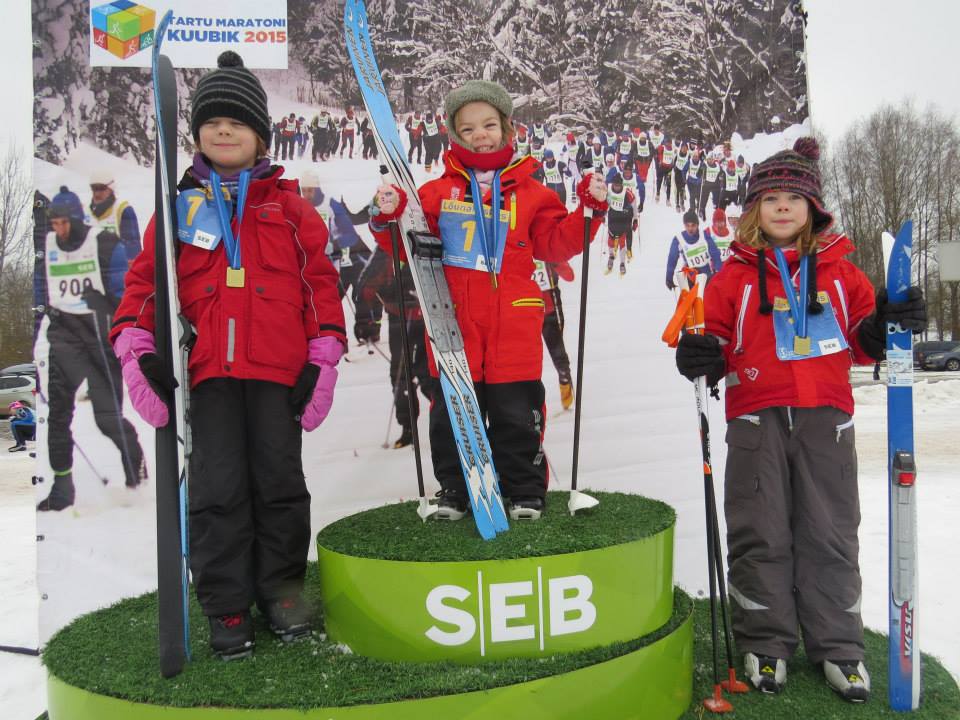 For some children from safe houses, this was the first time in their life on skis – so it was a special experience and they were very happy with the sports day. Those children from safe houses who skied faster than the others gained confidence and a sense of satisfaction, whereas those who lacked the experience and skills got motivation to practice more. It was a great opportunity for children to put their skills to the test and many of them are already looking forward to next year.
One teacher writes: "I felt sorry for a boy from our substitute home who was supposed to come with us, but the morning before the departure decided it is a pointless event and did not come along. Of course, no-one will be taken to the event by force. In Tartu, we saw two of this boy's brothers from other substitute homes, bravely dashing along the race track. When we got back home and told the boy, he was really sad for having said those silly words in the morning."
That day, participation was clearly more important than winning. If at the bicycle marathon in the autumn, the children were competing with each other as to who will defeat who on the track, then on the ski track, everyone was instead competing with the curves, ascents and descents, and everyone who crossed the finish line and got a medal was a winner.
All participants got plenty of positive emotions, joy from doing something, and a sense of belief in themselves. And hopefully, they learned that every effort is worth the result. It was nice to see that quite a few children who generally tend to give up too easily, thinking they can't do it anyway (a bit more complex schoolwork, etc.), gave it their all and even more on the race track. Perhaps this experience will help them give their all in many other fields in life as well.
Relaxation at the Aura Centre Water Park
After the effort on the ski track and an invigorating lunch, the children headed to the already familiar Aura Centre Water Park. Thirteen-year-old Artjom, who visited the Jurmala water park at the beginning of the year, was now of the opinion that Aura is pretty small – but not in a way that "it is rubbish", but more like "I've been to both, so I know about those really cool slides, but this one is also fun".
Arriving at Aura, everyone's energy levels were up again and over the next three hours, the children took advantage of all the fun offered by the water park; if they got cold, they went to the sauna to warm up. In the water, they forgot about the competition on the ski track. The two hours of swimming and splashing around wore out the teachers, but not the children, who would have liked to stay much longer.
The teachers waiting for the children at home were more than sure the dead tired skiers would drop into their beds right after getting home. But no such thing! The children were energetic enough to run around in the home yard after the daily emotions from skiing and the water park. Some of the ski heroes living closer to Tartu wanted to put on their skis again and go skiing outside.
Participate
Thank you, if you have already supported our charity programme or if you are going to do it in the future! Sign a standing payment order contract in SEB Internet Bank for 3 euros a month or support with a single donation.