Lastega ja lastele
Auhinnaga "Lastega ja lastele" täname ja tunnustame inimesi ja organisatsioone, kelle uued algatused või pikemaajaline tegevus on positiivselt mõjutanud laste ja perede käekäiku.
Tunnustusauhinna taotluste voor on avatud
15. aprillini
.
Esita taotlus
When I grow up, I want to be Lotte, too!
05.07.2015
On 2 July, 350 children from safe houses and substitute homes visited Lottemaa with their teachers, spending one of the sunniest days this summer with the big favourites of every child: Lotte the Puppy Girl, Bruno the Cat, Jaak the Fly, Uncle Klaus and other unforgettable theme park characters.
For children, a group outing is an experience unto itself, one that is impatiently awaited. Preparations for the trip begin early, and there are excited enquiries about what lies in store at the destination. Some children had been to Lottemaa already; however, it is a place that children want to return to again and again.
"Lottemaa! Lottemaa!"
In one family, Lottemaa happened to come up during a discussion with the children about a month ago, and they said how terrific it would be to finally visit the place. As the opportunity to do so presented itself, children felt as if they had been handed invitations on command.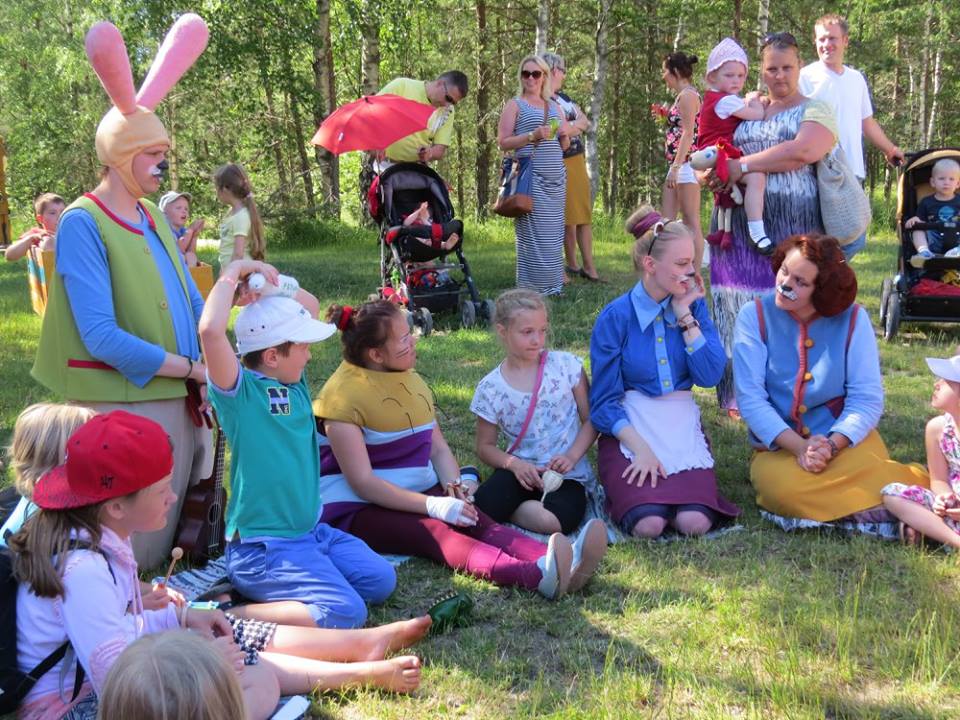 In another family, the children with their teacher, back from her holidays, looked forward to the trip with great excitement during the entire week leading up to it. Little Ruslik was worried whether he would be able to go – the year before he had been left behind, since the boy was just 2 then. However, the little fellow's eyes lit up when he found out that he, too, could come along – for half the evening, he proudly shouted, "Lottemaa! Lottemaa!".
At a third home, in a way the trip began as early as on the Wednesday of that week. When the teacher reminded the boys in the morning that they would be going to Lottemaa the following day, this caused quite a bit of excitement. There was discussion of the attractions and how great it was to finally be able to go there. Getting up earlier in the morning was no problem.
For some of the children, it was their first time at Lottemaa. Others, who were visiting the theme park for a second time, knew to expect much more on this occasion. Following the visit the year before, they had the savvy to ask Santa Claus for gifts of Lotte, Bruno and other characters from the Lotte from Gadgetville animated film, and all of the animated films have been subject to multiple viewings by now. Right away, children made it known whose house they wanted to visit first. In other words, this time around their visit was much more conscious – they felt pride recommending fun activities to others who had not been to Lottemaa before.
For some children, however, this was the first long trip of their lives – in other words, an entirely new experience. Some children, with a different cultural background, had not even heard of Lotte before; nonetheless, they were full of excitement and, as they alighted from the train, kept asking: "Gde eta sobachka?"
In one family, schoolchildren used an atlas to learn to read a map in order to find the most direct route to Lottemaa. Because of its location, one family could afford the "luxury" of riding their bicycles to Lottemaa. In the morning, there was quite a bit of confusion in the rush to make it there on time: some had not put their helmets on yet, some were missing their bicycle locks, others had not grabbed their water bottles... The group rode at a fairly brisk rate of speed – great practice for their bicycle trip in August!
Flying over Lottemaa
Once they caught sight of Lottemaa, it was as if children grew wings – they veritably flew to the gate, where the arrivals were greeted by Jaak the Fly, who provided the children with wristbands. The rush to explore was so great that children wanted to run to see and touch everything.
At Gadgetville, children could zoom down slides, ride a merry-go-round, craft toys in Oskar's shed, marvel at the firmament at the planetarium, drive a car and lift a kettlebell at the stadium, watch the play Wedding of Jaak the Fly, and do lots of other things. The children had plenty of time to busy themselves inside the houses and activity rooms, ride the flying machine, listen to stories, take in the play, climb the adventure trail, and just enjoy the fine weather. Children met with their favourite characters, getting to know Susumu the Bee, Bruno's father Mati, Lotte's mother Anna and many other wonderful Gadgetville characters – in addition to Lotte and Bruno. It was a fine day, and many families were also able to enjoy a picnic at the seashore, with the braver ones getting their feet wet or diving right in.
On arrival, little Artem grabbed his teacher by her hand and literally lugged her forward. The idea being: Now we'll go there and now there! Children were happy to have a chance to act as guides for their teachers, as quite a few things were familiar to them from memory. Whereas normally it is the adult who directs any kind of movement, this time it was the other way around. And so they made their way from one point to the next, checking what there was to see and do, and where.
At first, the route ran along a climbing equipment trail, where first the rules had to be reviewed. Although a couple of sections required some children to muster that extra little bit of stamina, their curiosity and their desire to experience completing the trail overcame their fear. The children would have been happy to just stay on the climbing equipment trail, with everybody really reluctant to leave there – they wanted some more, and then some more, and then some more! Here, all children got a chance to put their abilities and skills to the test. Children particularly enjoyed riding the cable car. Whereas there was some jostling in the queue early in the day, children soon learned to wait a little and queue for their turn to be able to climb on their favourite amusement again.
The rabbits' house offered opportunities to run up lots of stairs and zoom down spiralling slides. During lift-off on Lotte's flying machine, there was discussion of why Gadgetville looked deserted. Children also explored the Internet Discovery Tower – it is quite tall, and you can see far from the top!
Children were enraptured by the theatre: their eyes lit up when they saw familiar characters, and there was no end to their delight when they managed to see the play for a second time on the same day. At the shop, it was nice to encounter the same puppets they already had at home. There was also delight when they could choose for themselves the surprise included with their Lotte meal – bubble wands were popular, with children comparing them to see if they were identical...
At the seashore, many were able to have their pictures taken with Lotte, and the flying machine provided an exciting experience that would not be forgotten anytime soon. At the same time, the flying machine prompted a discussion of what, in the end, is real and what is not – no shortage of smarts there! Even the younger ones liked the flying machine. Aleksandr just could not understand how the shed could actually lift off the ground. The teacher then explained that the shed did not actually fly but that watching this kind of film simply made you feel as if you were flying up high. But the younger ones actually came away believing that they had been able to fly over Lottemaa.
Lots of terrific things and characters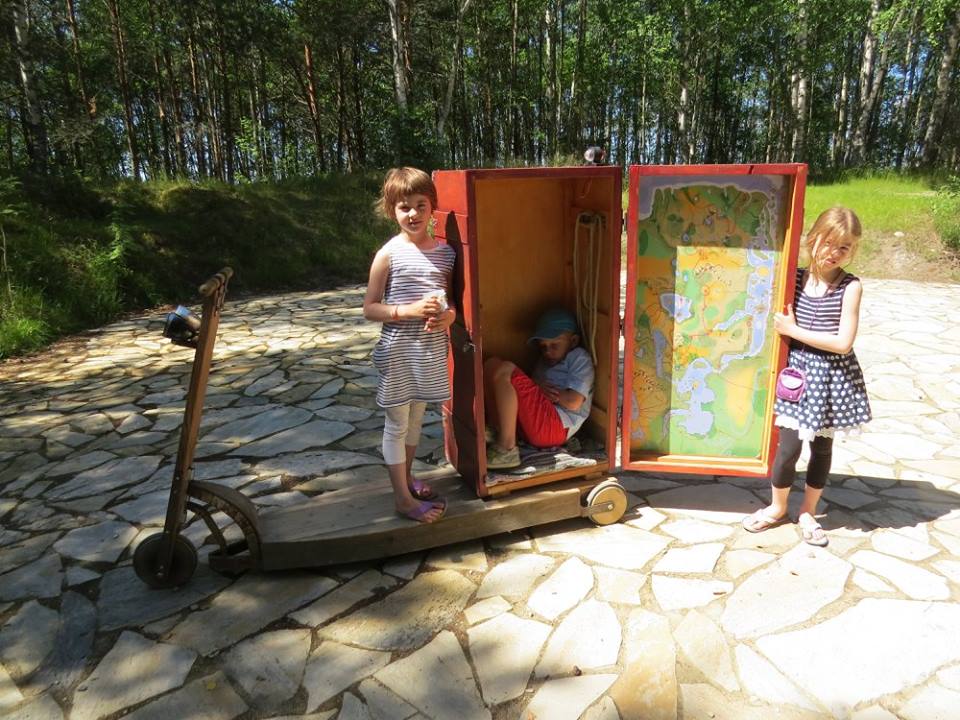 You could exercise at the stadium. Some children did not quite manage to vault themselves over the bar – this was a teachable moment about not giving up, listening to advice, and practising several times for a good result that is certain to follow. You could tell right away that even a small achievement like that was something special for the children, boosting their self-confidence. Like true strongmen, some were lifting a bar with weights on it. Excitement was also caused by a one lap race for curd snacks, since everybody got a curd snack – nobody missed out, and there were no losers in the race!
In the friendly energy area, sustainable consumption was discussed; there, it is also easy to talk about more serious topics, since children themselves ask the "why" and "how" questions. Boys really liked the mock-up of a power plant and discussed its construction with some interest on the return trip. The planetarium, too, was most enthralling.
Everyone also really liked Lotte's house, which was so cute and real and inside which you could zoom down a slide. Lotte's mother left the little ones with an especially warm feeling. And it was a marvellous sensation holding hands with the Puppy Girl, who had already become as intimately familiar as a member of their family, from the animated films. Younger ones enjoyed sliding down chutes – they quickly learned to use blankets to sit on and to come back up again from the bottom.
Local characters were truly terrific, too, helping to conduct activities with children inside the houses, drawing, chatting and being very approachable all around. There was a visit to Bruno's house to attend a music lesson. There, children could contribute to the making of music and then have their pictures taken with Bruno. One little boy overcame his fear of people dressed up as characters – these costumed creatures no longer frighten him.
Carts were a cause for much delight. The game of "who pulls whom" went on for the entire time that children were at Lottemaa. When children were not in the process of carting one another, they got to cart bags. The teachers, too, got to serve in the role of a horse.
It was good to do a bit of building for a change. Riding scooters went on for a while, and there was jumping and prancing. One boy, who just loves machines that you can sit on and push with your feet, was veritably flying and looked most content.
At the beach, children got a chance to usher in their own swimming season for the summer. While there, children learned to tell a sea from a lake: the water in a sea is brine, whereas their home lake, where they go swimming in summer, contains freshwater. A couple of days after Lottemaa, one big family went to Lake Peipus, with the children thinking that the water in it must be brine, too. Later, checking the map revealed that Peipus is a lake rather than a sea, although it does resemble a sea because of its size. Going for a swim was the right time to go over what you have to remember when you go into water: safety first!
At Lottemaa's café, children got a chance to display patience, as they had to wait for their food for quite a while. They made use of this time chatting, and children blew bubbles with bubble wands received as gifts.
Lessons in getting lost and not getting lost
Quite a few little ones experienced getting lost, as it was very crowded. One little girl, however, did not even realise herself that she had been lost for 15 minutes... In the opinion of the teacher accompanying her, the best remedy against getting lost is spending more time outside.
Another teacher wrote in her feedback that the visit to Lottemaa turned into something of a training event, which taught children to keep an eye on one another to prevent anyone getting lost. Children also learned to be considerate of one another. Many children who had taken up residence at substitute homes more recently had never seen or experienced a crowd that big. As a result, children walked around holding hands like friends and communicated effectively in spite of the language barrier. This way, Lottemaa brought closer together both the old and new members of a family!
In one family, there was support for a request from children aged 8 and older to make their way around Lottemaa separately from the grown-ups. The rules were made known, and the children were given an opportunity to be on their own. Following the rules posed no problem; however, the children quickly rejoined the adults, as they did not have the courage to explore and try things on their own. Confidence paid off, and the children came away richer for the experience. Teachers were a little surprised that the children would exercise so briefly the "freedom" they had wrangled.
In another family, it was agreed with the little ones that they would hold their teacher's hand at all times as they made their way from one place to the next. At times, children forgot this rule, particularly when they had been somewhere exciting for a while and did not want to leave there at all, with the teacher having to remind them that they were yet to see half the things.
It was a long and hot day, and the younger ones got quite tired by late afternoon. The long walk to the car park was made more fun thanks to an engaging walking game, which dispelled any thoughts about being tired for the younger ones.
One little girl, however, went looking for Lotte the Puppy Girl, since at home she has a Lotte who is her huggable pet sleeping buddy. The lass went quietly missing until all of a sudden there was an announcement that a cute little girl with curly hair, her name beginning with the letter "A", was waiting for someone to collect her at the ladybird's place...
One little boy, who usually does not talk very much, got lost whilst listening to Uncle Klaus tell a fairy-tale. All of a sudden Klaus' suitcase popped open, and the boy, smiling, came out of it, as if nothing had happened. He just loved hiding! It was clear to all from his look alone.
Lotte is actually not as small as she appears on the soft drink bottle!
Recently, Kenu has developed a liking for acting and he was enraptured with the play. Mikhail, however, was overjoyed to be able to climb: as a lively boy, he loves climbing and physical activity, and he had not seen or experienced anything like that before.
Daniel especially liked the big slide and the pretty, tall and colourful houses and towers. On the top floor, he was too frightened to stand up, waving at his mates whilst down on all fours. On this occasion, Roger did not have to prove that he was a tough guy and was enjoying himself thoroughly on the flying machine. In the meantime, Mari Liis, not much of a communicator, recharged her batteries in the woods, eating blueberries.
Nikita liked the seaplane harbour, he was interested in all kinds of machinery and in all the places, and had to touch and try everything for himself. Paula relished every minute of the music lesson, preceding it with a musical performance of her own: she organised a stage and microphone for herself.
It came as a surprise for Eliise that theatre could also happen outdoors. A vivid impression was also made on the girl by the pigs' house, which featured separate rooms for the mother pig and the little piglet. Timmu was fascinated with the planetarium, listening and looking with his mouth wide open.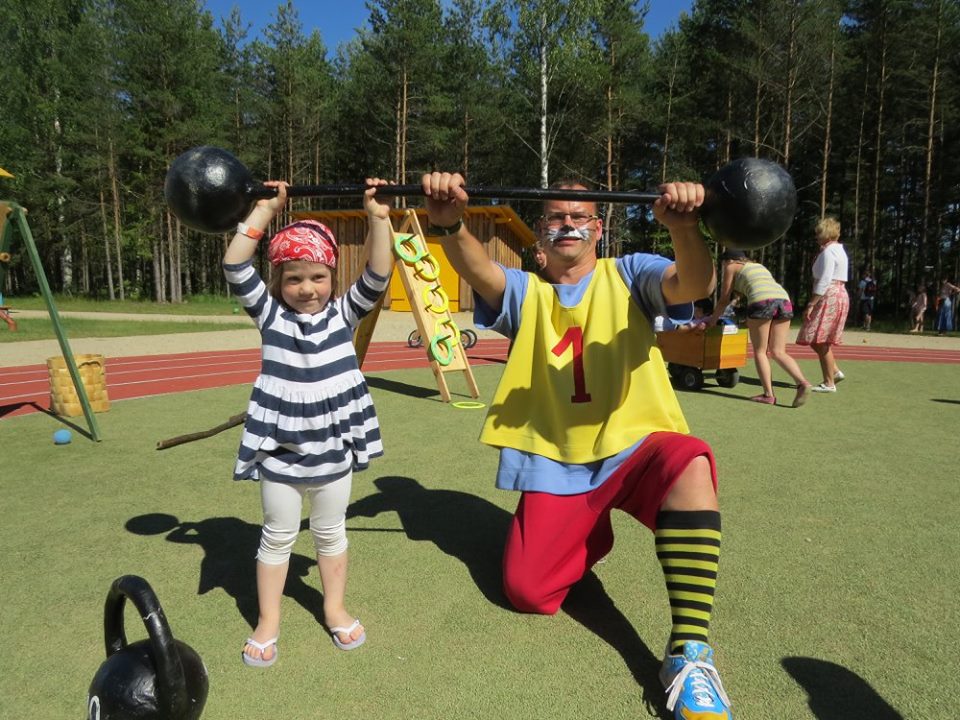 Kristjan found a friend in Jaak the Fly. Jaak kept a close eye on the child. When there is a fly on the window at home now, Kristjan will not allow it to be swatted to death, since it is definitely Jaak the Fly who has come to visit him – Jaak having promised to visit Kristjan every now and then. And so children have started looking after insects more.
Martin, Andra, Aleksandra and Mikhail would have loved to stay in Bruno's house all day and play – there were heaps of sound-making musical instruments as well as cars and machines crafted from wood there.
Aina, however, says that Lotte is now always with her in a book. Amir was deeply impressed by Eduard the Bear, who is always losing things. The boy now picks up anything left behind and takes it to the shed. And when Eduard comes to visit, he can have the lost things back.
Quite a few children were astonished that Lotte is not as small as she appears on the soft drink bottle, but is rather quite a big girl. One young lady stated her opinion that she would become Lotte when she grew up. Another promised to become a pilot of Lottemaa's flying machine, as soon as this would be permitted at Lottemaa. One perceptive child was astonished by how Jaak the Fly could marry several times within the space of a day, asking if that is how people actually marry… Another marvelled at the pig family, who were the calmest and quietest in all of Lottemaa, asking if they were ill...
On board the coach, Priit administered a quiz based on the map of Lottemaa, testing everyone's memory for numbers. Sandra, on the other hand, waited for pictures taken of her with the ladybird.
Teacher: "What did you like?" – Children: "Everything!"
When children were asked what they had liked best, they could not single out anything in particular, but rather divulged a mass of likes in rapid succession.
A family with disabled children had a large number of people accompanying them. They were able to choose a suitable route and walking pace for themselves, looking at whatever happened to strike their fancy and resting when they felt tired. Two children with intellectual disabilities were accompanied by a dedicated person who was monitoring the children constantly.
The children enjoyed everything they saw and heard and, when asked, "How did you like it?", replied in unison: "We really liked it! We liked it very much! Wonderful!" – "And what did you especially like?" the teacher enquired. "Everything!" the children replied. However, a little while later the chorus broke up into individual voices. Alina, 10, announced that each thing is interesting in its own way. Renno, 13, praised the play for being terrific, and Hans, 10, said that the flying machine was terrific. Enthusiastically, children were asking when they could go to Lottemaa again...
DIY menu – a fun and relevant experience in management
This time, every participant received a EUR 7 food coupon from SEB Heategevusfond. While still at home or already on the road, the teachers and children were able to pick together from the menu what the children wanted to order. Children got a chance to make a purchase using their food coupons. It is important for them to gain some experience in managing their own affairs: when to eat, what food to choose and how to combine products.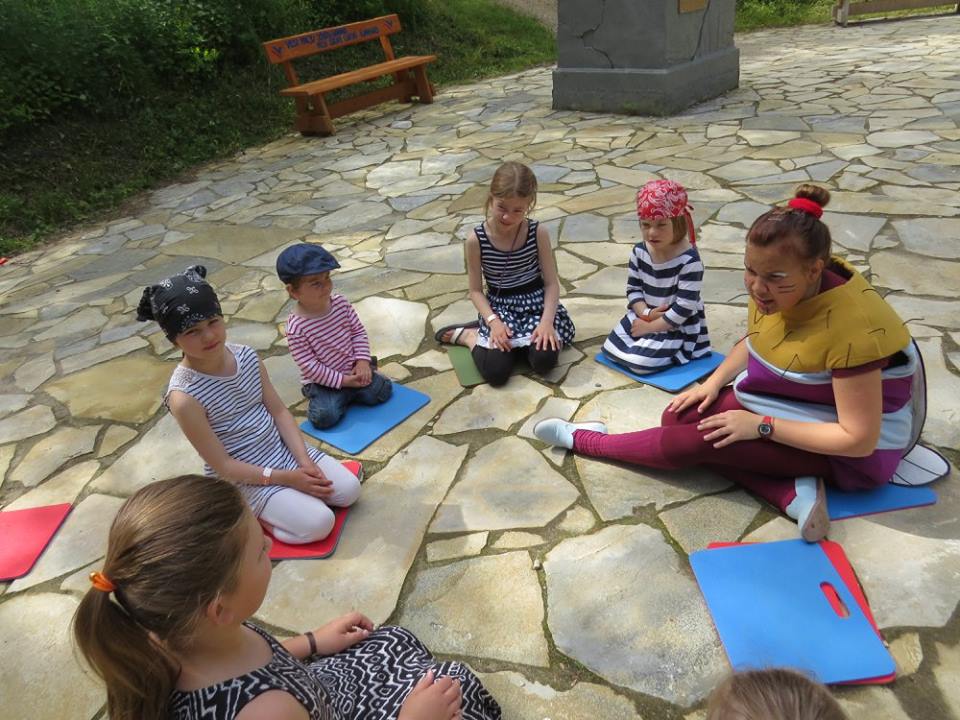 Using food coupons was a valuable experience. The children really liked being able to choose by themselves what they wanted, based on the amount of money available for them to use. Although children choose their own clothes and food at the shop wherever possible, every experience of this kind is very educational.
And so children got an opportunity to also put their mathematical ability to the test, by adding up the food coupons for the best and most attractively priced offer possible at the restaurant, without any money going to waste. They managed brilliantly – for some children, it was their first experience of making a purchase independently. Although some children indeed had to be encouraged to go and make their own purchases, they soon had reason to be proud of themselves.
In many a family, the coupons prompted a discussion of what kind of menu to choose in order for the lunch to be as sumptuous as possible. This kind of discussion teaches a child to calculate later in life whether the same amount of money might not buy several different options instead of one set thing.
Teachers pointed out that on this occasion the trip provided a good lesson in rationality and in the need to do your homework. Using a menu printed out already at home, the children managed to make their selections quite nicely. Whereas most asked for burgers at first, they realised by the day's end that they would have gone hungry on a meal of burgers. Collective use of the coupons secured both a hot meal for lunch and a dessert to follow it up. These shared solutions, generated during children's own discussions, provided visible satisfaction.
Excitement, entertainment and new experiences all combined
Many teachers observed that children behave differently on outings than when at home: they are much more grown up and business-like. Teachers, on the other hand, get a chance to see their children's various abilities in new situations.
Feedback highlighted that older children were given more freedom on this occasion: this year, it was agreed when and where everyone would meet up again, and children got to walk around and go about their business independently. This way, children learn to plan their time, honour agreements and act independently.
An important lesson from the outing was also the consideration of others. Quite a few younger children nearly got lost in their rush to explore, but were quickly found again thanks to everybody's collective effort. Going on trips together outside their home, children develop closer bonds both among themselves and with their teachers. One teacher, who had been away from the life of a children's home, observed that it is this kind of outing, breaking with routine activities, that provides a good way to rekindle old bonds with children or create new ones with those children who have entered the home in the meantime.
The trip to Lottemaa helped to shape and develop children's cognitive ability, their emotional lives and the foundation based on which their values are created. A well thought-out theme park features everything essential – all that is left for a teacher to do is to work out a way to convey all this when she has ten or so children with different interests who all want to experience everything at the same time. One teacher thought that once in a while Lottemaa should organise themed days with local tour guides to provide information on vital and significant topics.
Although some older children, who had been to Lottemaa already, were at first inclined to voice their view that there would not be much to do there after the visit to the place the year before, it subsequently turned out that there were quite a few new and exciting things: the hot air balloon ride, the play and the hammocks were the favourites of many children. Children in one family liked the hammocks so much that on the morning after the trip almost every family house put in a request for a hammock to go up in their garden.
Before their departure, a representative of SEB Heategevusfond distributed small Lottemaa mementos to the children – a Lottemaa coin and a bouncy ball for every participant. The money and bouncy balls were admired for quite a while, and there was concern over not losing them. Now it is so exciting to watch animated films about Lotte with children and witness their joy as they recognise the characters!
Participate
Thank you, if you have already supported our charity programme or if you are going to do it in the future! Sign a standing payment order contract in SEB Internet Bank for 3 euros a month or support with a single donation.