Jõulusoovide puu
The Christmas wish tree is made up of the dreams and wishes of children in shelters and substitute homes, sent to Santa Clause. To make sure that these do not just remain dreams, pick a gift from the Christmas tree and make a donation to the best of your ability.
www.heategevusfond.ee/joulupuu
For water to be a friend and not an enemy! (video)
20.03.2016
For the ninth year in a row, Tallinnk Spa & Conference Hotel, with the help of SEB Charity Fund, invited children from safe houses and substitute homes to come celebrate its birthday at the water park. On the second to last Sunday in March, the children and their companions spent part of their water-filled day of fun learning about water safety, as summer – with its days at the beach and fun in the water – is about to arrive.
This time the children were given tips on water safety by the volunteers of the reserve rescue team, coast guards from G4S and a medical professional working in emergency care. The children were taught how to use life vests and introduced to rescue equipment; shown basic ways to transport a person in water and get them out of the water; the endurance of young swimmers was tested to help them realise how deceptive a visual assessment of distance can be; and finally, the children and adults were taught how to act when an accident has already happened.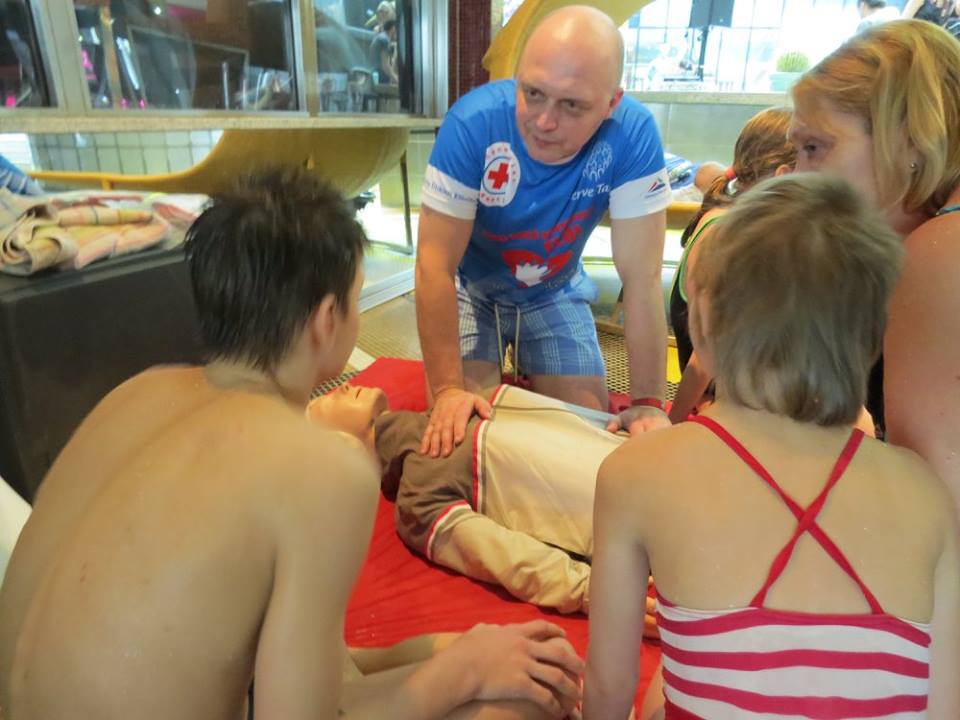 Knowledge of water safety needs to be refreshed every year
Participating in Tallink's water event has already become an annual tradition in many safe houses and substitute homes, serving to mark the end of the winter learning period like a sign that the biggest part of winter is over and spring is about to come. Now that the sun is shining warmly, children are starting to dream of playing in the water and having fun at the beach.
In theory, the children are rather well versed when it comes to knowing how to behave in the water, and that when anything happens, it is important to help each other and not to panic. Many children practice swimming, feel confident in the water and know the safety rules. In theory, acting in the water and by the water does seem simple, and the children have seen accidents and rescue operations in films, but the ABC's of Safety still need to be revised, so that correct behaviour in real life would be instinctive. It is also important to remember that if anything serious happens, one must not just stand around, run away or be afraid of being scolded by grown-ups, but look for help immediately so that grown-ups can help the person in danger.
A familiar and interesting topic for children
When asking the children before the trip how much they knew about water safety and what kind of related incidents they have had, the answers were very different: older children had already passed the respective programmes at school, while the knowledge of the smaller children was based on what they had heard at home.
So, on the way to the spa the teachers and the chaperones asked the children what water safety means to them. They discussed what the children think is important; what skills are necessary to swim and play in the water safely; what have they seen being done, both right and wrong, in water; whether grown-ups themselves always behave correctly; and what to do when a friend is in danger. The teachers were happy to see that the children were quite well-informed – even when they did not know the answer, they were able to offer a solid guess. The children knew that they must not jump into the water at the spa without knowing how deep it is; swim on top of others; that one cannot drink pool water, etc. The children spoke about their prior experiences, and were able to get an idea of what to pay attention to during the training ahead.
One teacher, who had been a lifeguard, gave a short presentation to the children the previous day, which was also seen by the children who did not take part in the trip to the spa. The children showed great interest in the topic, and they asked all kinds of questions throughout the whole bus trip on what they had learned yesterday as well as what was ahead.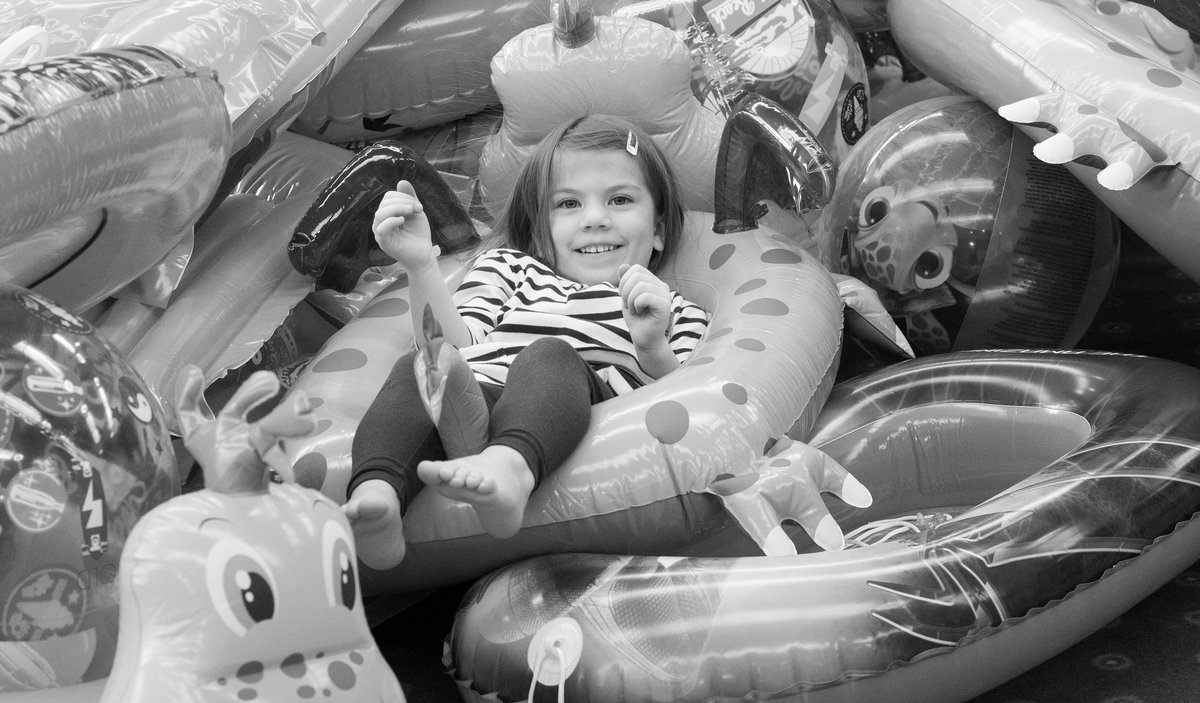 New knowledge, skills and experiences
In most of the homes, swimming equipment was put together in a bag as early as Saturday night, so that one could be certain on Sunday morning that nothing necessary was being forgotten. For many of the children, it was their first visit to a spa. In some families, there were children who did not know what a sauna was. One of the little ones was so afraid of water that he would always refuse to take a bath, but seeing other children playing with the water in the pool, his fear of washing diminished.
The children were excited to see blown-up pool rings and balls in the pool. When heading to the pools, they passed glass windows overlooking the pools and inflatable animals. Andre, who is 5 years old, said, with sincere excitement: "Alice, Alice, look, at what is there, look, at what is there!" Even for an adult the sight was a fun one, but for Andre it was something incredible, and the joy in the boy's eyes was indescribable.
At the spa the ladies and the gentlemen went separate ways to pull on their swim costumes and jump into the pool filled with inflatable mattresses. Having refreshed their swim moves a bit in the crowd and with the welcoming ice cream shake with fries in their tummies, the children were ready to learn new skills in various workshops and information points.
They could put their skills to the test and try to rescue people themselves. Sure, it was just a game for them; but it is through play that children actually learn, being quick and clever when it comes to acquiring new skills. Children will remember such experiences, and this is what is important. The same applies to all other activities. Children are happy to simply swim, but when they can test themselves with some kind of a task and try something new, it only contributes to the overall positive experience.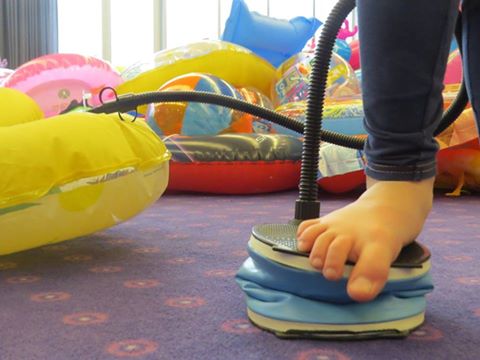 How does a life vest work? What is a life buoy? What to do during reviving?
The children knew that you do not go for a boat ride without a life vest. They also discovered that trying to swim while wearing a life vest was an enlightening experience. They were unable to turn on their stomach no matter how hard they tried, realising that the purpose of a life vest is to keep a person afloat with their face up. They understood that in an emergency a life vest will turn you from your stomach to your back, to support the back of your neck, holding your head above water until the rescue team arrives. The children had the opportunity to experience it first-hand. What also surprised them was that whistles were attached to the vests – whistling is fun, and what is more, can save your life!
A new and interesting experience was trying out a lifeguard's life buoy. Even the smallest ones wanted to try to throw it at a target made from a plastic bottle. The children were also taught how to pull a person out of the water. Older children practised cardiac massage on a dummy, which proved to be more difficult than it initially seemed, as they needed to find the correct rhythm and compression strength. They also learned in which position a person needs to be laid and where to find the pulse on the wrist or the neck.
Children could assess their abilities
While many children had regarded themselves to be good swimmers, even the more confident ones started to doubt themselves under the training of the lifeguards and gave a promise to build up their endurance in a body of water familiar to them. For water to be a friend and not an enemy!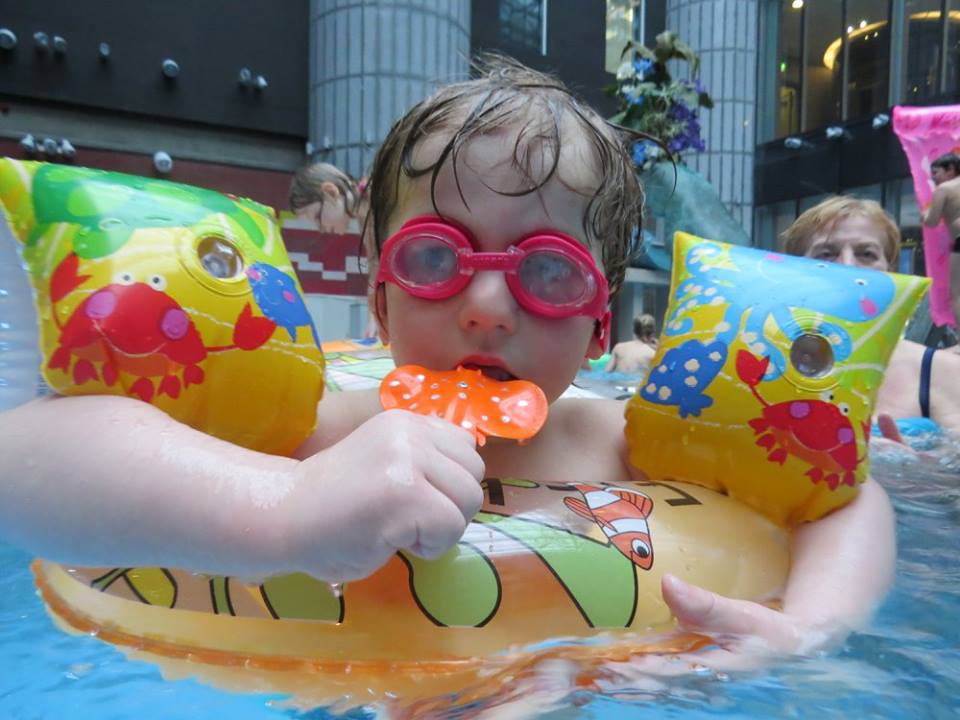 Kristofer, 7, who is not much of a swimmer yet, tried the diving game nevertheless, even taking part in it twice. He listened to the instructions eagerly and set to work. For the boy, it was not that important how many rings he could retrieve, but that he would simply manage to reach the bottom of the pool. It was a chance for him to get an idea of his abilities. Kristofer also learned how to throw a life buoy and swim with a life vest. Many boys loved swimming with a life vest so much that they were reluctant to give them up.
Tavo learned that the most important thing about throwing a life buoy is the position of your hands. He also got quite skilful with the connecting line. Gert tried reviving and was able to demonstrate how to perform cardiac massage. After a brief period of instruction and with the help of a very supportive and encouraging attitude, he was able to acquire this skill in practice. Kati got over her fear of water and enjoyed herself in the pool with the help of swimming aids. Later the girl told the teacher that she is so strong that the reviving lamp lit up immediately. But Eimar said that the "real" life buoy was surprisingly heavy. As for Cärol, the most memorable was her eager statement: "You know, I'm going to try reviving again, as this is what I was the best at!"
A lot of new information
The children took in a lot of new information. They all knew 112, the number to call in case of an accident. But they memorised two other numbers, 2 and 30 from reviving – it means that you perform cardiac massage for 30 times and artificial respiration, blowing into the lungs, for 2 times. They remembered the statistics that in 2015 there were 31 deaths by drowning in Estonia, which is a very large number for a small country like Estonia.
They also remembered that in an unfamiliar place there is the threat of getting caught up in a whirlpool, underwater spring or aquatic plants and that there are many injuries caused by jumping into the water where it is prohibited, like bridges, seawalls and rocks. It is also important to know that in places not intended for swimming there may be underwater poles, rocks, etc. They understood that accidents in the water are often caused by excessive alcohol consumption and that the right water temperature is very important, because it is easy to get hypothermia. The children promised to inform those who stayed home about what they learned and experienced. One of them even promised to call grandma to speak about everything new that was learnt! Another was so impressed with rescue and reviving that she listened to everything two or even three times, on the ride home explaining in detail to the teacher everything she had learned.
Andra, a first-grader, said: "I remember what I was told about how to behave in the water and near bodies of water in summer. In summer, we visit camp Remniku by Lake Peipus. We must be careful by the lake, and you are not allowed in the deep water if you cannot swim." Ele recalled how she gave a boat ride to Andra and Martin in the pool. And the boat overturned and Martin was frightened and started to cry. Ele said: "Now I know that a life vest must always be on when taking a boat ride". The whole trip to the spa left such a strong impression on Riho, who is 5 years old, that he spent half a day recounting his adventures at the spa to all his friends at nursery school.
A blanket of snow on your head, your body in warm water!
When they got chilly in the pool, the children took turns in the sauna or Jacuzzi, where they could rest for a spell and go over newly acquired knowledge such as how to check whether a person is breathing. The children also loved the fact that there were many different pools. The older ones were the most thrilled about the possibility to swim from the inside to the outside. They were very happy and shocked by the fact that it was snowing outside while they were swimming in the steaming hot water with snow on their heads. Visiting the saunas was also a fun experience. They tried different saunas and many families found one they all loved – for example, relaxing in the Turkish sauna with the starry sky above their heads. Ice cream shakes providing a much-needed energy kick were also a nice surprise.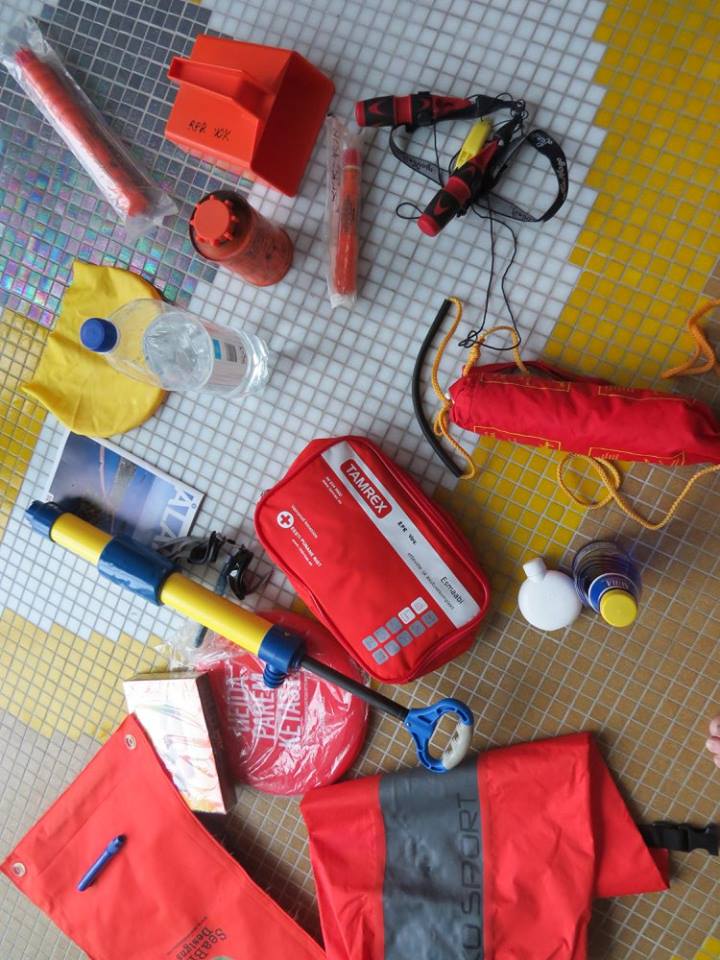 On the trip home, they went over everything seen and learnt once again. In the feedback about the trip to the spa Kaisa, teacher at the safe house in Tallinn, writes: "Having passed training on water safety years ago in Pirita, I am very cautious about going swimming with children. This training opened my eyes to how little is needed for a situation to become unsafe. It is my responsibility as a teacher to ensure the children's safety in the water and to teach and talk through how to behave in different situations in the water. This year we brought more grown-ups and divided the children to be looked after between us. When it was necessary, we switched. This made engaging the children, watching them, guiding them or just having fun, much easier."
As spending leisure time with a grown-up has not been a regular activity for some of the children from safe houses and substitute homes, they are very eager to do things together. The children feel sincere joy when they show off a new trick in the water and the teacher has time to look at it and cheer for them, or to praise the child simply for behaving well.
Besides the fun and educational day at the spa, the trip to Tallinn was an experience in itself for some, as there were children who had not been to the capital before.
Participate
Thank you, if you have already supported our charity programme or if you are going to do it in the future! Sign a standing payment order contract in SEB Internet Bank for 3 euros a month or support with a single donation.