Jõulusoovide puu
The Christmas wish tree is made up of the dreams and wishes of children in shelters and substitute homes, sent to Santa Clause. To make sure that these do not just remain dreams, pick a gift from the Christmas tree and make a donation to the best of your ability.
www.heategevusfond.ee/joulupuu
Visit to Rakvere Christmas Village
Waiting for Christmas is always exciting. This year children living in shelters were taken to the Rakvere Christmas Village on board a genuine Christmas train, which certainly added to the holiday feeling.
The village is located in a magic castle on top of a hill (also known as Rakvere castle) where there was a lot to see and do throughout the day. In the early morning children from different shelters gathered at Tallinn's central station to board the train. The train ride was an experience, as most of the children were on a train for the first time. Everyone was given a travel passport on the train, elves organised a Christmas quiz and those who scored the most points received awards. Once everyone arrived in snowy Rakvere, they all headed straight for the magic castle where a mysterious fairy tale world was waiting for them.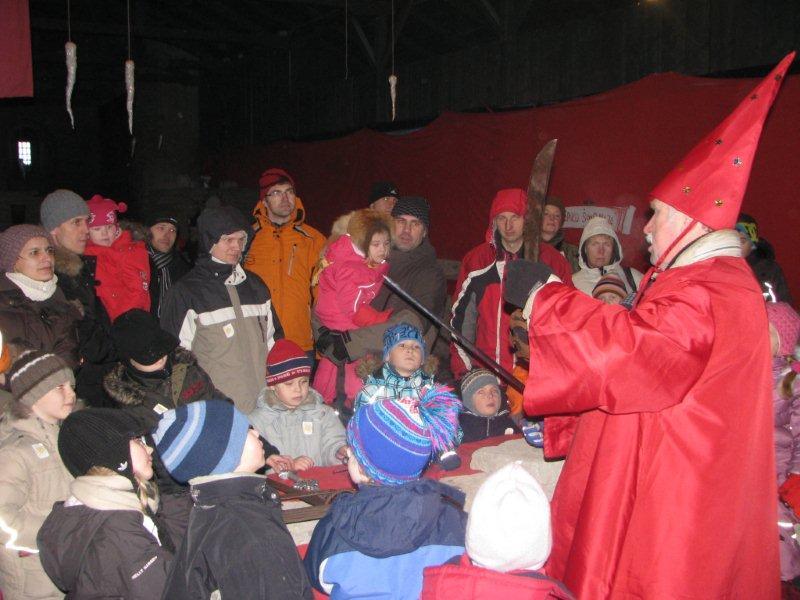 In the theatre of the palace the children watched 'The Forest Fairy tale' and from there they proceeded to explore the castle itself, as well as the Academy of Elves. In the castle's fascinating workshop, wizards helped the children make beeswax candles and mint magic coins. Many interesting and amazing things happened in the cave of ghosts. At Santa's post office, letters and gifts sent to Santa were being sorted. Everyone also had the chance to learn martial arts. The children were happy to participate in all of the workshops. Everyone who graduated from the Academy of Elves received a certificate.
After the long day, everyone returned to the train station, where all of the certificates were stamped to prove that their holders had visited the Christmas village.
Participate
Thank you, if you have already supported our charity programme or if you are going to do it in the future! Sign a standing payment order contract in SEB Internet Bank for 3 euros a month or support with a single donation.