Jõulusoovide puu
The Christmas wish tree is made up of the dreams and wishes of children in shelters and substitute homes, sent to Santa Clause. To make sure that these do not just remain dreams, pick a gift from the Christmas tree and make a donation to the best of your ability.
www.heategevusfond.ee/joulupuu
Sports Day in Ida-Virumaa
On 22 August the Charity Fund organised an entertaining sports day in the Kalev Sports Centre in Sillamäe. Children raised in the Narva Children's Shelter and the Lootus Children's Welfare Centre in Sillamäe took part in the competitions. Tuut the Clown was the referee and coach. Footballers from Narva Trans competed in relay competitions as team captains. Everything was real: the applause, the cheers, even the tears and changes in team line-ups. Everyone was treated to fruit, sweets and soft drinks after the competitions.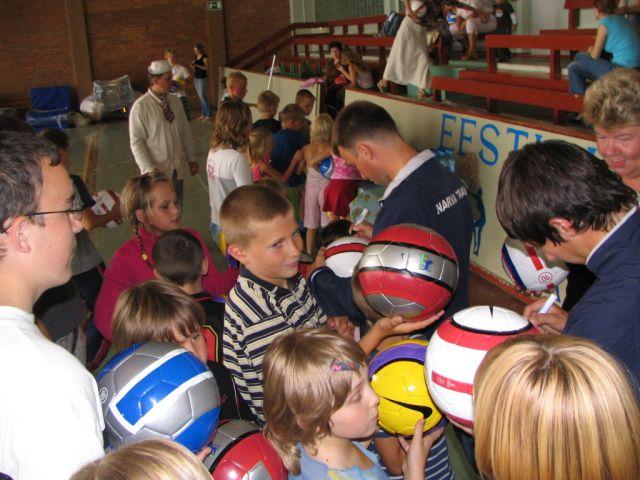 Sports equipment, such as balls, racquets, gym equipment, trampolines, bikes, was given to shelters at the event, as they help children to achieve their full development potential. Director of Lootus Tatyana Bayeva explained that the list of gifts was discussed in advance: "Representatives of the fund and the shelter talked about what was required before the equipment was bought. This meant that the fund bought us just the things we needed."
As the event came to a close, all of the children were given their own personal footballs, which they could have signed by the professional players.
Participate
Thank you, if you have already supported our charity programme or if you are going to do it in the future! Sign a standing payment order contract in SEB Internet Bank for 3 euros a month or support with a single donation.