Lastega ja lastele
Auhinnaga "Lastega ja lastele" täname ja tunnustame inimesi ja organisatsioone, kelle uued algatused või pikemaajaline tegevus on positiivselt mõjutanud laste ja perede käekäiku.
Tunnustusauhinna taotluste voor on avatud
15. aprillini
.
Esita taotlus
Snuggle with football: "Your own ball — this is something!"
28.05.2013
The UEFA Grassroots Day organised in fifty-three European countries promotes active motion and lifestyle as well as the game of football. SEB Heategevusfond and the Estonian Football Association (EJL) organised within this framework a football day for more than 150 Estonian sheltered and foster home children on 28 May at the Sportland Arena.
The three-hour football day was full of skill practice and games that were conducted by Estonian national team assistant coach Janno Kivisild, Teet Allas who has played in the Estonian national team 73 times, EJL coach trainer Katrin Kaarna, the captain of the women's team Kethy Õunpuu, U-19 national team head coach Karel Voolaid, and the head of community football at EJL, Ants Juhvelt.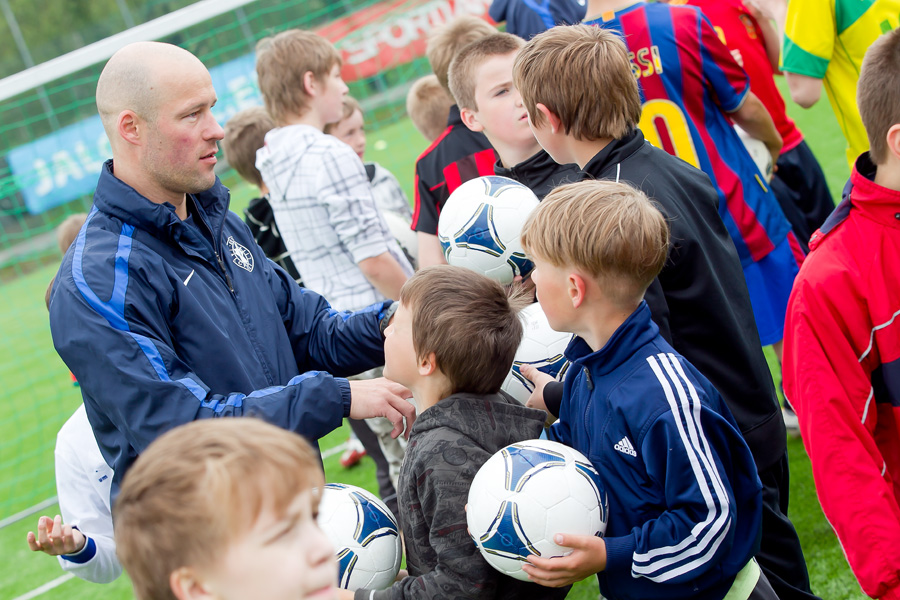 SEB Heategevusfond organises different participation events for children in foster care mainly because these children lack home support in the form of their own mother and father who would help to find the special talents hidden inside them. This year's football day is also important in order to recognise that every child is special — meeting professionals of their field gave them confidence and this is a boost to find a hobby to become dedicated to.
The football day ended with a mini tournament where all 154 children who participated were such enthusiastic players that Teet Allas, the head of EJL youth projects, promised to propose to the board to form a new team from among them. Allas said that football allows the children to forget their everyday problems even for a moment and offers all Estonian children the possibility to share this.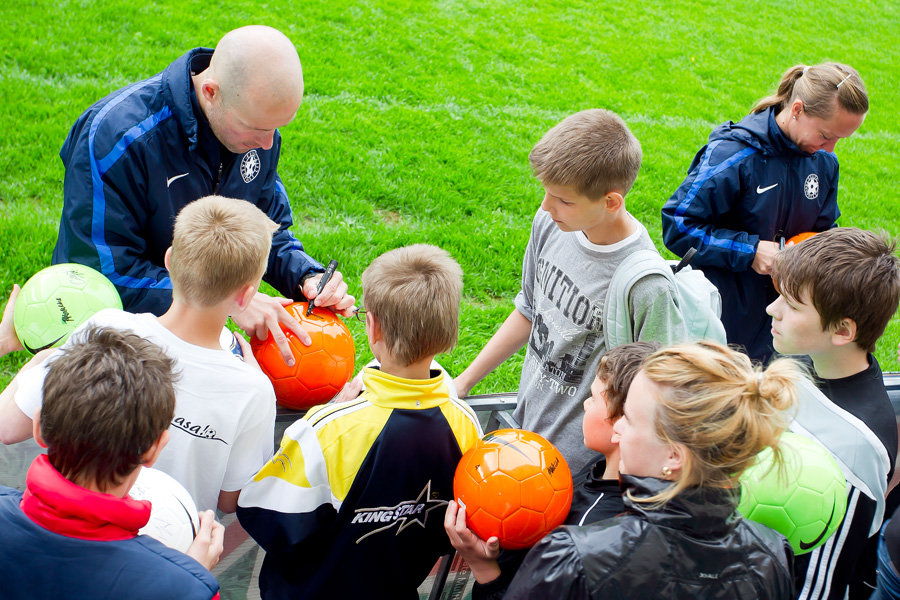 At the end of the day, each child received their own personal ball as a present and they could have it autographed and further develop their football skills at home.
Girls were also thrilled by football
Many children who practice football every day participated in the event. They liked to show their skills to others and also to teach them. Many young boy footballers were most delighted when they could demonstrate their skills to players and coaches associated with the Estonian national team. People who instructed the youngsters also noticed this and the Estonian football team may soon be complemented with the same little ball wizards.
The football day especially boosted the self-confidence of these children who are not so good in other fields, allowing them to proudly show that they are more skilful than others in this field. It is very important that every child would have something to be proud of and to receive recognition for.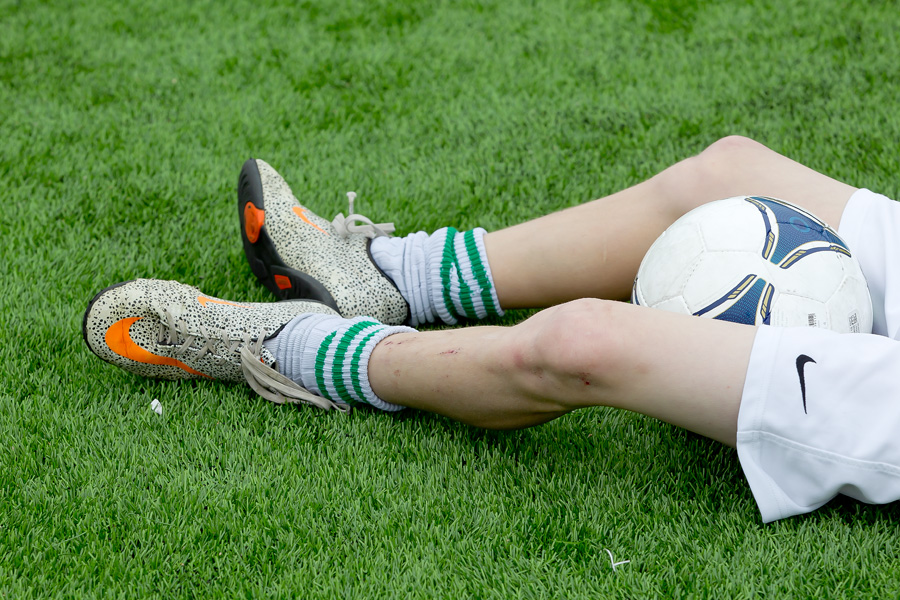 Although one of the girls even plays in the Estonian national girls football team, girls typically have other kinds of activities and sports. But at the same time this was also a nice change for these girls who have no experience of football — they also gladly participated in the exercises and tried to give their best. 14-year-old Jaanika said: "I really, really, really liked today! Usually I do not play football, but today I learned more about football, also new tricks. This makes me want to play more and maybe even join a class."
Many girls said that now they learned more about football and many are glad that they now have their own personal ball they could lend to their best friend.
Challenging oneself under professionals
For many children it was the first time in such a big stadium where they could run around as much as they wanted. The teachers admitted that children could test their skills under professional coaches in an enjoyable atmosphere. The children said that they were proud to be attended by professional athletes. The event was well-organised in regards to grouping children by age and providing feasible activities for everyone, crediting smiling and sparkling-eyed organisers, coaches, and assistants who undertake things with heart and who in such a short time could offer children so much joy, excitement, and exhilaration.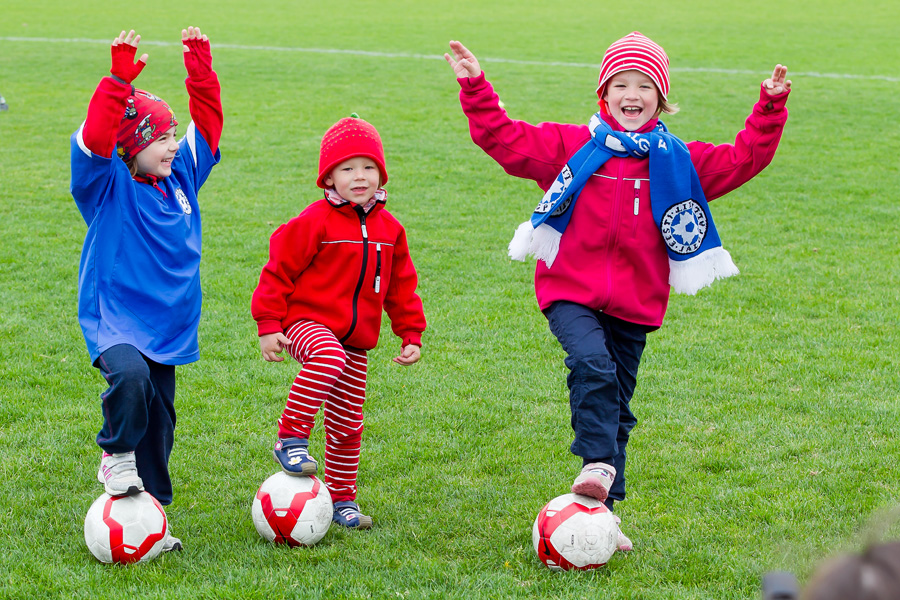 10-year-old Marii was glad that now the children of their home are famous and proposed that next time the real players could play one match and sometimes include children in the game.
12-year-old Mario praised: "I liked everything! The ball of course ..." he ran out of words in the end. 15-year-old Ken said: "Football is very nice. I will definitely remember this field we had because it was so big. The coaches were also very good. It was super that every child got their own football!"
10-year-old Jane said that she liked the games very much. "Usually football is my brother's favourite, but now I like it as well." 14-year-old Ain-Allan: "I usually work out too, I gained new skills. On such a big field I felt proud. I liked the ball and the shirt very much." 15-year-old Andrus thought the same: "I have been going to football practice already for three years. It is interesting to play on such a big field. The coach was so friendly and taught many exciting things. I would come again if possible. And the new ball! The old one was so worn out."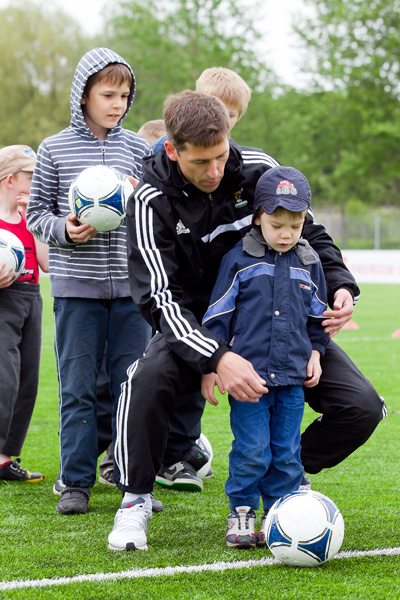 13-year-old Dagnar said: "I am a big football fan and train as well. The whole event was exciting and full of surprises. Your own ball — this is something! I would like to go play right now."
In the beginning Ralf and Artur were worried whether they would have to compete and when they would, then they would not want to lose at any cost because they do not like losing ... The teachers explained that of course everybody wants to win in a competition, but only one can win and others cannot, but challenging yourself is also winning. The teachers emphasised that in football those win who can play together well and who also watch what others are doing.
Even smaller children were full of enthusiasm to do more sports! Some were happy about just running around, others wanted to try a ball game. One little boy who from the nursery goes straight to the orphanage said that he definitely wants to take his new green ball with ...
In one orphanage, the football day happened to be on the birthday of the biggest football fan. For him, it was the best gift that could be.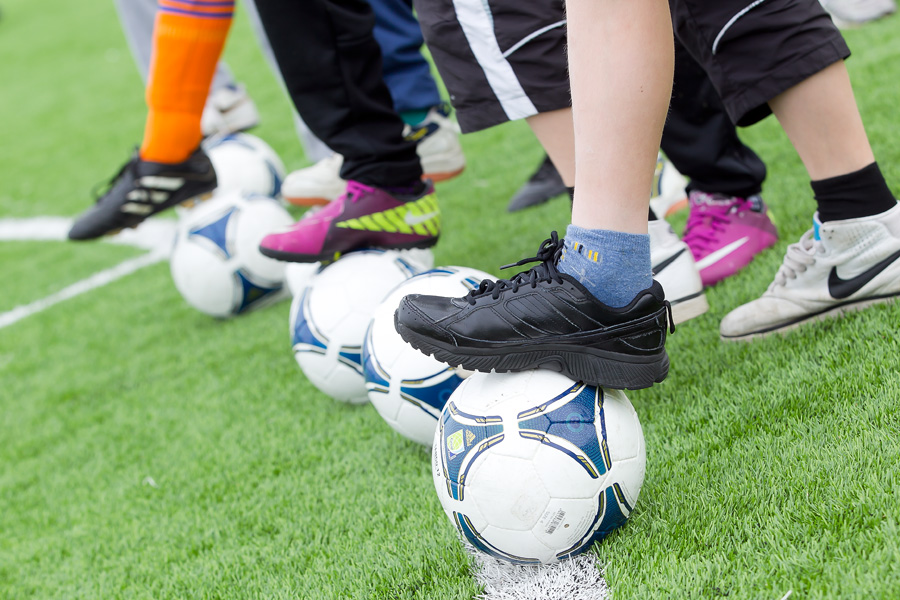 When the children were asked how it went, they replied: "We won!" What could be better than that positive emotion from your team's win, the teachers thought, feeling glad that the supply of balls was complemented and there is no need to be afraid that there is nothing to do outside in the summer.
"I have my own football!"
On the way back, the children talked about the balls, compared them, and discussed whose ball was the fanciest and prettiest. Many children let out an exclamation, filled with pride: "I have my own football!" It is nice that the children received balls because these are now special to them and there will be more ball games in the children's activities. It is clear that when you have a personal football, it should be played with. In the evening, the new leather balls were hidden inside the rooms — under the bed, even in the bed.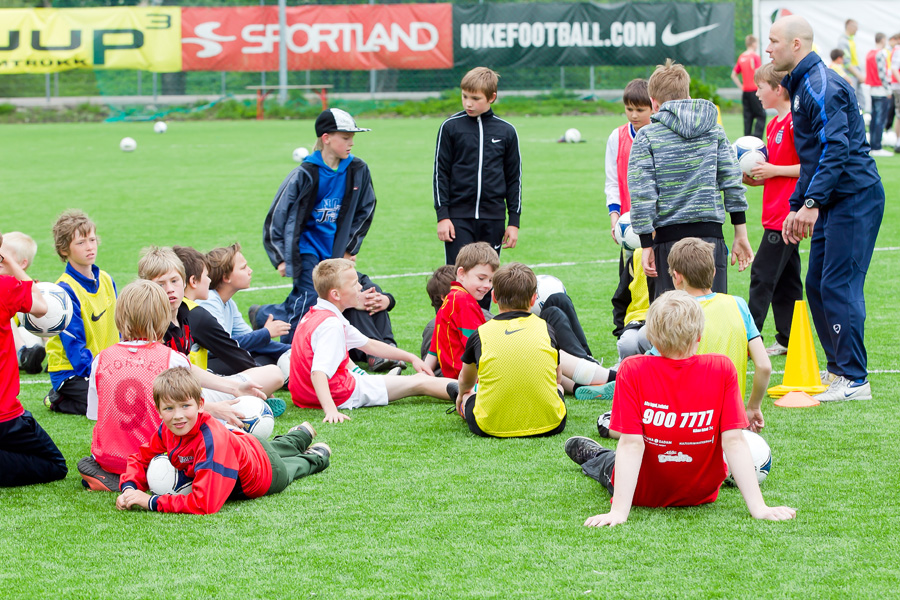 Meetings at the stadium were arranged. The next day, many children went to school with a new shirt on and told their friends about the nice event. The children promised to definitely watch the game of the Estonian national team on 3 June — now there is lots of joy of recognition and they even know the cheerleading phrases.
This summer football will be played every night in the yards of many orphanages! When previously football was played in regular clothes now, after returning from Tallinn, they try to get the full equipment on. One teacher wrote that it is impossible to beat rugs anymore because the rug beating frame has been made into a football goal and all alternatives offered by the teachers, like making the goal out of two sticks and putting it somewhere else, have not been taken seriously because the rug beating frame is just right, only without a net.
In summary, the teachers admitted that besides a good social environment the event also had an educational aspect. The teachings of football people were memorised and fresh knowledge is demonstrated in domestic ball battles because "In Tallinn we were taught like this..."
Triin Lumi
 
Participate
Thank you, if you have already supported our charity programme or if you are going to do it in the future! Sign a standing payment order contract in SEB Internet Bank for 3 euros a month or support with a single donation.