Jõulusoovide puu
The Christmas wish tree is made up of the dreams and wishes of children in shelters and substitute homes, sent to Santa Clause. To make sure that these do not just remain dreams, pick a gift from the Christmas tree and make a donation to the best of your ability.
www.heategevusfond.ee/joulupuu
Should you extend your hand to someone who is drowning?
22.03.2015
On 22 March, SEB Charity Fund, working together with the Volunteer Reserve Rescue Team and Tallink Spa & Conference Hotel, organised a Water Day for children staying at safe houses and substitute homes, the aim of which was to raise their awareness of water safety.
It was the eighth year in a row that Tallink Spa & Conference Hotel had invited children from welfare institutions to celebrate its birthday with them. Water safety day was attended by children from 22 safe houses and substitute homes from across Estonia: from Tartu and Elva, Pärnu, Ida-Viru County, Tallinn, Haapsalu, Jõgeva and Rapla Counties, Põltsamaa and Harju County – a total of 185 bright-eyed visitors.
Taavi Tiivel, Chairman of the Management Board of Tallink Hotels, said that the various pools at the spa enable themed day events to be held successfully and that, compared to a regular pool, there is an entertainment element that serves as an incentive for children: "It is important to learn through play about water-related prevention, so that the summer can get under way safely!"
Swimming ability helps to avoid dangers related to water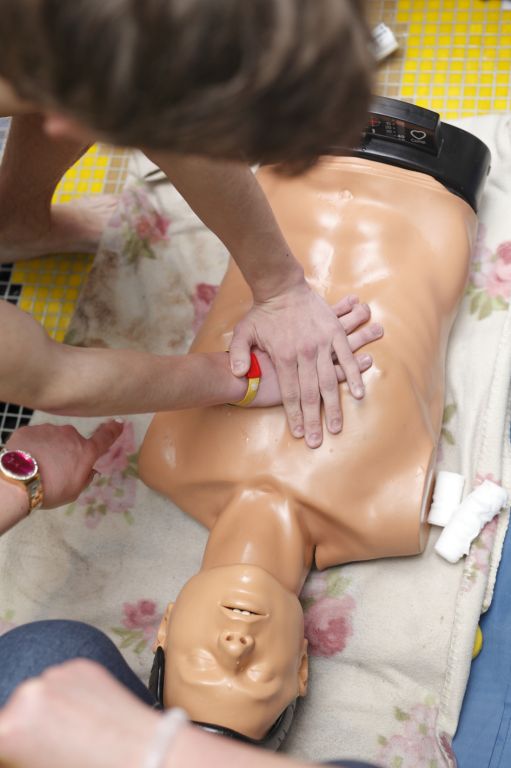 With the help of examples, both hands-on and playful, the spa provided information about the basic facts of water safety, children could try primary lifesaving equipment and engage in actual wet swimming. Children found out that nature provides quite a few hints about dangers, such as cracks in the ice, eddies in the water or the like; but you have to know how to read those signs. In addition to learning about water safety, children got an opportunity to learn, under the supervision of an ambulance medic, how to administer first aid and revive a drowned person.
Research shows that having swimming ability impacts on children's preparedness to engage in safer behaviour when near a body of water. However, it is specifically the task of the parent or caregiver to teach children to swim as early as possible, providing primary insights about water safety.
It is important to be conscious of the fact that many accidents involving water might never have happened if children and parents knew more about water safety. Should you extend your hand to someone who is drowning? The correct answer is: No, you must not! A person drowning should be passed the sleeve of a jacket that has been taken off or a beach towel, some rope or a tree branch, since the person may pull you in with them, resulting in two people needing assistance. During the water training event, children in substitute care and those accompanying them were also taught about this insight and many more. Furthermore, 50 children also completed a wet swimming exercise, gaining an added incentive to further improve their swimming ability.
Train trip, Victory Column and finding one's bearings with GPS
The children were looking forward to the day, since over the years Tallink Spa's birthday party has become a wonderful tradition at safe houses and substitute homes.
Generally, children are quite fond of water: they like to go the seaside a lot in summer and look forward to every trip to the indoor pool with great excitement in winter. Such was the case this time. Children could not wait for when it would finally be time to set out for Tallink Spa, and so there were questions, "Are we going yet?" every 10 minutes during the Sunday morning hustle and bustle... On board the coach, children were excitedly discussing everything that they would get around to doing in the water.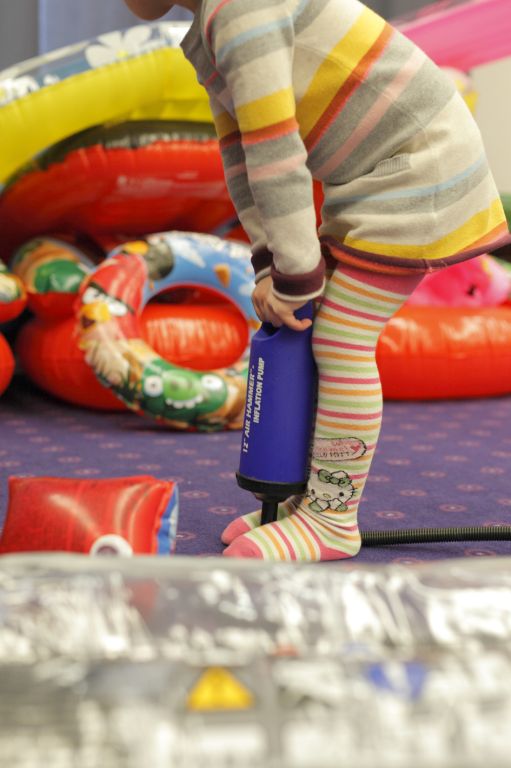 In some homes, swimming equipment was put together in a bag as early as Saturday night, so that one could be certain on Sunday morning that nothing necessary was being forgotten. The teacher from one family home packed a big box full of sandwiches, sweets and several bottles of apple juice for the road. The teacher from another home, on the other hand, came up with the idea that they should take the train to the capital city, since door-to-door delivery by coach had already become too convenient of an option. Besides, children from that home had no prior exposure to train travel. And so it was that the children got to touch a train at the stop for the first time in their lives.
That teacher also has a humorous anecdote to share. Namely, on the train, a 12-year-old boy who had come along asked where they were at the moment. Upon hearing the answer, "at Riisipere", his imagination immediately kicked in, with the boy mulling: "Are there really people living at Riisipere who are made of rice and eat a lot of rice!? Right, that means there are Chinese people living here..."
According to the teacher, it was great to see children enjoying their first train ride, being truly proud of having this kind of opportunity. In Tallinn, there was a trip to Freedom Square, where the boy who had made the joke about Riisipere began to tell his teacher about the War of Independence, setting up the topic along the lines of "War is freedom and freedom is war". The boy, interested in history, remembered something else learned during a lesson: he knew that nearby there was supposed to be an excavated wall, left intact when the Column was erected. The wall segment, known to be visible under a see-through cover in Freedom Square, was found, with theory studied during a history lesson becoming reality.
As they were making their way to Tallink Spa, the teacher from that home decided to have the boys locate the spa for themselves using GPS. As a single group, the young men began to pore over the map and lead the way. The teacher, on the other hand, stood aside and observed how they were working together with one another, finding their bearings in a strange place, and behaving when in traffic. They managed nicely and soon arrived at their destination: the water party.
Wet swimming: Is swimming 100 metres really "child's play"?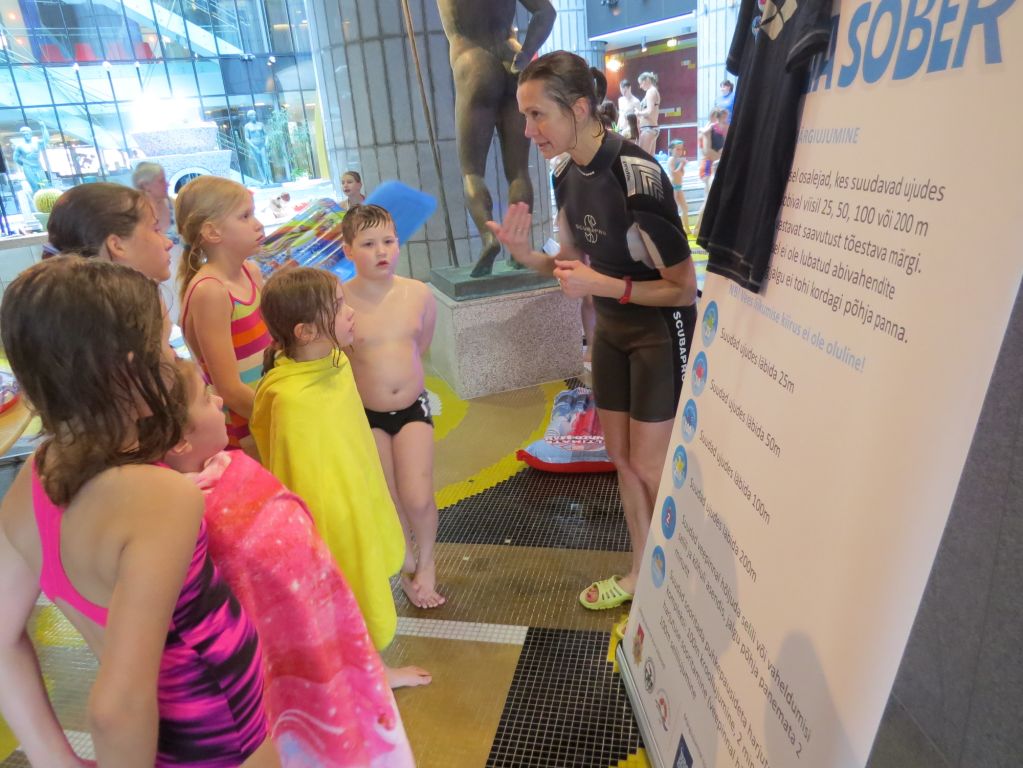 Each of them has their own objective when planning events: In the case of Tallink Spa, this is not just about fun in water but also about providing children with knowledge about water safety. This time, the swimming party focused on the measurement of the swimming ability of children aged 7 or older by means of a wet swimming task. The purpose of this integrated exercise is to improve children's swimming ability and place it next to the other critical skills – such as reading and writing – and improve the swimming ability of the Estonian people, providing children with an incentive to learn to swim, develop their abilities further, and take pleasure in swimming.
Before hitting the "lane", quite a few children vowed they would swim at least 100 metres; however, reality turned out a little different. Children learned from the experience that assessing one's abilities is an important aspect of one's swimming ability: many children recognised that the next time they are about to go into the water they should definitely think about how far to swim, making sure that they are strong enough. And since the conditions are more difficult in a body of water under open skies than in an indoor pool, you should really think twice.
It came as a surprise to the children that distances in water feel shorter than they actually are. One boy said before wet swimming that "It's child's play to swim these 100 metres"; however, he was actually unable to swim the entire distance. He and many others found out first-hand that swimming is pure physical labour, which will wear you out quickly if your abilities are not adequate. Before wet swimming, 9-year-old Katariina was certain that she could swim a lot, but in fact this was not the case, and she realised that it was important to practice. Fortunately, she goes swimming with children in her grade.
Yet, there were also more modest children who, overall, underestimated their abilities and swam more than they had initially thought they would be capable of. Kevin, 14, received confirmation of his swimming ability. For that, he was rewarded with the best badge.
Many boys were pleasantly surprised that you could also test your abilities playfully. Those, however, not participating in the swimming competition were offering the others some fiery encouragement from the edge of the pool. Anton, 11, promised to definitely swim in the race as well next time. Among pre-school children, who did not participate in the competition, much interest was aroused by the dummy on which children could try performing artificial respiration.
Children learned basic skills for rescue from water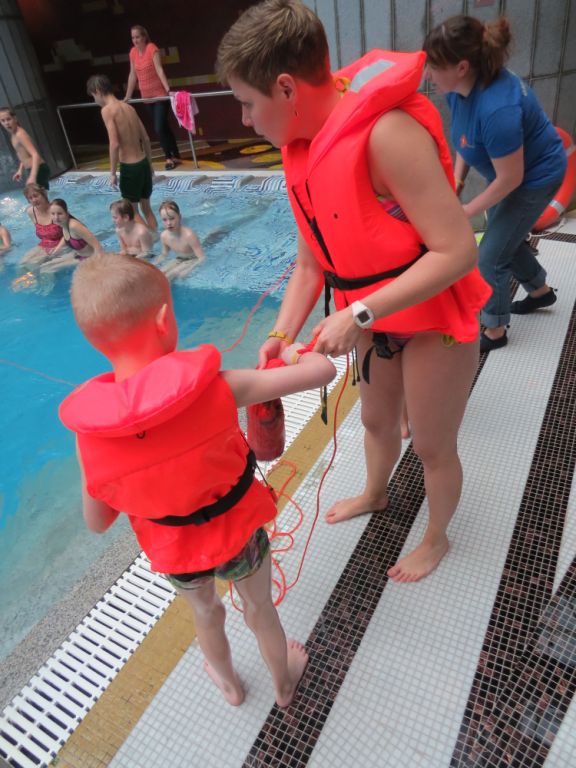 Teachers from one family home wrote in their feedback that they especially liked the fact that children had been taught practical things at the spa and that they themselves, too, had gained knew knowledge about how to rescue someone in distress in water. Children found out, among other things, why you have to wear a life jacket and how to rescue a drowned person by simply passing a towel. Many children were astonished that there were real rescuers at the pool.
Everyone was able to try resuscitation – both kindergarten children and their teachers. All children understood right away how important this kind of ability is. Ira, 12, and Artyom, 13, put their abilities and strength to the test administering first aid and performing cardiac massage. Looking serious, children were trying to administer massage with sufficient intensity, since a person's life depends on it in real life. They were astonished at how it could possibly be so hard.
Great excitement was caused by swimming in life jackets and throwing a lifebuoy to the person "drowning": it turned out that throwing with precision is not as easy as one might first think. Ira, along with 7-year-old Dasha, took turns pulling each other out of water using some rope. For this kind of rescue operation, naturally they first had to put on and fasten their life jackets properly, and the roles of both the person in need and the rescuer were performed diligently. Both girls were happy that they had managed to rescue each other.
In addition to gaining knew knowledge, this kind of playful rescue operation had another big advantage: the feeling of "I managed" injected a great deal of self-confidence into children. One 14-year-old girl was at first very afraid to try artificial respiration, thinking that she could not do it. She had to be prodded to try – and she did try and managed, very satisfied and happy afterwards.
Teachers took away with them guidance on behaviour in water and near bodies of water. In summer, there are always to trips to the seashore or a lake for holidays, and children need to be provided very persuasively with the fundamental understanding that whoever cannot swim must not go into deep water. Rescuers explained how to help someone in distress in water without endangering the person who has come to their aid. Furthermore, children found out that you never go boating on a body of water unless you are wearing a life jacket. Alexandra said: "I also remember that you should not extend your hand to someone in the water, but should quickly get, for example, a towel that you have with you and pass it to them instead."
Children also learned to perform cardiac massage. A device indicated whether it was being done correctly. Teachers found out that you should have your knees slightly apart, arms straight and then press down on where the heart is.
Afterwards, many groups embarked on serious discussions specifically about rescue skills: there is now greater awareness that resuscitation or rescuing another person is not quite so easy and that you cannot lightly rush to someone's assistance if you do not have the relevant skills.
Warm water "thawed" grumpiness and fears
Children's spirits rose sky-high when they saw inflatable swim rings, beach balls and a huge number of air mattresses in the pool. At first, when they looked into the pool of the aquatic centre from behind the glass window, they thought there wasn't enough room for any more children. There were simply so many mattresses! Heading home, they could take mattresses with them if they wished. Everyone is now looking forward to the summer to be able to horse around in water on their mattresses.
Children liked the Jacuzzi pools, the steam sauna and, of course, the ice cream milkshakes very much. For many, drinking milkshakes in the pool was a first. "What a magic strawberry drink!" Dasha said. Children were enjoying their ice cream milkshakes to the maximum while luxuriating in the warm water.
Nikita, 8, who had been edgy and out of sorts since that morning, quietly thawed in the warm water, becoming more relaxed and increasingly happy. Hopefully, by horsing around in water he was able to release his negative emotions and fears, which troubled him that day but which he could not put into words, and stored up lots of positive emotions instead. Water – and all the other fun that goes with it – as a way of relieving stress and tension is definitely a very important tool for improving the psychological well-being of children.
Mikhail and Martin were at Tallink for the first time, and their faces glowed with joy as they splashed in the water. Everybody had a lot of fun and a great time; children were shrieking and enjoying the pleasures of water to the point of oblivion. When it got chilly in the pool, they relocated, alternating between the sauna and the Jacuzzi. Although the Jacuzzi was enjoyed by older children as well, it was the younger ones who were visibly delighted, horsing around in the really warm pool for young children. In the Jacuzzi, there were always lots of people, but you could still find a spot and have a good time. Maxim was there for the first time and praised how it was so awesome that he did not even want to come out.
Desire to learn how to swim reduces fear of water
In the case of 10-year-old Alari, it was wonderful to watch how swimming lessons had developed his ability to react correctly in water. Kärt, 12, cheerfully participated in the competitions and activities. In her case, it was good to see that, since there are times when Kärt will not participate in group activities and will not display any delight.
Virginia, 7, does not understand the dangers of water yet and needs monitoring and instruction; however, she took great joy in swimming with the others: she threw a lifebuoy and tried a life jacket, which was much easier for her to swim in, as she found out. Her desire to learn to swim is great indeed.
Annika, 8, is a girl with special needs who is still attending kindergarten. She is very interested in learning to swim. On this occasion, she got to splash in a swim vest in warm Jacuzzi pools, and Annika overcame the worst of her fear of water.
Dasha even made a new friend, and they spent much of the time splashing in the pool, learning to dive and delighting in everything that was going on.
One 8-year-old girl from a safe house was afraid of water at first, but was later happy that she learned to stay afloat using a swim ring and even ventured into deep water.
Rainer gave himself consecutive bracing showers of ice-cold and hot water. Andra had this to say about the sauna: "I had sweat coming out of every pore in my skin, my body felt quite hot, and then it felt great to cool down in the pool."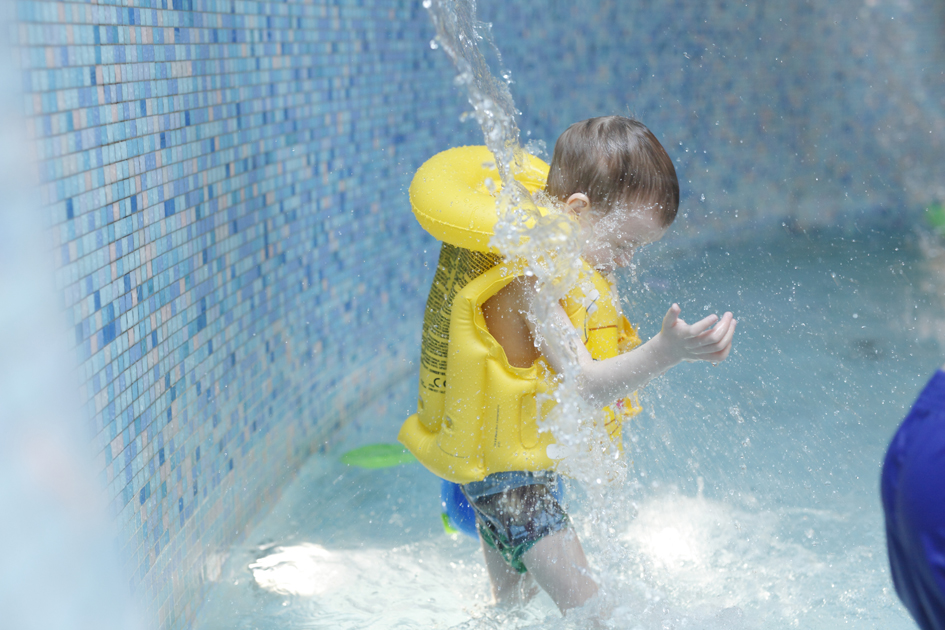 Martin said: "I cannot really swim yet and I will not go so far that someone will have to come to help me. In the pool here, it was very nice and fun, and I also enjoyed the Jacuzzi and the sauna. I have not been to the sauna much before. I learned to perform artificial respiration."
Some children who were more fearful of water received separate instruction in a smaller pool, privately practising how to float using a mattress. For a child, the moment when the helper lets go of the mattress is similar to the experience of learning how to ride a bicycle. At one point, when she is drifting by herself and discovers that she has managed by herself, she cannot believe it at first, but her joy is immense!
Full of water!
Upon hearing that one pool at the spa was also outside, they were very astonished – the thought of swimming there seemed frightening at first, because it is cold! It took some explaining about how it works. Finally, they got to experience first-hand that it is warm in the water even when it is below freezing outside. Afterwards, many children thought that the outdoor pool was the most memorable event of that day. However, Andri, 10, specifically looked forward to swimming in the outdoor pool most of all and was not disappointed.
One mother accompanying her child dreaded swimming out from inside. Her son persuaded her that she should follow him and try all the facilities on offer. The woman summoned all her courage and swam out from inside with the children, and was later very grateful to her son for coaxing and encouraging her.
Children received presents before heading home. The pram brought along for a young 2-year-old lass from one family got so full of stuff before setting out that the girl herself could not fit on it. The little girl was not overly saddened by this herself, since she got to luxuriate in the teacher's lap after all the splashing. Upon finding a water bottle in the gift bag, one child announced thoughtfully: "Interesting, why did they give us water to take with us when we are full of water as it is?!"
The day, however, ended with a surprise: the programme Reporter also showed the water party at Tallink Spa, with quite a few children spotting their happy faces on the TV screen. Just try to picture the joy of recognition and the sharing of impressions! Children thought that they should go swimming more often.
During the Water Day, children learned useful tips and how to assess their swimming ability realistically. In addition, school children had an opportunity to practice being independent, making sure that they had everything needed with them. Quite a few children got over their fear of water, and everyone – both children and teachers – took away with them lots of useful knowledge about rescuing someone who is drowning. Every training day is very important, as it gets children thinking, while also encouraging, guiding and developing them, teachers pointed out.
Triin Lumi
MTÜ SEB Heategevusfond
 
Participate
Thank you, if you have already supported our charity programme or if you are going to do it in the future! Sign a standing payment order contract in SEB Internet Bank for 3 euros a month or support with a single donation.