Jõulusoovide puu
The Christmas wish tree is made up of the dreams and wishes of children in shelters and substitute homes, sent to Santa Clause. To make sure that these do not just remain dreams, pick a gift from the Christmas tree and make a donation to the best of your ability.
www.heategevusfond.ee/joulupuu
The road to traffic knowledge and a driver's license passes through Traffic City
26.09.2015
On 26 September, children from substitute homes and safe houses from all across Estonia took part in a fun day at Traffic City, in Võru County, organised by SEB Heategevusfond. They learned the basic truths of how to act in various traffic situations, went over the knowledge they already had, and had a look at the work of policemen, rescue workers and emergency medical staff, all in a fun and playful environment.
Taking place for the fifth time, Traffic Day was attended by 220 children from 18 substitute homes and safe houses. The children arrived from family homes in Harju County, Tallinn, Elva, Ida-Viru County, Tartu, Viljandi, Valga County, Jõgeva County, Pärnu, and Põlva County.
Being safe in traffic is a constant learning process
Studies have shown that children up to 13 years of age are most at risk in traffic, and their risk of suffering an injury in traffic accidents as pedestrians is twice as high as for middle-aged pedestrians. Triin Lumi, Managing Director of SEB Heategevusfond, explained the purpose of Traffic Day: "Children living in substitute care often carry with them risk-prone behavioural patterns obtained from their birth families. When children are inexperienced in traffic they may take wrong decisions that can lead to tragic consequences – a single mistake may prove fatal in traffic, which is why it is important to point all these issues out in a secure environment, safely play out the situations, and learn from one's mistakes."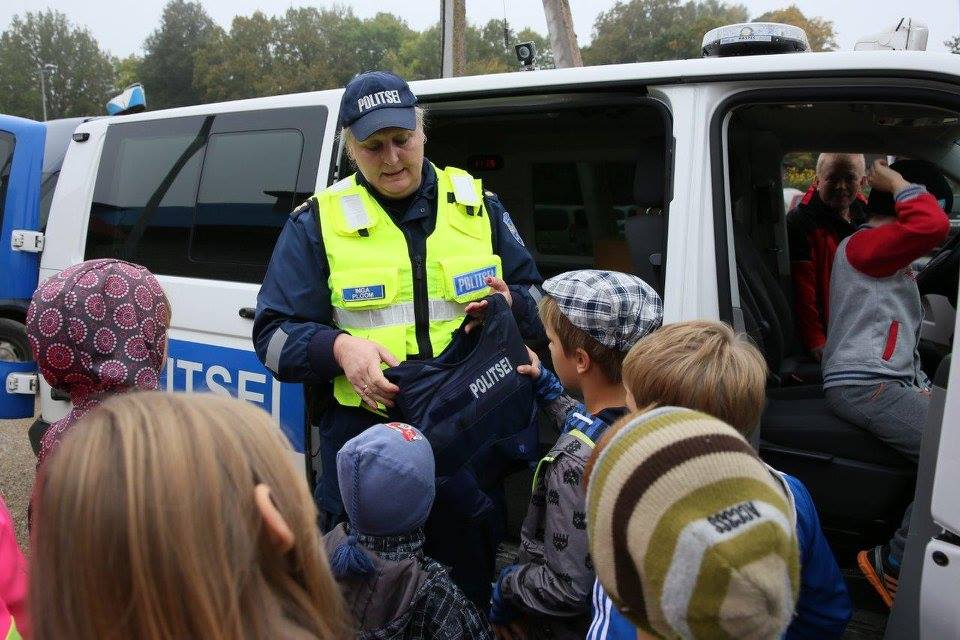 Traffic Day focused on the basic truths of conducting oneself in traffic: what to keep in mind at an unregulated crossing; why are traffic signs necessary; why are seat belts and reflectors necessary; and how important are traffic safety measures. The children loved watching cartoons featuring traffic dog Värdi, who explained the dangers of traffic in a simple language children can understand.
The children were able to examine a fully equipped rescue team and learn how to provide first aid. Bigger children could take part in a scooter hike on the nearby roads, where they went through everything they had just learned in practice in the form of team games. All children were given a reflector, which is currently compulsory for all pedestrians, and each family received a traffic handbook.
You would never want to end up in the back of a police car!
Actual police officers, both men and women, were present at the police car. While most of the children vocally enthusiastic over the police uniforms, 5-year-old Assar was initially a bit scared of the people in uniform and hid behind the back of his teacher. After a bit of encouragement, however, he came out and had a closer look at things. He turned out to be the one with the best questions. At the same time, the little boy was afraid of everything new – for example, a real gun (it might make a bang), a generator that removes smoke from a room, and, of course, getting into the cage at the back of the police bus. But this is how courage grows – gradually trying and getting to know more and more new things.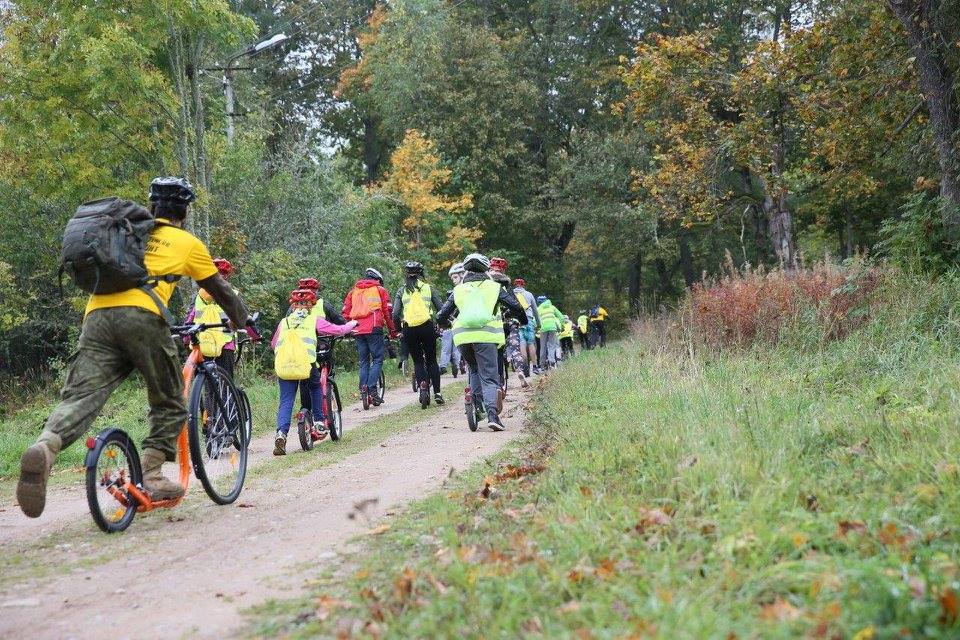 The children were given a chance to examine the officers' equipment – a bulletproof vest, a handgun, pepper spray, a baton, and a set of handcuffs. The bulletproof vest could also be tried on. The police officers taught children the importance of using a reflector and instructed them on how to act in dangerous situations. Although the children had heard a lot about reflectors, many of them were surprised when they heard that it should be attached to a jacket, not, for instance, a schoolbag. A fair amount of excitement and some jitters was caused by the opportunity to see what it feels like to sit in the cage of a police car, just like a criminal. After that, the children were certain they would never want to end up in there in real life. All of them agreed that knowing you can't get out of there was a pretty scary feeling … The test given by the police officer was passed with flying colours – the children knew the answers to all of the questions; but I guess you would too, after all the practicing they did!
What does a cyclist know; how to resuscitate a person; and what it feels like to be a rescuer
Children participate in various traffic situations. When riding a bicycle, it is important to know the equipment your bike must have, and be familiar with all of the traffic rules. Since riding a bicycle is an activity that is familiar to many children, they demonstrated very good knowledge when it came to the rights for riding a bicycle and the equipment needed. The children were reminded that in order to ride a bike on the roads and streets, they need to have a driver's license. They learned about traffic regulations and the rights and obligations they have while in traffic. The children were also reminded of the need to wear a seatbelt, and were told how wearing one helps to make driving safer and may even save your life in case of an accident.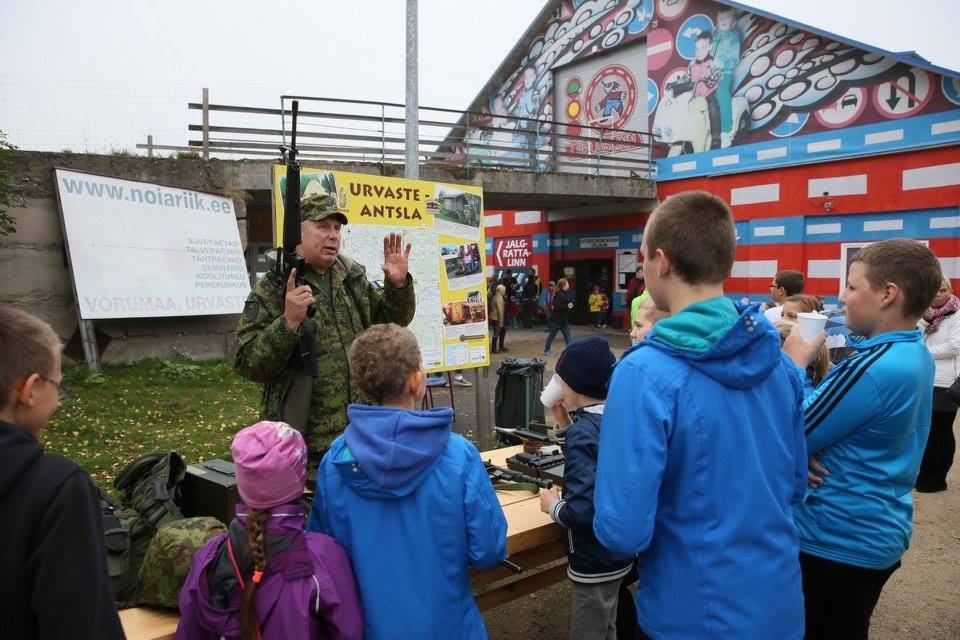 The first aid course focused on what to do and how to act when a person is in danger of drowning. The experts demonstrated resuscitation and mouth-to-mouth breathing. There was also a lecture on first aid in case of suffocation. The children were able to try the maneuver to use when someone has something stuck in their throat. They also practiced heart massage and mouth-to-mouth resuscitation on a special doll – at first it was a complete surprise to children that it is so physically difficult. After the training, the teachers noted that the lecturer was very good at talking to the children and getting them involved. One of the children later let a teacher know that she had taught them the wrong way to stop a nosebleed – so everyone got a little bit smarter!
In addition, a representative of the Defence League introduced the dangers related to firearms. The soldier showed them pistols, guns and ammunition, and explained how to handle a weapon in an extreme situation. A rescue team was also present to show what they do on a daily basis. Everyone could sit behind the wheel of a fire truck and imagine what it would feel like to work as a fireman in the future – it was a great feeling! While in most cases rescue vehicles are only seen howling by at a high rate of speed, in this instance we were able to have a look at the inside of a rescue vehicle and get to know all the equipment and apparatuses the rescuers use to put out fires and help in case of accidents. The children were able to see how heavy a firefighter's helmet is and what it feels like to wear a rescue uniform. Pictures were also taken to help remember the day. After trying on a firefighter's helmet, there is probably no kid who would dare to say that bicycle helmets are too uncomfortable to wear... Little Priit wanted to know where you could train to become a firefighter.
The long, long wait for a driver's license …
What kind of a Traffic City would it be without cars! At the traffic track, the children were first introduced to the rules of the road, the sides of the road, and the rules governing traffic lights. Everyone was free to pick a vehicle they liked, and off they went! The children enjoyed that the teacher could also race with them. The little drivers were careful and serious. Many of them probably imagined themselves on a real road, as a real driver at that moment.
It was fun to see what it feels like to sit behind the wheel of a car; whether and how easy it is to notice other cars; how to let other cars know you are coming; how easy or difficult it is to notice a pedestrian; and how to react when someone unexpectedly runs into a crosswalk. Hopefully, the experience of sitting behind the wheel gave the children important knowledge of how essential it is to follow the rules as a pedestrian because no matter how attentive a driver is, they may not be able to react in time if a pedestrian breaks the rules or makes sudden movements. Explaining alone is not enough – an experience is much more memorable.
Afterwards, the children excitedly discussed how interesting it was to become a driver and to now be able to go home without the bus driver … They were excited to get their driver's licenses soon and discussed the cars they are going to buy when they do. Kaisa, who is 14, thought that the cars could have been even faster; although she agreed that speeding would be impossible here because of the small children.
Although some of the kids were afraid to drive all by themselves at first, the joy of overcoming their fear was even bigger once they got over their apprehension. The children could also test their traffic knowledge in the play city. It turned out that driving according to the rules is not at all as easy as it might have seemed at first. Mari-Leene, who is 8 years old, accidentally drove into the others several times because she did not pay enough attention. It was difficult for her to do two things at once – drive a car and watch the traffic signs. After the first impact, she jumped out of the car, terrified, and wanted to quit. After going over the rules once more she tried again a couple of times, but eventually had to admit that she doesn't know how to drive too well, just yet.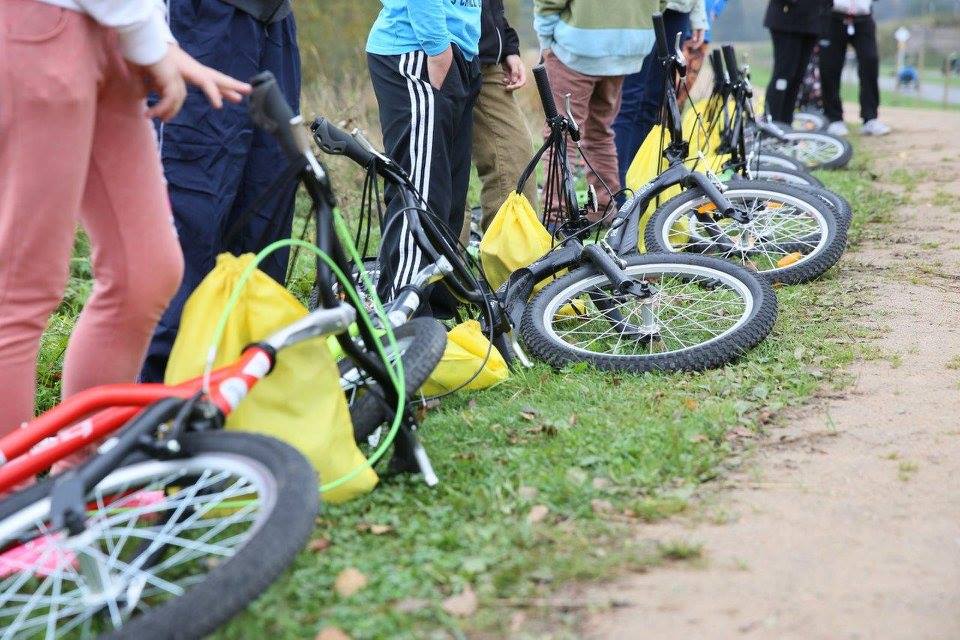 Smaller children drove with their teachers, and the children of one of the families were accompanied by 12-year-old Eliise. She was an extremely patient driving instructor, and explained to 5-year-old Assar, over and over again, that you have to drive in the right direction, as indicated by the arrows. Despite that, Assar's car still sometimes ended up in the oncoming lane. The smaller children found that driving a car is not that easy at all and requires a lot of practicing before being ready to head out onto a real highway. The smaller drivers enjoyed watching the traffic lights. They called out to the others to stop right when they saw the red from far away. In the case of a green light, however, they told them to move faster. There were also some children who wanted to cause an accident on purpose, by cutting in front of others. Again, some explaining was in order. However, all of them loved driving and expressed their disappointment when their time was up.
Experience is the best teacher
After the day at Traffic City, 9-year-old Karoliine found out that traffic lessons for bicycle licenses will be taking place at her school. She is now able to appreciate the importance of knowing the traffic rules. Experience is the best teacher, and her motivation to learn the rules is definitely higher. After all, the police officer at Traffic City said that riding a bike is allowed only with a bicycle license and if one is knows the traffic rules.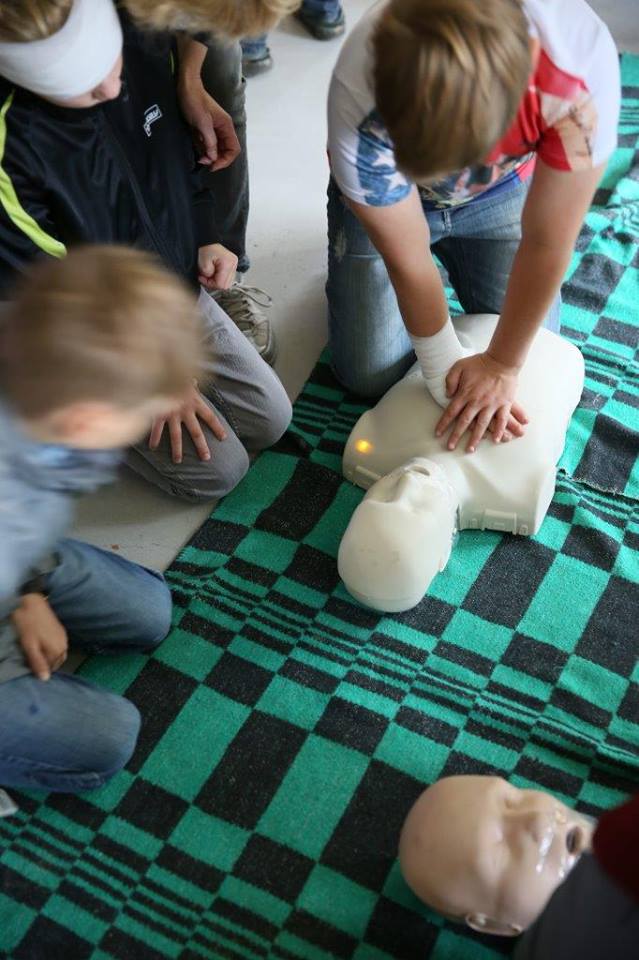 Riding a trick bike also caused a lot of interest and excitement. How can it be a bike when it doesn't have handle bars or anywhere to hold on to! And how do you even ride this thing?! Artur took his time examining this marvel, but it paid off – despite ending up in the ditch several times, he returned to the road right away and kept on riding. In particular, everyone loved the tricycle that was ridden while lying down and turned by tilting. To the great joy and fun of the children, the teachers also gave it a try.
After Traffic City, some of the children were given the opportunity to ride to Witch's Country on scooters, and were extremely happy to do so. The journey was not smooth sailing. The road led uphill and then downhill, over and over again; but the fun instructors made sure that everyone had a smile on their face.
The family mothers could observe their children in different situations, and as is always the case outside of home, some children behaved completely differently while the others stuck safely to their "last". Regitta enjoyed the competition and attention. She was thrilled by electric cars and bicycle rides, and showed her emotions on every success and failure in different competitive situations. Diana, however, surprised her family mother with her athletic capabilities, demonstrating great endurance at bike riding, and learning to ride the tricycle almost immediately.
Maarja was afraid of driving an electric car, which led to her experiencing difficulties in paying attention to the rules in a traffic situation. Raili stood out with her helpfulness, helping her family mother to free a child's shoe lace which had become stuck in a bicycle chain and putting helmets on the smaller children. Sander was obedient and very curious in new situations: he wanted to smell and touch everything. He was especially drawn to machinery (the tractor, lawn mower, and fire truck) and music (he came running from the witch's house, from far away already, when he heard that the witch's dance for children had begun). Several family mothers felt it brought them a bit closer together with some of their children.
The participants were free to try their hand at handicraft, play, run around, and have a bite to eat in Witch's Country. A broom throwing competition, where it was possible to put oneself to the test and also show off one's abilities to everyone, caused a lot of excitement. The bigger boys lost track of time playing armchair football. Everyone could make a finger doll and bring it home afterwards. At the end of Traffic Day, most of the families went on to have a splash at Aura Water Park.
 
Participate
Thank you, if you have already supported our charity programme or if you are going to do it in the future! Sign a standing payment order contract in SEB Internet Bank for 3 euros a month or support with a single donation.