Lastega ja lastele
Auhinnaga "Lastega ja lastele" täname ja tunnustame inimesi ja organisatsioone, kelle uued algatused või pikemaajaline tegevus on positiivselt mõjutanud laste ja perede käekäiku.
Tunnustusauhinna taotluste voor on avatud
15. aprillini
.
Esita taotlus
The relay baton of human touch was not dropped by anyone in the colourful sea of people …
06.07.2014
The marvellous and luminous moments of "Touched by Time. The Time to Touch", held from 4 to 6 July, were enjoyed by 250 children from shelters and substitute homes across Estonia, in addition to all the other people attending the Celebration.
Joy in Celebration clothes and 'own' Celebration attendees
Some children's homes saw very thorough preparations for the Song and Dance Celebration, and preparations for the highlight event began quite early. One home sewed nothing short of special Celebration clothes: pretty traditional dresses for the girls and linen shirts for the boys. Children were very happy with their stylised traditional clothes and could barely wait to try them on. As a result, children had already learned about the concept of 'traditional dress' before the Celebration. One 11-year-old young lass, who had not attended a Song Celebration before, inquired whether all onlookers would wear this kind of clothing and why it would be worn in the first place. This discussion helped to broaden children's horizons and to talk about why we have traditional clothes in the first place and when and why they are worn. It was clear that the Song Celebration requires festive clothing and that the clothing for the Celebration would help to create the right mood. One 15-year-old young man, whose teacher told him about the Song Celebration and who at first had no particular opinion on the matter, had put on his spiffiest dress shirt, for the biggest celebration of them all was coming! In many homes, the procession was watched on TV and there was discussion about traditions and the shared feeling that the Song Celebration engenders.
Travelling to the Song Celebration, there was discussion with children about the Song Celebration, the route of the Song and Dance Celebration Flame, singing and dancing groups in their area and those leading the Song Celebration; for instance, children from Kiikla Children's Home took particular delight in the fact that the Artistic Director of the Song Celebration, Hirvo Surva, comes from their native rural municipality.
Onboard the coach already a patriotic and merry mood took over, as peers, intimately acquainted with choral singing, broke into song collectively. Before the Celebration, there was also discussion about proper conduct in a strange place and what to do should anyone become lost at the Celebration venue.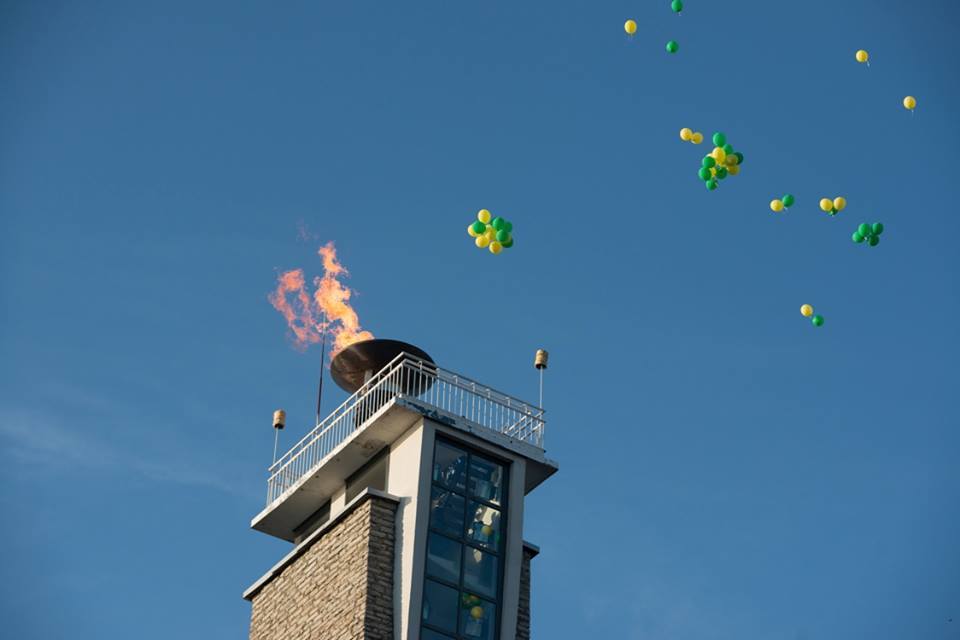 Photo: Raigo Pajula
Those who arrived in Tallinn early also got to look around Kadriorg Park, watch the changing of the guards outside the Presidential Palace and go for a swim in the sea before the Song Celebration – some children were in Tallinn and saw the sea for the very first time.
Heading to the Kalevi Stadium on Saturday morning, children were amazed to see so many people in traditional dress in the city. Going to the stadium, children were even more amazed, since the rim of the stadium afforded a beautiful view, with the grounds packed with people. Children were very excited, identifying friends among dancers – it was a particularly proud feeling for those whose own child was dancing along with them. If friends could not be seen during the Celebration, most familiar children, ladies and gentlemen were found during the procession, and there was joy in shouting greetings and waving to them.
During the procession, children got to know various Estonian counties, whilst learning to be patient. It turned out that children are surprisingly brave walkers, making their way on foot with the procession to the Song Festival Grounds and later back to the city centre. The youngest Celebration attendee was only 2 years old – she got to piggyback on older boys' shoulder a little. Through that, children learned to be considerate of one another: you had to take notice of the younger ones and, if needed, choose a pace for walking that suited them.
Although seats at the Dance Celebration did not enable all the onlookers to get the best view of the patterns formed by dancers, young Celebration attendees held out through the entire dance performance and watched the beautiful patterns on TV at home later. Where at some children's homes older children did not want to go to the Celebration on Sunday after going there on Saturday and gave up their tickets for the benefit of the younger ones, they nonetheless voluntarily assembled in front of a TV set on Sunday to watch the broadcast and share in the experience.
Heavy traditional skirt and 'riding the train'
The Song and Dance Celebration provided an experience of its own kind for children from Russian families, who tend to live in a Russian-language information space. The Dance Celebration, where you do not need to understand the lyrics, was anticipated with much enthusiasm – you cannot quite imagine what it is; however, if grown-ups are talking about it as something special, then it must be well worth it. Since dancers included a mother from a Russian family home, children from there went to specifically watch her perform. Because of that, it is the Dance Celebration that created an immediate, personal human touch between children. Whereas it is common for Estonians to have a family member, relative, friend or acquaintance dancing or singing, children from Russian families, too, got to see the mother of the family go to rehearsals for a week, from the crack of dawn late into the night, and see what traditional clothes actually look like – for instance, how heavy that skirt is! – and how they are worn. This is an experience entirely different to just going to a concert.
What 'work' dancing is – it is not so easy to makes sense of! When the mother, Aili, yet again got home very late at night after all-day rehearsals, 14-year-old Meelis enquired: "Are you doing this work for free?" – "What do you mean?" Aili asked. – "I mean, are you getting paid for dancing there?" For Meelis, it was quite hard at first to understand that so many people should work so hard: but why if they get no pay for it? Meelis himself had actually practised several kinds of sports; however, he had no genuine love for anything, and as a result he was totally astonished that so many people should dedicate themselves to the Song Celebration without any pay at all. Thus, it may be hoped that this it is a contagious example that Meelis and other children, too, took away with them from the Dance Celebration.
Photo: Raigo Pajula
Although some lasses felt that, "We have seen these dancers and singers around the town enough already. Why bother going to the Dance Celebration to watch them there, too?", and there was a strong desire to go to the beach because of the heatwave that had set in after a cold beginning to the summer, they all turned up at the Dance Celebration in the end as a result of some persuasive convincing. Young Celebration attendees, however, posed the question, "When will get to ride the train?" It took quite a while to track down the reason how this question came about: it turned out that a game of 'Chinese whispers' was involved, with the Song Celebration procession transformed into riding the train. Whereas grown-ups had talked among themselves that they would go and watch the procession after the Song Celebration, with the Estonian term 'rongkäik' (procession) amid the Russian, children picked out the term 'rong' (train) and began to look forward to riding the train. Once it was explained what the Song Celebration procession is about, there was satisfaction all around and, luckily, nobody was disappointed that there had been no train ride.
Relay baton of human touch
At the stadium, seats were taken in nearly the front row. It had its pros and cons, for they did not get to see patterns formed by dancers across the field; however, children did get a close look of every move, facial expressions and emotions of dancers in the front instead. And you experienced HUMAN TOUCH! Those sitting along the aisle got to give dancers 'five' and then in turn pass on that human touch down their row of seats. Children like this 'relay baton of human touch' so much that by the end of "Tuljak" everybody was pushing through to the aisle to receive the human touch from dancers and to pass it on.
Russian-speaking children, too, were touched by the beauty and power of the dances. Of course, best-liked by children were contemporary pieces: rhythmical and joyous men's dances and the synchronous 'ribbon programme' of dancing groups and, especially, the flying during the "Black bird" dance. During children's dances, there was amazement how some quite young dancers did not run to the wrong place and guesses that they must have practised a lot to remember everything so well. During women's dances, little Artem began to chant, "Aili! Aili!" – although children could not see the mother of the family, Aili, dancing, because she was at the other end of the stadium, it was enough to know that she was among others somewhere over there.
Wordless self-expression by dancers inspired in children the wish to share their impressions and emotions with the dancers near them: they expressed themselves not just by applauding like mad but also completely spontaneously by means of hand signs, with both thumbs-up and hands joined to form hearts to convey delight.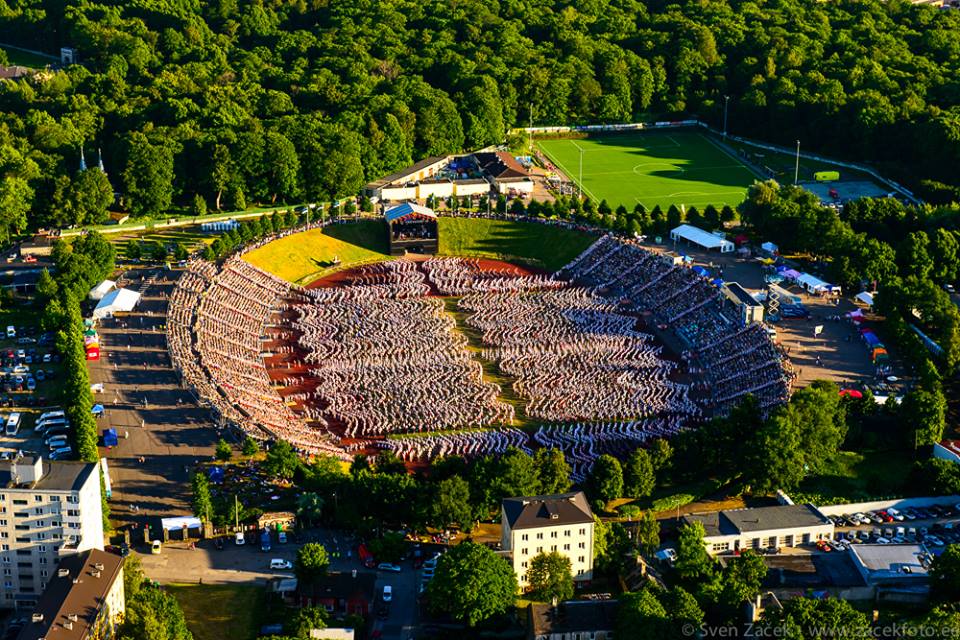 Photo: Sven Začek
Some young lasses' feet began to tap during the more rhythm-infused pieces, and once the Celebration was over, about to start the journey home, 11-year-old Ira's jaw dropped momentarily amid the crush of people: she was looking longingly at a group of girls, roughly her age, in traditional dress and sporting pigtails, making their way to the catering tent in a happily excited single file, holding on to one another gently by their braids of hair rather than hands. This was a truly lovely sight, and Ira's look showed that sense of longing, of wanting to experience something like that yourself and to be part of it.
Whereas for Estonians the Song and Dance Celebration is something so special that there are not enough words to convey it (and they are not needed, since others understand it anyway), during this Dance Celebration children who are native Russian speakers also got to experience the touch of this ineffable 'something', and perhaps this feeling is something that will give them inner strength and resilience.
The spell cast by the Dance Celebration evidently also touched Marko, a young deaf and mute man, who had no prior experience of the Song and Dance Celebration. As soon as the first groups came onto the field, Marko began to photograph and record video – he waved and clapped, really sharing in the emotion and being happy to witness the Celebration.
Delight of being together
Sunday morning was occupied in walking around the Old Town, with children then making their way in good time to the Song Festival Grounds to find their seats. Boys were also excited that coaches were so over-crowded with those going to the Song Celebration. During the Song Celebration, children had more freedom to move around the grounds, learning how to find their bearings in a large ground and to ask for help if necessary. One young lass, who got lost, knew how to ask for help very politely, showing a gentleman her teacher's phone number, written onto her hand. The child was found all right, and the girl herself was happy that she had known how to ask for help.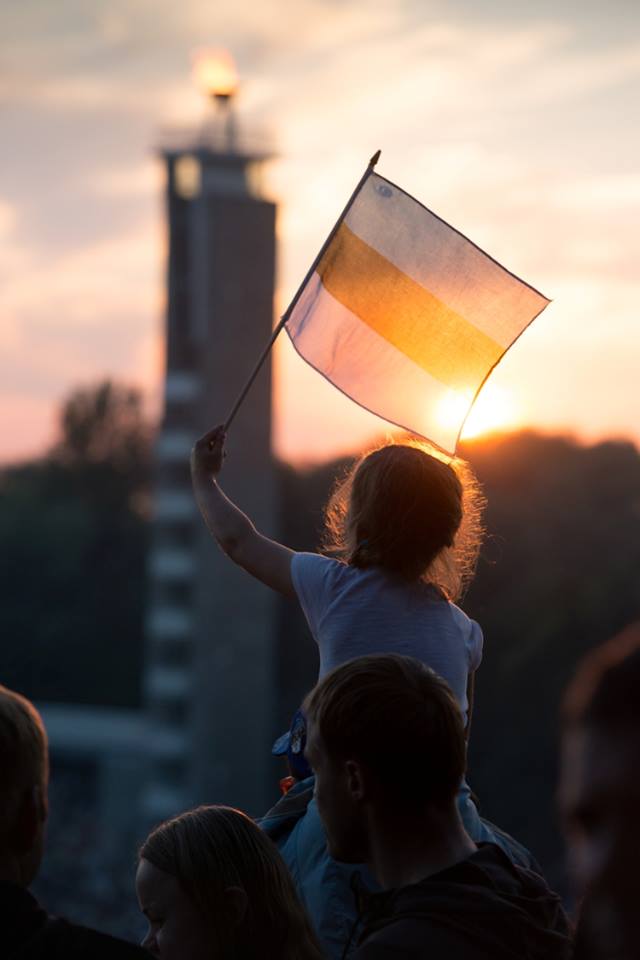 Photo: Raigo Pajula
13-year-old Kevin, 9-year-old Klaarika and 10-year-old Reelika were enjoying the Song Celebration with every fibre of their being. Children were delighted already by a little tour to the stalls where they could eat ice cream, try on blue, black and white hats, and marvel at wonderful guests in traditional dress. Listening to the songs, there was discussion about various types of choirs, conductors and authors of tunes and lyrics – children had no shortage of questions, and their thirst for knowledge was great. Bright eyes and enthusiastic clapping accompanied anticipation of what would come next. Children were enraptured by the large crowd amid which they could feel the joy of being together – faces, strange at first, became familiar quickly, and the Song Celebration feeling came quickly, as indicated by their glowing faces. Strangers too noticed and delighted in children's emotional involvement in the event.
Many children also enjoyed having their own money in hand and being able to walk around on their own and buy themselves the food and sweets they liked. In the meantime, there was chatting to teachers at the meeting point; however, children just loved being able to move around on their own. In the evening, everyone nicely assembled at the agreed place without any problems.
Boys loved the performance on brass instruments, especially the medley. More than anything else, girls were impressed with the performance by joint choirs, since an especially high number of singers assembled on stage. The wonderful texts inserted during interludes in the Song and Dance Celebration helped children to unpack the meaning of a song or dance in greater detail.
How can they stand and sing there so long?
After the first songs, Daniel asked when it all would be over already; however, as the last song ended, he was sad, is it over already?... Thrown in there was a lot of talk about what the Song Celebration is and why there is one and why Russians do not have it. Why were not all the songs merry? Why were 'tree leaves' hung around their necks! Are women's caps made from soldiers' hats – they are so much like garrison caps in his mind... How can they stand and sing there so long? There are more people here than at the cinema...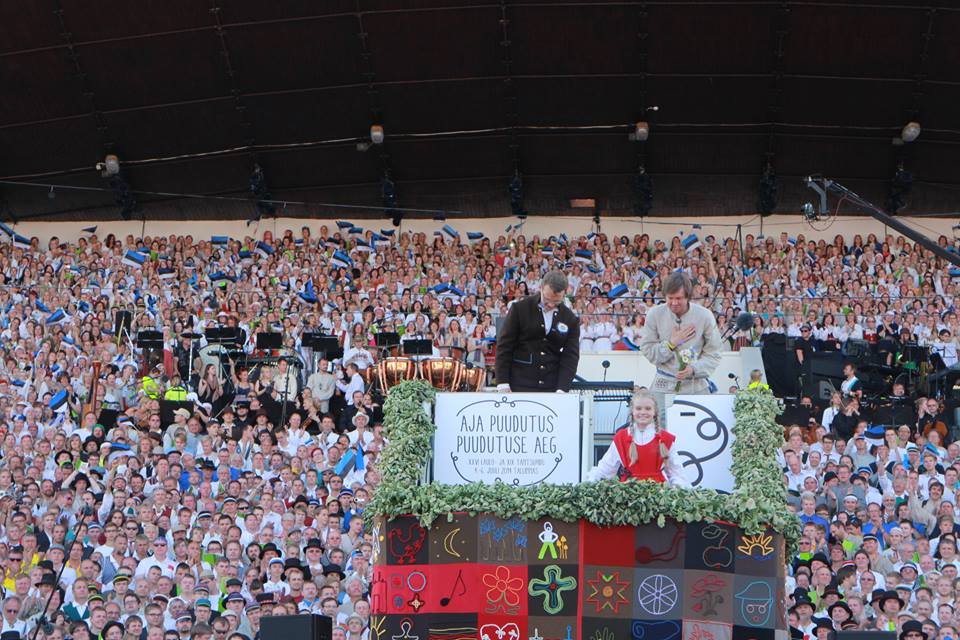 Photo: MuusikaElu
It was a sublime feeling when small lights began to light up. It was an experience that brought a moment of silence amongst children: "It was a strange feeling. I have never been in the middle of a crowd so big. Children wept and looked at one another so differently," one child observed afterwards. "It was really mighty and powerful. Old and young alike were there. If there were more time, I might go to dance there myself," another announced.
"There is no other feeling as sublime as being at the Song and Dance Celebration. This kind of party will remain in your heart even when you begin to forget about it," one teacher summed up the emotions.
Children experienced a very special emotion during the final segment of the Song Celebration, when hands formed human waves and there were lots of opportunities to wave the Estonian flag. In the end, it was clear to even the very youngest that it was the Estonian flag. Even those who at first were slightly frightened by the immense crowd were enjoying the tumult heartily by the end. People did not leave the Celebration until late at night, when the Song Celebration Light went out. On the way home, it was fun to walk for a while, and singing broke out again onboard the coach on the way back. Teachers, too, got to know their children better and were happy to recognise that they have very well-behaved and brave children, who will not complain one bit when tired. There was a great feeling of being together as one.
More than anything else, children were impressed with the grand scale of the Celebration – the large stage, the sheer number of people, the colourful clothes, the huge number of singers / dancers and their important role, as a result of which many conceived the desire to take up dancing or singing, come autumn, and to practice diligently, for only the best choirs and dancing groups make it to the Celebration. Children also remembered the President's speech and singing together – there were observations that it is a proud and good feeling to be Estonian! Young people were asking why some people were getting misty-eyed. The answer instilled in them the knowledge that we are a small nation, yet we are the only ones to have a celebration like this – this, however, makes us strong, and it is warm-heartedness that lasts long... The proud feeling of being part of an event this powerful, even if as an on-looker / listener, will remain in children's hearts for a long time yet.
Triin Lumi
MTÜ SEB Heategevusfond
Participate
Thank you, if you have already supported our charity programme or if you are going to do it in the future! Sign a standing payment order contract in SEB Internet Bank for 3 euros a month or support with a single donation.