Jõulusoovide puu
The Christmas wish tree is made up of the dreams and wishes of children in shelters and substitute homes, sent to Santa Clause. To make sure that these do not just remain dreams, pick a gift from the Christmas tree and make a donation to the best of your ability.
www.heategevusfond.ee/joulupuu
The possibility of speeding at 100 km/h in the Republic of Estonia
14.09.2012
A couple of thousand participants in the children's races at the 15th SEB Tartu Bike Marathon last Saturday afternoon also included 50 children staying in sheltered housing, from Tallinn, Harju County, Tartu and Ida-Viru County.

Today's Bike Marathon has been the culmination of the sporting summer for children in sheltered housing. There are many children in sheltered housing who made their debuts on bikes along the mini distance at the Bike Marathon. We are positive that by pedalling the bikes children are better able to overcome their fears and cares.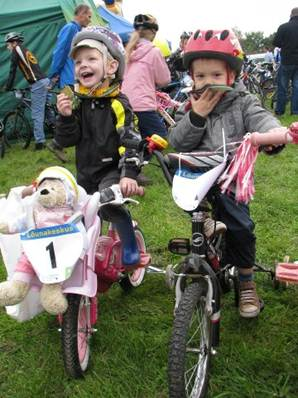 Five-year-old Grete K put the most heart and soul into the event, tirelessly encouraging the others, not sparing even her teacher!
Speeding along on his bike, three-year-old Kevin L from Tallinn was shouting and encouraging his friends at the same time: "Let's hit 100, let's speed all the way, speed!"
Fresh off the mini trail at the Marathon, eight-year-old Jelena S from Narva said: "I'll never ever go on the track without a helmet, and I'd been practicing days – I've more than earned today's medal, and it also matches my shiny helmet nicely!"
Children staying in our sheltered housing often cannot think of anything to discuss about their weekend when they come to class on Monday. This time, the home-room teacher of the eight-year-old Toomas rang the sheltered housing and inquired, What did you have going on there? The boy had re-lived his events from last Saturday all over again and expressed his satisfaction in having also had the opportunity to go to Tartu and proudly shared his impressions of the day of the contest.
As is now custom, the day of sport ended for the children at the Aura aquatic centre, soaking their fatigued muscles in the relaxing water of the pool.
With the help of generous donors, the positive energy from sport was yet again tapped by children who would otherwise never have been able to!
Triin Lumi
Participate
Thank you, if you have already supported our charity programme or if you are going to do it in the future! Sign a standing payment order contract in SEB Internet Bank for 3 euros a month or support with a single donation.