Jõulusoovide puu
The Christmas wish tree is made up of the dreams and wishes of children in shelters and substitute homes, sent to Santa Clause. To make sure that these do not just remain dreams, pick a gift from the Christmas tree and make a donation to the best of your ability.
www.heategevusfond.ee/joulupuu
Pocket money provides a basis for knowledge on how to establish a personal budget
01.03.2015
Children, raised by their grandparents or in residential care who are full-time students in a vocational secondary school or a higher educational establishment, will be able to continue their studies this session for the fourth year in a row with support from the Non-Profit Association SEB Heategevusfond.
On Sunday, 1 March, a career day was held from which 85 young people left with skills to manage their money wisely and with tools for informed and targeted career planning. Financial wisdom was shared by Niila Tamminen, lecturer at Humak University in Finland, and youngsters were given advice on career planning by Annika Räim, HR Manager at Creative Union, the association of communication agencies.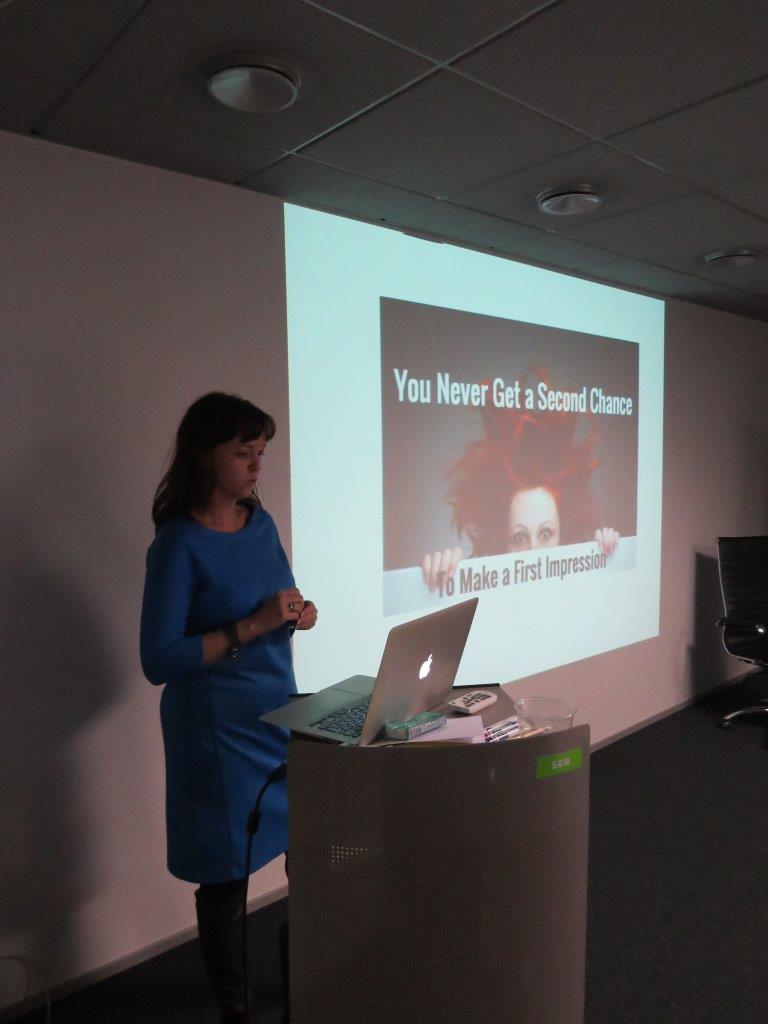 The psychologist-psychotherapist and training provider Mare Pork spoke about helping yourself and supporting those close to you. Birgy Lorenz, a doctoral student at Tallinn University and member of the "Wisely on the Internet" work group, explained how to navigate the Internet wisely. In the creative workshop, the youngsters received experience in the co-creation of a musical, under the guidance of the creative producer Lehari Kaustel.
According to Niila Tamminen, one of the speakers at the career day, in Finland, pupils of basic schools get an average of EUR 5-15 each week as pocket money. Pocket money is given by parents, who play a significant role in sharing financial wisdom with children; however, the parents do not usually check how the money is used. Tamminen said that youngsters get pocket money for doing their chores or for the work done during the summer holidays. Money is collected for a specific purpose or for fulfilling one's dreams. Feedback on the workshops organised by the charity fund on financial wisdom has shown that the youngsters who have earned their own pocket money use it far more consciously than those have simply been given the money.
Who do you depend on the most?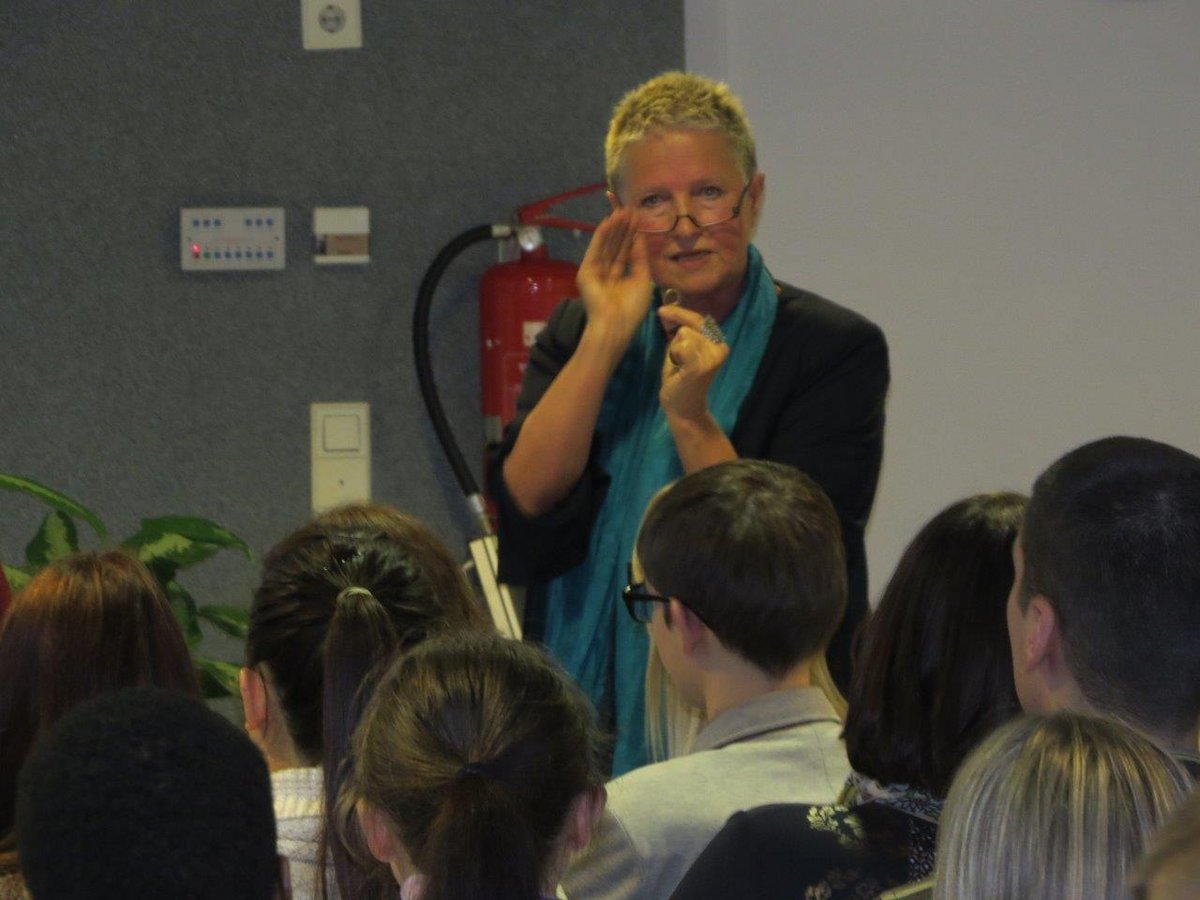 Mare Pork spoke about confidence and self-management. She explained to the youngsters how important justified confidence is in self-management, as it helps people to rely on themselves as much as possible. In Pork's opinion, the supporters and support persons of a young person need to keep in mind that there is no such thing as too much confidence because satisfaction with oneself is what gives the greatest advantage in competition with others. Satisfaction with life entails both personal coping and intimate and work relationships – if these are in order, a person is more confident to move forward in life. Peace of mind and composure cannot be achieved with the help of external factors only; instead, one must look into oneself as well. Pork explained that positive thinking helps to change many things in life. The way you think can even channel the chemical processes in your body and as a result, support your physical well-being and general health.
At a job interview, a lot can depend on looks
HR Manager Annika Räim spoke about why it is important to make a good impression at a job interview with appropriate appearance, including clothing, and why it is important to make sure you shake hands firmly. During the playful group work session, the HR manager coaxed the youngsters to share their dreams and explained how dreams can be the basis for studies and employment.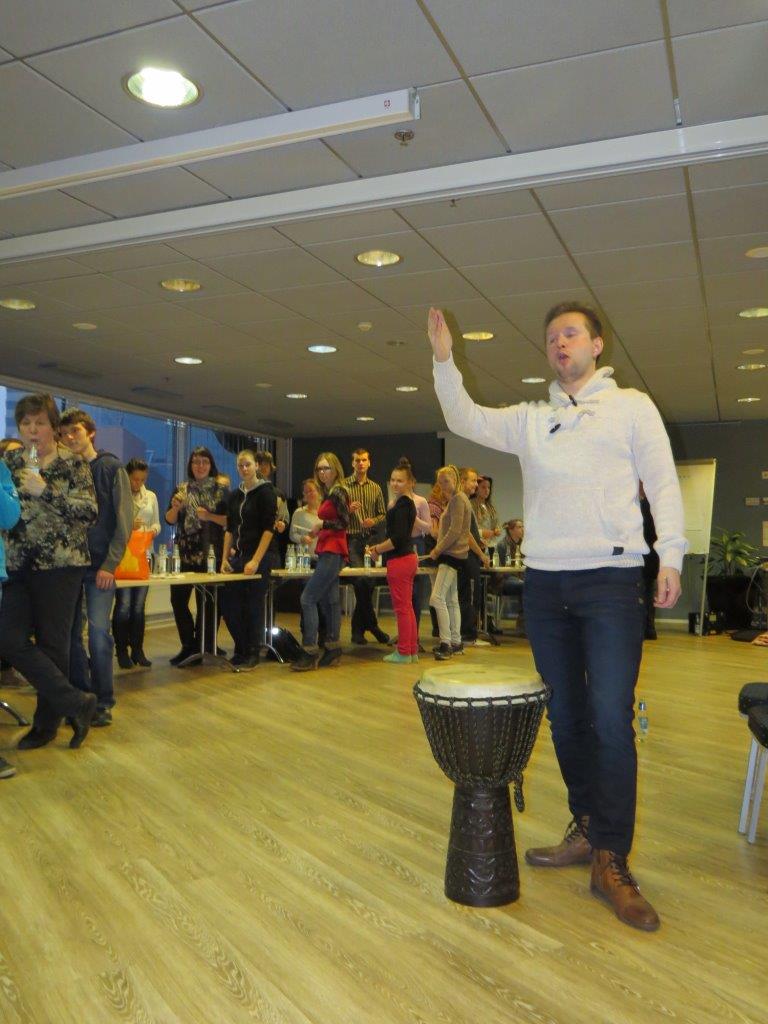 The IT workshop also included a discussion on invitations to job interviews and who are the individuals being invited to job interviews on the basis of CVs and motivational letters. Birgy Lorenz presented the results of a related survey to the youngsters. After that, there was a discussion about the basics of online safety and how to protect your equipment, from computers to smart devices. The incidents happening online and the personal public social media profile were also talked about.
"It was awesome to play the instruments!"
At the end of the day, all participants had a chance to put themselves to the test in a creative experiment in which the creative producer, Lehari Kaustel, helped make the sounds sound right in the groups. Lehari jumped from one sound group to another and helped them get the pitch right. It was really interesting to charm notes out of the water bottles – some by blowing and others by tapping the rhythm with Chinese chopsticks. The youngsters thought it was a really cool way to end the career day and the slight feeling of fatigue after the practical workshops was gone just like that. They are now eagerly awaiting the surprises that next season's career day will bring.
The participants in the career day were young people who are growing up in guardian or foster families, safe or residential homes, and who plan to continue their studies, as well as young mothers who gave birth before the age of 19. The Fund gives student grants that in 2015 totalled EUR 50,000.
Merike Villard
Non-Profit Association SEB Heategevusfond
Participate
Thank you, if you have already supported our charity programme or if you are going to do it in the future! Sign a standing payment order contract in SEB Internet Bank for 3 euros a month or support with a single donation.