Jõulusoovide puu
The Christmas wish tree is made up of the dreams and wishes of children in shelters and substitute homes, sent to Santa Clause. To make sure that these do not just remain dreams, pick a gift from the Christmas tree and make a donation to the best of your ability.
www.heategevusfond.ee/joulupuu
The only thing worse than falling down is not picking yourself up again
10.09.2011
Among the 3000 or so runners who took to the streets of the capital on Saturday afternoon as part of the children's races of the annual SEB Tallinn Marathon were 100 kids from shelters all over the country.
The Autumn Fun Run was the last event in a summer of sports for the kids, who were supported by the SEB Heategevusfond /Charity Fund/ to take part in a number of popular recreational competitions, also including the May Fun Run and the Narva Energy Race.
The kids all threw themselves into the warm-up routine led by trainers from MyFitness before the race. Eight-year-old Karina and nine-year-old Natali were bang up-to-date on contemporary fitness and discussed why and how running was good for you and why regular runners had such attractive, slender figures.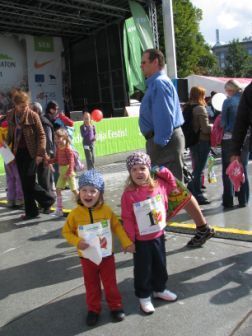 The kids were registered for the race by the staff who'd accompanied them to the event from their shelters and then awaited their starting orders in nervous anticipation. Every minute or so one of them would ask: "When do we start running?" "I'm all warmed up and ready to go! Can't I start already?" Since kids of all ages were taking part in the race, their minders sent someone out onto the track to collect them as they completed their distances.
Four-year-old Nadja from Ida-Viru County, for whom the race was the first such event she'd ever taken part in, crossed the finish line with a tear-streaked face – she'd apparently fallen over along the way. But once she did cross the line and received her certificate of participation and sweet prize, she forgot all about her bumps and bruises and was all smiles once again. For the boys taking part, the fun run turned into a true competition – they all strove to post the best results in their age groups.
Ten-year-old Reiko even fell over and grazed his knees while doing so, but dogged determination saw him get up again and push on for the finish line – he knew that the only thing worse than falling down would be not picking himself up again! Returning from the track after the race, six-year-old Oliver from Pärnu County said: "I ran so fast, I came first! But why do there have to be so many people all starting together? It'd be better if we could all start by ourselves, then there'd be no pushing and shoving. But at least everyone was in a good mood. When I crossed the finish line, it felt great! And I tried so hard while I was running that by the time I got to the end I was so hungry I could eat a horse!"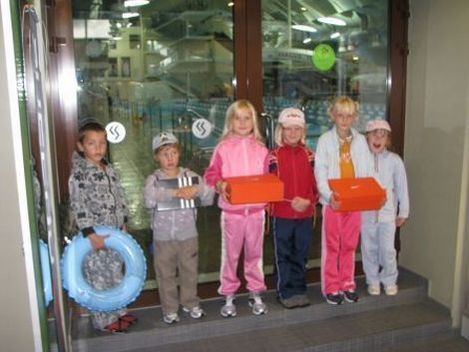 On the way to Tallinn, Daniil from Tartu County showed his minder what a sorry state his trainers were in – the holes where his toes were let in every speck of dirt and drop of rain. And that's precisely why the SEB Heategevusfond, in association with Sportland Estonia, gave every one of the kids who took part in the Autumn Fun Run a brand new pair of running shoes. Their surprise and delight at receiving the new shoes was great and greeted by a babble of questions and comments: "Can we try them on straight away?" "Can I run the race in them, like, here, today, right now?" "Do I get to keep them?" "Wow, look what colour mine are!" Nine-year-old Regina from Tartu told her friends that her new trainers had a mind of their own – that it was like they ran themselves, without her having to move a muscle: "Look how fast they make me run!" she said, and took off in demonstration.
Children who live in shelters often have self-confidence issues and are all too often made fun of. But I'm sure their new trainers will give people less reason to look down on them and motivate the kids to build up their confidence through sport.
Triin Lumi
 
Participate
Thank you, if you have already supported our charity programme or if you are going to do it in the future! Sign a standing payment order contract in SEB Internet Bank for 3 euros a month or support with a single donation.