Lastega ja lastele
Auhinnaga "Lastega ja lastele" täname ja tunnustame inimesi ja organisatsioone, kelle uued algatused või pikemaajaline tegevus on positiivselt mõjutanud laste ja perede käekäiku.
Tunnustusauhinna taotluste voor on avatud
15. aprillini
.
Esita taotlus
Meeting with some old friends: Will we also see Sid? Are you sure Peaches will be coming?
17.01.2015
On 17 January, 175 children from substitute homes and safe houses in Ida-Viru County, Central Estonia, Valga County, Tartu County, Haapsalu, Pärnu, Järva County, Viljandi County, Harju County, and Tallinn, travelled to Saku Suurhall to take in a performance of the ice-skating spectacular "Ice Age Live! A Mammoth Adventure"– based on the popular cartoon series.
During the gripping and truly mammoth-scale show, everyone got involved in the wild adventures of their favourite characters, to which an element of spectacle was added by the fact that everything was happening on ice. The masterful feats of skating and acrobatics, martial arts, earth-shattering technical solutions, pyrotechnic effects and video installations, along with dancing and singing, provided the children with an unforgettable experience.
The trip to take in the show became a reality thanks to teams from SEB Charity Fund, Live Nation Estonia and Stage Entertainment Touring Productions working together.
What is the Ice Age?
Before the show, anxious anticipation reigned at many a home, with everybody busy doing their homework to meet with 'old friends'. Is there any child who does not know the characters form the "Ice Age" cartoon? Yet, just how Manny and Elly, Sid and Diego, Peaches and Buck and the others could manage on skates caused quite a bit of puzzlement.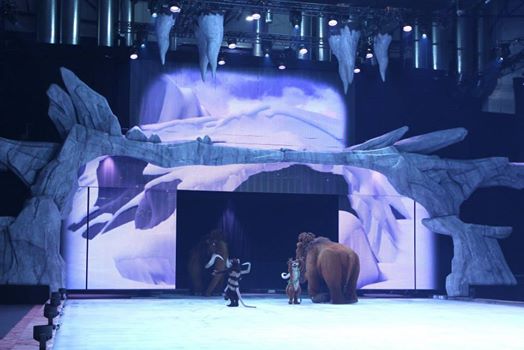 "Ice Age" cartoons were watched again, with great enthusiasm, with a discussion of what the Ice Age was and what kinds of animals had lived then and how the world had changed. Imagination took flight as to why the ice may have begun to melt and everything that might have happened. Studying the map it became clear that a portion of the Earth is covered by ice and snow even now and that animals inhabit the polar regions to this day, even though there are no mammoths any more... Such discussions kept everyone busy for several evenings. And, no doubt about it, the history and evolution of our Earth became a bit clearer.
Watching video clips from the show, there was lively discussion of how an animal the size of a mammoth could be lifted up into the air, with quite a few asking with good reason: Are mammoths really that big? Expectations and hopes were high.
Estonian "Ice Age" and the pleasures of public transport
The show fell on a day when an 'Ice Age' was ruling these parts. One family's teacher wrote that the trip to Saku Suurhall had begun with a series of falls, since conditions had been extremely slippery outside. Seven-year-old Jaana had no sooner taken two steps than she landed in a puddle with her pretty little dress – her eyes got misty as well, but she put on a fresh dress and it was full steam ahead! Nine-year-old Reino did a bit better: he made it to the coach and then, splash! Although Reino minded very little – he put on a fresh pair of trousers and it was full steam ahead! A trip to Tallinn, no less, highly anticipated by all.
Public transport injected an element of adventure into the trips of several families. In the opinion of the children, it is even more fun that way: you get to see interesting people and practice being independent, since you have to pay attention to get off at the right time, know how to ask for a ticket to your destination, etc. During the trip, the children and their teachers got an opportunity to 'chew the fat'. The children from one home 'educated' their director in the area of youth music: their tastes did not coincide every time, but what amused the children the most was when the director made faces, asking if that was really music...
One teacher commended the children for their economical thinking. When faced with the choice between a cab and public transport in Tallinn, the children opted for the latter, since by paying more for green cards on that occasion they would be able to save in the future. The teacher pointed out how good it was to listen to that kind of discussion, since she herself had not really involved herself in the debate between the five children. And so green cards were handed out, everyone validating their own, looking all fussed. Everybody managed!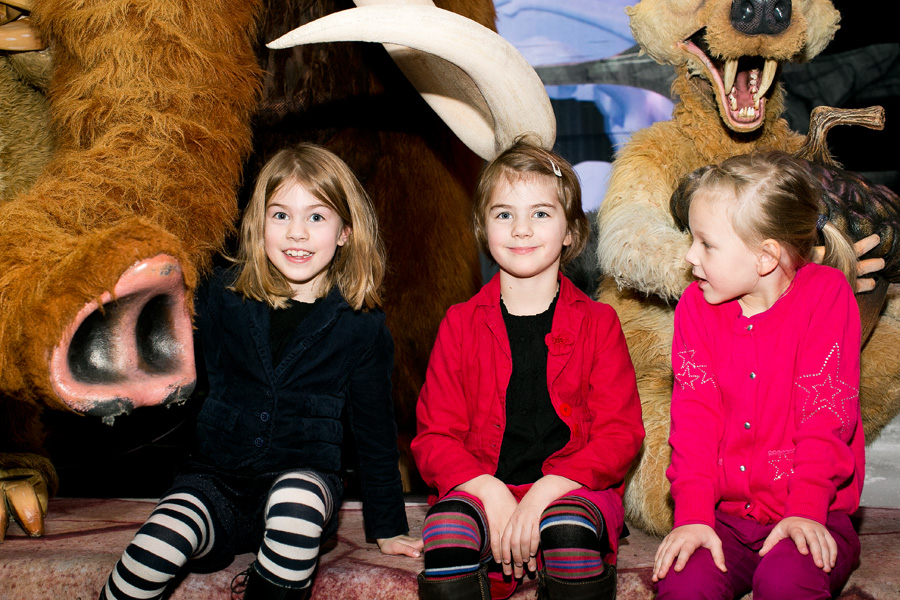 Another family decided to take the train to Tallinn. The decision was made in favour of the train because that way the children would gain further experience in travelling by public transport. At the train station, however, there was an hour-long wait, since the train was delayed due to a technical fault. The children were getting anxious already and kept asking what would happen if no train came. The mother of the family now got the chance to talk about time management and how you always had to allow for extra time when travelling by public transport. To ward off cold, everybody had to hop and jump. This, in turn, was a lesson for the children that it always pays to dress more warmly in winter, as you never know that might happen... In the end, the train came, and they were off to Tallinn.
"Are you sure there is a tiger as well?" a 6-year-old young fellow asked the teacher while waiting for the coach. "What about the mammoth?" enquired the next little friend. "I like those... well... the striped ones – were they there?" enquired a third one. The teacher did not have much to say to that, providing this answer instead: "It is a surprise!" The teacher had to use the phrase something like a dozen times during the long coach trip, because the children know their favourite characters cold, looking forward to meeting with them.
"Saku Suurhall really is a very-very-very big building!"
Saku Suurhall impressed the children with its massive scale. A couple of the boys had been there before, but the majority had not. It was agreed what to do in case someone should get lost. Lessons in becoming independent continued once inside, as well. In some families not all the children were seated together, with everyone having to find their own seat. Those who wanted to could sit with their friend separately and feel more important, with the teacher's gaze turned away for once.
Already before the show, the children found ladders hanging, and this got them thinking what their link to the show was. It occurred to the children that Scrat or, instead, robotic squirrels could climb there... Aerial feats from a show in the previous year were also recalled, with the children believing that was the reason they were there. Actually, it was the lighting guys who climbed up there.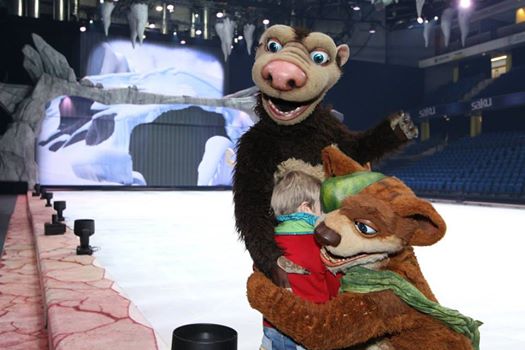 With trepidation, 8-year-old Toomas from Tartu County watched technicians climbing just below the ceiling. "How do they find the courage to do that? How? That has to be really scary, and he certainly has his eyes closed while climbing like that! Will they fall down?" he worried.
Eleven-year old Kennet, on the other hand, sized up the scale of the venue: "At one point, there were horses in here, a lot of them. Now it is the mammoths, and they fit easily as well! Saku Suurhall really is a very-very-very big building!"
For many a teenager, it was the first time they had been to the theatre in their lives. One 12-year-old girl even got frightened when the lights were turned off and loud music began.
Huge and hugely good
And there came the mammoth, life-size, followed by the other familiar characters. Whereas previously some children had thought that ballet, even though on ice, was hopelessly boring, any such thoughts were now instantly forgotten. The personages in the show looked so real that nobody wanted to believe there were people inside them.
The children were following the show attentively, with 10-year-old Eleri, who is studying French, catching a French phrase during the show and generously translating it for the others.
On the technical side of things, the children were interested in how mammoths that big could be made to move. The teacher had to explain this several times during the show. The mammoths really were very big and made an indelible impression on the children. The children were also puzzled how the people inside the bird costumes could get out of their costumes so quickly and perform acrobatics and then, unnoticed, slip back into them. It seemed so unreal!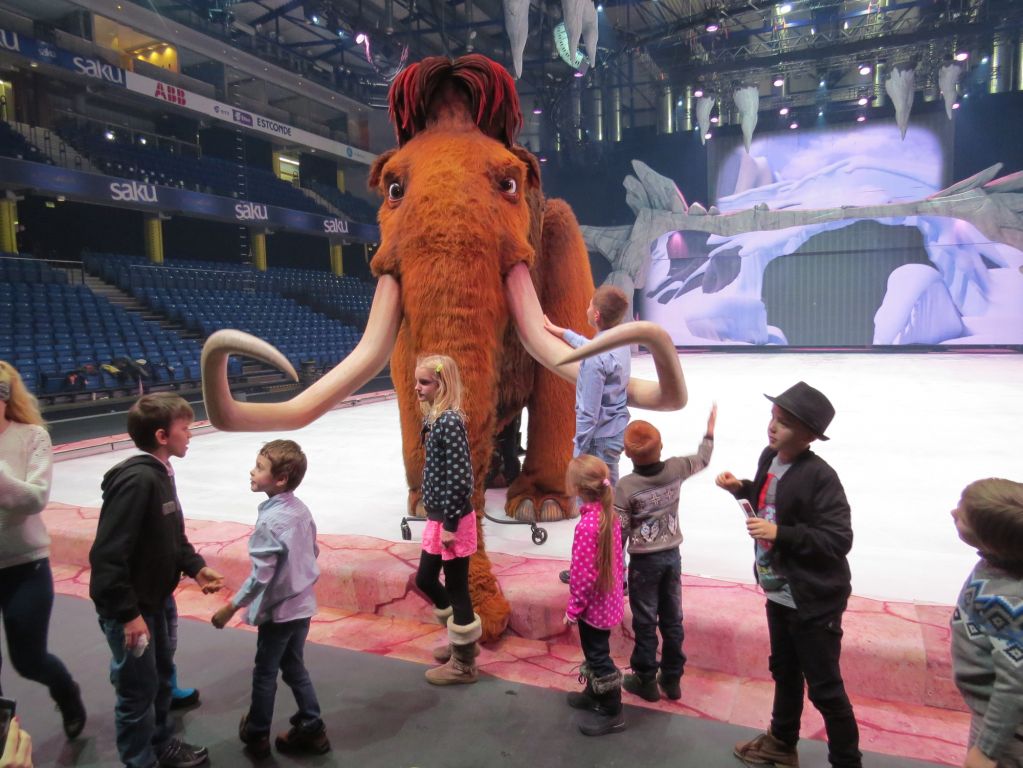 Some scenes, however, frightened the younger ones specifically because they were so realistic. For instance, the eagle flying below the ceiling seemed so realistic that little Anette sneaked into her teacher's lap for shelter in case the bird should fly close to her, and the younger boys sat back in their seats and held on... For the younger children, it was the size of the characters that surprised them the most. Little Kevin asked his teacher if perhaps they were real and what would happen if they came into the seating area...
Four-year-old Andre kept gasping, "Teacher, look, another big animal is coming!" Another 4-year-old checked after every round of applause to be sure that it was not ending yet... A girl said that she 'got so into the show' that she felt like she was living during the Ice Age.
Five-year-old Tuuli, on the other hand, formulated an anatomical insight into the world of mammoths: "The little mammoth Peaches is sooooo kind-hearted. That is why they have bodies and heads and legs that big, so that their big and warm and good heart can fit inside them."
"How on earth is it done?!"
Villu was specifically observing the technical aspect of the show – how the lighting was being directed and how the big animals were moving and how the stage was being moved by a software program. There was a lively discussion over how the animals could have been possibly made to move. The children were also puzzled how you could skate in those costumes in the first place. Looking at the characters up close later, it became evident that every character had netting somewhere through which the actor could see outside.
The boys were the most impressed specifically by the acrobatic component, which caused them to clap their hands with immense joy. The girls were touched by little Peaches, whose adventures they became involved in with all their hearts. One girl went so far as to ask whether she could go and hug Peaches, because it was so cute!
The older ones discussed how the actors could manage with those big costumes on (which they found out later) and were genuinely enraptured by all the feats and the stage design. On the way home, there was discussion of how on earth all those kinds of things could be done and thought up actually. It was believed that watching the cartoon you would never think of how all the design had been done and was functioning.
The show was so powerful that no child had cause to be disappointed. All those sloths and mammoths, opossums and tigers known from the films, were skating around on ice. Everyone was able to find their favourite. Enthralling thudding and jostling, wonderful musical interludes, witty dialogue and action, both on the ground and in the air, gripped the younger fans of "Ice Age" to such a degree that everyone was singularly focused on watching the proceedings on stage, their mouths wide open with wonder. A theatre-loving girl from one family tapped on the teacher's shoulder every now and then, giving her two thumbs up in a sign of approval. And if a teacher, absorbed in the show, forgot to applaud a number for a moment, the young lady reminded her to with a gentle jab from her elbow.
Those children who are native Russian speakers and did not understand the spoken part entirely also enjoyed the spectacular costumes, show and stage design. Of assistance were comments by the teacher on what was happening on stage and why, and so they were able to watch and wait for what was going to happen next. Pirouettes and acrobatic feats performed to fast, rhythmic music set every child's eyes ablaze with excitement. Everybody was watching, mouths agape, pointing something out to one another and commenting every now and then.
"The mama mamont was singing so beautifully"
Tatyana liked the stage design and how it alternated. "The icebergs, caves and greenery and blooming flowers depicted on the backdrop, these were just like the ones in real life. Everything was so much like real nature, where those animals were having their adventures," she said.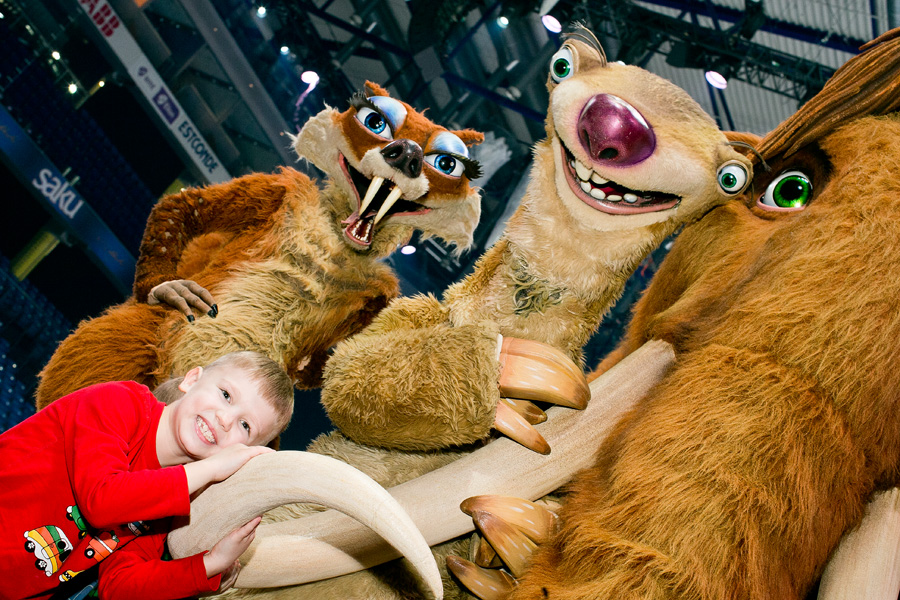 Animals skating on ice made the deepest impression on 7-year-old Dasha. She must have taken them for real beasts at first. In every event, she stressed this most when sharing her impressions of the show: "Just imagine, there were people inside those big costumes! And they were also skating!" The biggest appeal was commanded by the mammoths, or rather the 'elephants', as he called them – mum, dad and especially the cute little 'baby elephant'.
The boys remembered the fire god dance by Sid, which also featured pyrotechnic effects. The girls really liked the squirrels dancing with the acorn. A couple of the younger children wondered where such big and hairy elephants were these days. The teacher's explanations revealed that mammoths lived a very, very long time ago and that, over time, they have evolved into the kinds of elephants that you can no see at the zoo. Questions were raised by the stage props, too: the children were asking if a cliff had been built from real stones on stage. The person accompanying them explained that it was actually made of Styrofoam or pulp and then painted to look like stone.
Twelve-year-old Sofia summed up the plot and the experience of the show this way: "What it was about was that the baby mamont wanted to go to bed, but some birds flew in and kidnapped it. Its mother wanted to rescue it but could not, because the bird hurt its mother. It had beautiful dance performances, and the mama mamont was singing so beautifully…"
The show inspired children to exercise and learn
In many of the homes, there was the recognition that skating rose to a place of honour among children once more, since the actors' skating prowess had made a deep impression on them – many sighed longingly that they, too, would like to be as good at skating. Although children generally like to go skating anyway, there is no such thing as too much additional inspiration. A teacher who is a native Russian speaker, by contrast, thought that such experiences might inspire one to make more of an effort when learning Estonian, as it became clearer why Estonian is necessary. Not because someone says so or to get a good mark but because that way, thanks to knowing the language, one gains something greater, such as an enjoyable experience.
Natalya was enchanted by the ice skaters, their costumes and, needless to say, prowess. On the way home, she enquired: "Could we go to skating at an indoor ice rink somewhere? I want so badly to learn and to try skating on smooth ice!" She announced that if it were slippery on the cycle and pedestrian path the following day, she would get her skates on, because the example was infectious.
Also Jaana, who has been living at a children's village for just half a year, stated on the way home that she wanted to start skating. Living at home, she had no skates; although she would like to learn how to move in the same way. She understands that everything requires a long period of learning but is optimistic: to pull off the combinations, you have to work hard.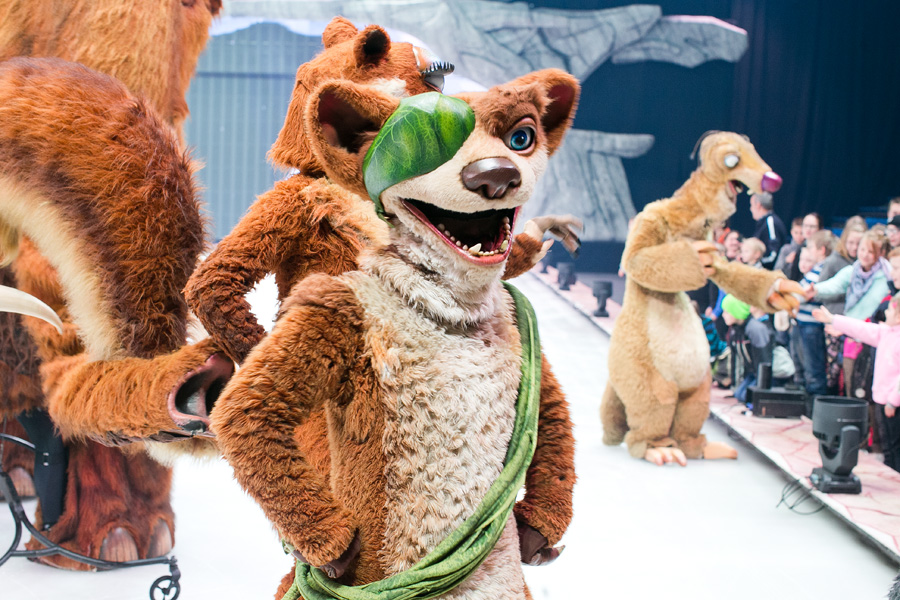 Tatyana was explaining to the others: "When you perform on stage, everyone has to have memorised their part well, exactly as was the case during the ice-skating spectacular. It is so awful when you forget your lines or something gets mixed up on stage. I am a member of a drama club and always try to learn everything well, or else nobody will want to come to see us..." Natalya offered a correction: "Real actors never forget their lines or mix anything up on stage." Secure in this knowledge, the children quietly dozed off, waking only at the doorstep of their homes.
Dmitri, on the other hand, liked the acrobats. "You have to lift lots of weights, otherwise you won't get that strong!" he commented.
Real fire, real ice and real work seen up close
The fireworks on stage were impressive as well, for those volcanoes spewing sparks have been seen before; however, REAL FIRE on stage was something unheard-of, causing some fellows to whistle, no less. Excitement was also aroused by the touching of ice – it was actually REAL ICE.
At the end of the show, the party from children's shelters and substitute homes got the opportunity to go on stage to see their cartoon friends and favourite characters up REAL-REAL close and to have their pictures taken with them. The braver ones chatted a bit, although there was not much understanding one another. Yet some children got to try their English skills. The children got to pat and hug almost all of the characters. To have their pictures taken with their favourite characters was very important for the children, and that joy and excitement was still visible long after the picture taking had ended.
Six-year-old Jasmin experienced this: "From above, they seemed so small, yet down below they were so big, just like the real ones." The word 'real', however, inspired some awe in some of the younger ones. The six-year-old boy who so had been looking forward to his tiger, stood behind his teacher, just in case, and fled to a safer distance from the gigantic mammoth when pictures were being taken.
Touching the actors' wet fur coats, the children got to see for themselves that for the performers putting on the show was, after all, strenuous physical labour.
Many a fan of "Ice Age" got the souvenir of a huggable toy or a merry-go-round with lights, which they played with on the way home, until they fell asleep and their impressions of "Ice Age" transformed into dreams.
Broadening horizons
Such outings help teachers to get to know the children better and see new sides to them, since a teacher is able to pay attention to all the children in a smaller and more casual setting.
Going to the theatre expands children's horizons, also helping them to understand that if you want to get anywhere in life, you have to work or, in case of a child, study hard. And learning is like building a house: if the foundation has been laid well, the house on top of it will stand up strong, too. Going to see the show also added social responsibilities for the children, for example, when it came to travelling by public transport.
The mother from one family said that she was sincerely delighted to watch her children forget their everyday cares and joys for the duration of the show, getting involved in the characters. It is also great that, thanks to such experiences, children, including older boys, learn to appreciate ballet and dance performances, which can hold their own next to sports competitions.
Triin Lumi
SEB Heategevusfond
Participate
Thank you, if you have already supported our charity programme or if you are going to do it in the future! Sign a standing payment order contract in SEB Internet Bank for 3 euros a month or support with a single donation.