Jõulusoovide puu
The Christmas wish tree is made up of the dreams and wishes of children in shelters and substitute homes, sent to Santa Clause. To make sure that these do not just remain dreams, pick a gift from the Christmas tree and make a donation to the best of your ability.
www.heategevusfond.ee/joulupuu
The marathon trail was lengthened by 186 kilometres
13.09.2013
SEB 16th Tartu Rattamaraton saw several thousand participants in the children's races last Saturday afternoon, including 50 children staying in substitute homes and shelters in Tallinn, Rapla County, Tartu, and Ida-Viru County.

Sports events are important – adults can offer children exercise opportunities and when they give an example, children gladly follow. Thus, today children from shelters were on the trail side by side with children who rode together with their mothers and fathers.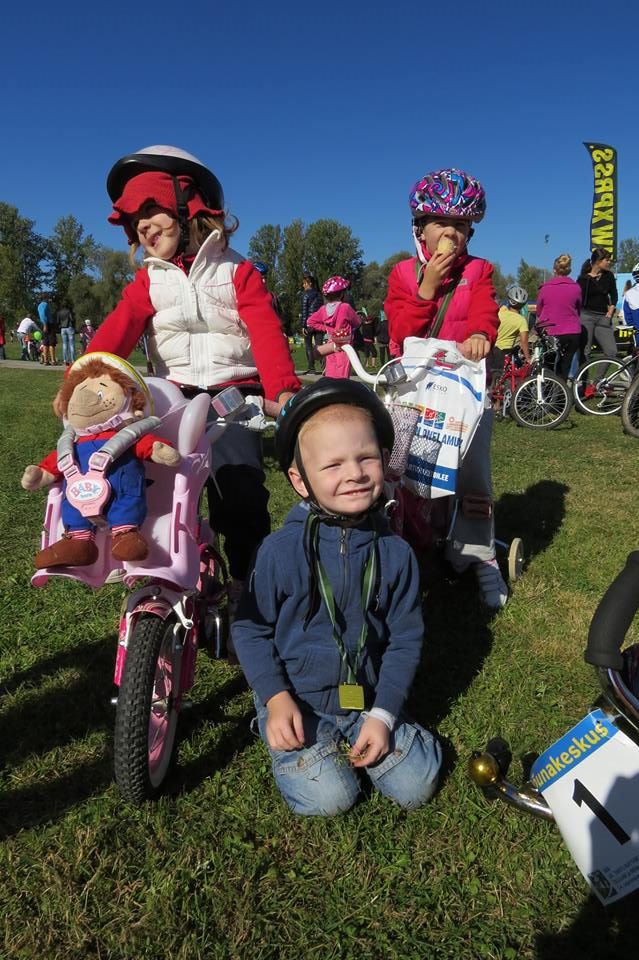 Participating in a competition with a starting pistol, fellow competitors, a defined trail and finish, as well as a medal and goodie bag, definitely impresses children more than some of them dare to show. Sport won! But the best prize was the feeling of accomplishment that everyone shared, regardless of whether they finished at the front or the back. Although at first the children were, as is usual in competitions, eager to beat the others, this was forgotten by the end of the competition and everyone was excitedly talking about their own unique experience: who fell, who slipped, who banged into something, and who was the fastest among their peers, among girls with ponytails competing on pink bikes or boys with blue helmets. For some, the five–kilometre trail was not enough and they went on it for the second time – valuing fair play, they did not take a second goodie bag.
4–year–old Rainer, who started his marathon day in early morning from Tallinn, thought after covering 400 metres that he would like to lengthen his marathon trail by 186 kilometres and could easily go ride home to Tallinn on his little red bicycle.
Teacher Inna was sad when she discovered that her bicycle's tyre had gone flat before the start. Although she really wanted to get on the trail with the children from her house, she now had to jog the distance next to the children, but the joy the teacher felt over her children's abilities was that much greater.
One 13–year–old young man, who had never before ridden a bicycle and participated in such an event, learned to ride a bicycle in only three days thanks to his great willpower. In a situation that was new and exciting for many children, the accompanying teacher's encouragement and support helped a great deal – this competition proved once again that together, and by helping each other, it is possible to cope in any situation.
The bike marathon has become a fun tradition in the Sillamäe substitute home – they were on the marathon trail already for the third time this year! Before the ride, the bicycles are serviced and the equipment is checked, and the more eager practise with great enthusiasm. Smaller children from Harju County were first registered for 1 km and bigger for 5.1 km distances, but rush increased before going to the start and so they went together and did the long distance.
After everybody had finished their ride, they eagerly waited for the raffle. A girl staying at Tartu County's safe house, and studying in the 2nd grade, won the grand prize, her own bicycle. This gift went to the right person because the girl was competing on a borrowed bike. Although those not favoured by fortune were a bit sad, they were pleased for her big win. This beautiful day no longer had room for jealousy!
The sporty day off brought lots of joy to the children – they were especially proud of their medals. Children were happy that they could prove to themselves and others that their medals and goodie bags were well earned.
Triin Lumi
Participate
Thank you, if you have already supported our charity programme or if you are going to do it in the future! Sign a standing payment order contract in SEB Internet Bank for 3 euros a month or support with a single donation.