Lastega ja lastele
Auhinnaga "Lastega ja lastele" täname ja tunnustame inimesi ja organisatsioone, kelle uued algatused või pikemaajaline tegevus on positiivselt mõjutanud laste ja perede käekäiku.
Tunnustusauhinna taotluste voor on avatud
15. aprillini
.
Esita taotlus
Marathon medal won with honour
16.09.2011
Among the more than 2000 kids who took part in the children's races of the 14th SEB Tartu Cycling Marathon were 50 kids from shelters all over Estonia.
 
The marathon was the last event in a summer of sports for the kids, who have been supported throughout the year by the SEB Heategevusfond /Charity Fund/ to take part in a number of popular recreational competitions, also including the skiing marathon, the May Fun Run, the Narva Energy Race and the Autumn Fun Run.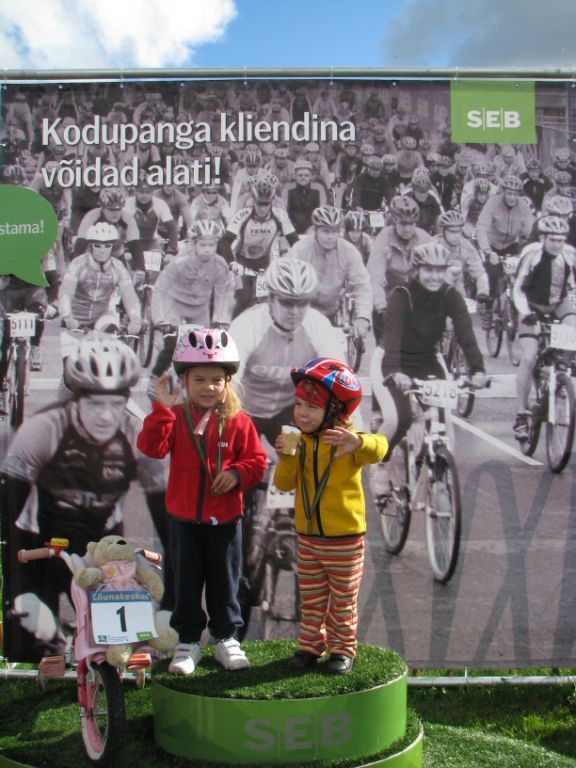 The kids double-checked that everything was OK with their bikes and their helmets days before the race, and on the big day itself waited impatiently for the starter's gun, proudly bearing their numbers on their chests. All of the kids completed their distances, despite a few setbacks here and there and the muddiness of the course. Seven-year-old Tiina from Pärnu County said: "It was terrible when I fell off my bike – I'm bruised all over! Plus the wheels are caked in mud. But it was fun to belt along with everyone else!"
Everyone was extremely happy to cross the finish line and receive their prize pack, including a medal. Ten-year-old Anton from Tallinn, returning from the mini-marathon course, said: "I trained for days for that marathon. I worked hard to make sure that the medal I won today would be won with honour!"
We hope that riding their bikes has made it easier for the children to conquer their fears and insecurities.
Triin Lumi
Participate
Thank you, if you have already supported our charity programme or if you are going to do it in the future! Sign a standing payment order contract in SEB Internet Bank for 3 euros a month or support with a single donation.