Lastega ja lastele
Auhinnaga "Lastega ja lastele" täname ja tunnustame inimesi ja organisatsioone, kelle uued algatused või pikemaajaline tegevus on positiivselt mõjutanud laste ja perede käekäiku.
Tunnustusauhinna taotluste voor on avatud
15. aprillini
.
Esita taotlus
Little footy boys on TV are actually big on the pitch!
24.09.2014

This summer saw the Estonian Football Association hold summer camps for football lovers aged 6 to 12 at football grounds in various locations across Estonia – Tallinn, Laagri, Keila, Tabasalu, Kiili, Kose, Koeru, Viljandi, Põlva, Tartu, Ülenurme, Pärnu, Kihnu, Valga, Haapsalu, Vinni, Tamsalu, Võru, Iisaku, Toila, Väätsa, Ahtme, Narva, Kuressaare, Kärdla, Sillamäe and Kilingi-Nõmme – from 9 to 13 June and from 11 to 15 August. According to Teet Allas, Youth Project Manager of the Estonian Football Association, football camps are very popular among children, and this year, too, more than 1500 children attended.
A total of 85 children from substitute homes and safe houses across Estonia attendeed
With support from SEB Heategevusfond, children from Estonia's substitute homes and safe houses were able to sign up for camps free of charge. The camps were attended by a total of 43 boys / girls in June and by a total of 42 boys / girls in August: Haiba Children's Home (2 children), Tallinn Lilleküla Centre (3 children), Tallinn Children's Home (5 children), Järva County Children's Help Centre (5 children), Kohtla-Nõmme Children's Home (4 children), Keila SOS Children's Village (9 children in total from two houses), SA Perekodu in Viljandi County (6 children), SA Elva Perekodu (22 children in total from four houses), Vinni Perekodu (8 children), MTÜ Maria ja Lapsed substitute home in Tudulinna (4 children in total from two houses), Valga Children's Home Kurepesa (3 children), SA Taheva Sanatoorium (4 children), Lootus Child Welfare Institution (6 children), and SA Tartu Perekodu Käopesa (4 children).
More than anything else, attending the football camp provided children from substitute homes and safe houses with lots of positive emotions. In addition to doing sport, camps offering sport activities also provided children with an opportunity to interact with and test their mettle against their contemporaries, experience coping outside their homes and watch exciting football games.
Both those children already going to football training and those previously not too familiar with the sport could attend the camp. Artur and Madis, who had not had a chance to play football much before, were in thrall to the football camp. This provided a further stimulus to practice football and sport and helped both boys, still new at the family home, to better adjust to their situation. There was participation in the camp activities on the part of not just the boys but also many of the girls, who held their own against the guys on the pitch. It is this camp that spurred many children on to pick football as their hobby and, perhaps, strive for the career of a top athlete in the future.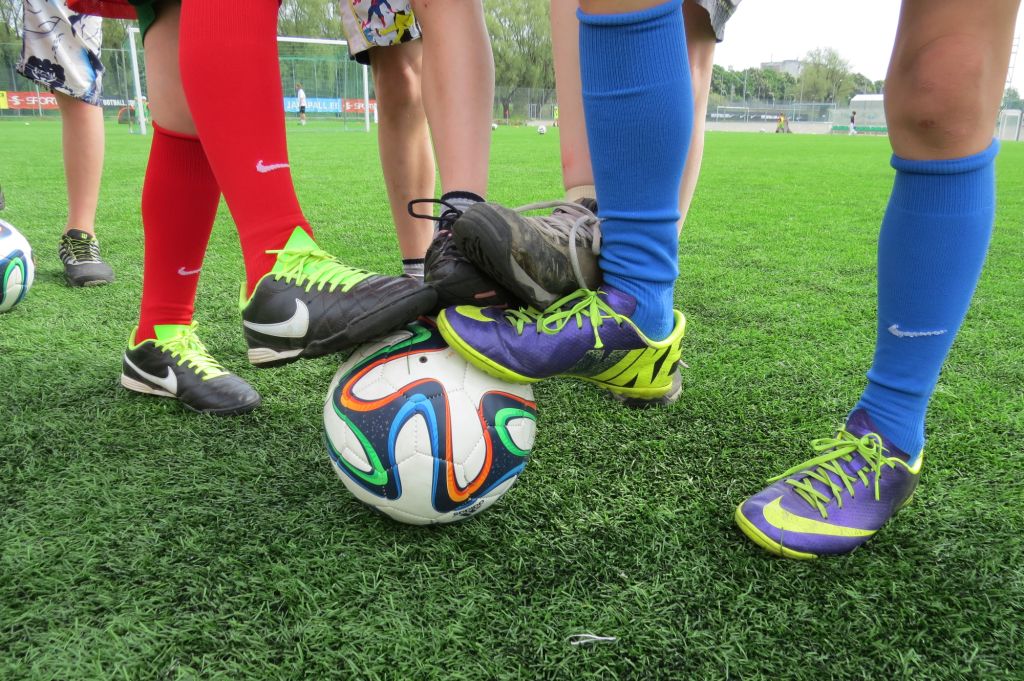 Girls also make good "footy guys"
Anne and many other children thought that the coaches were the most fun. "They were all super cool, and I learned to play football so well that I received nothing short of a medal," the girl conveyed her delight. Kertu and Alice were enraptured with their new friends, and Kertu specifically noted that, thanks to the camp, she was finally able to do all her running to her heart's content. The teachers, however, observed that the girls, perhaps, were even more in thrall to the football camp than the boys. It is possible that this was due to the fact that the boys also play footy in their spare time, whereas the girls usually do not. Daily football training and exercises obviously provided many girls with enjoyment and delight, whereas the boys were less emotional. The boys were much more energetic and had much more colourful descriptions after the football game between FC Flora and Nõmme Kalju, which they were ferried to witness as spectators.
Apart from the football, at the camp Raigo delighted in the many opportunities to go swimming and in a new football strip, being definitely prepared to attend next year as well. The new football strip which was handed out on the first day to wear and, to the great joy of the children, to keep, was a source of genuine delight for all. Many a child learned to take better care of their clothes as a result, teachers noticed.
Needless to say, there was also satisfaction in the new skills acquired during the camp. Vitya was fired up about the development of his dribbling ability and his knowledge that running a regular obstacle course could be made much more exciting by means of football. Also the 10-year-old Andrus appreciates his newly acquired skills: dribbling, passing, shooting and the experience of competing. Many a boy in addition to him also noticed that, although he liked being a goalkeeper better, acting as an attacking player or as part of a unified team was terrific as well. All the children were also most pleased with the diplomas received on the last day.
Robert was a bit sad at first because another child from his house was unable to attend the camp. After the end of the first day, the boy was very happy that he had come to the camp after all and already asked to be signed up for next year. Busy days full of sport and interaction with new friends taught children, among other things, how to work with others, providing a valuable experience in how to cope outside one's substitute home.
Although the camps had been organised for children aged 12 or younger, by agreement with the coaches slightly older boys – those who could suitably appreciate the opportunity afforded to them, catching the coaches' attention because of their dedication – were also allowed to attend some of the camps. Maybe next year they will have an opportunity to try their hand as assistant referees, no less! Their visit to the A. Le Coq Arena also made an indelible impression on the children: playing football on Estonia's premier pitch was an experience they will remember for the rest of their lives.
Oskar attended the summer football camp in Keila for the fifth time already – he had been going to football training for as many years. In Oskar's opinion, the summer camp was a terrific change after winter training. For the 5-year-old Marcus and the 8-year-old Riina it was the first time to attend this kind of football camp, learning many exciting things, not just about football. And so, Marcus thought that, interestingly, on TV football boys are quite little whereas in actual fact they are big instead! Watching football stars on the pitch, many a child also worked out that football can be a job to actually make money from.
Although Artur's arm was in a cast during the camp, he was the eagerest attendee. Every morning, the boy was bright-eyed in spite of the rainy weather. Tavo, however, regrets to this day that he did not participate one day because of a fall and an arm that was very, very sore. The boy thought that everyone was out to 'mow' him down all the time – it became evident that teamwork could be quite hard and that sometimes it seems that it is easier to run off and mope in a corner... But then there is a desire to play football with others again.
Learning to stick together
Although how some of their charges would cope in an unfamiliar group caused the teachers some pre-emptive concern, it became evident that the business-like and calm coaches established a good rapport with the children and were able to defuse the energy of even the most restless characters, deftly channelling it onto the football pitch and into physical activity.
Some children, on the other hand, at first dreaded going to the camp where everything would seem frighteningly unfamiliar. For example, 11-year-old Danik, with plenty of training experience and far from being the most modest of the lot, declared a few days before the camp that actually he did not want to go at all. Although he could not explain what put him off, most likely the reason was fear of a new situation and coping with a sport that he was not used to. With encouragement from his teachers, however, the boy overcame his fear, and the camp proved quite a success for Danik. The kindergarten-attending boys Nikita and Sergey, by contrast, knew to fear nothing and were able to proudly announce to everyone in kindergarten that they would not be coming to kindergarten next week since they had bigger fish to fry. And when everyone was called by their name on the first morning of camp and the football strips were handed out, it was indeed a proud feeling – not just for the children but also for their teachers.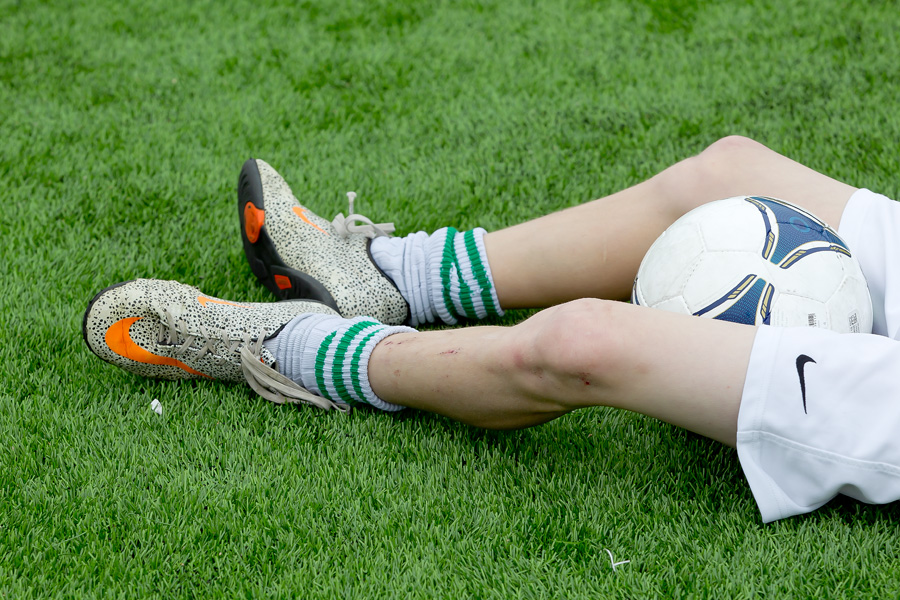 Ira was the only girl on the pitch but coped splendidly amid a pack of boys. The staff of the family noticed that on camp nights she was much calmer and in a better mood than at other times; most likely, on the pitch the girl was able to let out all the restlessness and stress inside her. Together with Ira, her two brothers were attending the camp, and whereas conflicts often breaks out among them at home, it seems that being together at the camp engendered a sense of belonging together: being among strangers, there was no more squabbling, and instead they stuck together, with the elder brother Artem keeping an eye on the younger ones, as is appropriate for an elder brother.
Whereas previously getting up in the morning was an almost insurmountable task for some, during the camp week there was no need to wake anyone more than once, a parent from one family home noted. And in the evening there was no need to remind anyone that it was bedtime. Even for the rowdiest, it was quite a challenge to horse around outdoors all day. One evening, it seemed to the mother of the family that it was somehow too quiet in the house: it was not very late at all, no supper had been eaten yet, and at that time of the evening the younger boys would be usually playing so that they could be heard and seen all over the house. Since silence is a red flag for anyone experienced in raising children, the mother of the family went to investigate what the matter was. Imagine the surprise – Sergey had curled up so snugly and was so fast asleep on the couch that even little Artem, who otherwise never gave anyone a moment's respite, was handling his toys, quiet as a mouse, so as not to wake Sergey.
Since the camp, the staff of the family have also noticed much more persistence in Sergey (for instance, whilst watching an animated cartoon on TV he could concentrate on it and watch it from beginning to end), whereas he always used to run around in between, also spending a moment in front of the TV set en route. In any event, when Friday came around the children were tired enough yet sad to see the camp come to an end. Everyone was proud with their diplomas and thought that, should the opportunity present itself next time, they would definitely want to go again. Some little boys promised to definitely take up football, come autumn. In summary, this short camp had a lot of positive things to offer to the children: a good night's sleep, a wholesome pastime, an interest in football, a desire to continue training, new friends, a team spirit and this great feeling of "I did it!".
Triin Lumi
MTÜ Heategevusfond
 
Participate
Thank you, if you have already supported our charity programme or if you are going to do it in the future! Sign a standing payment order contract in SEB Internet Bank for 3 euros a month or support with a single donation.