Lastega ja lastele
Auhinnaga "Lastega ja lastele" täname ja tunnustame inimesi ja organisatsioone, kelle uued algatused või pikemaajaline tegevus on positiivselt mõjutanud laste ja perede käekäiku.
Tunnustusauhinna taotluste voor on avatud
15. aprillini
.
Esita taotlus
It is never too late to realise your dreams
03.11.2015
In 2015 SEB Charity Fund issued 150 study scholarships to young people who do not have the support of a regular family, meaning that they live in a substitute home, are under the custody of a relative, or in a guardian family. The scholarship helps them to prepare for independent living, which is usually a big challenge for children from high-risk families.
On Sunday, 1 November the recipients of the study scholarship participated in a career day, where the twin actors Märt and Priit Pius talked about their journey of realising their dream. Financial advice was provided by Triin Messimas, Member of the Management Board of SEB Elu- ja Pensionikindlustus, and career advice by Annika Räim, human resources manager of Creative Union. Triin Siiner, Mari Lipp and Priit Ahte from Luguteater helped to make sense of how relationships can help one in finding their true path. Birgy Lorenz, a doctoral student at Tallinn University and member of the "Wisely on the Internet" work group, explained how to navigate the internet wisely.
To stay home or go abroad?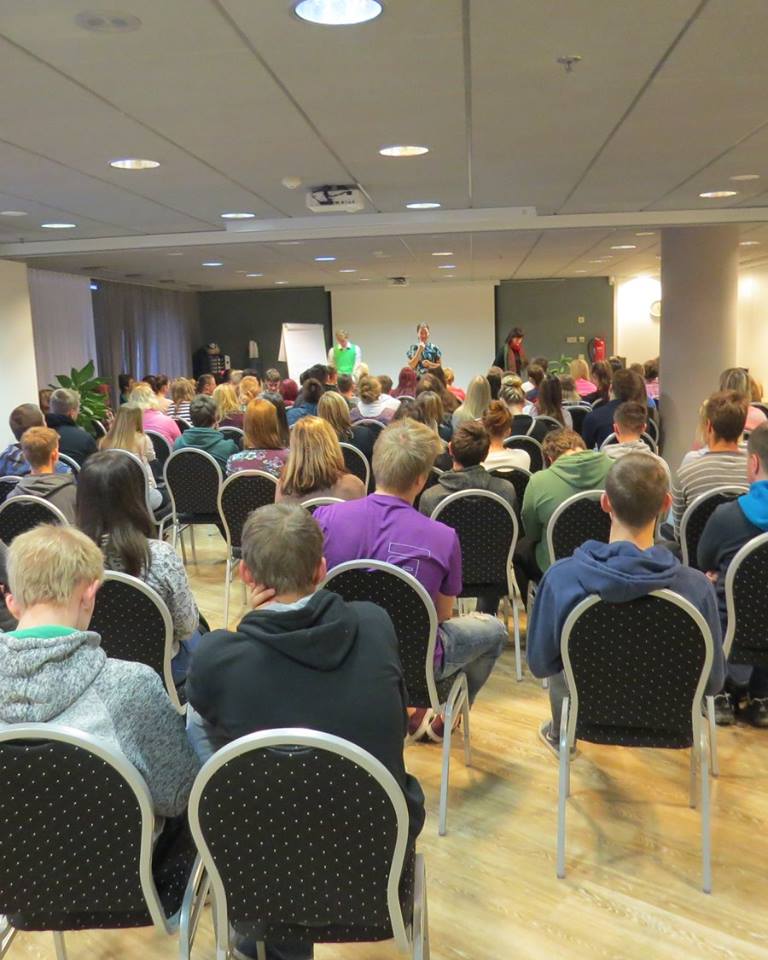 The day began with a fun socialising game, where the participants could get to know each other and, through a game, map from which part of Estonia and from how far each of them had come and when they had needed to start their trip to arrive on time. The actors of Luguteater concluded their act with an intriguing question: "Who from among you sees themselves working in Estonia in ten years, and who working or living abroad?" There was a short pause for thought and, having got over the initial silence, the company quietly divided in two. It was endearing to see that the scales tipped in favour of the motherland. The kids brought out several reasons to stay in Estonia. They could not, of course, get past the beautiful nature of Estonia and the climate with its four seasons. Perhaps there is also value in the sense of security which could start to crumble in a foreign country.
Workshops took on the topics of career, money and internet safety
After a brief coffee break, the kids divided themselves between three practical workshops. Who would go to perfect their motivation letter writing skills, who needed more information on personal finances and who felt the need to get a better grip on what was going on in the far reaches of the internet.
The kids had a number of different questions to ask at the career planning workshop. There were also questions about the job market. Where are jobs available? Where to find ads on vacancies? How easy is it to work while studying? Is the Unemployment Insurance Fund the right place to ask for advice or is it just a helping hand for long-term unemployed people? These, and many other questions were answered by Annika Räim, who has extensive experience as a human resources manager.
The participants of the finances workshop proceeded to the lunch table, being very satisfied with themselves after the hour-and-a-half workshop, where they continued to share their fresh experiences of gaining another skill. With the help of Triin Messimas they found answers to many questions which were very important in the kids' lives. How is it possible, then, to live on a few hundred euros each month, when you need to pay for both housing and food, but still want to have some entertainment and a new pair of boots once in a while. Why do I have to think about a pension at such a young age? How can I save when my other sources of income are so small?
With IT and the internet being ubiquitous these days, are we actually knowledgeable about the darker aspects that are part of the enticing and vast virtual space. Birgy Lorenz had several situations prepared which the kids could enact to find out how the darker side of life could stealthily find its way to you when you let yourself be taken advantage of.
Pius brothers inspired the kids to dream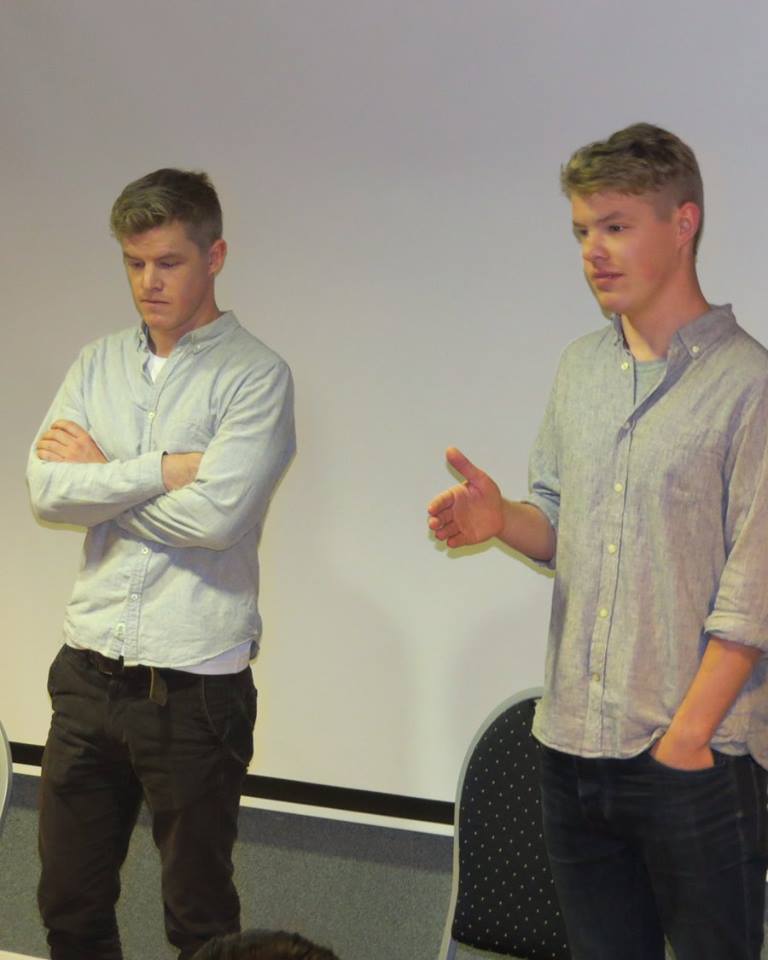 At the end of the day, when the kids had absorbed lots of new ideas and thoughts from the workshops, recipients of the scholarship were able to get to know the two actor brothers better and find out about their journey to acting. They also discovered how the Pius brothers learned to cope with their special need, diabetes, and whether it has intervened with fulfilling their dream in any way.
Before heading back home, the kids noted down their feelings about the day. Each of them had a message they remembered or took with them to their daily life. The kids were also not stingy with proposals on what would interest them at future career days or whose (life) experience would provide some additional inspiration.
Karita, aged 14 and currently residing in a safe house, wrote that she got new tips from the career day that she can use when writing a letter of motivation, to make sure that the reader understands her needs better. The honest and candid talk given by Märt and Priit Pius gave her some extra motivation and the courage to ask questions in front of the large auditorium. Karita feels that when a person finds the willpower and courage to chase their dream, they can overcome any obstacles on the way.
Practical workshops help to solidify the new skills
After the IT workshop Martin announced that the first thing he would do when he got home was set double security identification on Gmail. Martin added that enacting the situation helped to crystallise the skills they learned better. This is why he hopes that there are more practical tasks to come at the career day, as lectures may get boring at one point and it is easy to forget the information.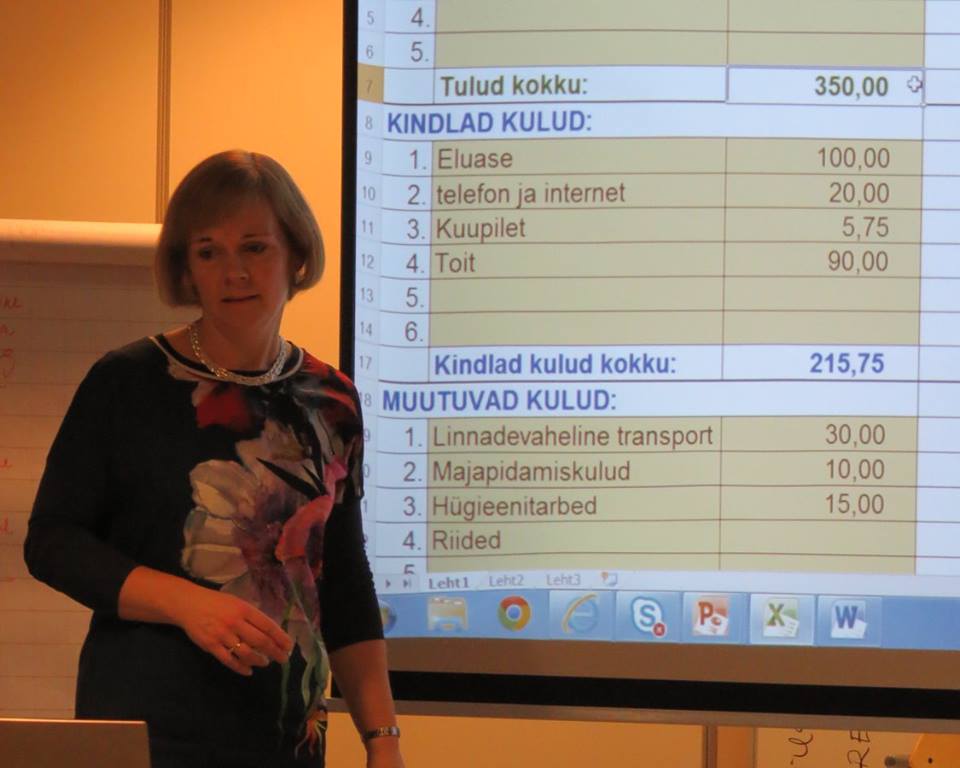 Janno and Emmanuel took part in the financial wisdom workshop and announced that they became much more aware about why and when it is wise to think about saving and in what cases taking a loan is reasonable, so that it is not a rash decision. The youngsters got tips for day-to-day life for coping better during the periods when there is less money available than one is used to.
As each of the kids was free to choose one of the three workshops, one would hear the participants eagerly discussing their selection for the next career days to take advantage of experiences they had only just heard about from their peers. In their feedback the kids' support persons also noted that there was a lot of discussion of future plans at the end of the career day, and the plans were significantly more mature and realistic now that they'd had these experiences.
In 2015 the fund will allocate scholarships in the total sum of 50,000 euros
According to the project manager Merike Villard, in 2015 the fund will allocate scholarships in the total sum of 50,000 euros. "For kids in substitute care, budgeting often does not go beyond their 8–10 euros of allowance. While children in regular homes can become independent gradually and learn from their mistakes, children under the custody of the state need to become adults at the date they reach adult age or finish school, from which they are on their own financially. In order to prepare the kids for independent living, the fund issues study scholarships twice a year to provide some additional financial security for young people while they are studying and experience of how to make purposeful use of their income," explained Villard.
Merike Villard
Project Manager
Non-Profit Association SEB Heategevusfond
Participate
Thank you, if you have already supported our charity programme or if you are going to do it in the future! Sign a standing payment order contract in SEB Internet Bank for 3 euros a month or support with a single donation.