Lastega ja lastele
Auhinnaga "Lastega ja lastele" täname ja tunnustame inimesi ja organisatsioone, kelle uued algatused või pikemaajaline tegevus on positiivselt mõjutanud laste ja perede käekäiku.
Tunnustusauhinna taotluste voor on avatud
15. aprillini
.
Esita taotlus
"It felt as if we were reaching heaven!"
06.08.2018
At the beginning of August, at the initiative of the non-profit association SEB Heategevusfond, 70 children from safehouses and substitute homes all over Estonia participated in the creative workshop at Laitse Granite Villa, where under the guidance of the sculptor Tauno Kangro, children tried their hand at sculpting people, like professional artists.
Since such workshops have also been held several times before, many children had already participated in sculpting classes in previous years and knew what to expect. For some families, visiting Tauno Kangro in his villa has become a family tradition, and children want to do it again and again. But the group always also includes young people for whom everything is new and unexplored.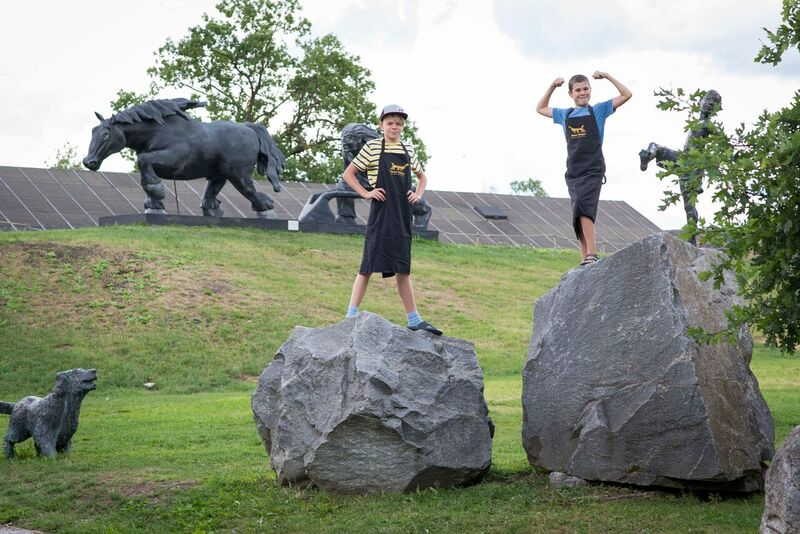 A wonderful place for making art
On the road to the workshop, it was discussed where they were going and what they were going to doing there. The children discussed what they would want to sculpt. Some already knew what they wanted to make a long time ago. Others hoped that it would come to them on the spot.
Another great thing about Granite Villa is its picturesque surrounding: it is a wonderful place with a large sculpture garden. People always like to take photos with Kangro's works. Kids love very large pig sculptures, where they joyfully take group photos. This time, the group of young art enthusiasts was accompanied by a professional photographer and the opportunity to make beautiful family photos was used very actively.
Before the workshop, the children were also able to visit the artist's work premises and gain inspiration from his work.
The master had time for everyone
In the large studio there were wooden bases on desks with a human figure made of wire and a large chunk of putty. In addition, the future artists were aided by models who helped to get the right proportions for the works of art.
And the art-making began! Tauno Kangro himself walked around the studio, with a head microphone, explaining to and teaching the children. He had eyes, hands and attention for everyone. Young artists were pouring their soul and craft skills into their sculptures. Someone needed help in fixing the wire, another in shaping the face... All of the sculptures were the authors' original works, and nobody was "cheating" from their neighbour.
Meanwhile, younger boys were also given a zombie's face with the help of a skilled face painter.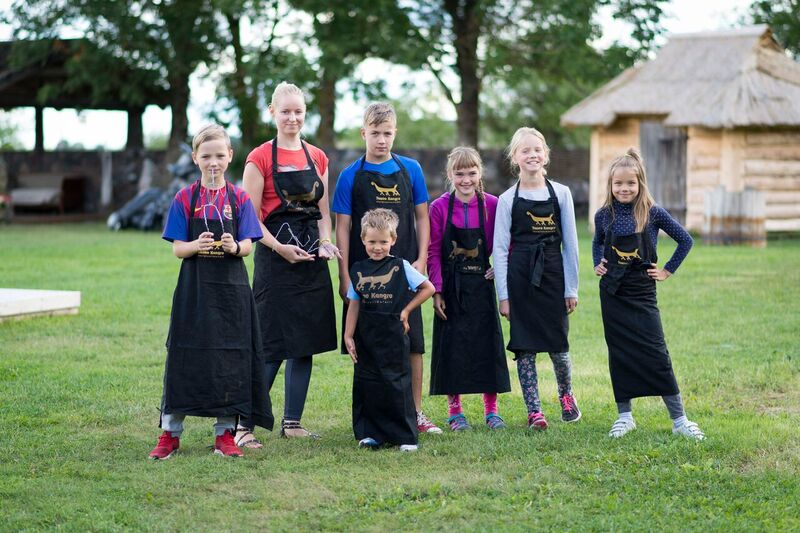 All children are talented!
It was a great pleasure for kids to place the putty nicely on the wire. They learnt how to shape a person's head and correctly see the overall proportions of the sculpture. The work was performed with focus and attention.
Tauno taught that the sculpture may have a nice headdress, but it must definitely have a brow and chin. The children were proud of their work, because those who had participated in the workshop before felt that they had become more skilled - this lifted the mood and made everything more fun.
The artist assessed the work done by young colleagues individually, inspired and highlighted the strengths and specifics of each child's work: "Manual activity and the development of motor skills are important and therapeutic, while at the same time it is important that every child has the opportunity to discover his or her talent. We are focused on the process, not on the outcome. If the child likes working with others and receives inspiration and positive energy from it, you will always have a good result. "All children are talented – they are more talented than we can ever imagine."
Plenty of positive feedback
When all of the sculptures were finished, they were taken to the courtyard, where the artist's assistants gave them the final touch.
After lunch everyone went back to their sculpture. In the meantime, the artist had started autographing the sculptures and praising the works of art. Each young sculptor also received good wishes for the way home from Tauno Kangro, in addition to the autographed sculpture, with a lot of positive feedback and appreciation. Kids liked their sculptures so much that some refused to put them in the luggage space, and kept them in their lap the whole way home.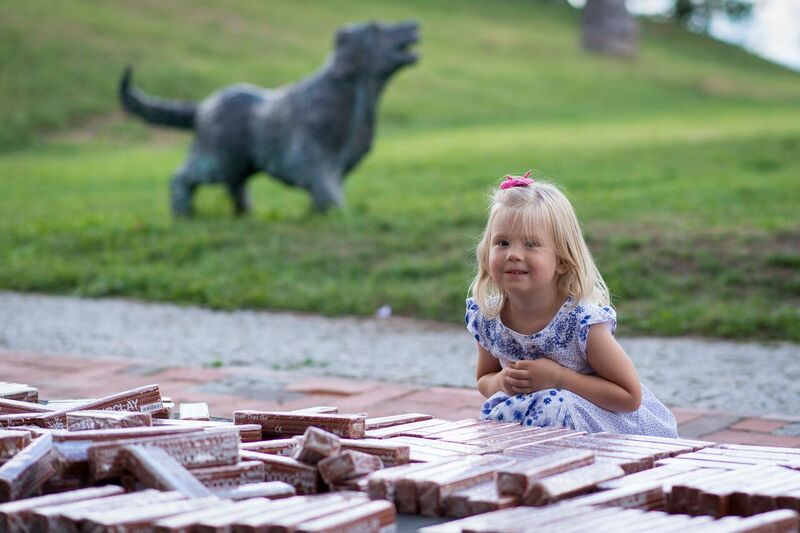 Impromptu and long-planned ideas
Many children came up with their best ideas when they were in the middle of crafting. Staff accompanying the children wrote in their feedback that it was great to see how the children supported each other during the joint activity: they helped those who needed assistance and encouragement.
One girl who already had a fixed idea for the sculpture was very thorough in her work - as in previous years - and was still applying the final touches to her sculpture when others had already completed theirs. The children were proud of their works and the praise from Kangro boosted their joy even further.
Silver has been to Kangro before. This year he was given more freedom and independence in sculpting. Tauno helped him personally and the child was clearly happy and very pleased with the result. He later showed everyone the sculpture of a secretary with a beautiful laptop computer that he had made HIMSELF with his own hands.
Martin's special birthday
It was a special day for 16-year-old Martin - it was his birthday. As a present, Tauno gave him a book of Laitse with his own works. The important moment was also captured on the photo. "This book was even more interesting than I thought," the boy said afterwards. He was very glad that the sculpture workshop fell on his birthday.
It was also a beautiful day for Martin's younger sister, Elina. "The birthday of an elder brother is always important for all of us," the girl wrote. "Martin helped me sculpt, so the result was twice as beautiful," she praised.
Children also liked to ride on a large wooden swing. "When the momentum got big, I was feeling as if we were reaching heaven," said Elina. It is probably quite similar to a feeling when you've created something special with your own hands!
Special art talent revealed
It was remarkable how carefully Evelina was modelling her girl: flounced skirt, long ponytail...This workshop brought out the girl's special talent for art. She said she was making a Rapunzel. "At home I will have it on the shelf, where I can see it every day and be proud of myself," she added.
Katja also made a girl's sculpture, clad it in a dress and adorned it. Later on, she hung colourful beads on the figurine and played with her like she was a doll.
The kids found sculpting interesting because it was up to them to give their sculptures the necessary postures. One boy found that his nailing was not very good, but otherwise he was very happy with his work. The painting of sculptures was also fascinating - although children could not try it themselves, it was also exciting to observe.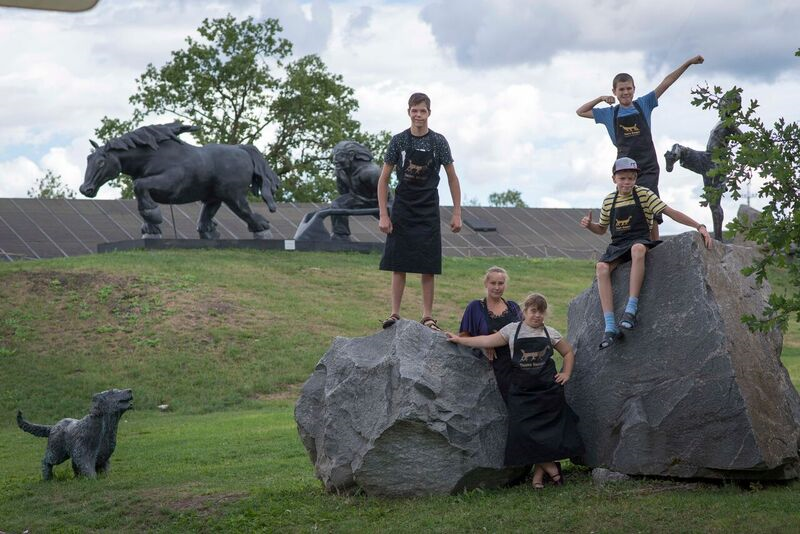 The workshop raised the children's confidence
Staff accompanying the children, in turn, were fascinated by how small artists came up with new ideas and prepared real works of art. It was clear that the whole process embraced the children fully.
This workshop helped to develop the children's fantasy and manual skills and to increase confidence in those who otherwise may not like handicraft - sculpting under the guidance of a real artist is very different from attending an ordinary handcraft class.
Such events also strengthen the sense of family. In the opinion of many children, this was one of the best joint activities of all time!
Self-made art in the place of honour at home
On the way back, there was a heated debate on to whom the sculptures were going to be given as a present. At home Martin posted on Facebook that Tauno Kangro gave him a book. Evelina is hoping to get into an art class in the autumn. Tatyana, a volunteer, sculpted a young man who, according to the artist, was going to last for 20 years.
The three little boys with faces pointed like zombies and one Batman, were so enthusiastic about the day that they wished to visit the sculptor's studio once more. At home the precious works of art were placed in the place of honour, so that the art created with one's own hands is visible at all times for oneself and for one's guests.
This day met and surpassed all of the expectations of the children. They got to know about sculpting and models, and, in addition, received loads of positive emotions for the upcoming autumn.
Participate
Thank you, if you have already supported our charity programme or if you are going to do it in the future! Sign a standing payment order contract in SEB Internet Bank for 3 euros a month or support with a single donation.