Jõulusoovide puu
The Christmas wish tree is made up of the dreams and wishes of children in shelters and substitute homes, sent to Santa Clause. To make sure that these do not just remain dreams, pick a gift from the Christmas tree and make a donation to the best of your ability.
www.heategevusfond.ee/joulupuu
This idea of saving 10% is indeed one really good idea!
28.02.2016
This spring, the Non-Profit Association SEB Heategevusfond awarded 61 study scholarships to young people who lack the support of a regular family. The scholarship recipients include young people living in both substitute homes and under the care of one's relatives or with foster families, who are beginning or continuing their vocational or university studies. In addition, the Fund provided support, via scholarships, to young mothers and, this year, also a father, so that, with the support of an education, better choices might be made on the labour market in the future and falling below the poverty threshold prevented.
On 28 February, the study scholarship recipients attended a career day during which Aet Trei and Irina Tshigir, career information specialists from the Unemployment Insurance Fund, discussed various factors that affect entering the labour market. Career counsellor Tiina Saar-Veelmaa shared her years of experience and a new perspective on the preparation of a personal statement. Triin Messimas, Head of Sales and Marketing at SEB Elu- ja Pensionikindlustus, introduced the young people to the skill of wisely matching their financial resources to their personal budgets, and the actor/director Andres Dvinyaninov enabled the attendees to experience how they can make themselves more impactful and audible for their listeners through communication. The day was concluded by head football referee Reelika Turi and assistant referee Triinu Laos, licensed by the Fédération Internationale de Football Association or FIFA, who spoke about their journey to the realisation of their dream.
Based on Statistics Estonia's 2015 data, more than 29,000 young people in the 15 to 29 age group are not working or studying in Estonia. The career day and the study scholarship programme are one opportunity to prevent youth unemployment. A good education provides a greater sense of confidence for embarking on one's future. Whereas children from regular homes are able to become independent gradually and learn from their mistakes, children under the custody of the state lack a support network and they have to become adults overnight, which presupposes independent coping.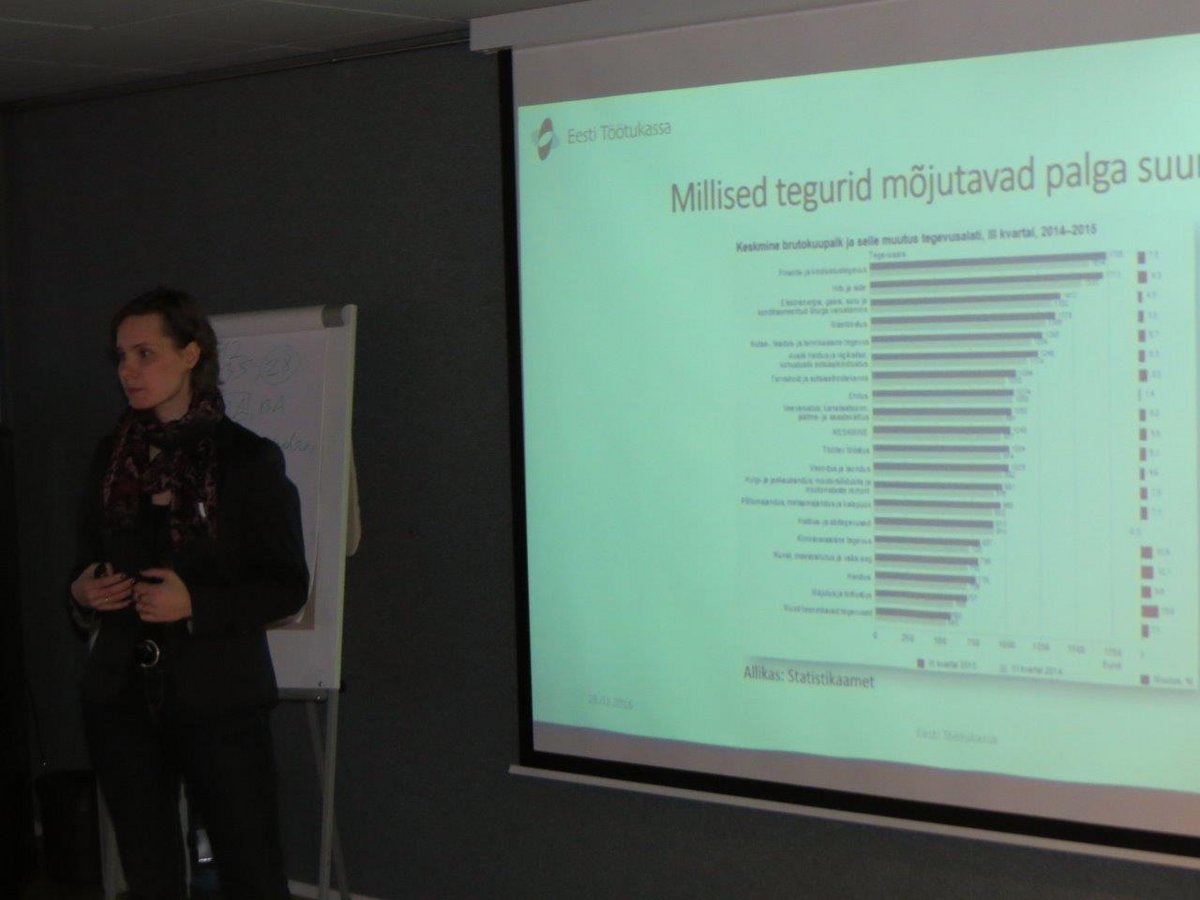 Digital footprint in the social network
According to Aet Trei, a career information specialist at the Unemployment Insurance Fund, it is important to help young people to take a broader view of their future when preparing them for their working lives. Trei believes that in the future one's opinions expressed in a social network, besides one's education, may have an increasing effect. A carelessly aired thought may begin to interest, besides one's employer, the police or a journalist. That said, you never know where or under what circumstances someone will take advantage of something you have said. Mostly, people are hired because of their knowledge; whereas, they are fired because of their attitude. Specialists from the Unemployment Insurance Fund discussed pay in various sectors and what pay is made up of and what it depends on. The young people found out what the reasons might be when an employment relationship is not working and what young people themselves can do to be better candidates on the labour market.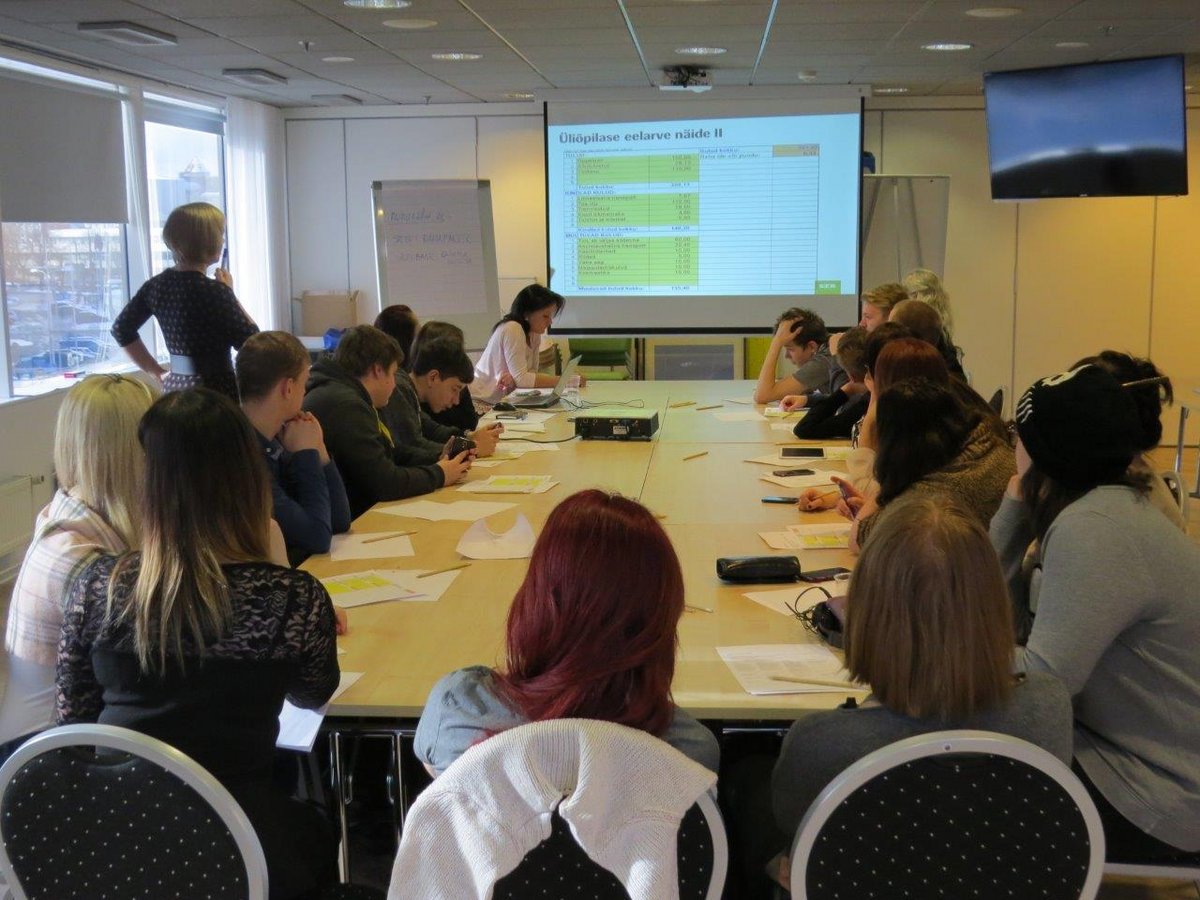 Budget – what for?
Triin Messimas from SEB Pank told the scholarship recipients that preparing a personal budget provides an overview of what one's financial situation actually is and whether any amount of available funds will be left in the budget by the end of a month. According to Messimas, saving is a lifestyle and it is wise each month to set aside at least 10% of one's income, as this makes it possible to manage any risks that unforeseen expenses may introduce into one's budget every now and then. A clear understanding of the state of one's financial matters will give one the confidence to make the right decisions, said Messimas, summing up the career day Money Wisdom workshop.
Work should be on the bright side of life
During the CV and personal statement workshop, Tiina Saar-Veelmaa got the young people to reflect on their future jobs. Will their current specialty be as popular and needed 10 years from now? According to Saar-Veelmaa, a career counsellor, a person's professional journey is headed in a direction where jobs are changed at least four to five times during one's active working life. During one's entire life, one can make various dreams come true; however, living in the moment, one has to find the 'here and now' passion and make it work for oneself. In addition, there is an opportunity for self-actualisation as a volunteer, which also makes a good impression in a row of jobs on a CV. Saar-Veelmaa recommends thinking big, then setting out and enjoying every step of one's journey.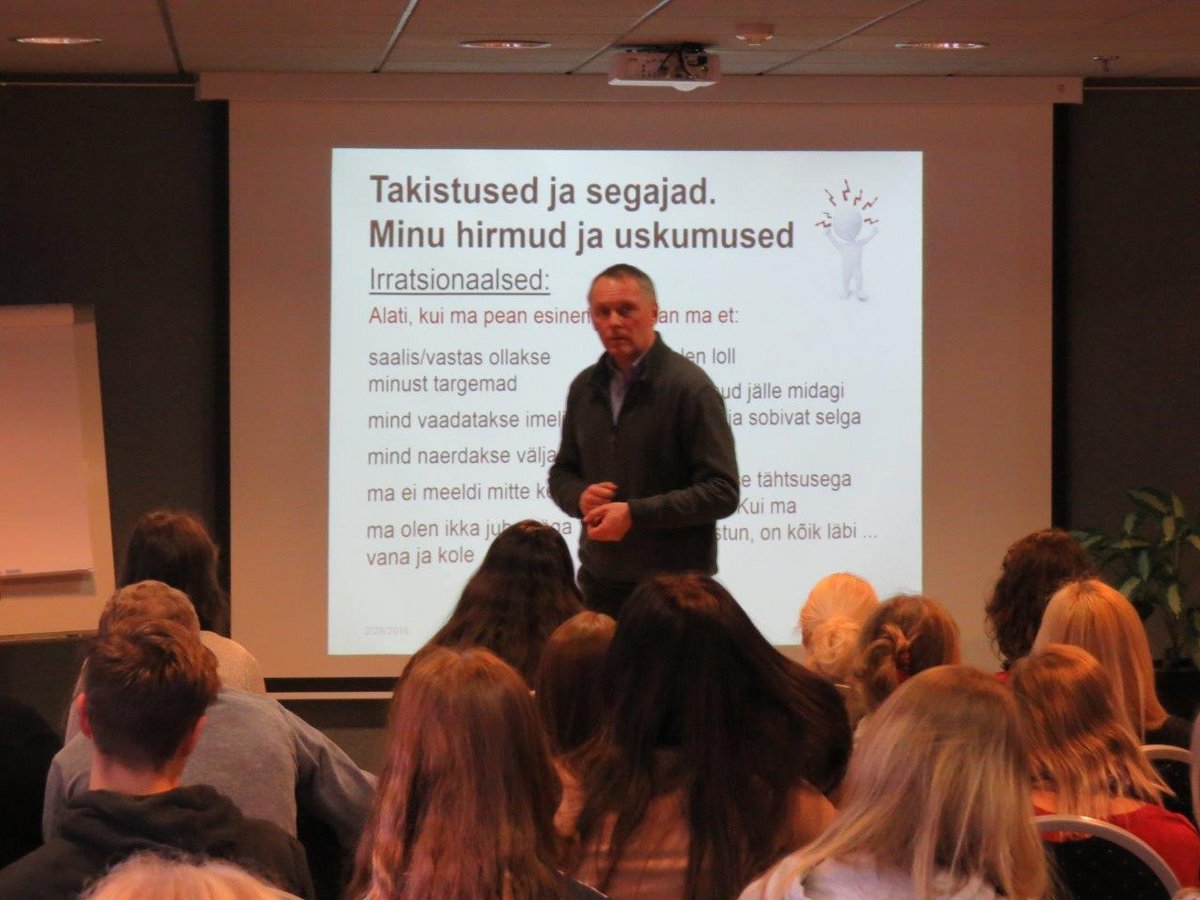 Fears and beliefs in communication
The actor and trainer Andres Dvinyaninov told the young people about communication barriers and hurdles. He explained that fears and beliefs may be both rational and irrational. An irrational feeling may prevent one from feeling confident when presenting. Insecurities may arise concerning one's appearance or competence, and the fear of being disliked by someone or of being laughed at. Dvinyaninov pushed the scholarship recipients to reflect on their fears and, to the young people's shock, to also read them out loud. It also came as a surprise that, in actual fact, the presentations turned out quite well, in spite of a certain initial feeling of awkwardness. Once you have a good experience in your body, you will feel more confident facing presentations in the future.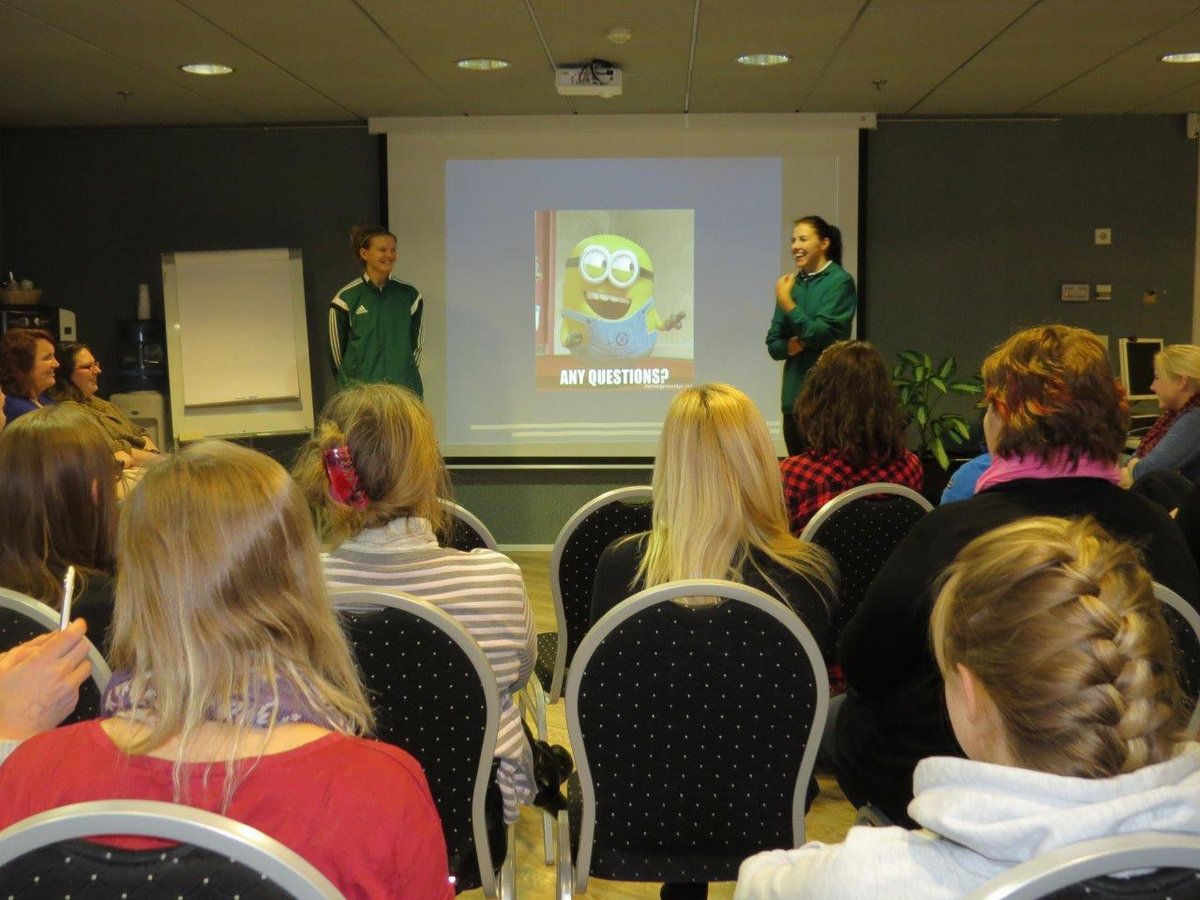 A girl, too, can become a football referee
Their dreams, which have come true, were discussed by the FIFA-licensed head football referee Reelika Turi and assistant referee Triinu Laos. They are two of Estonia's first three female football referees. Young women were joking that only failed footballers become referees. In actual fact, however, it is far from a laughing matter and instead is a serious job involving precision, in which one's mettle is tested, on par with the men, for the sake of a fair outcome. Reelika and Triinu explained that the job of a referee also calls for good physical fitness and that their workouts are hardly short of those of footballers. The first years, when they had to prove themselves, were emotionally exhausting for the young ladies. At times, there were also tears and a desire to quit the job. The young women are now feeling quite confident already and are welcome to blow their whistles at various international competitions.
The career day attendees were young people who are growing up in guardian or foster families, safe houses or substitute homes, and who plan to continue their studies, as well as young mothers who have given birth before the age of 19. The Fund issues student grants, which totalled EUR 50,000 in 2016.
Merike Villard
Project Manager
Non-Profit Association SEB Heategevusfond
 
Participate
Thank you, if you have already supported our charity programme or if you are going to do it in the future! Sign a standing payment order contract in SEB Internet Bank for 3 euros a month or support with a single donation.