Jõulusoovide puu
The Christmas wish tree is made up of the dreams and wishes of children in shelters and substitute homes, sent to Santa Clause. To make sure that these do not just remain dreams, pick a gift from the Christmas tree and make a donation to the best of your ability.
www.heategevusfond.ee/joulupuu
Heureka! I found it, you found it, everyone found their own
17.08.2016
In the middle of August, children from various safe and substitute homes went on a traditional end of summer trip to Finland. The adventure began on the ship – this was the first trip across the sea for many of the children – and continued with exciting discoveries in the popular Heureka science centre.
While most families would have associated their trip to Finland with a visit to the Linnanmäki amusement park, then some families were secretly hoping for rainy weather as they preferred the Heureka centre all along. In Tartu, we have the Ahhaa science centre: if this is already so cool, then what is waiting for us in Finland... The weather turned rough in the morning and heureka! – the choice was made.
Finland – aboard ship and abroad!
Most families prepared a lot before the trip – many children only associate Finland with Santa Claus. Now they checked together how far Helsinki is, how many people live there, what kind of transport can be found there, and also how many lakes Finland has and what the nature is like. Some families participated in this trip with children who had never before been on a ship. They searched the Internet excitedly to see which ships go to Finland, learned to book tickets, and discussed a possible daily schedule.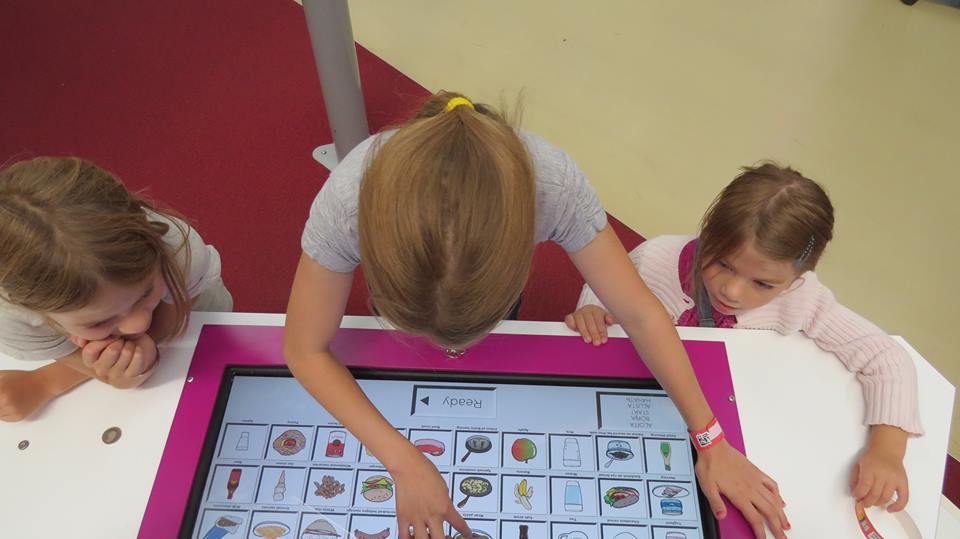 As usual, children are different and so are their expectations. Little Juulia announced that she just wants to spend time with the family mother and she also likes to sail on ships. Mai said that she was just expecting a fun day. Martin and Reino were waiting for the voyage a lot – moreover, Finland is definitely super cool, because this is not Estonia, but a foreign country... each day 5-year-old Katja asked about the trip ahead and proudly told everybody in her nursery school that she was going to Finland. When they arrived in Tallinn, the children were excited, everyone was fussing around and fiddling and could not wait to get aboard ship.
Hans, who had no previous experience in travelling abroad, was looking forward to the trip a lot. For a period of several years already he had been asking his teacher, Priit, to take him to Finland. Until the moment they registered for the trip, his teacher consoled Hans telling him that everything had its time and said he would remember the boy's wish and try to take it into account. As a teacher, Priit had an incredibly good feeling that he could address Hans himself this time and tell him that he had the chance to go to Finland. Oh, the hugs and thanks the teacher received; the child understood that his dream had been taken seriously!
GPS-shed and Baltic Suss
Most of the families brought children who had never before been abroad. The excitement was great and they had loads of questions. Do I have an ID card? Do I need to switch off the phone? What money do they have there? How long will the trip take? The children were excited to arrive at the port. Usually, those coming from furthest away are the first to arrive, which was also the case this time.
Before the trip, the charity fund manager had told the teachers to let themselves to be led on trip and shown the right places. Teacher Priit grabbed this idea and started with it already in Haapsalu. In order to get there at all, he gave his navigator, 14-year-old Renno, the task of guiding him to the harbour – first, of course, to the car park on Tuukri Street. Priit soon noticed that, in addition to Renno, two other boys had also opened the GPS application in their phones. Thus, he received orders from three phones and three children when turning. This small experiment showed how carefully children are able to observe their surroundings – they looked out of the window attentively, observed the road, traffic, surrounding houses and nature. The boys proposed to the teacher humorously that next year they could go to Finland with a ship called the Baltic Suss. This idea for a name started when the boys were discussing the ships in the Tallink fleet. Denis knew the ship was called the Baltic Queen. The boys were not satisfied with the queen and decided to call the ship the Baltic King ("shoe" in Estonian). In the end, they decided that a slipper ("suss") is more comfortable than a shoe ("king"). Thus, they developed the idea: one of Tallink's new ships could be christened the Baltic Suss ("slipper").
The adventure began aboard the ship
The voyage itself was already an experience for the children – for many it was their first time on a ship, especially on one so big. Natalja and Ele, as the eldest children from one family, were given the group's boarding passes under the watchful eye of their teacher. Once everyone had their tickets, they climbed aboard ship, all ready for adventure.
The boys were impressed by the stormy outdoor deck. At the buffet, they enjoyed that they could eat and drink as much as they felt like. For many, such a rich assortment was so astounding that they could not choose and it seemed impossible that you could even eat six sausages in a row. Bigger children were smarter, sticking to safe choices and enjoyed the food, teaching the younger ones that it was not necessary to pile up a heap of one dish onto the plate. You can always taste other foods that are not part of your everyday menu, to learn about different tastes. Some families picked foods that they do not have in their daily menu: they tasted shrimp, unpeeled potatoes, scrambled eggs made in the oven, and other good stuff. Those sitting by the window could observe their voyage during breakfast.
With their stomachs full, they faced many temptations in the store, which resulted in either practical or emotional decisions: one girl bought herself a wallet; the other thought that she would buy a bag of candies for her trusted teacher. They weighed their pocket money carefully, considering what they could get for this. At first, many children would have wanted to buy candies, but they had previously discussed it at home and concluded that wise people do not rush. Thus, they slowed down, checked the prices, and compared them to those in Estonia. One family had agreed that every child shall pick one thing in the morning and buy it on the way back. Some children were firm in their choices, some needed help with deciding.
Those who were on their first voyage were taught how not to get lost aboard the ship, how to move around, and how to return to their own group. Everything worked! The smallest were especially joyful; they enjoyed playing in the playroom, visited the deck, and looked around. It was interesting to see people from different nationalities. The streets of our smaller towns do not have Chinese, Japanese, or black people. It was also interesting to hear people talking in a foreign language. The children tried to guess the languages being spoken - in some cases they remained a mystery.
Heureka – lots of discoveries and new experiences
When they stepped off the ship, they noticed an interesting statue of a peeing boy, they managed to take a closer look on the way back (it is Tommi Toija's sculpture Bad Bad Boy, an 8.5 metre high naked, peeing boy made from concrete).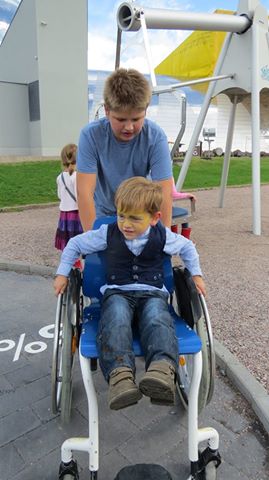 Then they went to Vantaa, 20 kilometres from Helsinki, to visit Heureka. This was all really swell! The children were always cheerful and ran from one exhibit to another; everything was interesting to watch, touch, try... The children especially liked those things where they could do something – biathlon, figure skating, cycling close to the ceiling, and driving a car – but, in time, they eventually visited all of the exhibits, learning how something worked. Most of the children had never tried a snowboard, played ice hockey or curling, nor moved around with a wheel chair – regarding the latter, everyone agreed that life with a movement disability is not easy, although rolling down a mountain with a wheel chair was fun. It was also complicated to play basketball while sitting. This experience definitely taught the children to be more attentive, understanding, and helpful towards people with special needs.
One small boy loved everything related to balls. It was also fun to engrave a coin with your photo. A question arose as to whether you could use this to buy from shops and a discussion resulted in admitting that this is just a souvenir, which is cool to show to others, but which is not valid as money in any country. Most of the children also tried sleeping on nails, which at first seemed scary – they thought it would definitely be painful or that the nails would tear their clothes, but this did not happen. It was interesting to hear stories of scientists via phone and see how technology has developed. It seemed unbelievable that a straight stick fits through a curved line and a ball stays in the air...
"Is it all so big?"
It was exciting to sit behind the wheel and drive a car like a real driver. It was cool to have a snowball fight in the middle of summer, and put their skills to the test while skiing – staying on the trail was a real challenge. They had to try a few times before they found their balance. They were most excited about the bicycle that you can ride in air. Some were very scared at first, but everyone who wanted managed to do it and such an extreme challenge appealed to the children a lot. Playing the game Battleship on a big screen taught the children how to sense the risks that surround us. Young men were mostly interested in physics-related exhibits. One girl tried her hand at the job of sports commentator and realised she could actually do this job quite well. The children cheered a lot to a game of rat basketball, which gave them the idea to catch some rats at home and train them...
In the planetarium, they watched a short film of a butterfly – how it grows and what it eats. They got the feeling of being a butterfly flying under big trees. Andra and Tatjana said that they think insects are scary. Some families chose to watch a film about the galaxy and planets, which gave rise to lots of questions. New knowledge surprised many small children. An 11-year-old girl was able to whisper a question to her teacher: "Is it all so big?"
Heureka offered the children lots of joy of discovery and made them think about how such things were invented. Everyone found something interesting and acceptable for themselves.
Foreign language and mother language
Hans has been learning English at school for two years, but he does not like the language lessons at all. At Heureka, Hans wanted to buy a souvenir for his pocket money. The goods seemed interesting, but he had to ask the salesman what it was. Now Hans was in trouble: he was speaking Estonian, but the salesman English. Hans asked his teacher Priit to talk to the seller. But he told the boy to try to cope himself. Hans tried to remember the sentence he had to use with the salesman. They remembered it together: "Hello, excuse me, what is that?" And, miraculously, Hans managed this question, at least the seller understood him. Teacher Priit: "I imagine what Hans felt when he was talking in English, his heart was leaping out of his chest. Of course, he messed up the words of this short sentence, but this does not matter. It is important that Hans needed to use English for the first time in his life, and he used it. We will see whether this practice increases his motivation to learn English in the future!"
During the trip, the children also improved their Finnish vocabulary – for instance, they learned how to say "thank you", "hello", "excuse me", and "phone number". The youth thought it was nice that in addition to other languages there was a button "Estonian" which helped to get to know the exhibits better – they felt at home and welcome, which lifted their mood, although they did not expect this.
Big numbers on the bridge
The family who came from Haapsalu had time to spare at the port after they had returned from Heureka. When watching the departing Baltic Queen, the boys noticed a pitch-black cloud of smoke arising from its chimney, which encouraged the boys to discuss preserving the environment. They talked about different ships – now, in technical terms – top speed, passenger carrying capacity, fuel consumption... The teacher was having trouble with finding the answers when he was saved by the bell – the teacher's sister, who worked on the ship, had arranged for the family to visit the bridge.
They ate quickly on the ship and then went to the bridge, where most passengers cannot go. On the bridge, the children were told about steering the ship, safety, nautical rules, and they found out lots of exciting things. For instance, instead of 300 people – as the boys had guessed earlier – Tallink Superstar has a capacity of nearly 2200 people, and the maximum number of people does not depend on the ship's physical capacity, but on the number of spaces in the life-rafts. They also learned that the ship holds up to 70,000 litres of diesel fuel and a single crossing uses up 10-12 tonnes of fuel. These numbers made the boys' eyes grow big. On the way back to Haapsalu, the human GPS devices were silent, only a quiet snuffle was heard...
It is cool to travel, but you need to plan for the future
On the way back, the wind had decreased on the sea and it was possible to admire the enchanting sunset and take photos of it. The children also noticed a difference between the nature of Estonia and Finland – a rocky landscape and lots of small islands before Helsinki painted a memorable picture of Finland.
At dinner, the children were free to try sushi and shrimp. Many new things seemed weird, they could even practice difficult eating with chopsticks. It was also interesting to smell testers in the perfume shop – afterwards, some boys smelled like rosebuds.
On the way back, they discussed what they had seen and how everyone understood it. The rat basketball was their favourite, because no one had ever seen something like that. Karina, who is 15, wanted to know how much such a trip costs and whether she could save money to go back to Helsinki with a friend. The conversation swerved to future-related topics, everyone's heart's desires (some wanted to travel even further, some wanted a specific job, etc.), how to reach them, and which steps should be taken. Many young people who participated in this trip spend their summers working, and they clearly understood how much they would need to work to be able to afford such a trip.
The children were extremely tired from the long day, but everyone had positive words for what they had seen and experienced. This eventful trip, full of exciting discoveries, had been very nice, providing the opportunity to also talk about topics that are not touched upon every day. At home, they also told the next door children about their trip on the next day: where they went, what they saw and touched. The Children's world-view was again one cool experience richer.
 
Participate
Thank you, if you have already supported our charity programme or if you are going to do it in the future! Sign a standing payment order contract in SEB Internet Bank for 3 euros a month or support with a single donation.