Lastega ja lastele
Auhinnaga "Lastega ja lastele" täname ja tunnustame inimesi ja organisatsioone, kelle uued algatused või pikemaajaline tegevus on positiivselt mõjutanud laste ja perede käekäiku.
Tunnustusauhinna taotluste voor on avatud
15. aprillini
.
Esita taotlus
"Give me five, cartoon legend!"
10.02.2014
There are things you just do not manage to come across in your everyday life. For instance, there are no talking cars to be seen on Estonia's roads or streets. In winter, there are no fairies skating on frozen-over rivers or, if there are, they do it on the sly. And where could you meet characters from your favourite cartoons to give them five and take pictures?
On a weekend day in February, a small army of children converged on Tallinn from Estonia's various foster and childrens' homes. At the same time, a plane load of Disney cartoon characters – including talking cars and skating fairies – had also arrived in Tallinn to show Estonian children their skill on the stage of ice set up at Saku Suurhall.
Some children asked if Disney on Ice's ice-skating spectacular Worlds of Fantasy was in Estonia for the first time. Upon hearing the answer "Yes", they could not get over the fact that the show really had not been to Estonia previously and that they could take it in already during its very first performance.
Excitement from a trip to town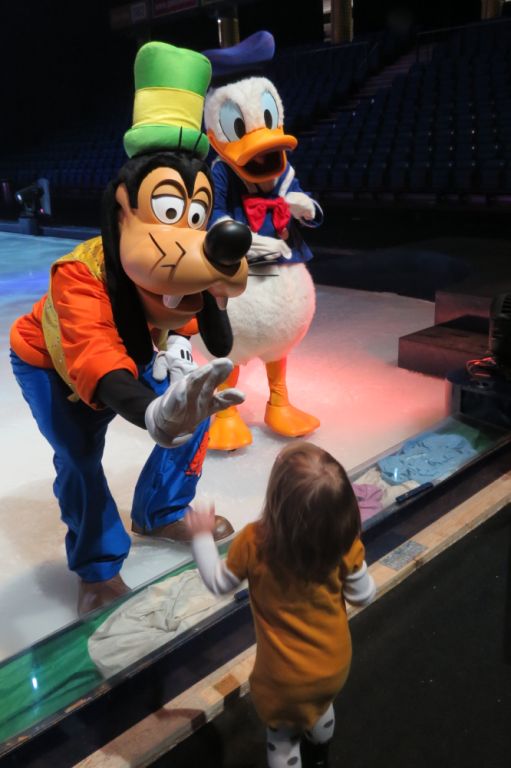 All children wishing to attend the show would not have been able to squeeze onto the buses and trains that arrived in Tallinn, and their homes had to make a choice: all together, 150 attendees from 31 family homes travelled to see the show. Some mothers of families looked at marks and conduct; some families drew lots or "cast fingers". For all those travelling, seeing the show entailed great responsibility also in the sense that precisely stored-up impressions would have to be shared with the other children once back home.
Many children had not been to Tallinn either in a while or ever, and for some this component of the trip itself was an experience worth the whole business of coming. For instance, children from the Tartu home got to travel to Tallinn on a new train! During the long trip, they learned patience and how to behave in public.
Those from the Central Estonian family home furthermore injected excitement into the day with means at hand, leaving the car used to come to Tallinn in the car park at Kristiine Keskus in order to take the trolley to Saku Suurhall: that way, the children also got to experience travelling by public transport. Said the teacher escorting the children: "Older boys enjoyed validating tickets and they were able to try and see first-hand how it works. Another thing that caused wonderment in a 12-year-old country boy was, how can it be possible that public transport in the city runs so frequently and stops so often?"
Fairy tale on ice
The main attraction, however, was the proceedings at the Saku Suurhall, where a large number of Disney cartoon and fairy-tale characters had gathered. In the assessment of some keen-eyed observers, the number of spectators was nothing short of billions! Promptly before the show began, an 8-year-old girl asked within the hearing of the spectators assembled on the bleachers: "Are the people of the entire world here today?"
The figures are debatable; however, the show was indisputably memorable. Which segment was etched in the memory best, on the other hand, depended on the preference of the young delegates who had arrived.
"Our youngest has only one favourite character from Cars, Mater. He really, really hoped to see it during the show. When we began to probe why Mater specifically was his favourite, the boy gave a long-winded and discursive reply that Mater had a really good heart and good intentions, joked a lot, helped others when they needed help and also considered others," said one teacher.
"Look, those are Mickey and Minnie Mouse, Donald Duck and Tinker Bell the fairy there. Look how the fairy has taken flight!" children whispered, holding their breath. "What pretty, pretty clothes everyone has, and how pretty the set is! Look how many butterflies and flowers! Look, the piggy, horse and dog Goofy are coming! How on earth could animals skate?" the children ooh-ed and ah-ed.
However, consensus was reached on the length of the show: it was clearly too short. No matter how long the show would have been, in the children's opinion it could have been twice, perhaps even three times, as long.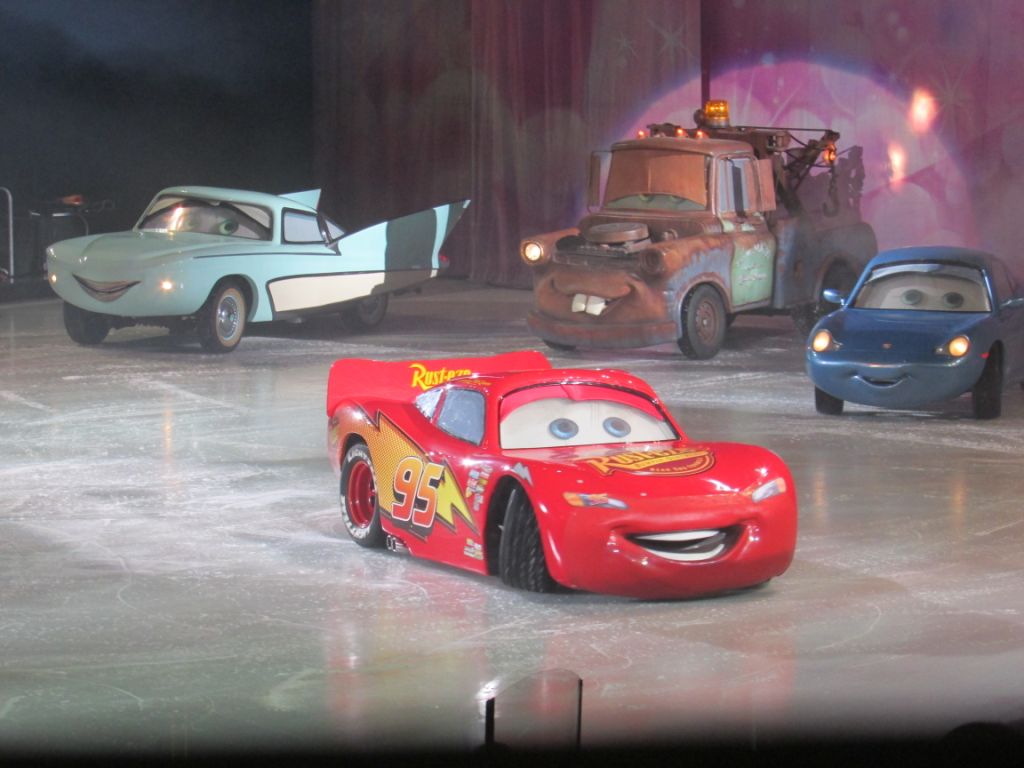 Future career choices
The show, however, was not just entertainment for some. During the trip, some young spectators also chose their future careers. For example, 6-year-old Dasha liked the fairy queen most of all. Upon seeing the queen float out of the sky and onto stage, she whispered confidently: "When I grow up, I will be a queen like that – with a pretty dress and a tiara like hers!" And a magic wand, little Dasha said, is possibly the most important tool of that trade. Asked what she would use it for, the girl thought for quite a while. In the end, she decided that an attempt should be made to magically create lots and lots of lollies, so that they never run out. Watch out, lolly factories! A new competitor is growing!
However, what 12-year-old Viktooria enjoyed most during the entire day was the performers' skill in skating. She had only seen figure skating on TV before, and it was so interesting to watch it in person. Viktooria promised to get her skates on the following day already and go practice on the ice rink. So, if you see a girl somewhere tirelessly practising figure-skating acrobatics, you will know that it is Viktooria. Wish her luck and give her some skating tips if you can.
Experiences after the show
That, however, was not the end of the impressions. After the show, our children were treated to extraordinary encounters with fairy-tale stars, touching Pluto's fur coat and shaking hands with Mickey. Having your picture taken with living legends cannot be taken lightly: Kevin, for instance, prepared thoroughly for going on camera: ran his hand through his hair and fiddled with the corners of his collar, standing with his left side, then with his right side thrust forward. Taking pictures itself happened so quickly that Kevin barely realised when it was over already, hoping that somehow he had not been left out or anything.
Despite the magical day and unanimous approval for the performance by the fairy-tale characters, some things nonetheless prompted ambivalent opinions amongst those in the capital for the first time. "No way will I ever go to live in Tallinn, because there are too many cars there! Võru and Põlva are much prettier – living there is not so awful!" patriots of South Estonia opined.
Some families, however, returned home on a more philosophical wavelength. "On the way back, we discussed with the children what they had learned from the show. They replied that good always vanquishes evil, no matter how hard evil tries to work against it. And love overcomes hatred, and true friendship is better than a friend who seems like a friend but is not one. If you want something badly enough and work hard for it, you will achieve it. And if you have done something wrong and have apologised and are trying to make it right, you should be given the chance to do so."
For children staying in foster and childrens' homes, the visit to see the fabulous show became a reality thanks to the SEB Charity Fund, Live Nation Estonia and Disney on Ice working together.
Triin Lumi
Participate
Thank you, if you have already supported our charity programme or if you are going to do it in the future! Sign a standing payment order contract in SEB Internet Bank for 3 euros a month or support with a single donation.