Lastega ja lastele
Auhinnaga "Lastega ja lastele" täname ja tunnustame inimesi ja organisatsioone, kelle uued algatused või pikemaajaline tegevus on positiivselt mõjutanud laste ja perede käekäiku.
Tunnustusauhinna taotluste voor on avatud
15. aprillini
.
Esita taotlus
Girl with poems
19.12.2013
The last time I visited the Tallinn Shelter for Children, a teacher gave me a poem written by one of the children. The poem was the following:
pretty boring to sit in your room
but, in fact, this hospital is not that bad
if we stay here for a week, two, or three
often no one wants to leave
with a cloud of dust swirling behind us
instead we leave with sadness in the mind
because no one knows what is coming next
you often want to come back
in the end you cannot leave
we take along memories
once we are out of here
I read this and wanted to meet the poem's author, Krista.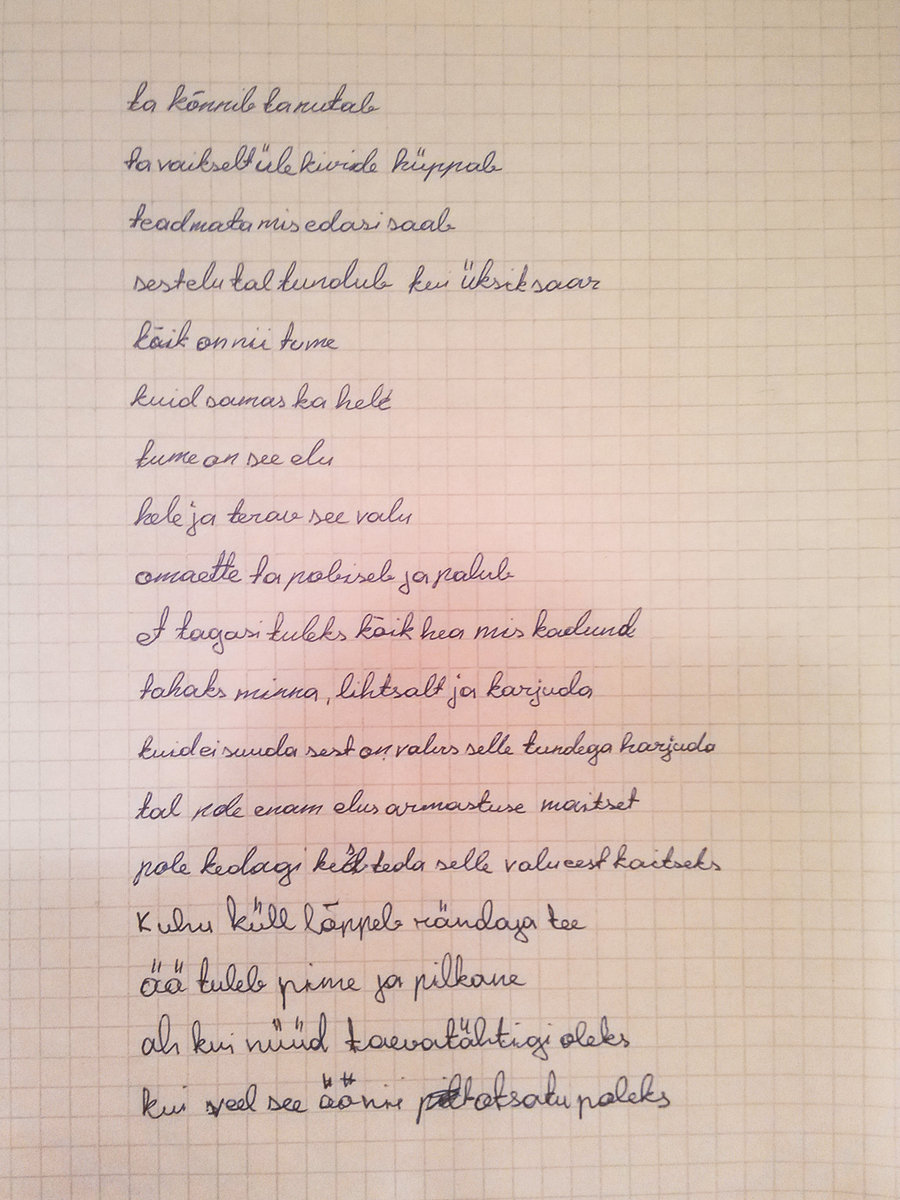 When I first met Krista in real life, she was not as chatty as they claimed she was. She was even quiet. I had heard from the teacher that when Krista is not in the shelter, they complain how eerily quiet it is around there. This of course does not mean that Krista is noisy. She is not.
Krista is now 15, but has written poems since she was 11. Krista mainly writes poems when she is bored. For instance, she wrote a bunch of poems when she had to spend two weeks in the hospital. There was nothing to do, and so she spent boring moments writing poems with her roommate Mari. It is great that she was released from the hospital within two weeks, instead of the initially planned three.
Krista is in the shelter because she had problems with studying. Krista, herself, said: "I had to grow up quickly." The girl had to take care of her little brother and do other tasks that are usually left for the adult members of a family because her mother had long working days and so she did not have enough time or energy for school. In the shelter, Krista can assume a role more suitable for her age.
Krista writes both happy and sad poems. The tone of the poem that finally reaches the paper depends on her current mood. If Krista is angry, she writes her anger into the poem, when cheerful she includes her joy, and when sad, her sadness. Some verses are inspired by films and sometimes Krista weaves song lyrics or lines from other poems into her creations (with different handwriting, so she would know which lines are hers, which borrowed). Another starting point and source of inspiration are aphorisms. Krista specifically searches for aphorisms on the Internet.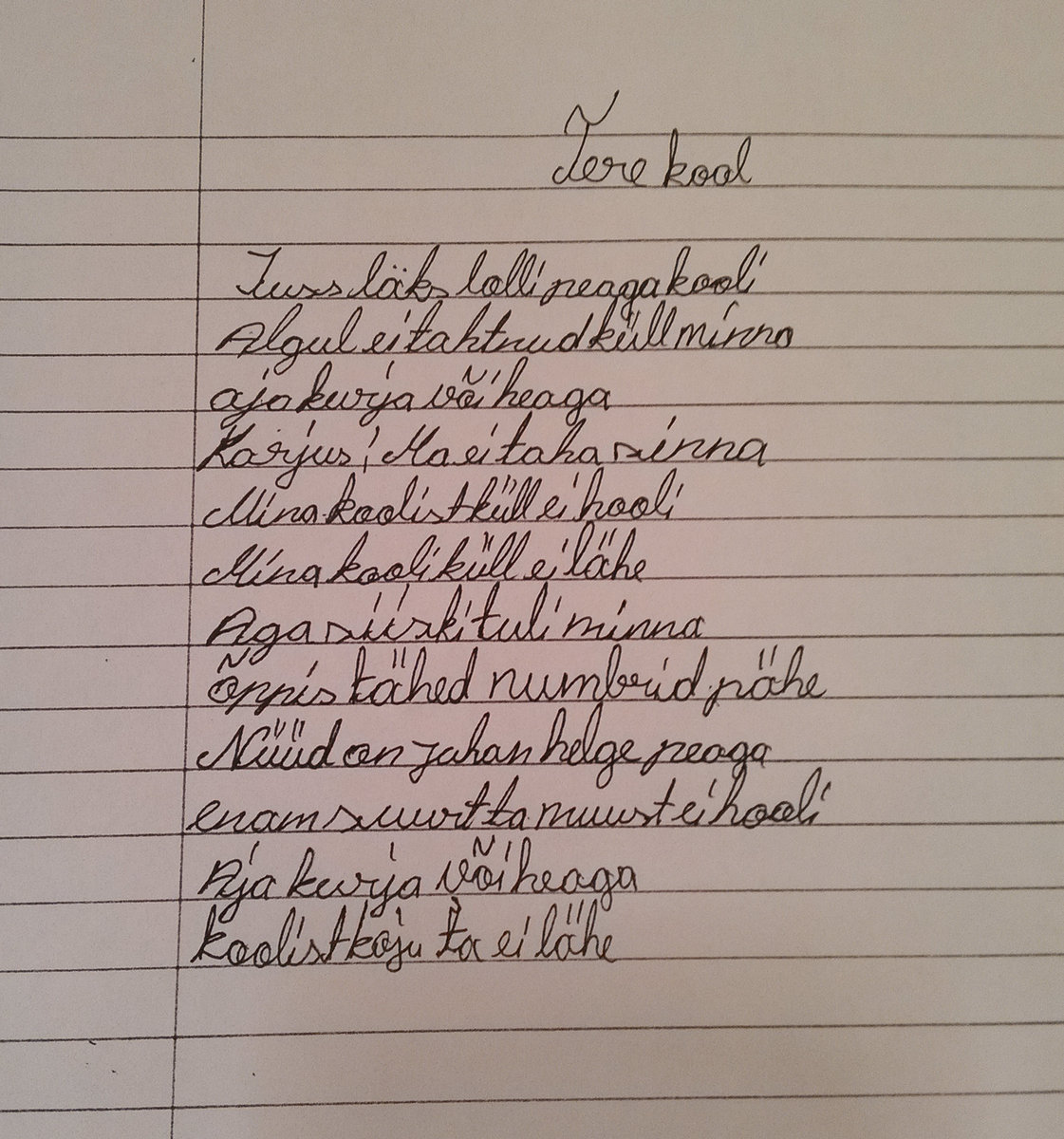 Krista listens to lots of music – in Estonian, English, and Russian – in order to find suitable song lyrics for poems. On SEB Heategevusfond's Christmas tree, (www.heategevusfond.ee/joulupuu) her Christmas wish this year is an MP3 player, so she could fill the gap of listening to music that came when her previous player broke.
Mostly, Krista writes poems quickly. She puts pen to paper, and together with the ink a line of poetry flows out of it. While talking of materials, it has to be mentioned that Krista's poems are not set in stone – this way, they would be difficult to change later. No poem is completely ready for Krista. When it later feels like some verse would be better in some other form or in other wording, Krista complements and changes them. She focuses on a poem, reads it over and, where necessary, makes changes. Krista has also recited her poems in her literature class. But she did not tell me how it went.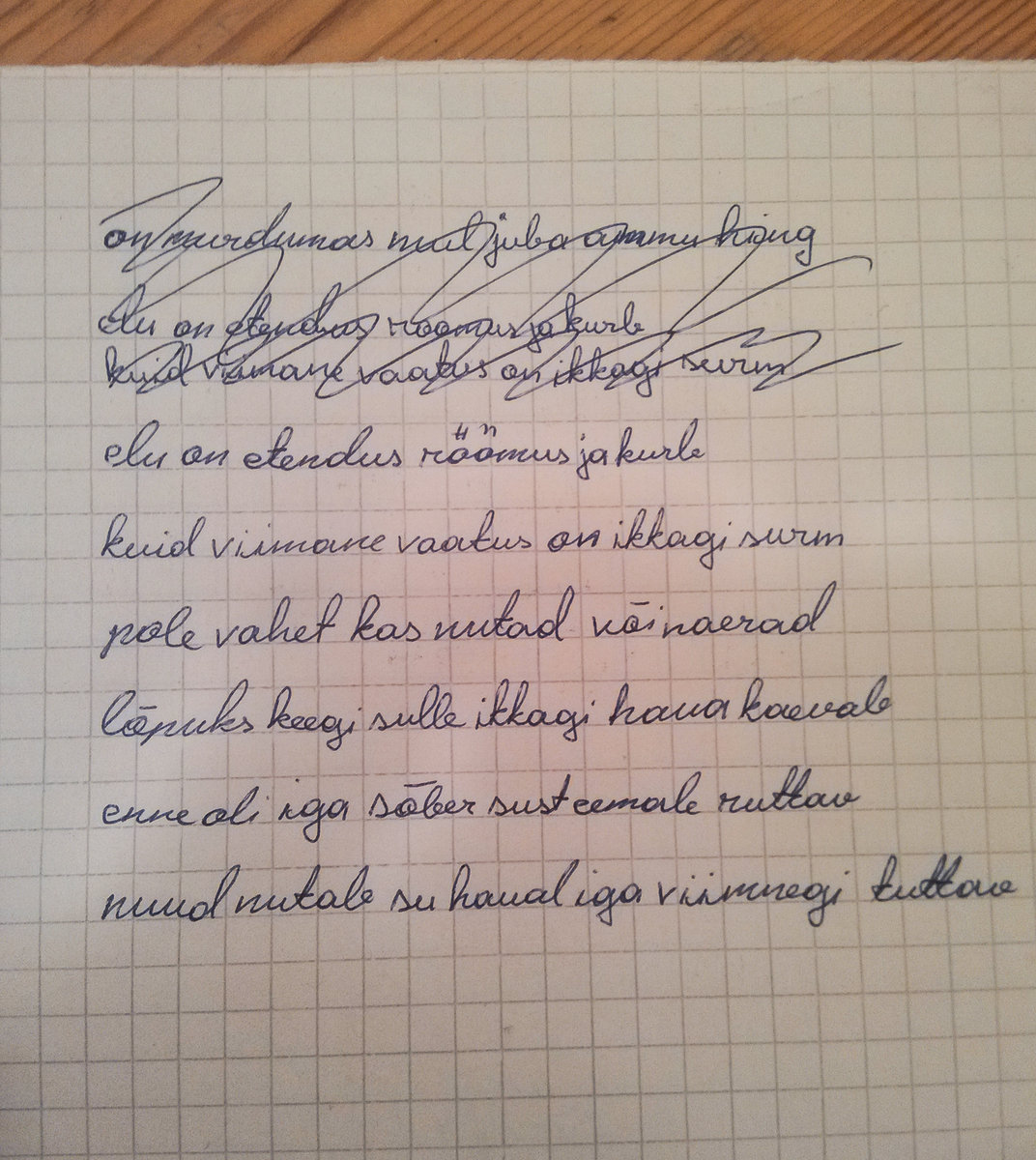 Poetry is not Krista's main and only activity. Lately, she has had little time for verses because she has been focusing on preparing for her 9th grade final exams. The funny thing about studying is that when Krista had problems with school, she often did not make it to school because a book store got in her way and she liked to spend time there. And when shelter teachers went to school to see how Krista was doing and what the problems were, it became apparent that Krista was reading fiction in Math class!
Krista says that she wants to become a pastry chef, nurse, or kindergarten teacher; the latter because she likes to spend time with children. In the shelter she also often plays with smaller children, when she has the time, and she had to take care of her younger brother at home as well. In fact, Krista has not yet thoroughly thought about her future job – and there is still time for deciding on her life's direction. This does not have to happen tomorrow. Whatever the decision will be, it is appropriate to finish with a shelter teacher's words: we shall hear about Krista's great deeds in the future.
Triin Lumi
 
Participate
Thank you, if you have already supported our charity programme or if you are going to do it in the future! Sign a standing payment order contract in SEB Internet Bank for 3 euros a month or support with a single donation.