Jõulusoovide puu
The Christmas wish tree is made up of the dreams and wishes of children in shelters and substitute homes, sent to Santa Clause. To make sure that these do not just remain dreams, pick a gift from the Christmas tree and make a donation to the best of your ability.
www.heategevusfond.ee/joulupuu
Gingerbread Race
It has become a nice tradition that each December the SEB Charity Fund organises an event called the Gingerbread Race, which pays a visit to our partner shelters all over Estonia. Equipped with gingerbread dough, cutters and lots of enthusiasm, we visit all of the centres and bake gingerbread with the children.
This year we visited the Pärnu and Tartu shelters, the Kopli and Lilleküla shelters and the Mustamäe infants shelter in Tallinn, the big and little ones in Kiikla in Ida-Viru County and Haiba children's home in Harju County.
This series of visits really lives up to its name – it is a true gingerbread race. The moment the volunteers set foot in the shelter, the children are eager to start baking. In the blink of an eye, the aprons are covered in flour, the children's mouths are full of gingerbread, the shelter smells like a bakery and the children's faces are beaming with joy. Around ten children roll the dough together, taking turns to dusting the counter with flour (and at the same time taste it, secretly stealing small pieces of dough to have a bite!), squabbling with friends over who gets to use the hedgehog-shaped cutter first and filling baking sheets with cookies of various shapes and sizes, and the 'logistics department' transports them to the kitchen to be baked.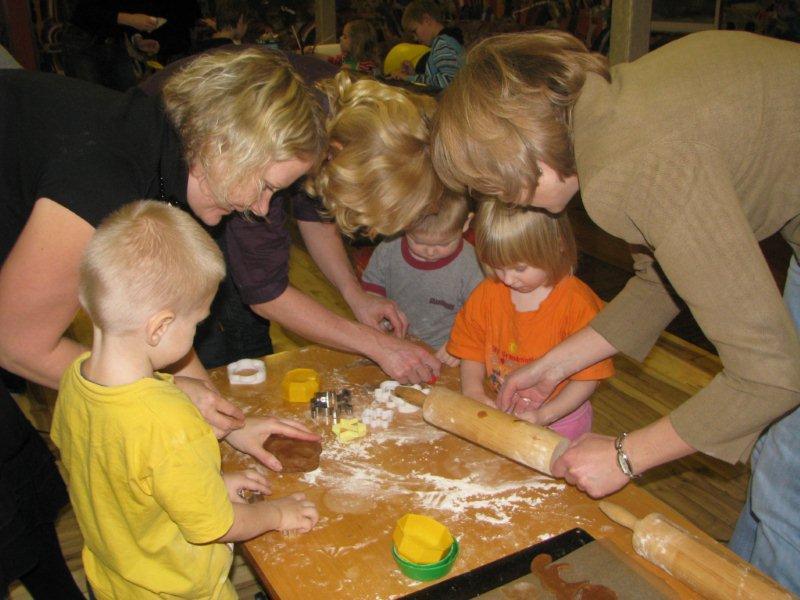 The gingerbread made it back to the table from the over, so that the kids could decorate them. While some of the children are busy in the kitchen, others learn from volunteer Viktoria how to make special items for holidays, such as gifts, cards, Christmas tree decorations and other things that can be given as presents. By turns, the smallest children, covered in flour from head to toe, ran to the volunteers for a hug and then back again. After the baking race the shelter was filled with sweet holiday spirit and the children's eyes shone with joy from the collective effort, which many experienced for the first time.
Participate
Thank you, if you have already supported our charity programme or if you are going to do it in the future! Sign a standing payment order contract in SEB Internet Bank for 3 euros a month or support with a single donation.