Jõulusoovide puu
The Christmas wish tree is made up of the dreams and wishes of children in shelters and substitute homes, sent to Santa Clause. To make sure that these do not just remain dreams, pick a gift from the Christmas tree and make a donation to the best of your ability.
www.heategevusfond.ee/joulupuu
Football is cool!
07.09.2016
Thousands of kids spent time athletically last June and August, kicking a ball around in different stadiums. Last summer – as they have done for many summers in the past with support from SEB Heategevusfond – 62 boys and girls from shelters and replacement homes took part in football camps across Estonia, where experienced coaches trained both seasoned and rookie football enthusiasts.
For quite a few children, this was their first experience being in camp. Those who had already been to camps during previous summers couldn't wait. Even though you had to get up early in the morning, and the days were long and intense, most of the kids were very happy with the camp. They gained a lot of new skills at the stadium, got to know themselves and their skills better, and found a bunch of nice new friends.
Every beginning is hard
The first day was the hardest. In the beginning, the shyer children, like Tairo, were watching others from the sidelines. The situation was already a bit more familiar the next day, and the kids participated in all the activities. Some kids had trouble adjusting, but, together with the coach and teacher, the problems were solved.
The first day even scared otherwise brave boys a little. There were a lot of new faces there. Bringing a friend along made it easier to join the group. Uniforms with their names printed on them – t-shirts, shorts, and football socks – were handed out to the campers. This made them feel proud and united the once-strangers into teams, making the kids feel like real footballers. Many of the kids are still wearing those clothes in their physical education classes and telling their friends about the football camp they attended during the summer.
When the children returned from the field in the evening, they looked like little rascals with artificial turf all over their clothes. They returned home tired but happy, filled with the desire to return to their training the next morning.
The first evening, football was the main game in several of the kids' homes. The workout clothes didn't really make it to the laundry basket. They were excited to talk about who did what and how many goals were scored. The teacher was shown all the newly learnt tricks.
The long days in the camp taught them to stick to a schedule and helped them build character. However, waking up in the morning sometimes still proved to be difficult. On quite a few mornings, making the bed, getting dressed, brushing their teeth and eating all happened in a sleepy haze, but by the time they made it on the field, they were excited and active.
An inspiring day at A. Le Coq Arena
Some boys were in the camp in both June and August, and recall it excitedly. They met real footballers, took a trip to the TV tower, and of course worked out so much that their legs were sore. It was especially fun that they could play "real" football in A. Le Coq Arena. Practices were varied: they always started with warm up exercises and endurance training with running, after which they learned different techniques – kicks, defence, and attacks.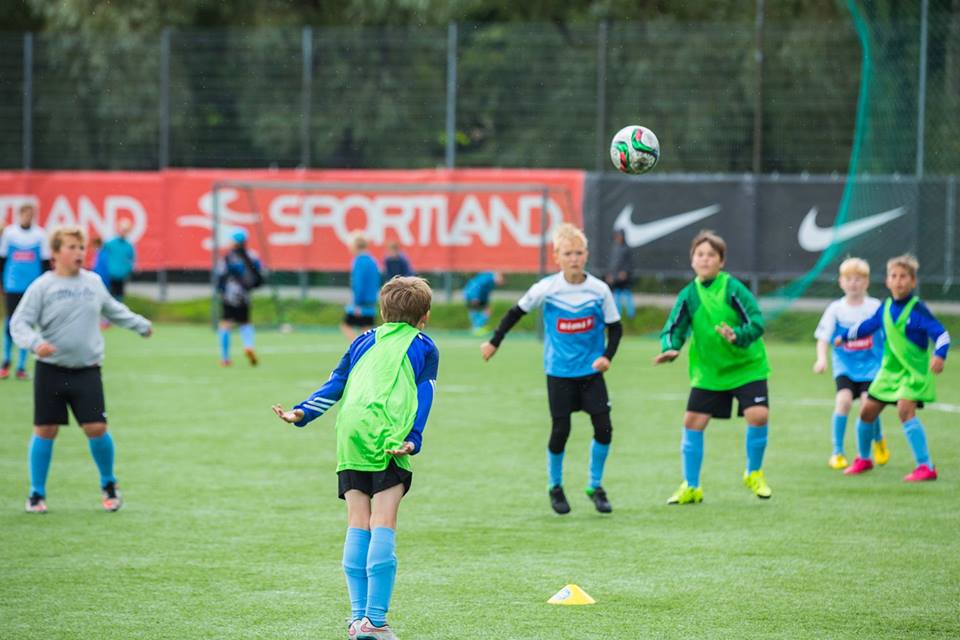 The children were especially happy and bright-eyed after one day in camp, when they went to meet the Estonian national football team at A. Le Coq Arena. They got autographs from their favourite players and spent an exciting day in Tallinn.
Football – the favourite hobby for a lot of children
Sergei likes playing football a lot. At home, he uses every opportunity to kick around the football. He now attends football practice, which will hopefully become an enduring hobby for him, one that will help him develop his thinking and ability to focus.
First grader Kert is a very active boy who got to channel his energy and collect emotions in the football camp. Kert definitely mastered new skills on how to communicate with other kids and how to work in a team. Everything he learned in the camp will also be useful for school.
Andres went to camp full of excitement each morning, and came back feeling happy in the evening. The coaches were nice and encouraging – you could feel it from Andres' zeal, when he was talking about it. Andres got an especially big thrill from the day spent at A. Le Coq Arena.
Marcus, an athletic boy and football fan, liked camp a lot. He is a team player – that's why he appreciated new friendships the most. Marcus always went to summer camp with great joy and enthusiasm.
Säde has been playing football for several years. She enjoyed taking part in the activities, was never once late, and developed her ability to work independently by washing her outfit and gaiters to wear the next day.
It feels good to win, but you also have to know how to lose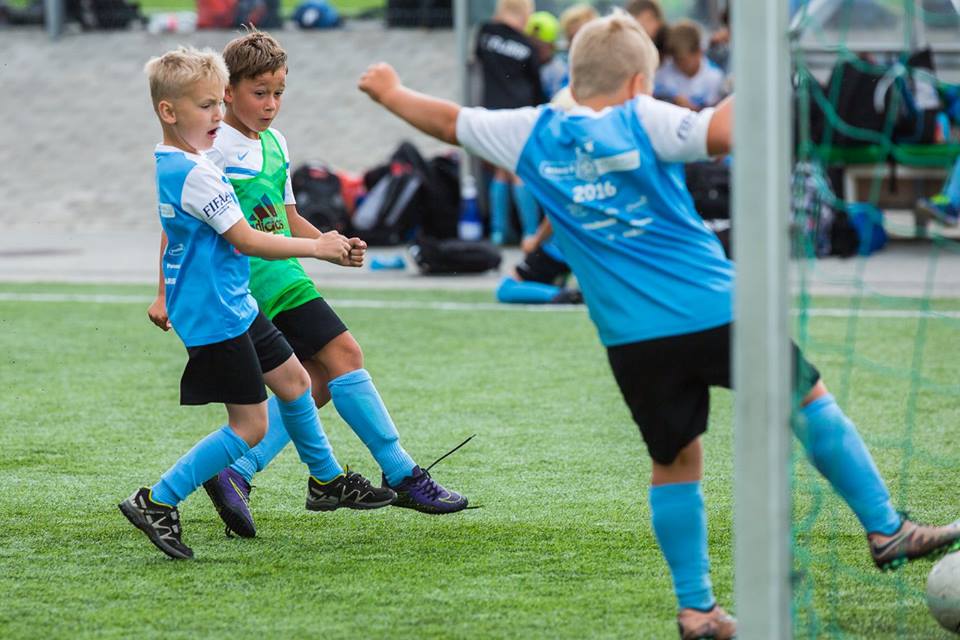 Jaana has attended football practice since nursery school. She has always been interested in football, but she wants to be the best – the girl actually is one of the best, but every little setback brings her eagerness down and so she gave up practicing a while ago. She lost to someone else in some of the competitions in the camp and immediately started to think about quitting "forever".
Steven's team received a lot of wins and gave the boy positive emotions. Sten liked that he could run around a lot and play different games. But Madis didn't like to lose either. When talking to the teacher, they finally came to the conclusion that you have to know how to lose and not give up.
Sander had a hard time waking up the first day, but on the second day he was already in a good mood, waiting to go to camp. At home, he excitedly and attentively watched the European Championship games on the TV and cheered along (he commented on whether someone did things right or wrong). He also gained new friends from camp.
Sander is a boy with a very lively personality. It's a good thing he has football fever, which helps him release his emotions and satisfies his exercise needs. The camp motivated him to exercise even more and taught him independence, persistence, responsibility, sense of duty and teamwork skills. You could say that he got the most out of camp because the boy did everything possible.
Sander now goes to football practice on Mondays, Wednesdays, and Thursdays. He is a good football player who can play multiple positions on the field – on the right or left side.
Football camp saved Priit from a case of "computer addiction"
Everything digital is Priit's favourite (phones, computers, printers, etc.). He looks up information on the Internet about it all the time. If he was allowed, he would sit at his computer all the time. For him, even being outside means sitting on a bench and browsing the web on his phone.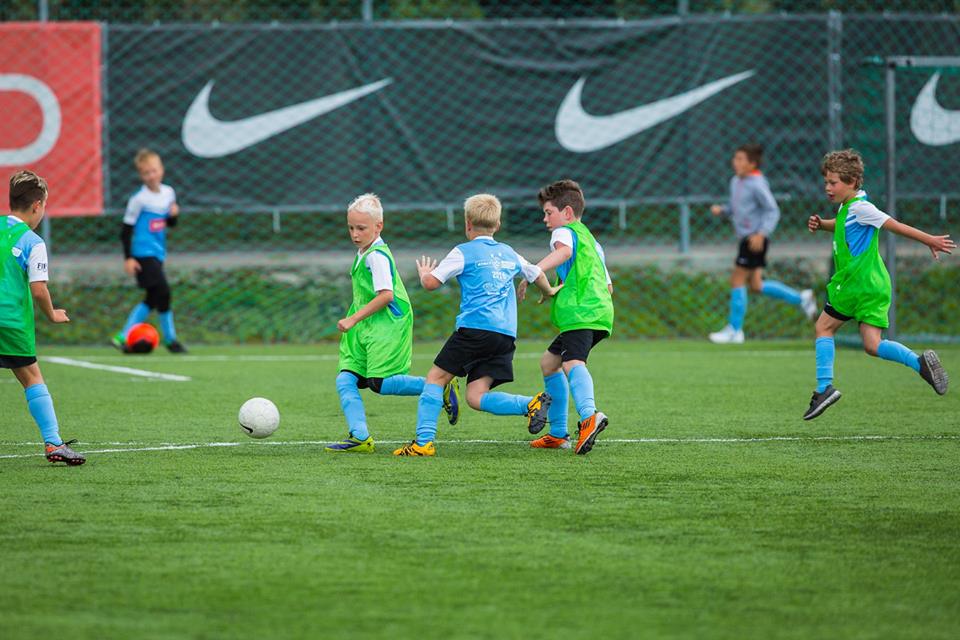 Football camp got him more involved in physical activities and was a good alternative to sitting in front of a computer. In the mornings, Priit went to camp enthusiastically and was happy and content when the day was over. According to Priit, the coach was very cool, honest, and friendly, and he made new friends at the camp. Priit promised to go to football camp next summer as well. This school year, he has the option to attend football practice near his home. It is taught by the local physical education teacher. Priit has signed up and will attend practice every Monday, after classes. The teachers hope that football mania has saved the boy from a case of "computer addiction".
Dmitri will still stick to basketball – but football is cool as well!
Dmitri got a lot of joy from his workout clothes, which included a T-shirt with his name on it. In the gym, kids had glints in their eyes as everyone put on their uniforms and the football team marched into the stadium.
Since it was an area with mostly Russian speaking boys, the trainer asked every child about their language skills. The coaches and instructors also spoke Estonian, but the Estonian children managed to speak Russian very well. So football camp also served as language camp.
Dmitri recalls: "In a week, I acquired basic knowledge about football rules. It was a lot of fun, the instructors were great, sometimes they fooled around and we spent rainy days in the gym. We got to eat a lot of fruit. I still have the summer ahead of me, and I can share my knowledge and skills with others while playing football at home."
Dmitri thinks that even though he could play football every once in a while, he will still stick to basketball. He likes basketball more and he's been playing it for years. "Now I also have knowledge about playing football, it's fun to sometimes wear long football socks and I can wear the shirt in my school's physical education class."
Mihhail learned that everything takes practice
Mihhail quickly bonded with others in the camp and excitedly went to football practice every morning. In the evening he talked about what he had experienced during the day: how they warmed up, practiced football kicks and most importantly – kicked the ball in the opposite team's goal. Mihhail was also a little concerned when he saw some of the other boys at practice wearing different types of shoes – football boots. There were fewer of these boys, boys who had been attending practice for some time and already had their own equipment. Luckily he had shoes like that at home which fit him. Mihhail was able to try playing while wearing those shoes. But everything takes practice, and Mihhail said: "My toe didn't get hurt when I kicked the ball, but it's harder to walk and run in them."
When camp ended, Dmitri and Mihhail took the goal out of the shed and, based off what they experienced and learned, organized an intensive series of games in their back yard with their friends. Mihhail wishes to take part in the football camp next year as well.
"Our Aleksandr" – the football camp's official assistant coach
The kids who had been to football camp before were really looking forward to it this year. This year, 14-year old Aleksandr, who hadn't been to camp before but is one of their own, was a big source of motivation – he was the official assistant coach in the camp and earned some spending money. The trainer asked him to help because in previous years Aleksandr had shown how responsible and active he can be when it comes to camp activities. Aleksandr is a seriously athletic boy who also performs tricks on his scooter.
The task of being an assistant trainer was a very important one for the young man, serving as a source of encouragement for both him and the other participants. He was a role model for everyone and made the younger children want to play well, so they too could get that opportunity. One of the smallest girls, who has been interested in football forever, finally got to participate – she was now old enough to get into the camp. Since the kids also created excitement in the smaller children with their football stories, a little sport loving 5-year old got special permission from the coach to also participate. The glint in a child's eyes is hard to describe.
New friends and ball battles with soul
One boy came home every day and said the name of someone new he had gotten to know in camp – by the end of the week, he had a whole list of new friends.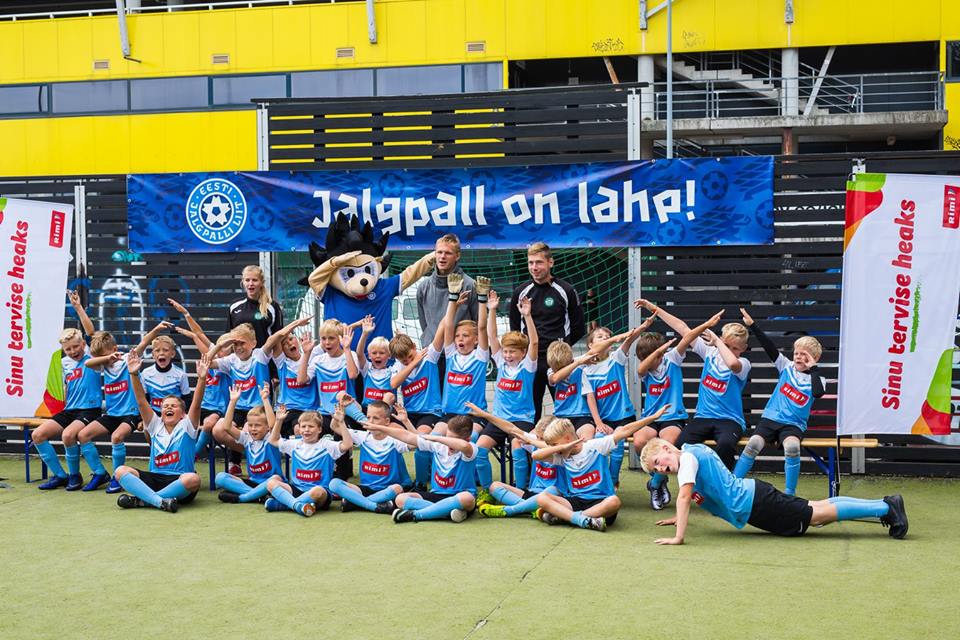 After the camp, kids from several homes had felt a new sporty revision. In the evenings, they spent long hours on the stadium's football field, spreading their joy for the game to the other kids in the village. Everyone was included in the game, and the heated summer ball battles lasted until late in the night. The kids often asked their teachers to be a judge or a goalie – that way even the employees caught football fever. The great joy of the game lasted for several weeks after the training camp.
"Our coach" – the perfect example
The kids in one family developed a very special relationship with the camp's coach, who earned their love and respect. That coach is friendly, happy and fairly strict – just the way a real man is supposed to be, said one 12-year old boy. The teachers said he resembles the perfect father figure for the children. When camp ended, the kids were hoping to have the same coach next year.
The children felt good going to camp and sad as it ended because it was the end of one fun activity. When, during sports day, they saw the coach in their neighbourhood, they cheered with joy as they heard his voice from a distance. The kids ran up to see him and kicked the ball around with him in the football workshop. The coach was also happy to see the kids. The children were pleasantly surprised that the coach remembered all of their names.
The feeling of success encourages children to aspire further
The feeling of success had a very important place in the camp. If the ball was kicked in the goal, it was always mentioned at home. They learned to accept that sometimes you have to lose. Right after the camp ended, the boys were curious to know when the next one would be taking place. When they heard it wouldn't be until next summer, they all said together: "That late!"
Camp didn't direct all the kids to continue practicing football, but a lot of them found a certain charm in the game or a renewed eagerness to continue with their favourite field. Several times, they went to play at the local stadium with the outfit and ball they had received. They were proud to show off their new sports equipment and, of course, their new skills, to their friends and classmates.
This year's experience showed that kids are always ready to go to football camp and football is popular amongst young people!

Photos: EJL and Rimi Football Summer Camps FB page
Participate
Thank you, if you have already supported our charity programme or if you are going to do it in the future! Sign a standing payment order contract in SEB Internet Bank for 3 euros a month or support with a single donation.