Lastega ja lastele
Auhinnaga "Lastega ja lastele" täname ja tunnustame inimesi ja organisatsioone, kelle uued algatused või pikemaajaline tegevus on positiivselt mõjutanud laste ja perede käekäiku.
Tunnustusauhinna taotluste voor on avatud
15. aprillini
.
Esita taotlus
Fjodor's garage – the big boys made the little boy's Christmas dream come true
21.12.2012
By the beginning of December most of the dreams hanging on the Christmas wish tree had been fulfilled with the help of generous donors, but some wishes proved a lot harder to fulfil than expected. Although the elves did soon notice the seemingly rather ordinary wish of a little boy they were unable to fulfil it right away. But when need is greatest, help is nearest! Triin Lumi, the Elf-in-Charge of the SEB Charity Fund asked her good partners at the Age advertising agency to help with the wish of this little boy and thus another Christmas miracle happened.

Age Reklaam OÜ in co-operation with the Vivendi wood and paper craft studio are very happy to have helped make the wishes on the Christmas tree come true. The wish of 5-year-old Fjodor who lives in Päkapikula's Christmas cottage number 5 wished for a garage for his toy cars so that he could get the cars safely home every evening. As something like this could not be found at the store the busy big and little elves decided to build Fjodor's cars a luxurious two storey home out of cardboard, wood and coloured paper themselves. Over two evenings they built a garage with six parking spaces and with a roofed second floor that the cars can nicely reach using a ramp.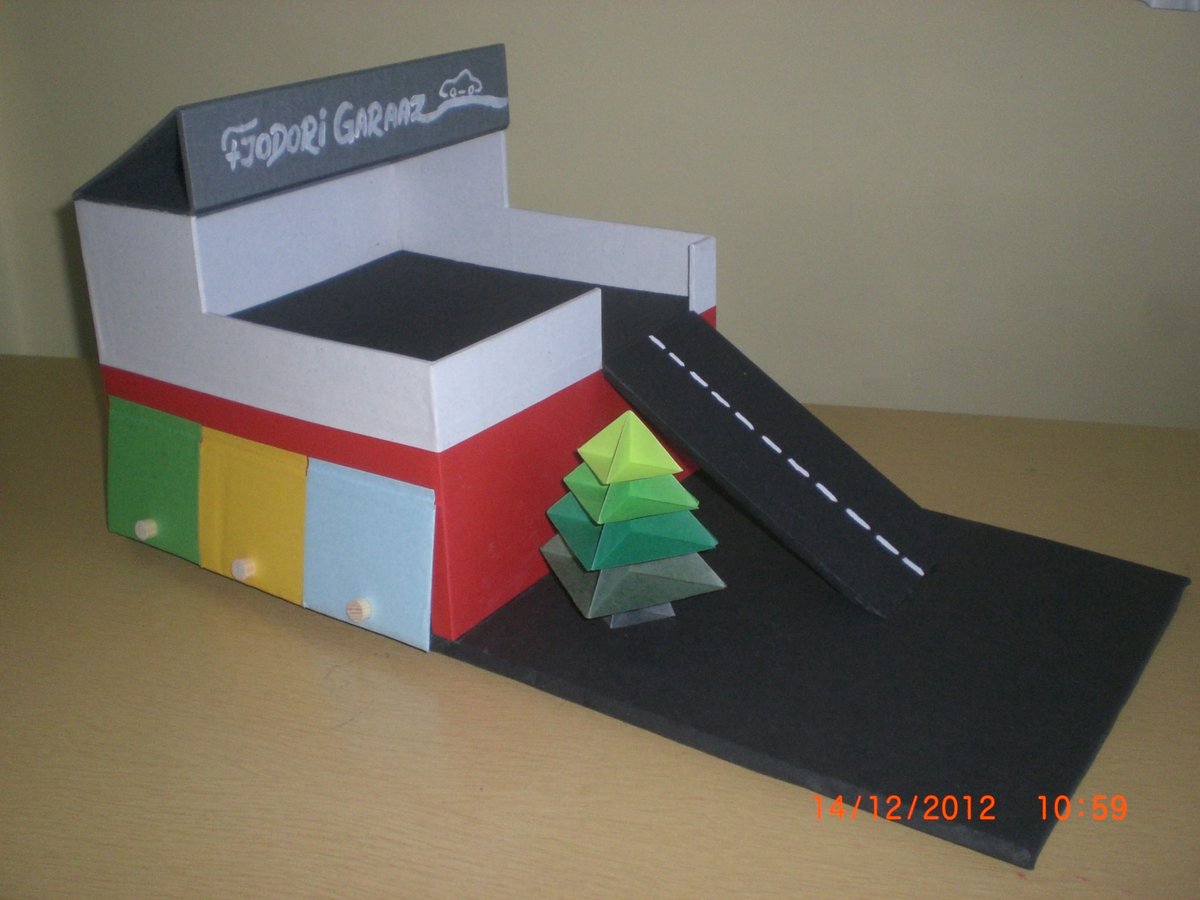 At first Age's project manager Rait found the idea of them making a garage themselves a little intimidating because nowadays even Santa gets the presents from the store and competing with the "car industry" of little boys seemed like a huge challenge. But without much hesitation they were ready to make it happen because something self-made is always head and shoulders above anything mass-produced. Why not construct a garage together like they did in their childhood – using any materials they had at hand.
Done and done! As time was of the essence they started right away. At first they had to put together a team of people with big hearts who cared about real values. This was easy since the advertising industry has a wealth of people who value everything genuine and who also have friends who are never short of good ideas. And this is how Rait's contagious excitement also infected some of the other "big boys" whose hearts were warmed and whose smiles broadened at the idea of recreating a time they had forgotten.
The idea was given form at a small workshop of Rait's friends that had all the tools they needed for cutting, gluing and sawing. The men, who were more accustomed to working with words, ideas and deeper meanings than with a hammer or a cordless drill, did not know a lot about designing or engineering, but with a good cause in sight they simply started doing it.
The first thing that we did was naming the design "Fjodor's Garage". Truth be told, in all the hustle and bustle we managed to misspell garage a little bit. After that we tried thinking like a 5-year-old boy to see how to make the cars feel all warm and nice and safe. You cannot find a garage like Fjodor's anywhere on the internet – it will be unique and special just as a boy might dream it up. There we were, on the floor on our bellies, heads together in a huddle, the deadline peeking over our shoulders and so the gorgeous garage made out of paper, cardboard and wood came together. This was how the first night ended.
The next day the garage with six parking spaces got a cheerful paint job and the garage doors got nice wooden knobs. Fjodor's garage can hold a car measuring 6.5×10 cm. By the evening of the next day the team looked upon their creation in reverent silence and while the spell of childhood eventually passed, the feeling of joy did not disappear. All the men envisaged the happy face of the little boy. It does not matter that they will not see it themselves, because for a little while they felt what Fjodor will feel when he opens his present.
The handymen and their friends wish Fjodor and his cars a Merry Christmas and a Happy New Year's Eve!
Triin Lumi
Participate
Thank you, if you have already supported our charity programme or if you are going to do it in the future! Sign a standing payment order contract in SEB Internet Bank for 3 euros a month or support with a single donation.