Lastega ja lastele
Auhinnaga "Lastega ja lastele" täname ja tunnustame inimesi ja organisatsioone, kelle uued algatused või pikemaajaline tegevus on positiivselt mõjutanud laste ja perede käekäiku.
Tunnustusauhinna taotluste voor on avatud
15. aprillini
.
Esita taotlus
Fifty-strong participation by children in the Bike Marathon
A couple of thousand participants in the children's races at the 15th SEB Tartu Bike Marathon last Saturday afternoon also included 50 children staying in sheltered housing, from Tallinn, Harju County, Tartu and Ida-Viru County.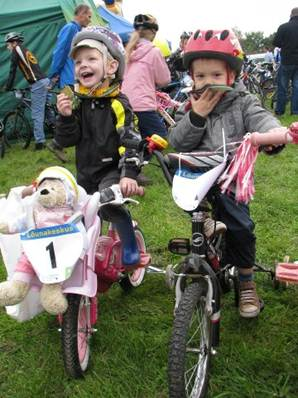 The event was the culmination of the sporting summer for children in sheltered housing, several of whom made their debuts on bikes along the mini distance at the Bike Marathon. We are positive that by pedalling the bikes children are better able to overcome their fears and cares.
Speeding along on his bike, three-year-old Kevin L from Tallinn was shouting and encouraging his friends at the same time: "Let's hit 100, let's speed all the way, speed!"
Children staying in our sheltered housing often cannot think of anything to discuss about their weekend when they come to class on Monday. This time, the home-room teacher of eight-year-old Toomas rang the sheltered housing and inquired, What did you have going on there? The boy had re-lived his events from last Saturday all over again and expressed his satisfaction in having also had the opportunity to go to Tartu and proudly shared his impressions of the day of the contest.
As is custom, the day of sport ended for the children at the Aura aquatic centre, soaking their fatigued muscles in the relaxing water of the pool.
Participate
Thank you, if you have already supported our charity programme or if you are going to do it in the future! Sign a standing payment order contract in SEB Internet Bank for 3 euros a month or support with a single donation.