Lastega ja lastele
Auhinnaga "Lastega ja lastele" täname ja tunnustame inimesi ja organisatsioone, kelle uued algatused või pikemaajaline tegevus on positiivselt mõjutanud laste ja perede käekäiku.
Tunnustusauhinna taotluste voor on avatud
15. aprillini
.
Esita taotlus
Fast carousels and zooming roller coasters – the end of summer on a high of adrenaline and the challenging of personal limitatio
01.09.2015
On an early morning in late August, approximately 150 young people from shelters and substitute homes, together with their chaperones, set out for the Linnanmäki amusement park in Helsinki, to go on a fun and memorable trip to celebrate the end of their school holiday. For the ninth year in a row, the trip became a reality with support from Tallink Grupp, which covered all of the costs related to the crossings.
The morning got off to an early start for the travellers, who had convened from all over Estonia. During the voyage, many were on the sleepy side. Quite a few had set out around 05.00 and were sleep-deprived as a result. "Anticipation was so great that I only got two hours of sleep during the night," said a young lady who had arrived from Elva. However, getting up early had not dampened the enthusiasm of the young people.
"Helsinki is bigger than Tallinn, isn't it?"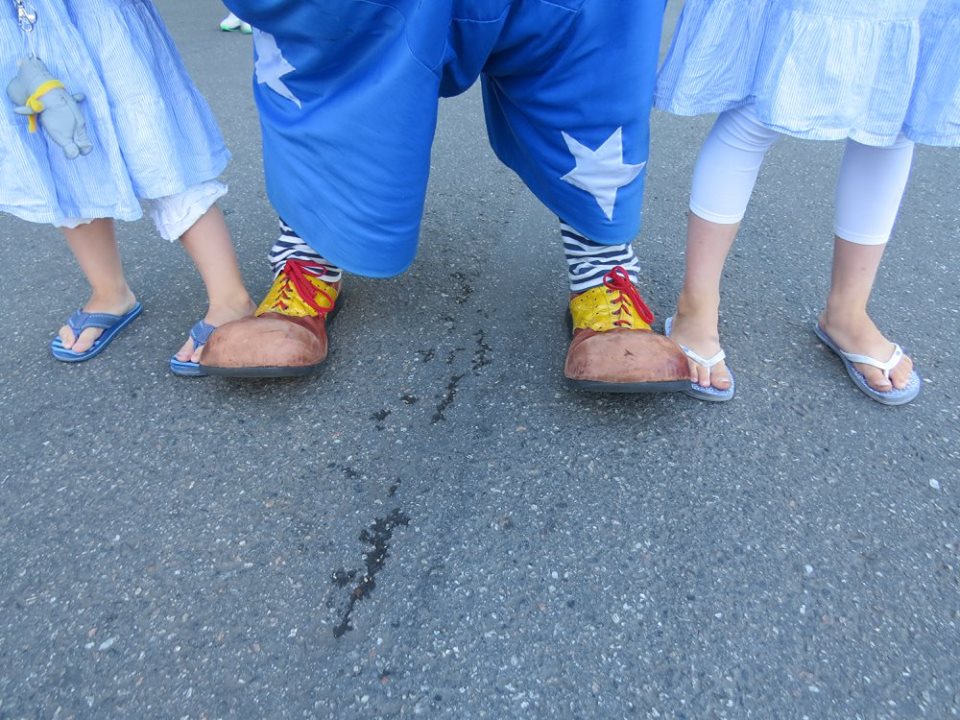 For many families, the trip to Finland was the first experience of its kind, which they had really been looking forwarded to – some had researched the rides they liked online beforehand, some had knowledge to share about the living conditions in Helsinki and Finland. Some families had visited Helsinki before with support from the SEB Charity Fund, and those children who had been to Finland previously took charge when travellers were finding their bearings on the ship. Some families headed straight for the buffet table to enjoy breakfast, whereas others decided to explore the ship first and agreed on a meeting point in case someone got lost.
Although spirits were high, the morning voyage went by uneventfully. The more active children spent some time on the sun deck. "Now there is a view! I feel like a total tourist!" a boy, 13, said, as his older companions were photographing the departure from the harbour. Some children had decided to treat themselves to sweets at the shop on the ship; however, a consensus was quickly reached that the best idea was to not go to the shop until the return voyage. A boy from Oisu revealed his goal for the trip: "I have to go on the rides; I wonder if there will be any time at all to buy things."
A girl, 10, and a boy, 7, announced that they were experienced ship passengers but that it was their first time being on a ship that was so big and travelling abroad. Not letting their fear of sailing get in their way, children were helping themselves to the goodies on the buffet table.
In Helsinki, three coaches were waiting for the children, to take them straight to the Linnanmäki amusement park. Together, they marvelled at the cityscape of Helsinki, with the observation that the school year had already begun for the local children. Furthermore, expectations for the trip to the amusement park were shared, and there was a discussion of the fact that Finns did not seem so different from Estonians. The youngest member of one family eagerly asked: "Helsinki is bigger than Tallinn, isn't it?" and continued sharing facts about Finland with the family.
"Don't worry!" and overcoming one's fears
Holding up the map of the amusement park for closer inspection, and knowing the locations of the carousels already picked at home, the children's fun adventure could begin! As if by magic, the young people along with their chaperones vanished to go on rides, each family at their own pace, which gave the outing the feeling of a true family trip. The children, making their way from one ride to the next, could be seen laughing and pulling the hands of their chaperones. Some families began their adventure with the peaceful Ferris wheel, to enjoy panoramic views of Helsinki; some families opted for the most thrilling rides straightaway.
Whereas the younger children had to be encouraged a bit at first, their chaperones could not believe later how brave and independent they were, especially when a child decided to go on an adult ride, as it were. A boy, 10, expressed his joy after getting off a carousel spinning on its axis centrifugally in rainbow colours: "My feet turned to jelly, and I'm feeling dizzy, but it was so much fun!" A person accompanying children admitted that this type of outing tests trust, but pointed out that children are very mature and strong-minded when they are away from home, so that rarely have there been any problems. Moreover, since there are about four children from every shelter and substitute home on a given trip, it is significantly easier to keep an eye on everyone and immediately share the delights experienced.
Triin, 10, recounted that she had liked all the carousels, especially the one that threw her high into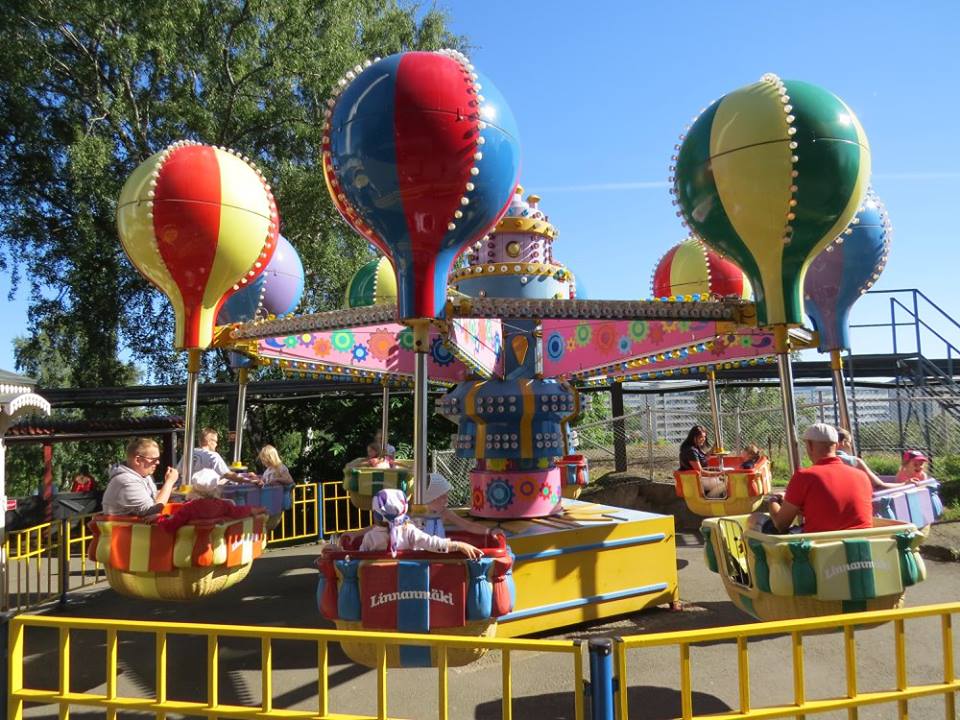 the air: "At first, it was scary, but we screamed at the carousel, and then we were calm." A chaperone mentioned that there had definitely been plenty of moments at the amusement park which challenged their personal limitations, and that it had been an instructive day for both the children and their chaperones. Whereas the children were timid at first, later it was they who were encouraging their chaperones and proving their business-like attitude. Again and again, the children cried out to their chaperones: "Don't worry!" – and all the chaperones could do was trust them and encourage them on their independent exploration. The children learned to shake off their fears and their apprehension when it came to expressing emotions. There was laughter and hollering, a result of the feeling of freedom that came once the initially frightening rides had been overcome.
Whereas the younger travellers avoided the craziest rides, the teenagers enjoyed the fusion of adrenaline and fun to the hilt. A particular favourite turned out to be Kingi, which hoisted children to a height of 75 metres and then dropped them in free fall. Along with the wildly fast Ukko ride, it proved to be a brave endeavour. Some young men thought that it was good training before joining the Defence League, and none of them have a fear of heights anymore.
"I wish there had been more time!"
In spite of the nearly 4.5 hours spent at the amusement park, the time to leave there came unexpectedly soon. The youngest member in one family took over leading the way, and the entire family made a mad dash for a historical wooden roller coaster dating from 1951, to go for three rides on it, followed by a ride on the Salama roller coaster at a height of 17 metres.
The favourite spot for many boys turned out to be the Milky Way building, which took them on a journey through space. The topic was so interesting that it sparked an impassioned discussion about the Milky Way, with the boys wishing that the trip through space had lasted longer. Nonetheless, the building, whose interior resembled a spaceship, was impressive and conveyed the feeling of being a hero in a science fiction film.
The favourite amusement for Silvi and many other girls was the house of horrors, where they travelled through dark rooms in a wagon. Images of witches and wizards provided excitement and thrills. Silvi, 14, enjoyed being in the house of horrors so much that she went there three times, even after the other children in her family could not be bothered to go anymore.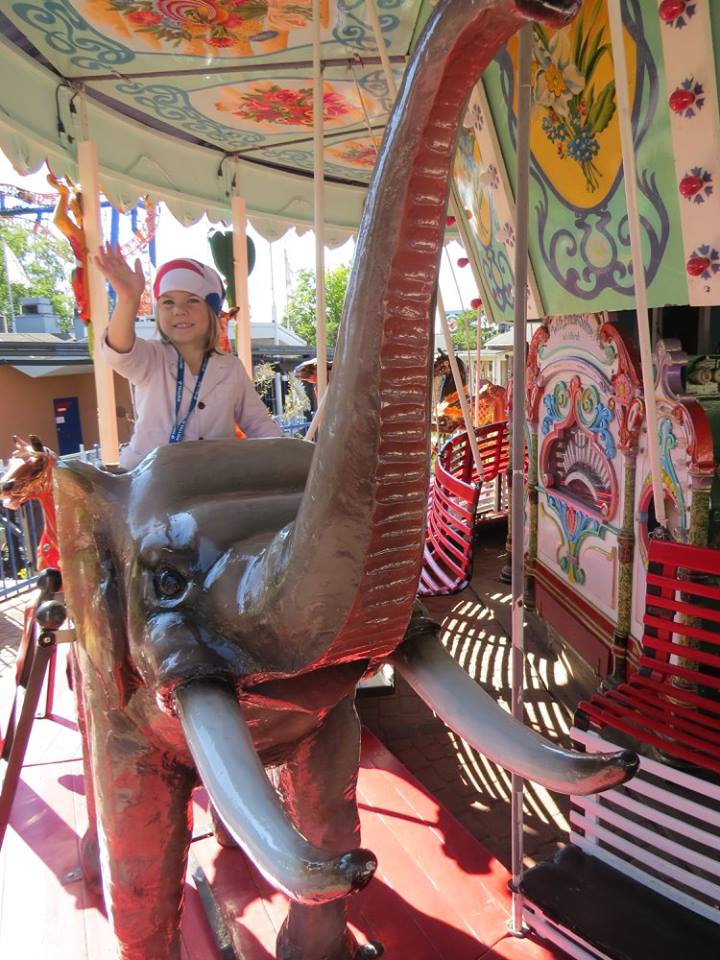 Young men in one family decided that they would go and ride electric bumper cars, impatient with the female family members' thirst for wild, "constantly upside down" carousels. As a result, everyone dispersed for a while; however, the family members met up again without a problem, and everyone had had a really great time. There was no fear of getting lost at the amusement park, since someone from every family was constantly keeping an eye on their people.
On the way back to the coaches, quite a few families still had wet clothes on, and it was clear to all that the last ride before leaving had been Vonkaputous, culminating in a 20 metre descent in a boat. Wet clothes did not dampen anybody's spirits; instead, travellers were joking about them, as the iridescent sun caressed them warmly.
Some young ladies enjoying ice cream bought at the amusement park could not wish for anything else but an opportunity to spend more time at the amusement park. They counted at least 20 different rides to which they had managed to drag their families.
"That was the coolest amusement park ever!
On the way back to the harbour, there were feelings of satisfaction and pleasurable exhaustion. The children could not wait to be able to enjoy the tasty dishes on the buffet table again; however, nobody showed their impatience directly. There was a group discussion to the effect that on the return voyage more time should be spent exploring the ship, and the children queued to board the ship first. Martin, 18, said contentedly: "The adrenaline rush was nourishing, but now we're hungry," and children began to collectively create humorous methods for boarding the ship as quickly as possible.
As they were waiting, discussion turned to both the Titanic and the Estonia, as well as to the advantages and drawbacks of the sailor's vocation. The children's eyes were beaming with joy over their new knowledge and what they had experienced during the day. A boy in one family sighed with gratitude: "That was the coolest amusement park ever! I would definitely like to go back."
During the evening buffet, discussion around the table addressed impressions and personal experiences of the coolest moments. Young people were circling the table with sweets on it like honeybees in search of nectar. Many encountered new flavours and were delighted to try previously unknown dishes. Little Triin admitted that she had a real sweet tooth and began her dinner with ice cream. After a light savoury dish, Triin promised her chaperone that she would return to the table with a reasonable quantity of something sweet. She kept her promise and generously offered meringue biscuits to all the others seated at the table. "I picked it myself!"
No matter what their age, the children were themselves choosing what to eat, and only occasionally did a chaperone admonish them to not overindulge on soft drinks and to eat something for the main course first. Despite being tired, all the children were ready to help and cleared their dishes from the table as was their habit. Furthermore, everyone was happy to share their food, even though they were seated at a groaning board. Children were taking special care of their chaperones, constantly offering to bring them cake and coffee. It was definitely a special outing for each and every traveller, since parents at shelters and substitute homes normally look after ten children on average; yet on this occasion the chaperones really did get to spend quality time in a smaller family group.
Indelible impressions from a trip abroad and managing one's money
The children were delighted to see the sea during the voyage: many children from shelters and substitute homes come from inland areas and get to see the sea very rarely. Marcus, 7, was worried about the ship sinking, and thought that he would rather take the train to Finland. The hat of the young sinking theoretician, however, took flight in the wind as he was chattering and plopped into the waves of the sea. Marcus stated with certainty that he would never board a ship in a hat again.
The trip to the amusement park in Helsinki taught children about the difference in the value of money in Estonia and abroad. Each child received EUR 3 in extra pocket money from the Fund. Discussion among children in one family reached the conclusion that prices evidently are higher in Finland than in Estonia, as salaries are higher there as well. Children in another family were discussing internship opportunities in Finland and thought that experience abroad would definitely be a benefit but that they would rather see themselves tied to Estonia in the long term. Thanks to outings organised with support from the Fund, young people have had only positive experiences with Finland.
Some children had saved money for themselves beforehand and taken it with them on the trip to buy lollies on the ship and ice cream at the amusement park; however, nobody missed out on warranted purchases due to a lack of money: "If a child clamours for pocket money, we won't give any; however, if a child offers to earn it or save it later to repay the amount, no reasonable purchase will go unfunded. For children, it is important to be able to buy something themselves. It provides good experience in independent financial management and something based on which to compare Estonian and Finnish prices later," explained the mother of a family.
Although the children experienced the trip for free, the cost of breakfast and dinner indicated on their boarding passes did not go unnoticed by them. There was recognition that they would have to save up for travel, since such colourful experiences were worth any amount of money.
The backdrop for the arrival in Tallinn was the sunset. Aleksander was happy that he had managed to capture the orange and pink sunset in a picture. The children were confident that they would be getting an especially good night's sleep, as the fun and emotion-filled day had tired them out thoroughly.
The trip to the amusement park provided each traveller with indelible impressions. How could one not recount a terrific trip at the end of the school holidays that included the experiences of marvelling at panoramic views of Helsinki and overcoming one's fear of heights under the sky, having fun getting wet on a ride, an adventure through space, and a thrilling ride on a wagon of horrors? The children's happy laughter, enthusiasm and stunts while holding hands – it all provided only happy memories for those who went on the trip.

Stella Raudsepp
Volunteer
 
Participate
Thank you, if you have already supported our charity programme or if you are going to do it in the future! Sign a standing payment order contract in SEB Internet Bank for 3 euros a month or support with a single donation.