Jõulusoovide puu
The Christmas wish tree is made up of the dreams and wishes of children in shelters and substitute homes, sent to Santa Clause. To make sure that these do not just remain dreams, pick a gift from the Christmas tree and make a donation to the best of your ability.
www.heategevusfond.ee/joulupuu
Family therapist recommends learning the art of being in the moment from children – how to make a nest in time
22.12.2016
Some time ago, when I was about to finish a parenting-related lecture, I put forward the thought that slowing down is one of the most important topics today. Too much anxiety, lack of a focal point, lack of concentration, not enough effort delving into things, lack of slowness... do we know the result and cost of it all? We need skills to create our own subjective time within objective time; we need to learn how to make a nest in time. I put it something like that, and completely meant what I said.
Triin Lumi, Managing Director of SEB Heategevusfond, was caught by this thought and asked me to write a story for Christmas: about making a nest in time.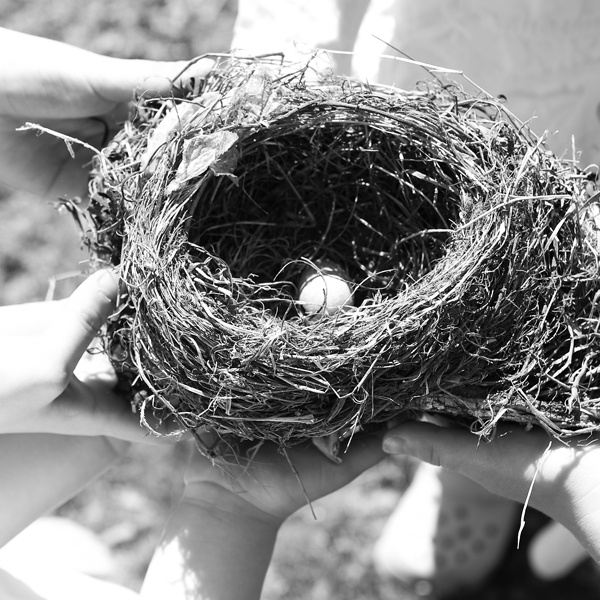 I kept putting off writing it. Then I decided to write an apology letter to Triin: since I'm too busy with my work and life, unfortunately, I cannot complete the story. As soon as I had thought about it, I immediately realised how tragicomic, even ironic, this apology letter would be.
So – I didn't write the apology letter and wrote the story I had promised.
Of course, I know that speed is important, too, at times: things get done, goals are met, we are pleased with positive results, goals must be met, success elevates you, the development curve skyrockets... and then? At a recent group training focused on personal values, a rather young man thoughtfully said: once I am about to leave this world, I don't think it will be bank notes and work achievements flashing before my eyes – no, at that last moment, it is the faces of the people dear to me that I will see... yeah, that is, if they are still there amidst all of this hustle. So, perhaps we can make better choices earlier – choices geared towards a more balanced life?
Or is balance a value in itself anymore? If we want it to be, we should balance speed with slowness, efforts with relaxation, automatic behaviour with focusing in on the moment; we should pay attention and stop this daily running wheel that keeps on going with a quiet rustle even at night, turning our dreams hectic as well. Are we even able to do it anymore: the roaming around, the staring at the ceiling, the doing nothing, the laying around, listening to our breathing? Do we notice the inviting touch or look of a child, friend or lover sitting next to us? It is a neurobiological fact that intimacy fulfils a person in the best sense of the word. And an empty tank will not get you very far. This is what I see in my work on a daily basis: the tank is long empty, but there is no time to fill it up – too little time, the pedal must be floored all the time.
Do we even remember what it was like to have a slower life? We have all kinds of knowledge, skills and technologies that facilitate our lives, save lives, bring us information 24/7 via fibre-optic cables... I am not sure whether we even grasp the scope of the losses underneath this thick layer or hurrying and achieving. And we are in such a damn hurry, we don't have time to think about what it could be – this secret hidden potential effect. The human brain is designed in such a way that it requires contact. An automatic mode does not allow for fulfilling, meaningful and satisfying contacts; focusing is what allows them.
Fortunately, there are signs of slowness being fashionable as well. It is trendy to practice yoga, meditate, attend mindfulness courses... Let me gently remind you that slowness, relaxation and giving meaning to your life can be incorporated into your days in other ways, too, without rushing to a relaxation course, your back wet from the running and blood pressure sky high. Of course, you need awareness to slow down. A big part of awareness is about contact with yourself. Why not start with the easiest things: for example, breathe slowly, as slowly as you can. Rub the morning lotion on your skin accompanied by a ritual stretching. Knowingly delve into the nice details which, by the way, surround us every moment of the day: the strolling second hand on a clock, the hot swirling steam over a cup of tea, the spot of light on the rough wall of the neighbouring house. Or look at children doing their things – here and now. We should learn this from them, instead of being cross with them for their natural ability to stay and focus in the moment.
A few nights back, when I had finished my working day, I took a stroll to the sea, which I hadn't done in a while, accompanied by our black-and-white Russian Spaniel, a funny fellow and firm follower of the "here and now" principle. I walked on the path leading towards the sea as slowly as the dog allowed, and took a look around. I had been driving to work along this road every day. Now I saw that the white, funk-style, semi-detached house had almost been completed. The yellow summer house next to it was hardly visible from all the holiday decorations. The information board of the village displayed a large Christmas fair advertisement. Well, I did see now that it had taken place a few days ago already.
I got to the beach before sunset. The dark sea was decorated by a pinkish-blue strip above it. Two crows were walking along the seaweed-covered beach, turning their heads with majestic slowness as they looked around, and then took off. I could feel the air generated by their wings on my face. Suddenly, it was very clear to me that no-one should risk having to ask the uncomfortable question one day: where did life go? It does indeed go by unnoticed, if you are never there.
The next day, I woke up without my alarm clock. I felt the cool morning floor under my feet. I decisively pushed aside the speeding spinning wheel.

Meelike Saarna
Family therapist and writer
Participate
Thank you, if you have already supported our charity programme or if you are going to do it in the future! Sign a standing payment order contract in SEB Internet Bank for 3 euros a month or support with a single donation.