Jõulusoovide puu
The Christmas wish tree is made up of the dreams and wishes of children in shelters and substitute homes, sent to Santa Clause. To make sure that these do not just remain dreams, pick a gift from the Christmas tree and make a donation to the best of your ability.
www.heategevusfond.ee/joulupuu
Experiences of the hobby scholarship recipients
01.06.2017
The hobby grant programme of the non-profit association SEB Heategevusfond has been created to support the hobby activities of children and young people in substitute homes and to provide children without parental care with more equitable opportunities to develop individually and realise their talents.
In 2017, non-profit association SEB Heategevusfond has 71 grant holders who need support for their hobbies.
Two thirds of the children have applied for a grant to cover the fees for participation in hobby groups. Most of them are active in sports, with the most popular fields being football, basketball, ice hockey, kickboxing and taekwondo, swimming, athletics, floorball, riding, yoga, and BMX cycling. Moreover, singing, music and dancing lessons and participation in art classes are popular among the grant holders. Boys are thrilled to gain new knowledge in technology groups.
More than half of the grant holders applied for support to purchase items and equipment for sports, musical instruments or technical tools. One third of the grant holders need support to participate in summer camps or competitions.
The portfolio of the hobby grant is EUR 20,000.
Young people on their hobbies
Karina is studying the piano and singing in a music school. Actually, she already knew a little about playing the piano before she entered music school, because her teacher had studied piano herself and noticed the girl's talent. Karina is a fast learner who loves listening to and creating music. Thanks to her diligence and talent, she was able to go straight to the second grade of the music school.
In the future, Karina dreams about becoming a singer who also knows how to play the piano. The girl says that studying music has made her a much happier person. The children's home now has a new piano, and preparing for her music school lessons is a pure joy.
Karina admits that without the hobby grant she would not be able to go to music school because it is far from home and the substitute home does not have enough funds to cover the costs of participating in and travelling to the music school.
Now that she is studying music, Karina is never bored. Music is her favourite activity because that is what she does best. Karina is also happy about her new friends whom she met thanks to the music school.
Irina's primary motivation to exercise as a hobby was weight loss. She had felt bad for years, and finally decided to pull herself together and start exercising on a regular basis to fix her weight and health. Unfortunately, the substitute home didn't have enough money to pay for the young girl's monthly sports club fees. But Irina had decided that she wants to exercise and applied for hobby support from the Charity Fund.
Irina is happy that she chanced upon an excellent coach who has helped guide her towards becoming aware of healthy eating and exercising. The highest form of motivation and a pledge she made to herself was naturally the wish to be the prettiest girl at the graduation party. She feels much tougher thanks to the training. Long bicycle rides and roller-skating distances don't feel as tough and exhausting as before.
Irina has also made significant changes to how she eats while living in the substitute home. Fortunately, it has been made possible by the support of her teachers. She has even prepared meals, on occasion, for the entire family and also guided other family members towards a healthier path. The young lady has also inspired her classmates to become healthier: one of her friends has also lost weight with Irina's support and guidance, after giving up junk food. The girl is especially happy for her younger sister who has become much more active following her lead. Irina is proud and happy with herself for having achieved so much. She says it's a story of a wonderful change.
Anatoli has been learning Muay Thai, also known as Thai boxing or kickboxing, for a year and a half already. Anatoli loves the sport and always goes to practice in a good mood. Before that, he used to spend most of his free time behind a computer. When the boy started practicing sports, his physical form improved and the time spent behind a computer decreased.
Anatoli's aim was to improve his physique and to learn to defend himself and his loved ones. He has set clear goals for himself in relation to this sport and tries to achieve them step by step. The results are clear to see – his grades in school have improved and studying has become easier.
The grant was an additional motivator to put more effort into this sport. At first, Anatoli had no equipment – boxing gloves, leg pads, elastic wraps or the chin-up bar. The substitute home didn't have enough money to buy them. Anatoli felt unsure in practice and was afraid of injuring himself. The grant has enabled him to now buy all of the necessary equipment, and the threat of injury has been minimised. The faith of both the Fund and his coach in his success has been extremely important to Anatoli.
There is no Thai boxing practice in summer, but Anatoli goes running with his friends on the beach to maintain his form. The young man also motivates his friends to take care of their bodies and invites them to join him in practice. Some of his friends have already started training in Thai boxing, thanks to Anatoli.
Jaak plays football with friends at home because the trainings at school were cancelled due to a lack of interest. During the school year, he represented the school at several football competitions and medalled on several occasions. Jaak also plays basketball and handball, and is great at track and field. He has achieved especially good results in running, in which the coach can only sing his praises.
Jaak is an autistic child. He is extremely diligent with his clothes and footwear; it is important to him that they'd look good, but also be comfortable at the same time. The sports equipment purchased with the grant money gave Jaak additional confidence to also participate in competitions with his school friends during the new season. Jaak is certain that sports will remain a part of his life and he will continue to represent his school.
Languages are Vladislav's hobby. The young man is very grateful that he has the chance to study English thanks to the hobby grant from the charity fund. He said that his English exam at the end of the school year went well and he is certain that the additional English classes that he was able to take thanks to the grant were the deciding factor in his passing the exam.
Erik is a short boy with special needs The doctor issued him a disability certificate and recommenced that he start taking swimming lessons. After Erik had been involved with swimming for a while, the doctor discovered that he had grown and his length was age appropriate. The disability has since been terminated and Erik couldn't be happier. He is pleased that he received a hobby grant from the charity fund to attend the swimming classes.
Oleg plays football. He takes part in competitions and enjoys sporting activities because it gives him strength and his health is also much improved. Oleg works out at a sports club, where he is a licensed football player. Receiving the hobby grant has made the young man more confident and responsible because, after all, the grant consists of monetary support from many donors.
For Viktoria, the hobby grant fulfilled a dream to participate in an international scout camp in Lithuania. The girl travelled there by bus and by train. She met young people from numerous foreign countries, such as Latvia, Lithuania, Belarus, and Ukraine.
The camp itself was in a forest and the children had to live in tents. Viktoria had tons of fun with her new friends. They were responsible for preparing their own food. It was exciting to learn about the particulars of Lithuanian cuisine. Their free time was spent sunbathing and swimming in the river and the lake. Time flew by with sports, educational games and scouting activities – Victoria believes that the experience she gained has been of great benefit to her.
Ainar applied for the non-profit association SEB Heategevusfond grant because his biggest wish was to practice football, his favourite hobby, even more intensely. Having high-quality equipment, especially footwear, is highly important in this game. He is a growing young man and wears through more footwear in a year than the older kids do.
Ainar also studied the prices of football boots and the differences in their quality. This time, the grant enabled him to buy footwear that is a bit better in quality and more expensive. He understands that people who do not practice this sport may not understand the difference in various football boots because the cheaper ones look more or less the same as the more expensive ones. However, after carrying out a bit of a research in stores and online, the boy can confirm that the difference is huge.
Since football is Ainar's great love there is hardly a practice that goes unattended. This year, he was selected to be a member of the double team of the representative team of his home club, which is a great honour. Sometimes Ainar's team wins, and sometimes their opponents win – this is just how competitions go. Still, it is important for the boy that he has been noticed and recognised by his home team.
Ainar is still self-critical – studying could go a bit better. His coach has a Master's degree, and is a great example and motivation for Ainar.
Gert loves music more than anything else. Buying a guitar helped him take a huge step towards achieving his dreams. The young man now has a personal instrument that helps him work towards personal and professional fulfilment. Gert also has a band that has been active for a while now. The hobby grant enabled him to buy several sets of guitar strings and a tripod. Gert is convinced that without a personal instrument and the additional equipment his musical development would not have been nearly as good as it has been.
Grete is glad that the hobby grant was exactly as useful as she expected. Without the monetary support of SEB Charity Fund, she would have had to settle for lesser participation in hobby classes, also meaning under developed skills in trumpet playing and an unpleasant feeling of not being able to afford a sufficient amount of practice lessons.
Grete says that her trumpet playing skills have now improved. She just graduated from the local music school and the acknowledgment of the teachers showed that the time and the Fund's grant invested in trumpet playing have paid off. Her trumpet teacher finds that Grete is the best student in the last 20 years, and the girl's concertmaster agrees. Grete herself concludes that it has been a good year.
Meelis and Margus come from the same family. They bought themselves bicycles with the grant money because the music school is far away and bicycling is a good way to get there. For Meelis, a bicycle is also highly necessary because of his health problems. On those days when music school lessons start later, the boys even have time to ride home, get something to eat, and then return to the music school.
The new bikes also motivated them to get bike licenses – they just didn't have anything to take the exam with before. Before the exam, the young men rode on city streets with their father and learned the traffic rules. They both passed the exam on the first attempt.
The music school is also going well. Margus is great at solfeggio and has passed all the tests with flying colours. Meelis is doing very well with guitar lessons. The boys use the bikes bought with the grant money to go to school and ride for fun. This year, they graduated from the second grade of the music school.
Liisa plays basketball. After receiving the grant, she is much more confident and her self-esteem has gone up. The girl loves going to practice because with her new basketball shoes, sweat suits and socks, she feels much better when going to play with others.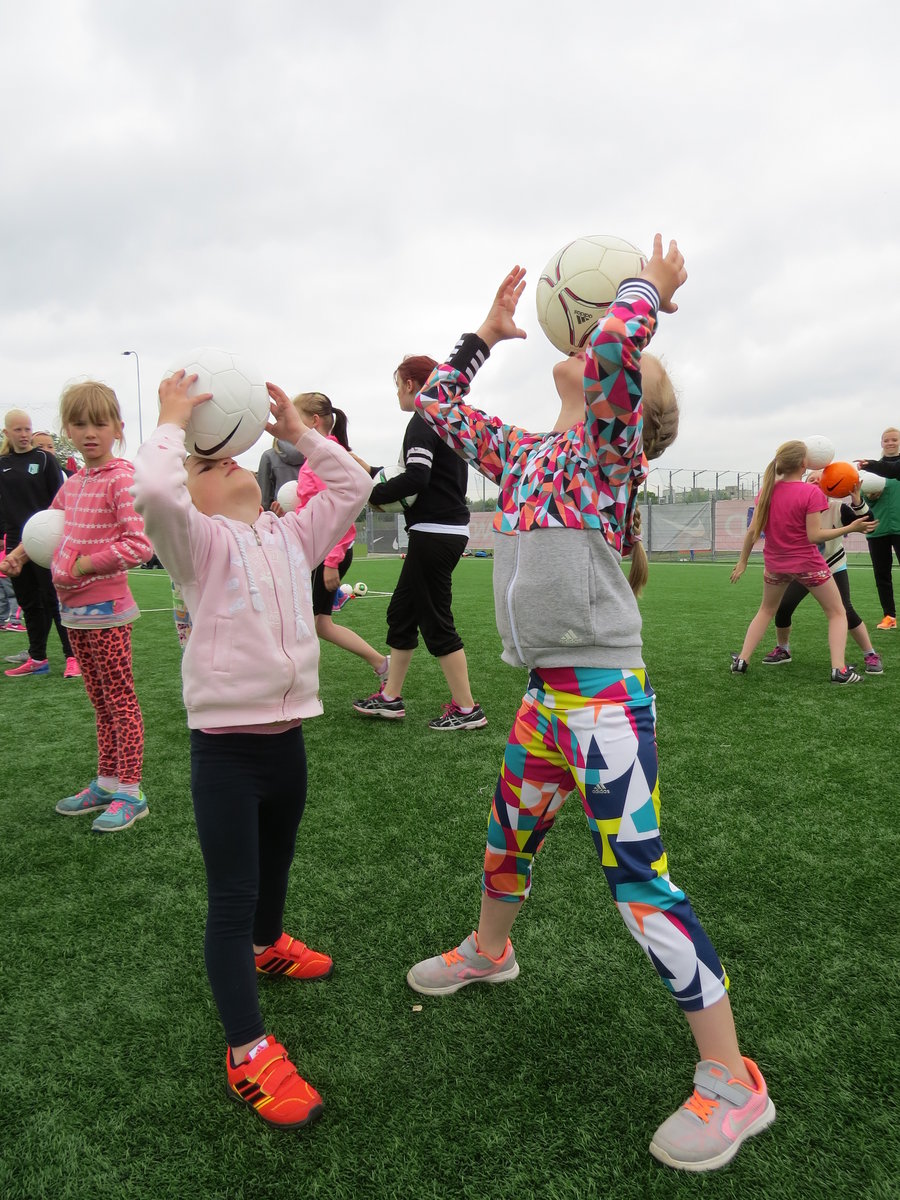 Liis-Maria was over the moon when she found out that she had been awarded the hobby grant. The girl goes to football practice and used the money to buy herself new football boots, pads and a lot of other things needed for football practice.
Liis-Maria herself says that she is doing well in football and so far their team has won all of its games – sometimes thanks to goals scored by her. The girls' team also got a new coach that the team loves and Liis-Maria is also fond of.
Tuuli is happy that the hobby grant enabled her to buy a treadmill that she can now use for running and walking Thanks to this machine, her form and durability has started to gradually improve. She doesn't get as winded in her dance lessons anymore and can run faster and longer in gym classes. She also feels much better because no one makes comments any more on how she cannot move herself. Although Tuuli's weight is not yet within the recommended range, she is making steady progress towards reaching this goal.
The treadmill enables her to exercise indoors when it is raining outside. She is really happy that now, in addition to dance lessons, she can exercise at home on the treadmill, which is very important for her health. The girl adds that other children in the family also exercise on the machine. Tuuli finds that getting the treadmill was thoroughly useful for the entire family.
Indrek used to ride his trick bike every day. Then, one day, the parts started to wear and break. Everything that is used so often gets old. Sometimes when the trick didn't work out the bike fell to the ground hard because the speed was always high when landing. The chain, spokes, cogwheel, seat and cranks needed replacing. That is why the young man had to take a break in riding – it had become too dangerous.
Thanks to the support of non-profit association SEB Heategevusfond grant, Indrek got the replacement parts for his trick bike. Now he could continue with his tricks and training. He has already learned some new stuff. The boy also invents tricks himself and teaches the younger kids.
Martin is a young man with special needs who has participated in a sports club for deaf people for four years already. The sports club develops young people in a very diverse way: they play track and field sports, volleyball and floorball. The training takes place four times a week Martin has competed in both floorball and track and field sports. He has not made it into the top three, although his priority is on developing his level of fitness. In addition, competing gives Martin only positive emotions.
After competitions, Martin is always pleased with his result and happy for a wonderful day spent. Working out has had a very positive impact on the young man's health and weight – he hasn't been ill since starting!
The young man is very diligent and consistent both in his workouts and in other fields of life. Martin's teacher is also happy with being awarded the hobby grant because the substitute home would not have been able to afford to pay for his training every month.
For Jaanika, the ceramics course was a new and interesting experience – previously, the girl had made jewellery from glass. She was very pleased with the course. The instructor of the course dedicated an equal amount of time to both the beginners and the advanced participants. Jaanika also found it to be positive that when she would have just spent her time at home or surfing online before, she instead spent it meeting new people and making something creative for herself.
Jaanika was thrilled to go and get her things after the course ended. It was exciting to see what they had become after coming out of the oven. Now the girl has a butter dish made with her own hands and used by the family every day. Jaanika feels that her interest in art has found a practical outlet.
* The names of children have been changed in part.
Participate
Thank you, if you have already supported our charity programme or if you are going to do it in the future! Sign a standing payment order contract in SEB Internet Bank for 3 euros a month or support with a single donation.