Jõulusoovide puu
The Christmas wish tree is made up of the dreams and wishes of children in shelters and substitute homes, sent to Santa Clause. To make sure that these do not just remain dreams, pick a gift from the Christmas tree and make a donation to the best of your ability.
www.heategevusfond.ee/joulupuu
Ene Ergma on good deeds
02.02.2012
The SEB Heategevusfond`s questions about good deeds were answered by Ene Ergma.
What does a GOOD DEED mean to you?
A good deed is something that is done from the heart.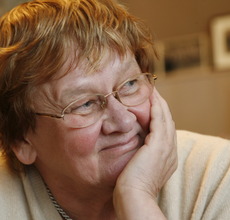 Is charity valued and popular in Estonia?
Charity is valued and popular – take the active participation in the charity TV-show "Jõulutunnel", for example – and this even during the economic crisis.
Why do we need charity? Maybe everything should be organised at the state level?
Charity is important as it helps to reach out to those in need. After all, a joint contribution is always larger than a single one, and the joy of doing something together is also bigger. Everything doesn't need to be organised at the state level; people have many great ideas. At the UNICEF Bluebird Awards ceremony, I have felt touched by several heartfelt initiatives. For example, Deisi Juns and Hanna Martinson, girls from Kuressaare, organised a trip to Saaremaa for the children from the Haapsalu Children's Home.
What is your personal relationship with charity (projects, donations, funds, etc.)?
I am the supporter of the Children's Fund of Tartu University Hospital and have made donations to support various campaigns.
Is it better to give and take or share and receive?
Giving, receiving and sharing do not necessarily have to be opposing terms.
Do people perform more good deeds in difficult times?
In difficult times, it is important to notice the people in trouble and help out if possible; and it is not always material help that is needed.
How can a small good deed turn into something big?
The "Teeme ära!" (Let's Do It!) project was a large-scale good deed for Estonia; whereas in the world, it was a small initiative at that time. By now, the "Let's Do It!" project has become global.
Photo: Peeter Langovits
Participate
Thank you, if you have already supported our charity programme or if you are going to do it in the future! Sign a standing payment order contract in SEB Internet Bank for 3 euros a month or support with a single donation.