Jõulusoovide puu
The Christmas wish tree is made up of the dreams and wishes of children in shelters and substitute homes, sent to Santa Clause. To make sure that these do not just remain dreams, pick a gift from the Christmas tree and make a donation to the best of your ability.
www.heategevusfond.ee/joulupuu
Dress rehearsal for the sunny season
23.03.2013
Soon enough, as the sun will shine a bit stronger on the northern half of the globe, and Estonia's numerous bodies of water will warm up again, beaches and waterfronts will fill up with bathers and swimmers, declaring the summer season open by splashing and sloshing, shrieking and flopping in water.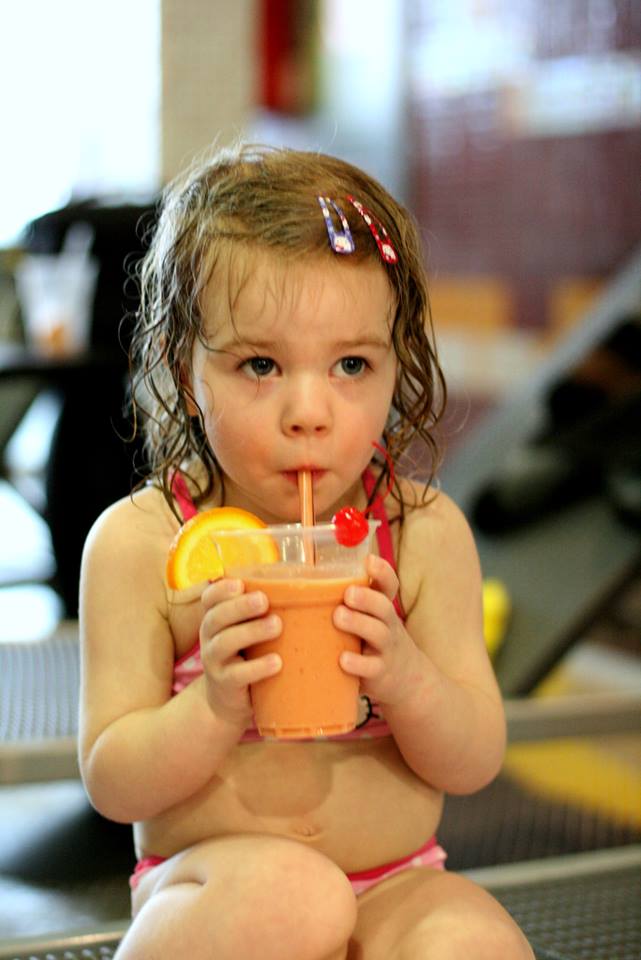 However, the dress rehearsal for the splashing, shrieking and beach-going season has already been held. Working with Tallink Spa, the SEB Charity Fund arranged for a Sunday at the aquatic centre where children – in addition to sampling strawberry cocktails and other treats and goodies – were taught how to act safely in and near water.
Now, before the season of active jumping into water, is the right time to wise up that there are hints to take note of in nature in order recognise potential water-related dangers. Cracks in the ice or eddies in the water are like a book; all you have to do is learn to recognise the signs.
Preparations for the big day of splashing at the aquatic centre were made well in advance, and accordingly many children had long before packed their swimming gear and, from early March on, kept asking if the trip to the aquatic centre was still going to happen.
All together, Tallinn greeted 150 water fanciers from seventeen safe houses and substitute homes from across Estonia: from Viljandi, Tartu and Elva; Pärnu, Ida-Viru County and Tallinn; Haapsalu and Harju County. Such a large number of swimming and splashing enthusiasts provides assurance that soon enough in summer the shores of Estonia's major bodies of water will boast young aquatic athletes with high awareness definitely not shy to share their knowledge or experience with others. In any event, it is clear that every child should learn to swim as early as possible, since then it is safer to spend time in and near water.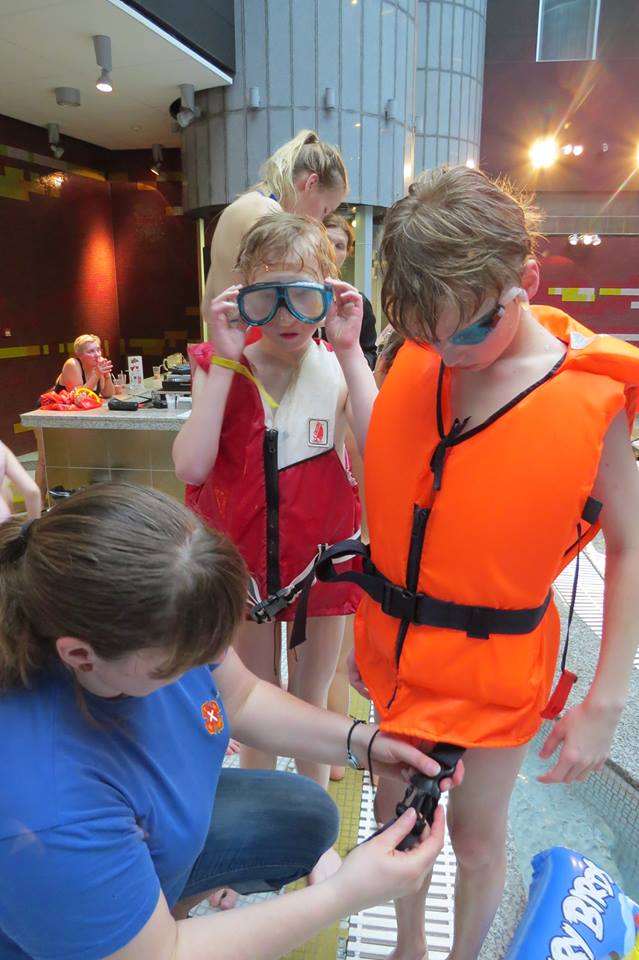 There is no water without pirates, and no pirates without water. As a result, it was somewhat surprising that some of the children marvelled at the presence of a pirate blocking their path at the door of the aquatic centre. Pirates overwinter at spas and aquatic centres (do they not?), where they get to put on fun pirate games with children.
Luckily, it was a pirate capable of empathy, who understood the children's desire to dip their toes into the water as soon as possible and, instead of impeding, helped them to get to the right doors at the aquatic centre more quickly. Because, although the pirate was great and exciting to talk to, children kept eyeing the pool longingly, will it be long before we get to go into water...
Before jumping into the pool, children were given a pool-side lesson on water safety by young lifeguards. For instance, they heard that you must not give your hand to someone in trouble in the water, as that way the helper may end up needing help, too. It is better to pass the sleeve of a jacket or a beach towel, some rope or a tree branch, since that way the panicked person in distress will not be able pull the helper in with them.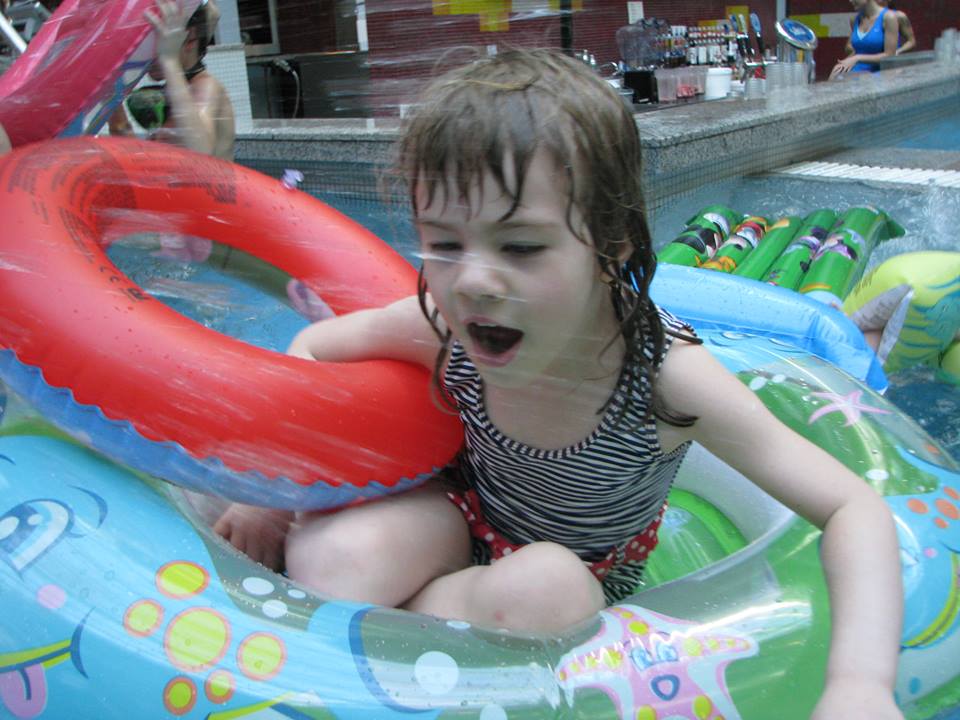 The teachers learned a thing or two, too. "Tips from the Volunteer Reserve Rescue Team, who talked about water safety, proved useful. As a chaperone, I learned that no artificial respiration should be administered when reviving someone drowning. For, we all have heard that with cardiac massage artificial respiration should be administered as well. But, you see, not so: the formula for rescue has changed over time as well," one teacher said.
"After such a terrific event at Tallink Spa, our children had learned that when you go boating you must wear a lifejacket and take with you a watertight bag to put your clothes and phone into. When jumping out of a boat, you have to hold your nose with one hand and place the other hand on your chest," another added.
Pools were crowded, and water splashed the walls to a height of as much as two metres. And evidently, practice together makes perfect. At least, one teacher discovered this: "The biggest observation I have taken away from the day is the swimming ability of 9-year-old Hans. Last time the kid and I went to an aquatic centre, he had not yet swum on his own. Now, however, I was surprised, as Hans swam from one end of the pool to the other. I noticed that, playing with other children in the pool, he acquired swimming techniques even faster than if he had been taught by me. Another very good swimmer was Elar, who started going to swimming practice last autumn thanks to support from the SEB Charity Fund."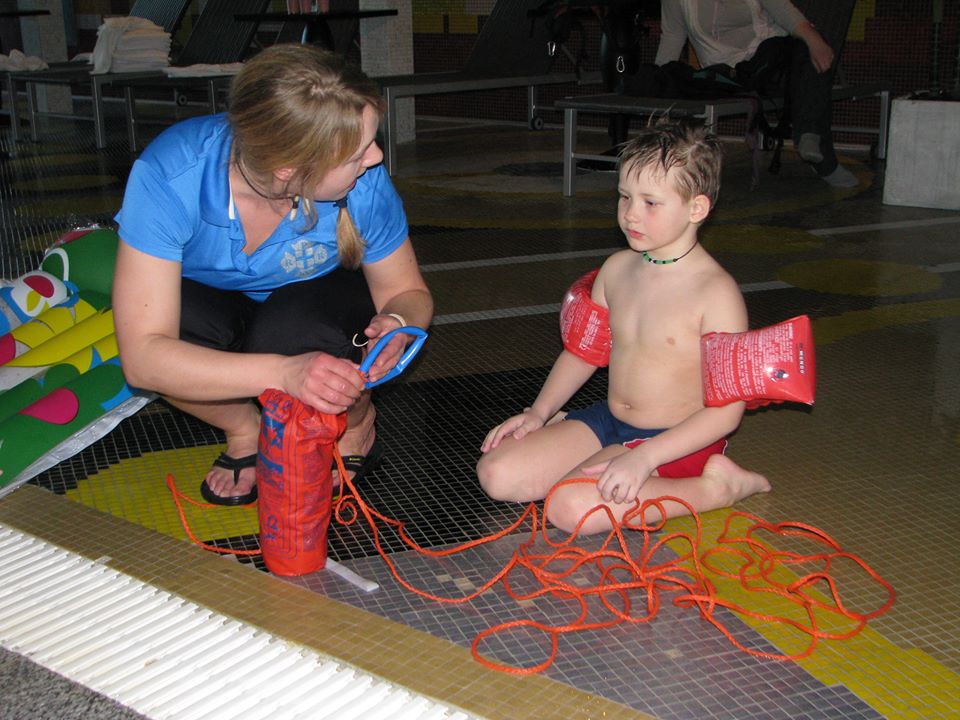 Breast stroke, frog-style, doggie-paddle, air mattress – all could be given a try in the pools by the more enthusiastic swimmers. A beginning, however, can be challenging, and one little boy was afraid to go into the water at first but then got kitted out with a fancy yellow swim vest with water wings, whereupon his chest swelled with pride and courage, and he was more than happy to step into the pool. Having swum with the teacher's help in the pool for a while, he discovered that a hot tub was better and safer still. The rest of the time he spent happily sitting in the hot tub. For the teacher, it was very hard to coax him out of the warm water to go and check out the even warmer sauna.
The boy in a swim vest with water wings is not the only one who has befriended water during the events held at the aquatic centre. "Thanks to these events, one of our boys in the eighth year has overcome his fear of water and has also learned to swim a little. All this has led to him now going swimming also with his school, something that used to be out of the question. Thanks a lot for that," read a grateful letter received from one substitute home.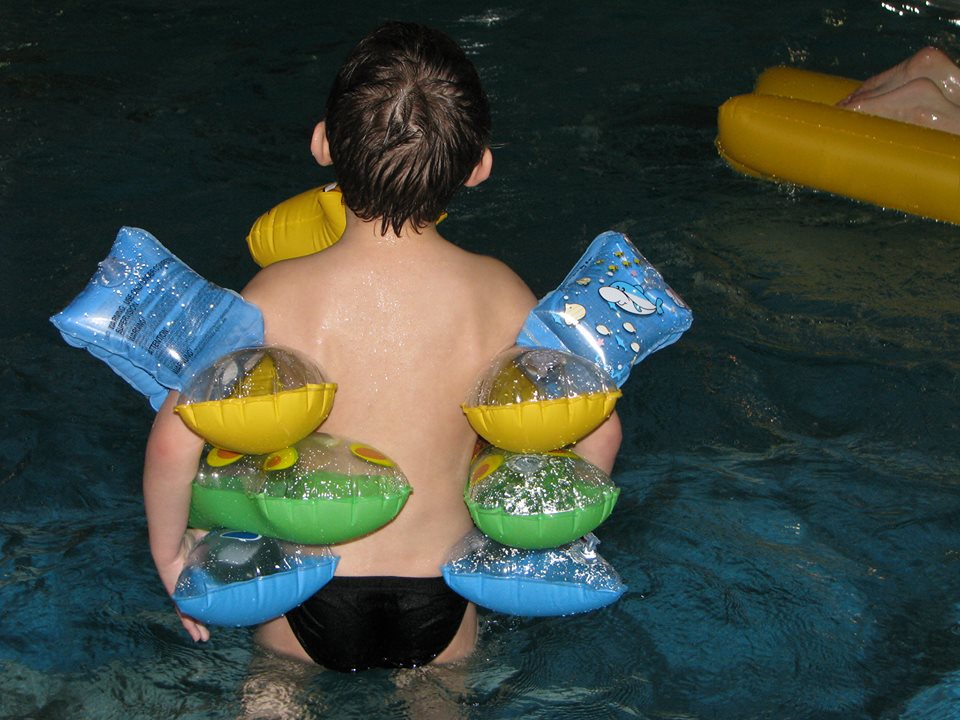 So the whole day went by with horseplay. In the end, toes and fingers were crinkly like raisins. Once teeth started clattering in the cool water of the pool and lips verged on turning purple, everyone relocated into the saunas and hot tubs for a change, but only to jump back into the pool after warming up.
In the meantime, strawberry cocktails were enjoyed poolside, and everyone got a small pack of provisions for the trip home. Since reservoirs of energy had been mostly drained at the aquatic centre, it is reported to have been fairly quiet after a snack on the coaches rolling to various parts of Estonia.
Summing up the day, the young and with-it water enthusiasts also put forward some socio-political proposals: first, they thought that some of their physical education lessons should be held in a pool. In another important idea, children proposed that aquatic centres should sell discounted tickets to groups of children.
The joys of all children, however, had not yet ended with their departure from the aquatic centre. "In the evening, the final joy of the day was not having to shower. All that was left was to brush the teeth."
Triin Lumi
 
Participate
Thank you, if you have already supported our charity programme or if you are going to do it in the future! Sign a standing payment order contract in SEB Internet Bank for 3 euros a month or support with a single donation.