Lastega ja lastele
Auhinnaga "Lastega ja lastele" täname ja tunnustame inimesi ja organisatsioone, kelle uued algatused või pikemaajaline tegevus on positiivselt mõjutanud laste ja perede käekäiku.
Tunnustusauhinna taotluste voor on avatud
15. aprillini
.
Esita taotlus
Do something special and offer something different!
26.10.2014
Children, raised by their grandparents or in residential care who are full-time students in a vocational secondary school or a higher educational establishment, will be able to continue studies this session for the fourth year in a row with support from the Non-Profit Association SEB Heategevusfond.
On Sunday, 26 October, a career day was held from which 80 young people left with skills to manage their money wisely and with tools for informed and targeted career planning. Henton Figueroa, honorary consul of Chile and Tallinn's Teacher of the Year, divulged money managing tips. A learning-to-learn workshop was conducted by memory trainer Tauri Tallermaa, and lecturer Karin Kuimet advised the youth on career planning.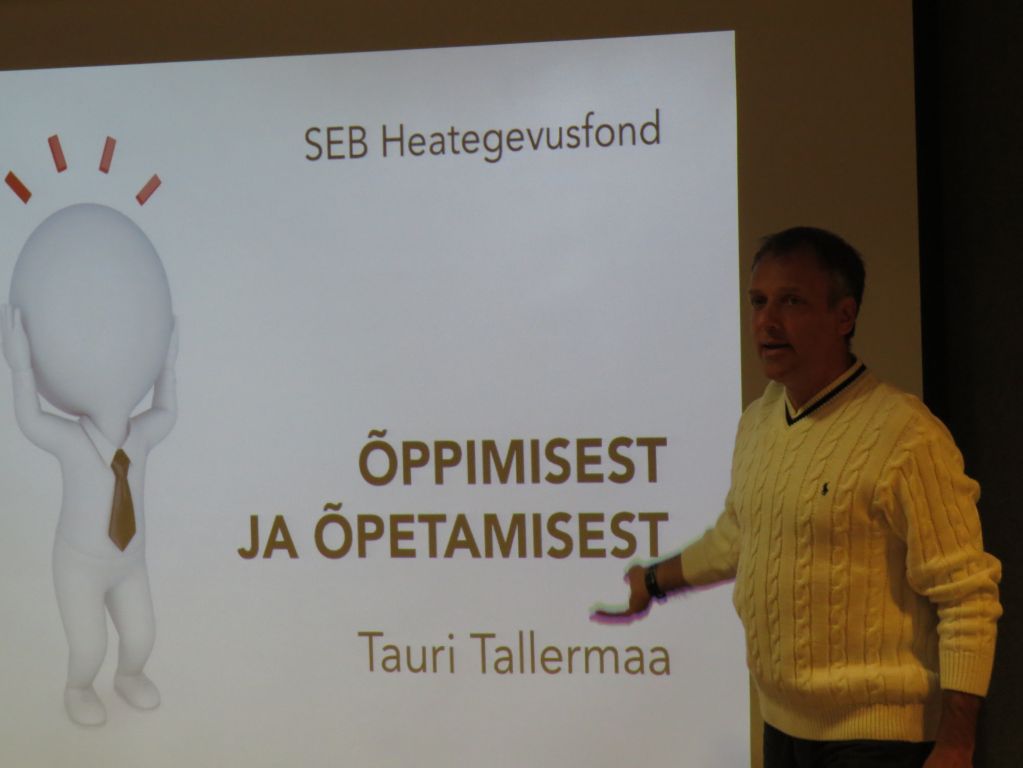 Tauri Tallermaa spoke engagingly about learning tricks and memory training, creating associations, and brain ridges. The audience learned that Einstein's brain had so many more ridges and folds compared to an average smart person, and that the brain does not stop developing in adolescence but continues to do so also after one's 20th birthday.
Young listeners took note that if you want to have a good memory, training is not enough. Just like proper nutrition complements physical activity to keep you fit, you need to give up smoking and alcohol to successfully train your memory as these substances inhibit brain function and hinder remembering and creation of associations. We learned with surprise that after school we can extract from our fact memory just 4% of what we learnt at school. However, besides fact gathering and broadening of horizons, the school period is largely memory training.
Choose a job that you enjoy and you will not consider it a chore!
Henton Figueroa spoke enthusiastically about budgeting both in personal life as well as in future life as an entrepreneur. He urged young people to be more creative and apply creativity everywhere, encouraged them to stand out as different, and identify their unique abilities and skills to employ on the labour market. Figueroa's recommendations: "Find a job in an area you like and love, then you'll excel and your business will prosper."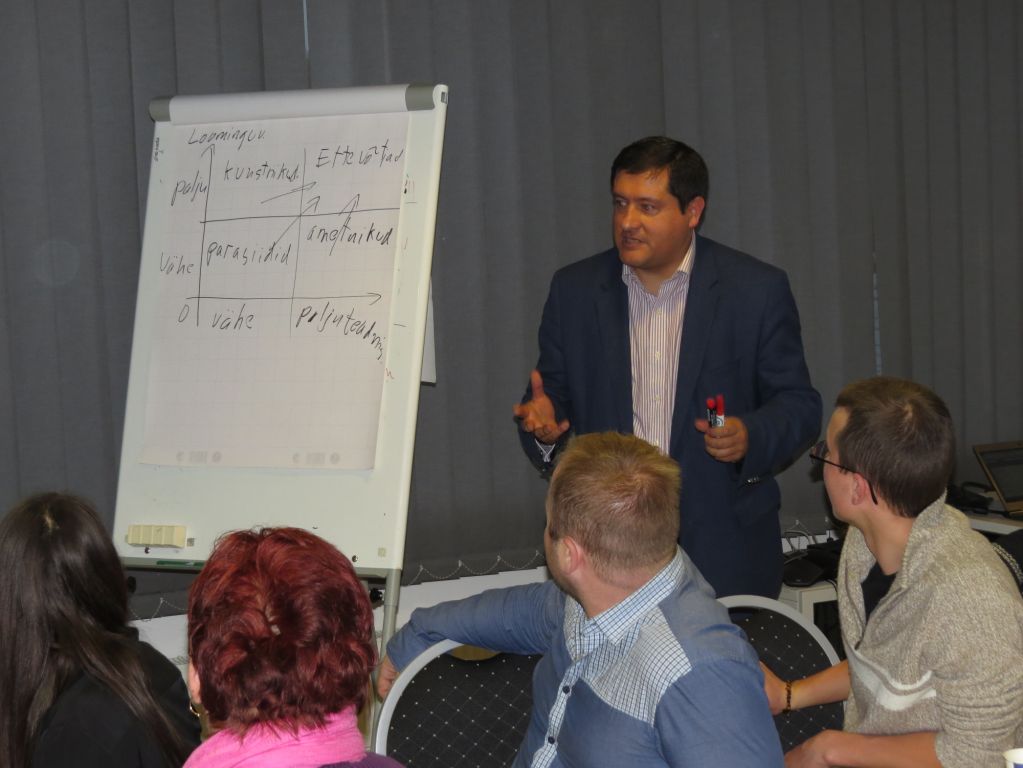 The career counselling workshop was not about pots and pans or any other kitchen utensils; the audience did not balance on the edge of a sand or gravel pit – far from it. Karin Kuimet shared tips on winning motivation letters and CVs. All this so that young people were wiser in future, have the skills to make their aspirations or wishes more understandable, justifie them – be the reader a panel deciding on a student grant or a prospective employer. Kuimet made the point that a CV is a document that gives the first impression of the candidate or applicant and thus it is imperative to catch the eye and stand out.
Everybody wants to be noticed!

The cherry on top was TV journalist and presenter Maire Aunaste who completed the day speaking about her life choices and her learning curve. Aunaste's life is full of twists and turns and things have not necessarily always gone as planned. Every now and then, choices were hard to make, there have been repercussions and misunderstandings with parents. However, Aunaste believes that unless you give yourself a chance, there will be no new beginnings. It is important to set goals and aspire towards them.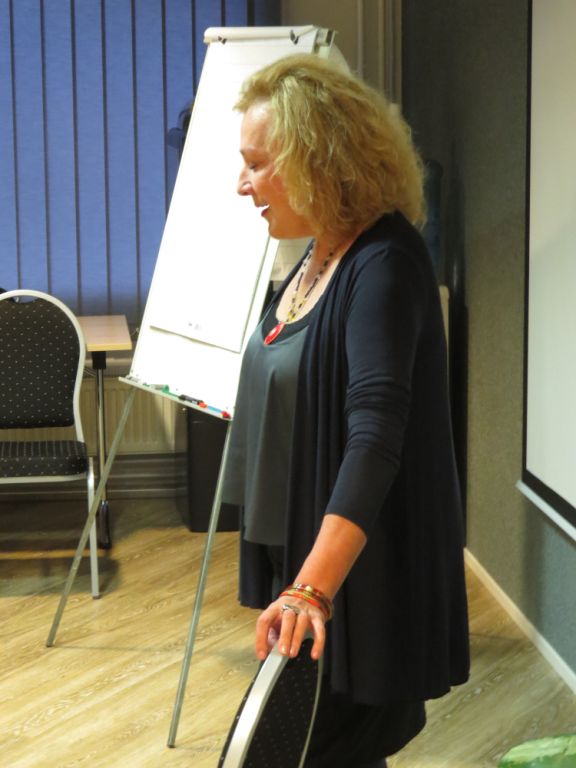 Maire Aunaste shared her learning experiences: "I could not grasp maths at all, no one would spare a moment of their time on me and then I just felt I did not want to go to school any more. So I played truant, went to the movies and just aimlessly wandered the streets. Towards the end of the 8th grade, I understood that I had to save myself." Aunaste told how when she enrolled at the Viljandi Collage to become a theatrical director and organiser of club activities, she was surprised to hear teaching staff call the students Misses and Misters. It was a groundbreaking and special feeling. This little gesture that channelled that young people were seen and noticed gave back the wish to learn and encouraged further aspiration. Aunaste is sure that everybody wants to be seen. Thus, it is so important for adults to notice children and young people so that the growing generation can feel equal to them.
The participants in the career day were young people who are growing up in guardian or foster families, safe or residential homes and plan to continue their studies, but also young mothers who gave birth before they were 19. The Fund gives student grants that in 2014 totalled EUR 50,000.
Merike Villard
Non-Profit Association SEB Heategevusfond
 
Participate
Thank you, if you have already supported our charity programme or if you are going to do it in the future! Sign a standing payment order contract in SEB Internet Bank for 3 euros a month or support with a single donation.