Lastega ja lastele
Auhinnaga "Lastega ja lastele" täname ja tunnustame inimesi ja organisatsioone, kelle uued algatused või pikemaajaline tegevus on positiivselt mõjutanud laste ja perede käekäiku.
Tunnustusauhinna taotluste voor on avatud
15. aprillini
.
Esita taotlus
Circus workshop art opened up talents and gave confidence
06.04.2013
On 7 April, children staying in safe houses and substitute homes visited the circus art workshop, held by Cirque du Soleil, in Saku Suurhall. It was followed by the Cirque du Soleil family performance Alegria, attended by all 160 participants from various substitute homes across Estonia, from Ida-Viru County, Põlva County, Tartu, Harju County, Tallinn and elsewhere.
The diverse day began with the workshops organised by the Cirque du Soleil team where, under the guidance of professionals, the children learned the art of falling, clowns' comic skills, tried on costumes used in the performance and took pictures. This time the children were not only spectators, but tried out circus performances with the support of the professional circus team.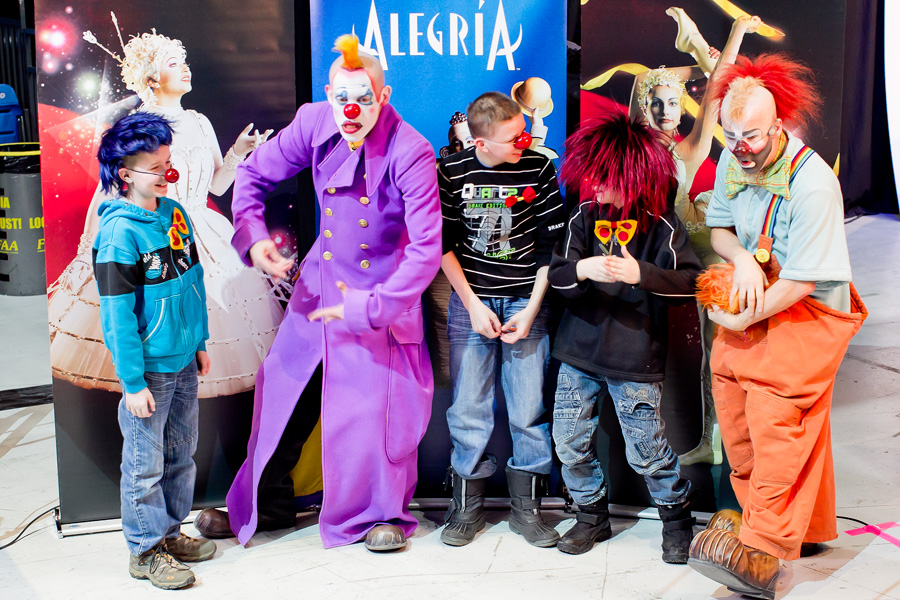 Every child received rice balls as a gift, to practice juggling at home. The exclusive tour took the children to backstage facilities, where circus performers were making the final preparations for performances of the circus tour being held in Tallinn.
Among the participating children, the circus team noticed talented 10-year-old Deniss; and the production team together with BDG promised to create a support fund to further develop his talents and skills.
This time the feedback was highly positive from children and teachers alike: in addition to professional performers, the children had an undying impression of being able to take part in the workshops by trying out the performing of various tricks and learning about how much hard work it takes to perform on stage without any failures.
The teachers noticed that this time even the most modest children opened up and quite a few talents were discovered. Mutual bickering vanished that day, as if by magic: joyful mood, sense of solidarity and the sparkle in children's eyes provided positive emotions for children and adults alike for a long time. "As long as we do not take part in different activities with the children, they will not become eagerly interested," said one teacher.
Although the performers were from different nationalities, there was not a single situation where people had trouble with understanding each other.
Several teachers were surprised with the courage of the children and how communicative they were, because usually the children do not feel so free and are shy and reserved with strangers: "More active children got to show their skilfulness to others and they were pleased with that, and the more shy children did not want to be second-best at anything.
Sandra: "Absolutely everything was spectacular."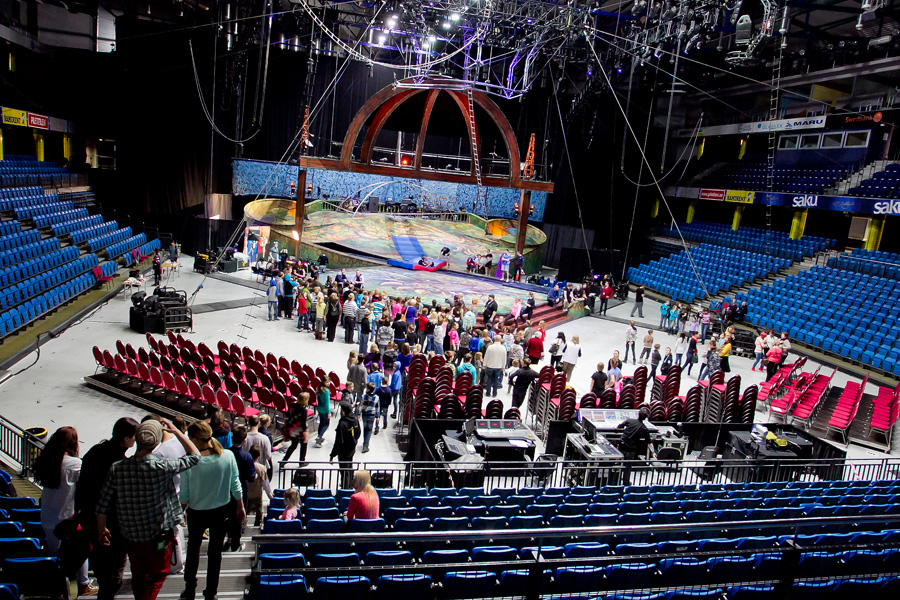 Pille (12) thought it was very nice that children met the performers. Pille liked the clowns and the girls who performed tricks on trapeze the most. The girl was deeply impressed by this elated, pleasant and a little bit frightful atmosphere.
Fifteen years old Ken said that playing together with the circus performers was one of the greatest moments of his life, and he also liked the clowns a lot. However, Kätlin was fascinated by the fire tricks and visiting Tallinn after a long period away was a splendid change for her.
Sandra (12): "Absolutely everything was spectacular. Since I am an athlete, I participated actively in the workshops." Her brother Sander (13) added: "I cannot achieve less than my sister. I tried everything in the workshops and later, while watching the performance, I discovered that many acts involved tricks that I had performed myself in the workshops, too."
Sten Robin (16) wrote sincerely: "Usually, I am reserved and fuss about on my own, but on that day I became sure that it is nice to do something together and take part in such brilliant events. Now, I am convinced that I will take part in such events in the future, too."
Kerstin (9) loved to stand on the shoulders of a circus performer and feel herself as a genuine star while standing there. Kerstin said that while performing these exercises she was afraid to fall down, but as this did not happen, she found confidence in it and wanted to try it again and again.
Anett (11) thought that learning to juggle with balls was fun. She was very enthusiastic and listened to the instructor attentively. She felt good when she succeeded a little. It was exciting to jump on the trampolines and practice somersaults.
Nikolai (16) also liked to practice juggling and try out other tricks. Maša (13) liked everything, although at first one clown seemed a little intimidating for her – she did not dare to take a picture with the clown and ran away. It seemed safer to watch from a distance.
Valdi (13): "It was like a fantasy. I liked clowns the most, especially the aircraft tricks."
Harri (15): "I loved it; I would not have believed that one could perform such things on a trampoline. They were like monkeys, in a good sense."
Priidik: "Where do clowns get their jokes?"
Kerly (18): "Fantastic costumes, I found many ideas for my schoolwork. I will not go to any other circus, since my standards are now very high."
Priidik (12): "It was the best thing in my life; it was an extraordinary performance and I want to become an acrobat or a clown too. Where do clowns get their jokes?"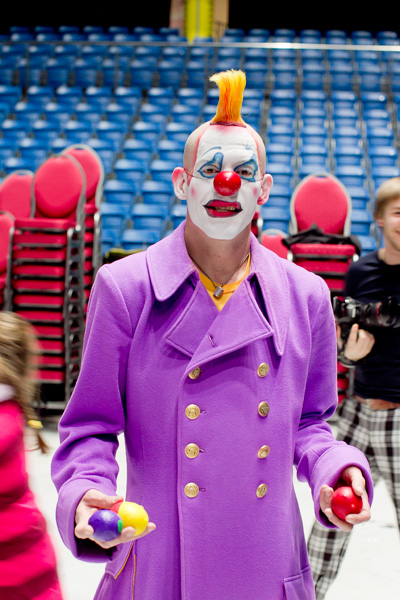 Kerli (12): "I had no idea that such ordinary people work in a circus and such ordinary people know how to perform such tricks. Wow, how amazing it was. I even dreamt about these beautiful things and want to work in a circus myself. I liked face paintings and the women who painted them, they were pretty."
Young Harri, Raul, Janek and Martti were very excited about the performance and were looking forward to it very much, since they had seen commercials on television and elsewhere. They also liked the workshops a lot: Harri's favourite was jumping on the trampolines on stage, Janek liked being a clown, Martti was good very good at standing on his head and Raul enjoyed juggling a lot.
Miliina thought that the performance was too short: it could have been longer, and she would watch it for a few days. But it was a little bit frightful as well: For a while, Adelina covered her eyes with her hands because she was afraid that the performers will fall down. Owe and Ragnar loved the clowns.
Andree: "I liked the acrobats above all. The black crow, who was brought down from the ceiling, and those who did somersaults on stage and the fireworks were also terrific."
Alvar: "I liked the circus very much. Particularly juggling with the sticks and when these were lit - it was superb! I will start practicing every day now."
Kevin: "The fact that we did these things ourselves in workshops made it even nicer to watch the performance."
Rain: "I liked it the most when they were swinging under the ceiling at the end, and the clowns with the aircraft. I also liked that we got to do these things ourselves and also that my face was painted. I wish I could see that again."
Vlad: "Now we can practice and show others too."
Olja (12) also had good things to say: "I liked absolutely everything! But most of all, I liked the girl in the white dress who sang so beautifully, and the funny clowns too. Yet, when the acrobats performed their tricks, I was a little scared that they will fall down."
Vlad (17): "I liked that we were able to try out different things. We got to test and learn the things that circus performers know so well and later we saw all that in the performance, too. Most of all, I liked learning somersaults, and playing the drums was also spectacular. And I learned to juggle with balls. We even got to take the balls home with us - now we can practice and show others too."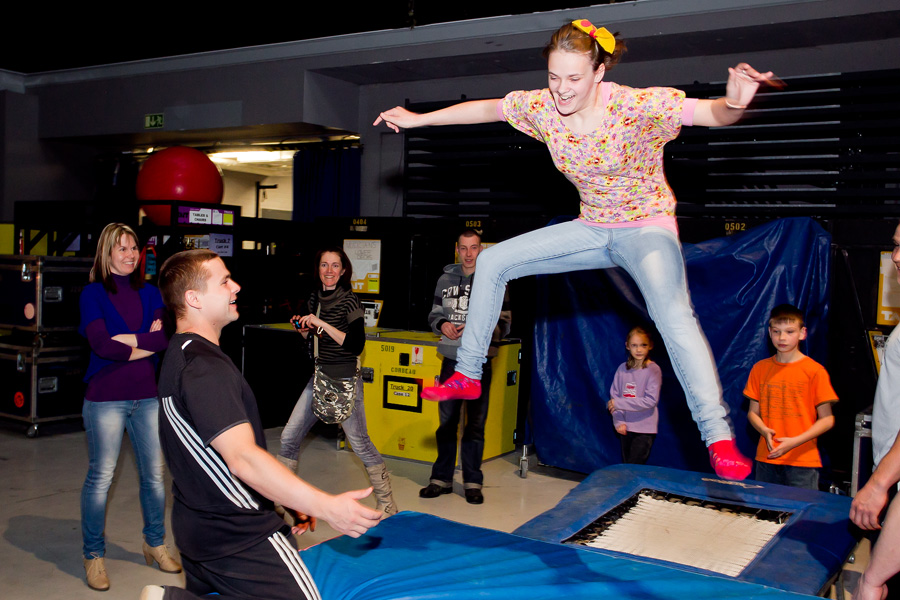 Anna (17): "I liked the unbelievably beautiful and skilful tricks on trampolines the most, but all of the other performances too. Some of the tricks were very dangerous, but the performers did these fearlessly. It was all done brilliantly. It was my birthday that day and I can say that I have never spent my birthday so delightfully."
The boys, who were able to see behind the scenes of a circus in the workshops, were wondering also how, when they were barely capable of performing one somersault on the trampoline, the performers were able to perform double and triple somersaults – this was an impressive sight. Juggling with knives on fire was also exciting, because the performers got a little burned during the performance, but they did not display it in any way.
Is the life of a circus performer lonely?
The performance gave some serious food for thought as well. While driving home, boys from one of the institutions discussed in the back seat of the car whether the life of a circus performer is lonely. "You travel all the time from one place to another, but when are you at home?" said the teacher, describing the touching discussion between the boys. One of the children thought that this is nice too, since you can be in different hotels and eat the delicious hotel food all the time, but the other thought that in order to work in a circus you must work out all the time and cannot get lazy.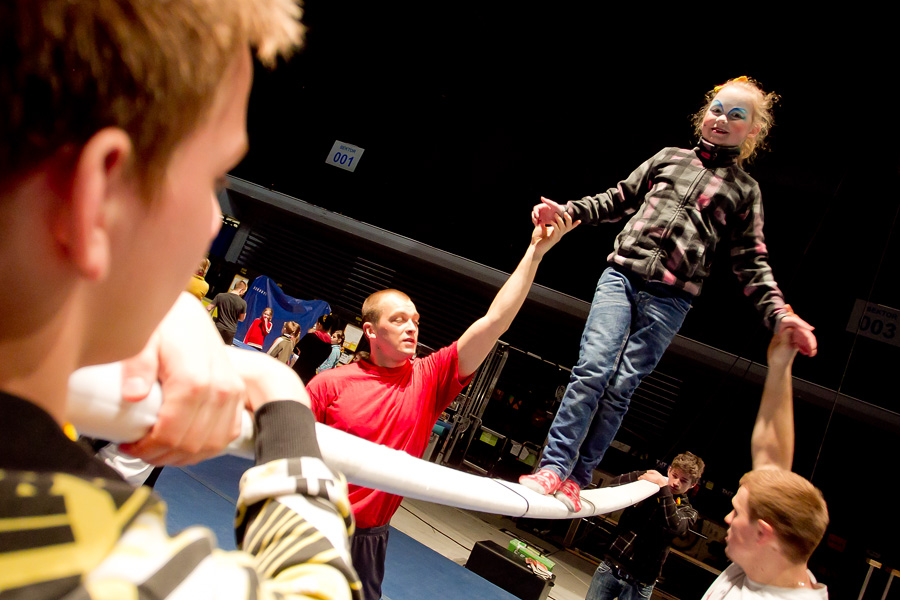 The children admitted that the profession of a circus performer is dangerous: if you fall, you could even die. One of the boys even thought that one should marry someone who works in the circus too, this way they can spend time together and perform tricks together as well.
Teachers: the workshop opened up children's talents and reinforced their co-operative spirit
Teacher Enel wrote that juggling balls together with the children was thrilling for the teachers as well, although not all of them managed to keep up with the children. "As long as we do not take part in different activities with the children, they will not become eagerly interested," she said.
Both children and teachers were impressed by one of the children from a children's home, Deniss, who even made skilled circus performers gasp with his skills. Teacher Olavi said: "The talent from our house is full of confidence now; he even counted all the shirts, gloves, footwear and other supplies he was given. It is truly great that this child received special attention; it is probably for all the years he moved from one home to another. It seems that his spark fell on other children in our house as well; everyone was inspired."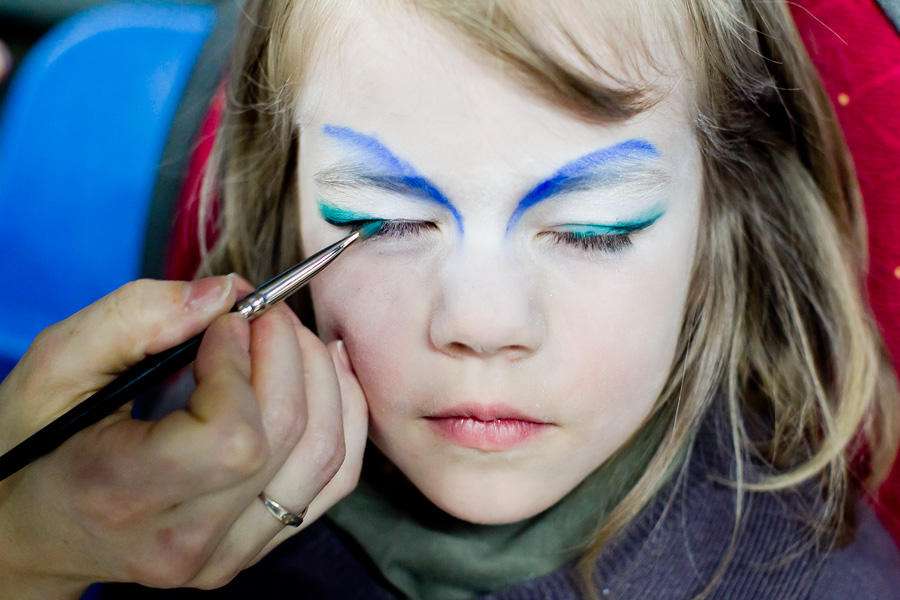 Teacher Jaanus said that although the performers were from different nationalities, there was not a single situation where people had trouble with understanding each other - body language, hands and feet helped and everything got explained. He also said that a positive phenomenon was that the children met with their friends and acquaintances from other substitute homes. "This does not happen that often," wrote the teacher.
Teacher Aili wrote that she was most surprised with the courage of the children and how communicative they were, because usually the children do not feel so free and are shy and reserved with strangers. "More active children got to show their skilfulness to others and they were pleased with that, and the more shy children did not want to be second-best at anything. Boys usually push and poke each other, but they did not have time for it there. Mocking each other slipped their minds entirely."
Recreational manager Priit said that this visit was more than they were expecting. "Such an active operation and pleasant atmosphere brought out the playfulness and casual feeling in children - they did not feel shy in front of the instructors or the new place."
He also noted that several children showed skills in the circus workshops for the first time and he commended children's co-operation: "The children who do not get along with each other at home were kindly and helpful to each other during this trip. They stick together in a strange environment, and the connections provide strength," he said. Now, they practice juggling at home, too. "A positive aspect was that even children with intellectual disabilities were also capable of doing that," he said.
Disabled children also need these workshops very much
Teachers who daily work with disabled children as well noticed that disabled children gain from such workshops tremendously. Teacher Ly said: "As a teacher, I thought that the more difficult workshops interested and appealed more, because the attention of disabled children fades away easily, but they were able to focus there really well. Disabled young people will carry the experience from this day for the rest of their lives," she said in gratitude towards the organisers.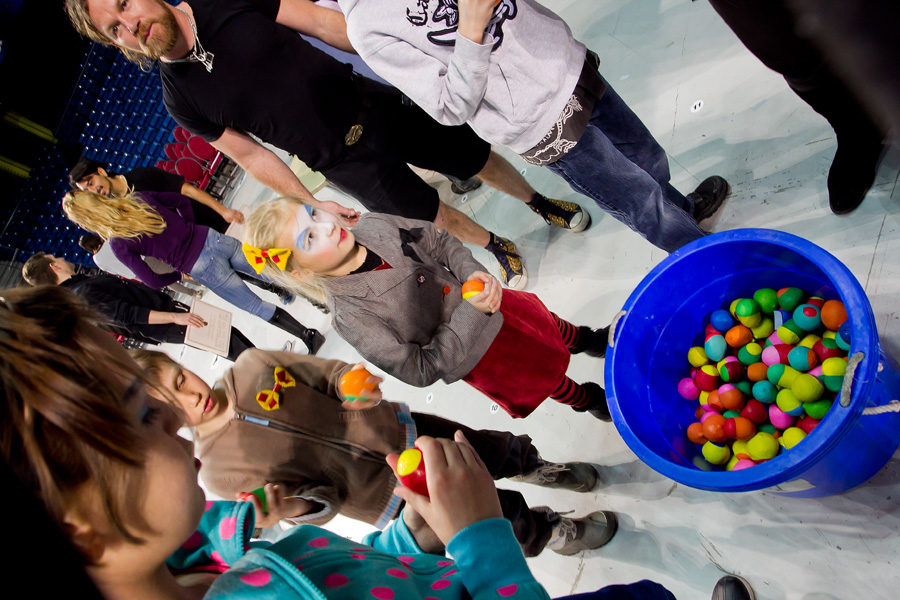 Karis, head of a substitute home, wrote that such trips and grand events broaden the mind, enable new relationships to be formed, new friends to be found, teach discipline and behaviour. The joy and smiles in children's eyes gave a great positive emotion to teachers as well.
The teachers agreed mutually that while children do have misunderstandings and tease each other from time to time; then while visiting such events they have become more peaceful, considerate and caring towards each other. In a mass of strangers, the children feel as if they are one family. Teacher Sirje: "What is interesting is that throughout the day I did not hear a single foul word or swearing. An amazing company. We had such a good time together. Not just me with them, but also them with each other."
One head of a shelter wrote in feedback: "It was great to find out that even children are able to handle difficult movements and tricks. It certainly required transcending oneself and courage from some children," wrote the teacher, who noticed an immense sense of joy and pride in the children after performing the difficult tasks.
The circus workshop for children staying in substitute homes and safe houses was carried out in co-operation of non-profit organisation SEB Heategevusfond (SEB Charity Fund), concert agency FBI, which is an affiliated company of BDG, and the team of Cirque du Soleil.
Triin Lumi
Participate
Thank you, if you have already supported our charity programme or if you are going to do it in the future! Sign a standing payment order contract in SEB Internet Bank for 3 euros a month or support with a single donation.