Jõulusoovide puu
The Christmas wish tree is made up of the dreams and wishes of children in shelters and substitute homes, sent to Santa Clause. To make sure that these do not just remain dreams, pick a gift from the Christmas tree and make a donation to the best of your ability.
www.heategevusfond.ee/joulupuu
Christmas wishes came true and brought a sparkle into the children's eyes
27.12.2012
All the wishes collected on the Christmas wish tree have been fulfilled (pictures of the presents can be viewed at www.heategevusfond.ee/joulupuu) and Christmas Eve at the foster homes and shelters is over. We cannot change the fact that these children had to spend Christmas Eve at a foster home or a shelter but we can share with our readers the joy in their eyes when the bags with the presents were opened.

The mood at the homes before Santa's arrival was excited and animated. Everybody had looked forward to Santa very much and he made everyone's heart beat faster irrespective of age. The faces of the little ones and also of the bigger children sparkled with genuine joy as they received their presents after having recited their verse. The teachers said that the Christmas packages exceeded all expectations and that the children were very happy with their presents. With pride they showed their presents around and commended on the presents of the others.
Little Gena was so happy over his remote-controlled car that he even cuddles it during his afternoon nap and he cannot wait for the snow to melt so that he can finally drive it outside. Little Kristjan and Oleg now have "real cars" that they can sit on and drive around. The big boys did not even have time to completely assemble the cars as the little boys were already trying to drive them.
Allar who dreamt of a remote-controlled helicopter was totally speechless at first. Then he quickly unwrapped the helicopter and went to show it to Santa. Santa chuckled, "Yes, indeed!"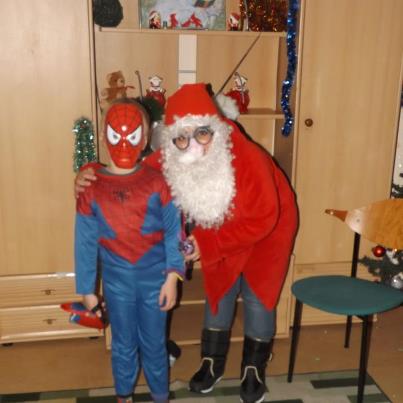 Misha dreamt of a Spider-Man costume and when he found precisely that as he opened his present his emotions lifted him sky high. He put it on immediately and the game was afoot – even the next morning he slipped right into it and wore it instead of his regular clothes and no other clothes suit him any more. Misha knows the story of Spider-Man inside out and is now performing it as a costumed Spidey with special enthusiasm.
Sandra left the Christmas party quietly. When the teacher went to look for her she was already arranging the hair of her new Barbie doll and had even washed the doll's head.
Little girls were happy about their stroller, crockery with cat pictures and chewing gum. Their chatter started as Santa was beginning to hand out the presents and did not stop until weariness overcame the little girls for the evening.
Aleksander was very pleased with the phone he received. He had dreamed of it for a long time and now he can stay in touch with his friends to get some info on maths homework if needed or to invite friends to the cinema at weekends. Although the young man tried to remain strong and reserved after opening his present, the smile that forced itself onto his face did not want to disappear.
Pille was also extremely happy with her present, which was a touchphone, "I have never had such a good phone! Usually I have been given the old and broken phone of somebody else but now I have a brand new one and its even touch sensitive and IT'S REALLY MINE. I will look after it, it's so cute. And I want to thank all the good people in the world for it!"
Kristi could not believe her eyes when she saw that the hair straightener box also had a smaller hair straightener in it. After the Christmas party was over she went straight to her room and tried out her new hair straightener and made her own hair and also that of the other girls. A small line of clients even formed behind Kristi's door. The girl was happy, "I still have to train with it. I am so very grateful!"
The bigger girls in the family Nadja, Kristi and Helina are happy with their MP3 and MP4 players, they say that with headphones on sleep is more peaceful.
Ken enjoyed his headphones, saying that they are very comfortable, "It is so comfortable to listen to my favourite music as loudly as I want without it disturbing anybody else. In the evening I did not want to take them off and so it happened that I went to sleep with my headphones on this Christmas Eve. I am very grateful to those who made me this present."
Twenty-year-old Egit got the Justin Bieber album she had dreamed about and to her big surprise she found even two of her favourite artist's CDs in the gift bag. The happy young lady said that she is now the happiest person in the world. In the second home Põhja-Tallinn's CD was played for 12 straight hours and so loudly that even the children on the second floor got to enjoy it and everybody liked it.
Kristiina was very excited too because she got two CDs of her favourite band as well as cosmetics. Happiness made Kairi teary-eyed as she got the salt lamp she had wished for her room. Nadezhda liked her present a lot. She got a tube scarf, a hat and gloves that she immediately tried on and everything fit her like it was tailor-made.
Kadi showed everyone the sports bag that she had desired and which was as lovely and hip as she had hoped for. Sporty Heino liked the bag that he got because it was exactly the right size for going to the gym – not too big and not too small and it could hold everything he needed.
Twelve-year-old Raido had wished for an awesome sleigh with steering handles and that was exactly what he got, his emotion was indescribable, he had a broad smile and a tear of joy was running down his cheek.
Toomas is a young man with military interests and only one wish: he very much wanted to have a bulletproof vest, something that was still missing from his collection. He was excitedly waiting for his present because he was not sure whether it was at all possible to make it come true because it was, after all, a very specific and expensive item that is not available at a regular store. After opening his present Toomas put the vest on straight away and he thought that it fitted very well. Now that he has all the basic gear for his hobby, he is extremely happy.
As Janner was taking a basketball out of his package, he already had a new wish for Santa, "I wish it was summer already, can you help? We have a basketball court where we can throw baskets in the summer but at the moment it is covered in snow …"
Dagnar got exactly the football boots that he said he had seen in a dream, even the colour was the same as in his dream. As Santa left, it was like the second act of Cinderella at the home: all the boys were standing in admiration around the boots and the best friends even got to try them on.
When Vika put on her new boots she did not want to take them off again. This evening her toes were warm, really warm.
That same evening Jane used the arts and crafts set she got to make the home look nice, she also drew pictures and made holiday cards for her friends.
The perfumes for the bigger girls were exactly to their taste. Although the young girls did know what to expect from their perfumes, they were still surprised because no one knew exactly what the present would look like and what the perfume actually smelled like.
When they were writing their letters to Santa the boys knew that a PSP console is a very expensive item and they did not have a lot of hope, "Santa is, after all, Santa and not a rich man from the Moon!" When the boys received their present on Christmas Eve it took them some time to realise it and they could not believe it right away that heir long-time dream had come true at last.
Holding his digital camera, Nathan ran to Santa before the man in red set out to leave, and thanked him and said with content, "My wish came true!" Hopefully this Christmas is the last one he has to spend at the shelter because already on the next day he was on his way to his new foster family.
The project was realised in collaboration between the Non-Profit Association SEB Heategevusfond, Delfi, Selver and more than 2000 donors with big hearts. An enormous thanks to everyone who supported and donated to the Christmas wish tree and helped to make Christmas a happy time.
Triin Lumi
 
Participate
Thank you, if you have already supported our charity programme or if you are going to do it in the future! Sign a standing payment order contract in SEB Internet Bank for 3 euros a month or support with a single donation.