Lastega ja lastele
Auhinnaga "Lastega ja lastele" täname ja tunnustame inimesi ja organisatsioone, kelle uued algatused või pikemaajaline tegevus on positiivselt mõjutanud laste ja perede käekäiku.
Tunnustusauhinna taotluste voor on avatud
15. aprillini
.
Esita taotlus
Christmas wish tree: news from Santa's Office
18.12.2014
Christmas wishes of 1161 children, including, among other things, a Finnish sledge, a boxing dummy, a not so small wooden wheelbarrow, and many other gifts of non-standard shapes and sizes – this is the challenge awaiting the packing elves of SEB Heategevusfond's project "Jõulusoovide puu" ("Christmas Wish Tree") this year.
This year, the secret workshop, filled with happy bustle – in which the deepest wishes of children staying at Estonian safe houses and substitute homes were packed – was located in the Tallinna Kaubamaja, with 75 volunteer elves doing the packing. At times there was even a competition to be close to the packing table. After all, the elves' hearts are not made of stone and they really want to share some Christmas spirit with children at shelters and substitute homes by spending their time and skills to place the final touches on presents. Time and again, some busy workers would give a long tender look at a child's drawing before wrapping up the present, or forget themselves to read the wishes.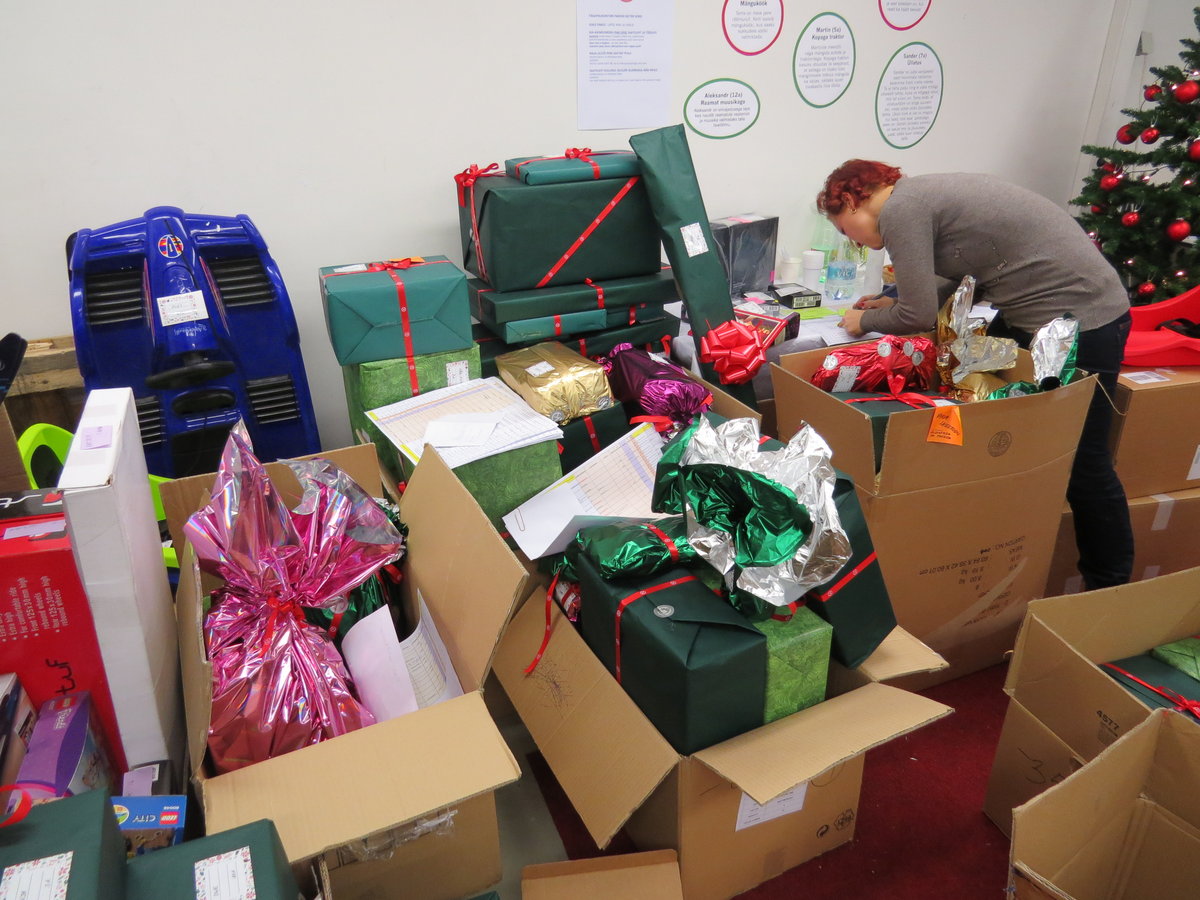 Some of the wishes moved the hearts of Santa's helpers, making them smile or bringing a tear to their eyes. So, for example, the lens of a film camera wandering around at the workshop found one of the elf ladies thinking of a 7-year-old first grader from a Russian-speaking home. He went to an Estonian school this year and is waiting for a warm winter jacket from Santa so that he could be nice and cosy on his way to school, thinking of new words and thoughts that fill his mind in classes.
It is an open secret by now that many elf ladies packed a secret caress with the very first dolls for little girls. It took us a little bit longer to find out that even the more sturdy elves – sporting a beard and everything – gladly become that boy again who started driving around the room with his brand new toy car the moment it is out of the wrapper. A peculiar pattern has emerged – for some reason, smaller wishes bring tears to our eyes more than the bigger ones. If a 15-year-old young lady wants hair ties more than anything else in this world, you'd like to pack as many of them of as many different colours for an entire lifetime's use. Still, if some wishes made Santa's helpers especially tender-hearted for some reason, the next ones made them happy again. For example, an 8-year-old girl's wish for a beautiful notebook, where she could write poems and secrets; or a 13-year-old clever boy's dream of his own chess board, where he could practice his moves; or two brothers, 4 and 5 years old, who would both like to have scooters so that they could race each other outside…
Packing some of the present caused some racking of the brain. For example, how do you shape a compact present out of a custom-order zither? Or how should one pack a needle frame that lets you make face and hand imprints? A Finnish sledge is difficult to fit even in a car, not to mention a gift bag. And then there were some very funny problems. How do you make sure that a soldering iron would not start tinning on its own under the Christmas tree or a fish would not come out of the wrapper on the end of a spinner? Or is it suitable to wrap a boxing dummy in paper covered in teddy bears? Or should the colourfulness of wrappings of smaller things be an inverse to the conspicuousness of the larger packages? Busy elves would sometimes even have tiny rounds of discussion on whether a mattress of a Home Daughter should already be inflated or the primus stove of a Young Eagle lit so that the Christmas spirit would reach the recipient sooner.
According to the statistics on the mighty packing job done by our good elves, 320 man-hours, 850 metres of wrapping paper, and 2000 metres of ribbon were needed to give finishing touches to the individual Christmas presents of 1161 children.
Take a look at the elves' workshop
Participate
Thank you, if you have already supported our charity programme or if you are going to do it in the future! Sign a standing payment order contract in SEB Internet Bank for 3 euros a month or support with a single donation.