Lastega ja lastele
Auhinnaga "Lastega ja lastele" täname ja tunnustame inimesi ja organisatsioone, kelle uued algatused või pikemaajaline tegevus on positiivselt mõjutanud laste ja perede käekäiku.
Tunnustusauhinna taotluste voor on avatud
15. aprillini
.
Esita taotlus
Candidate nominations now accepted for the "With and for Children" recognition award
16.04.2014
Until 5 May, candidates may be nominated for the "With and for Children" recognition award, whose awardees will be announced at the recognition event held at the Office of the Chancellor of Justice on 1 June.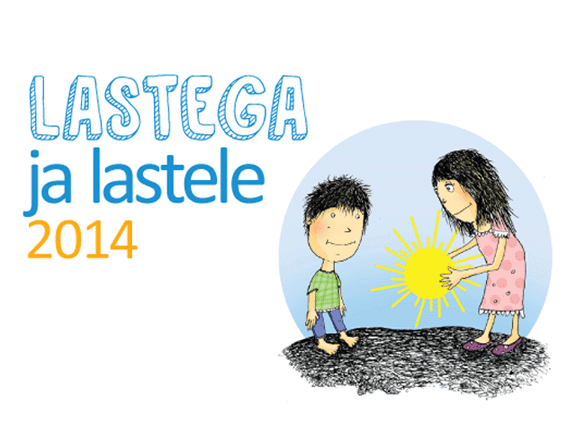 Seven organisations that value children's welfare wish to thank and recognise good people and organisations whose new initiatives or long-running activities have dramatically altered or affected how children and families are faring and how they are valued at the local, county or national level. Recognition will be offered in these categories: Child's Big Deed, Family of the Year, Deed of the Year, Creator of Changes and Recognition for Life's Work.
According to Loone Ots, President of the Estonian Union for Child Welfare, the best of times would be when we would not need to acknowledge anyone for taking note of children because it is a natural part of all of us. "However, until society has evolved to this level, pathfinders should be valued and followed as an example."
In the estimation of Andres Aru, Head of the Children's Rights Department, there are many special people and organisations in Estonia who do more for the benefit of children than they are expected to. "The activity of people acting for the benefit of children has a significant impact on our entire society; however, often the dedication and significant contribution of these people are only noticed by people in that same field. By recognising dedicated action for the welfare of children and families, we wish to tell specific stories to present and highlight to society at large the contribution of these people. We would also like to acknowledge the wonderful children and families who have helped others or provide an example to others for some other reason," Andres Aru explained.
Both good people (including children) and organisations (from the public, private or mutual and non-profit sector) may be nominated as candidates who merit being honoured as contributors to children's welfare. Proposals as to who should be acknowledged may be put forward by all, both private individuals and organisations.
Before nominating candidates, kindly review the descriptions of the categories in the statute of the recognition award and then complete an application form. Your proposal should include the name of the person or organisation nominated as a candidate as well as a description and a statement of reasons for their nomination in the form of free text. Also, the name and contact details of the party submitting the request should be included.
The "With and for Children" recognition award was initiated by the NPO Estonian Union for Child Welfare, Estonian Association of Care Placement Workers, SA Dharma Foundation, NPO Estonian Association of Large Families, NPO Oma Pere, NPO SEB Charity Fund, and the Office of the Chancellor of Justice.
 
Participate
Thank you, if you have already supported our charity programme or if you are going to do it in the future! Sign a standing payment order contract in SEB Internet Bank for 3 euros a month or support with a single donation.