Lastega ja lastele
Auhinnaga "Lastega ja lastele" täname ja tunnustame inimesi ja organisatsioone, kelle uued algatused või pikemaajaline tegevus on positiivselt mõjutanud laste ja perede käekäiku.
Tunnustusauhinna taotluste voor on avatud
15. aprillini
.
Esita taotlus
Be a part of the Christmas miracle – help children's dreams to come true!
26.11.2012
In his letter to Santa, 9-year-old Joosep (name changed) requested that his relations with his Mum improve because that would keep alive his hope of getting back home. Joosep knows that if his Mum's lifestyle does not change, he will have to stay at the shelter longer and that his future will be at a children's home. Longing for his Mum and home are like a letter to Santa that will never make it to Santaland ...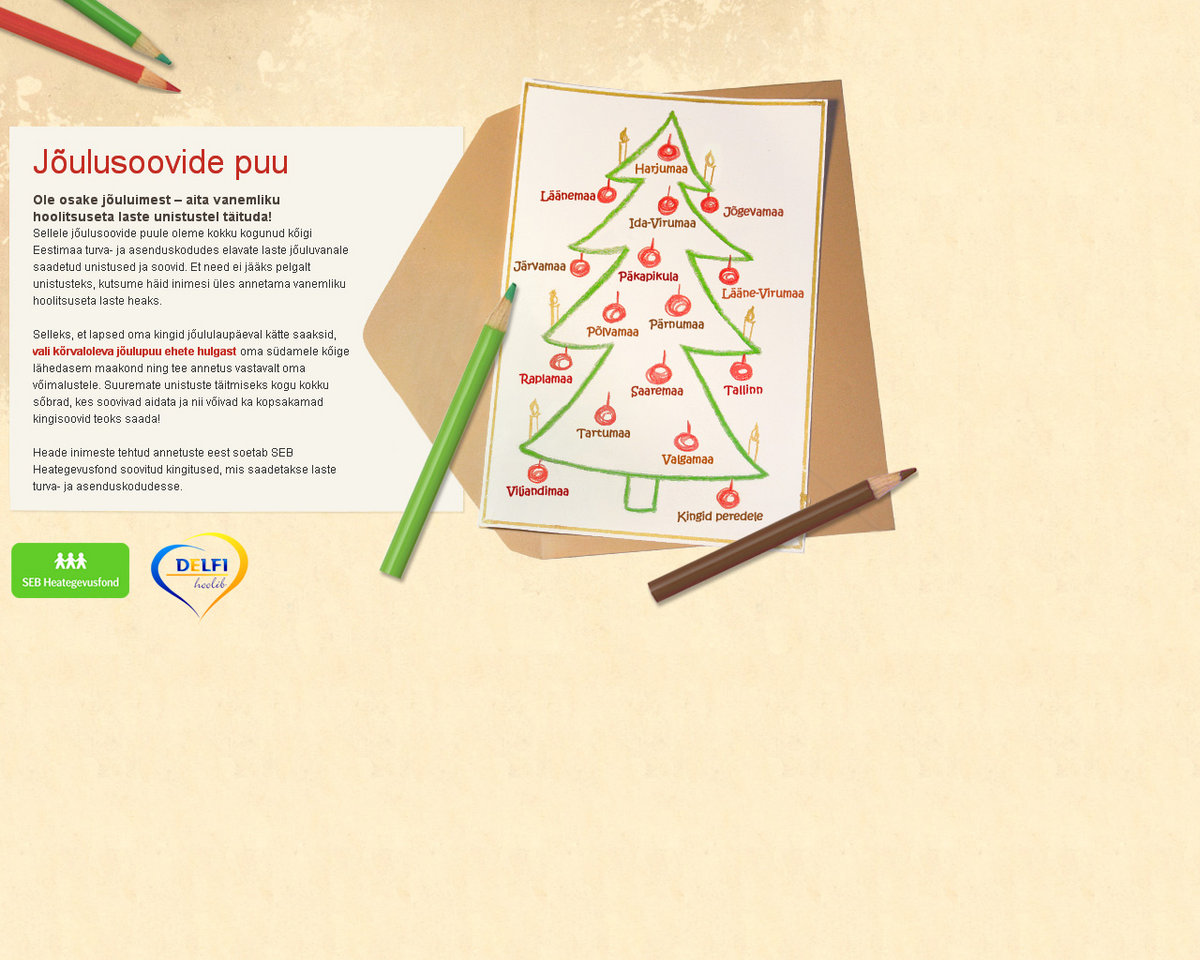 We cannot see inside children at safe houses and substitute homes, nor do we know what they actually feel when all around there is talk of family-centric holidays – a time of joy when all of one's kith and kin come together and Christmas miracles happen. The soul of these hurt children, too, longs for the warmth of a home and a sense of security.
For the fourth year in a row, SEB Charity Fund is collecting the dreams and wishes of children without parental care in order to pass them on to Santa. Alas, Santa will not be able to take away the sorrow of Joosep or other children with a similar fate and wrap a home inside a large gift box tied with a fancy ribbon. Santa, however, can provide support by bringing the Christmas joy known to children living at home and the fulfilment of worldlier wishes also to those whose home during the Christmas month will be a shelter or substitute home (children's home).
This year, too, we have collected the wishes of approximately 1200 children staying in Estonia's substitute homes and would like to invite all the good people to support our project by being Santa to these children.
To do so, go to www.heategevusfond.ee/joulupuu, pick one child and her or his wish and make a donation as Santa's (that is, your) circumstances permit. Some wishes on the Christmas tree are really small, whilst some are really big – there are children longing for a stuffed toy to hug, a rubber band for braided hair or mittens with colourful patterns, whilst others are dreaming of a warm winter coat or their own mobile. To make bigger wishes come true, pitch in with your friends who wish to help, and that way even the heftier gift wishes might materialise! Using the donations made by all the good people, SEB Charity Fund will purchase presents on the list, wrap them up nicely and ship bags of presents to the children's shelters and substitute homes. The wrapped presents will reach the children by Christmas Eve.
Our heartfelt thanks to you and your friends for helping a little Christmas miracle come true by making donations so that surprises bearing their names might be prepared for children. To give a tiny bit of your time, attention, soul and heart – means a great deal.
Triin Lumi, Elf-in-Charge, Santa's Head Office (SEB Charity Fund)
Participate
Thank you, if you have already supported our charity programme or if you are going to do it in the future! Sign a standing payment order contract in SEB Internet Bank for 3 euros a month or support with a single donation.