Lastega ja lastele
Auhinnaga "Lastega ja lastele" täname ja tunnustame inimesi ja organisatsioone, kelle uued algatused või pikemaajaline tegevus on positiivselt mõjutanud laste ja perede käekäiku.
Tunnustusauhinna taotluste voor on avatud
15. aprillini
.
Esita taotlus
"Santa Claus is a really nice person, he never forgets anyone!"
01.01.2015
In 2014, the Christmas wishes of 1,161 children at Estonian children's shelters and substitute homes came true with the help of generous donors within the framework of the "Christmas wish tree" project of SEB Charity Fund. The presents were wrapped by the 75 skilful volunteers from Tallinn Kaubamaja. All presents reached the recipients by Christmas, bringing joy to both the little ones and the big ones. A million thanks to all the kind donors who helped fill Santa Claus's bag and to all the efficient wrapping elves who gave a nice form to even the most elaborately-shaped Christmas presents!
On Christmas Eve, most people want to be at home with their families, but unfortunately, many children do not have that opportunity as they have no homes or families to rely on. For children without parental care, real families are replaced by substitute homes and shelters where everyone does their best so that the children may enjoy Christmas.
A teacher working at a substitute home wrote that even though she missed being at home with her family that evening, upon seeing the joy of the children at receiving their beautiful presents, she forgot about herself and was glad to hand out presents as a deputy elf – getting sincere joy, laughter and tears of joy in return. From Christmas Eve, she remembers a sentence told by the 15-year-old Liis to her sister Kadri: "Kadri, we've never had a better and more beautiful Christmas at home, right?"
Um, I hope I won't forget my poem!
Just like at regular Estonian homes, at substitute homes and shelters, Christmas is a time when the rooms are filled with the sweet scent of gingerbread and the children are waiting for Santa Claus by the decorated tree. Santa comes every year, but there is still some anxiety about whether he can fulfil each child's secret wishes... Apprehension is in the air and the little ones run to the window every once in a while to see if someone is coming. At some homes, before Santa comes, there is even some dispute about who will get what and how and where they use it.
Even though Christmas Eve had its own look at each home, some things are still the same every year. This Christmas was no exception. In the evening, the scent of gingerbread was mixed with anxiety (when will Santa come?), worry (is there a present for me?), some restlessness (when is it time for my present?), stage fever (um, I hope I don't forget my poem), joy (I got my present) and curiosity (what's in it?). Once everyone got their presents, some powerful emotions followed: satisfaction (I got what I wished for) and joy over sharing the joy (look what I got!). These cheerful thoughts were shortly followed by an impatient will to do something: I will try it out (right now!), the joy of discovery (and I get to do this with it as well!), lots of benevolence and the joy of sharing: I'll let others try it out, too!
Curling irons, MP-players and lego arrived
The 13-year-old Signed-Johanna who wished Santa would bring her spiral curling irons to make curls in her otherwise straight hair was very pleased with her present. She demonstrated the very same evening how she could make different hairstyles by using different barrels. The 10-year-old Marko who really enjoys listening to music had wished for an MP3-player. But what came out of the wrapper was an MP4-player, which scared the boy a little at first as it was slightly more difficult for him to operate. The whole next day he was eagerly downloading music together with his teacher and spent the evening listening to music with his large earphones.
The 12-year-old Alex, the 9-year-old Veiko and Indrek-Ivar of the same age, are all big fans of lego. When Santa Claus left, the boys were all busy in their rooms until they finished constructing the lego, and then came out to show what they had made.
Some of the smaller children were a bit afraid to approach Santa Claus and recite their poems, but the 1-year-old Hanna-Liisa really liked him: she was not afraid at all, but very happy, and kept laughing a lot. The singing toy dog that jumped out of the wrapper made her very glad and looked interesting to older children as well.
Most of the children got their presents by reciting poems to Santa Claus, but some of them showed their other talents as well – a boy played the guitar, another did push-ups.
Eva-Janne: "Music always gives you more energy"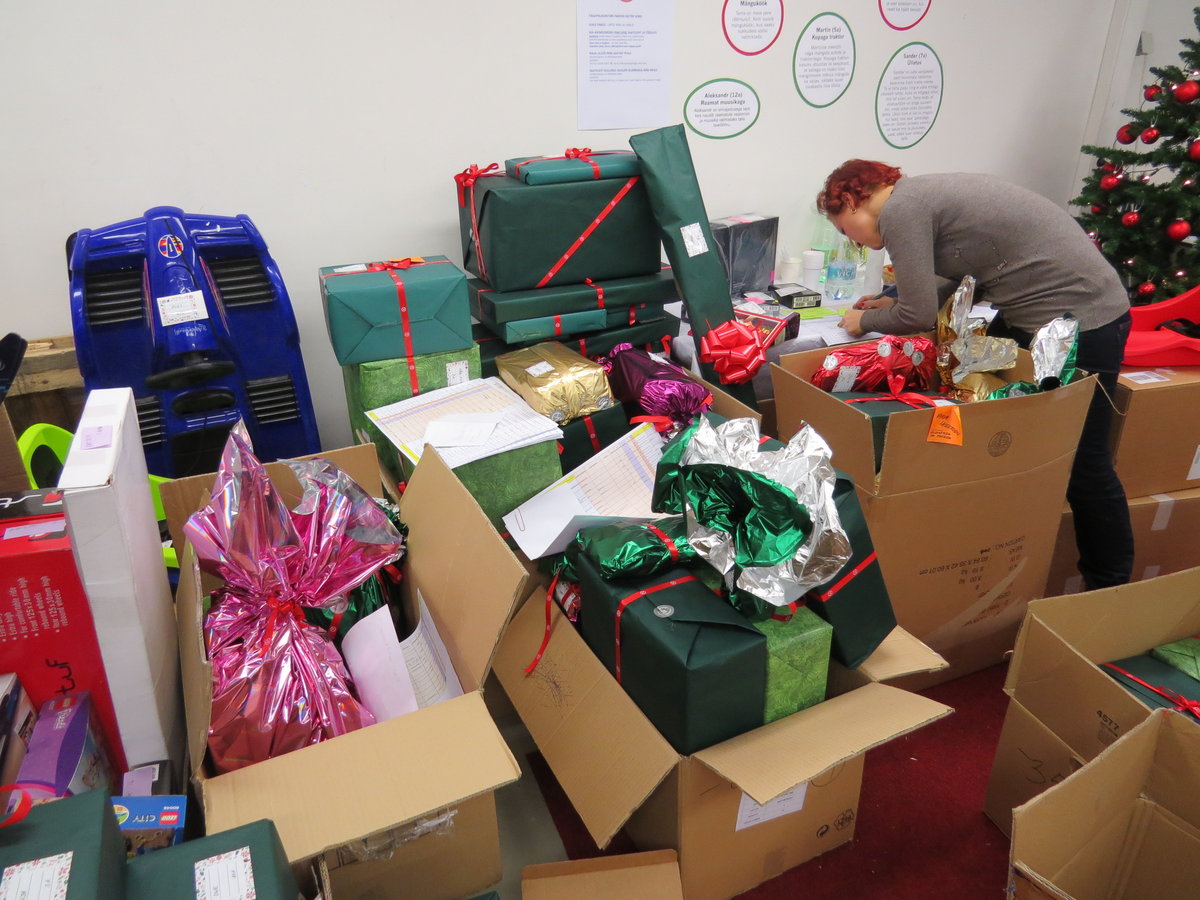 The 18-year-old Jüri was very happy with the earphones for his player. He pranced around for hours with his new earphones. The 19-year-old Mehirt who is interested in photography was very pleased with the gift cards for a photography shop, promising to get something useful for the cards soon.
The 17-year-old Joel and Gert really wanted to get a good perfume and liked the ones they got very much. The perfumes brought lots of joy as so far, these had only been dreams on the shelf at the store, behind the shop assistant. The 14-year-old Siimul-Joonas wrote in his letter to Santa that he would like to get a mobile phone so he could talk to his mother, grandmother and grandfather. As his previous phone had broken, he got to use the new one right away and was evidently happy about it.
The 17-year-old Eva-Janne also got earphones from Santa. When giving her feedback about the Christmas presents, she wrote: "I was pleasantly surprised, I am extremely happy with my present. I didn't expect to get something that high quality. Now I can listen to music while practicing sports. Music always gives you more energy. Thank you for this nice present!"
The 13-year-old football fan Vadim got the goalkeeper shirt he had wanted for a long time, and wrote: "I am very happy with this present, I was really looking forward to it. It made my Christmas the best!" The 16-year-old Igor got the electric shaver he had wanted: "I am glad I got this long-awaited shaver that is simple and easy to use at the dorm. Thank you!" His brother, the 17-year-old Artur, had also wished for a shaver: "I am very happy with my present, I was really looking forward to it because this shaver is simple and easy to use and fortunately, my brother and I got different ones, so we won't mix them up."
The 15-year-old Heikko thanked Santa Claus for thermal underwear: "Thank you very much for the new sportswear. I was looking forward to Christmas and now I get to practice sports in cold weather as well." The sports-enthusiast Gabriel (16) thanked Santa for new gloves and shin pads, saying he is better equipped to work out and guard the goal now. The 18-year-old Ragnar, however, was very pleased with his excellent oil-stove: "Great, now there's always warm food at the Defence League!"
The 14-year-old Maiu, who wrote a note on the Christmas wish tree that she would like to get a tent as she travels a lot with her foster family in the summer, was evidently happy with her present. The 12-year-old girl guide Tiiu was happy with the inflatable mattress she got. The 15-year-old Kairi, who is very much into handcrafts, really enjoyed the loom band set she got.
Busy ears and dry training with winter sports gear
The children who wished for an MP3 or MP4-player walked around the following week to the rhythm of music, all looking satisfied wearing their earphones. At first, the teachers did not understand why the children were not reacting when called on. Later, they realised they simply could not hear as their ears were busy...
The 5-year-old Tairi really likes to play house. The girl had her birthday at the beginning of December and got a great baby doll as a present. Santa brought her a pram that she was very happy with, saying she gets to rock the baby to sleep now and walk with her.
The 6-year-old Tairo, a fan of constructor toys, was really happy with the lego he got. He started playing with it right away, assisted by an older boy who taught him how to read the drawings.
The remote control car the 6-year-old Artjom got was a bit difficult for him to operate at first, but it will help him keep his right hand busy, which is developing slowly, and improve his coordination.
Even though the sledges and skis the children got had to be left waiting for the snow, children could be seen sitting on their sledges at some homes, their eyes sparkling with joy. The restless 7-year-old Nikolai, who got skis and ski boots from Santa Claus, was trying to walk on his skis along the long corridor.
The 2-year-old Argo got a present twice his size: the big truck became his favourite as soon as he laid his eyes on it.
Igor: "If you get in touch with Santa, thank him for my lego!"
At a few homes, the teachers noted that the teenagers, generally pretty lively and chatty, were kind of speechless after getting their presents. Once Santa Claus had left and the presents were unwrapped, there was even unbelievable silence at some homes. Everyone was studying their presents and literally, nothing but snuffling was heard.
In his letter to Santa, the 12-year-old Vladimir wrote that he would like to transport small cars from one lego town built by himself and his friends to another – when his dream lego appeared from the box, he was very happy. The 9-year-old Igor got up from his ambulance lego and wanted to say a few words (usually, he does nothing like that). Igor asked all the teachers to get in touch with Santa, he wanted to thank him for the great lego allowing him to provide an ambulance service in the town. The look on his face and the tone of his voice were priceless.
The 17-year-old Vanessa with special needs started dancing and laughing, holding her lacing game. At first, she did not want to recite her poem to Santa Claus, but later, she said she wanted to do it and recited it to the teacher when they were alone. The 13-year-old Villu started playing chess right away and Keiti, of the same age, who wished for an MP3-player, was listening to music the whole evening. The 17-year-old Martin, who had bought a phone in the autumn for the money he had earned, was happy with the phone pocket that fit his phone perfectly.
Rocking chair schedule: Monday for Reelika, Tuesday for Kevin, Wednesday for Klaarika and Thursday for Herbert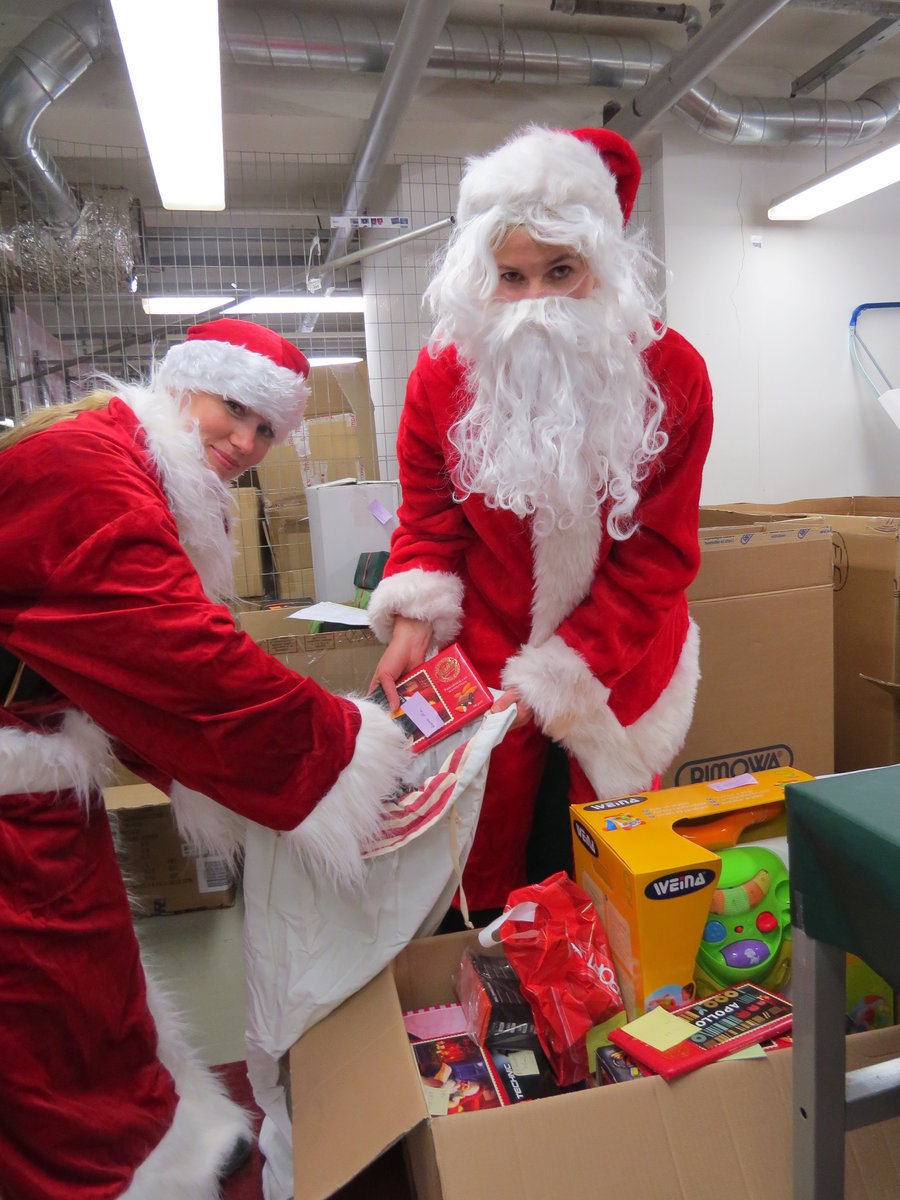 Among other family wishes from the house, the following letter was written to Santa: "Our teacher took a training course where they said that children who are a bit anxious calm down in a rocking chair. We could put it to good use. We promise to kindly take turns using it. And maybe it'll be of less and less use over time. Actually, the teachers could also use it at the end of a tough day!"
Once the teacher told them the rocking chair was coming and a place had been prepared for it, the children started a discussion on how to share the chair. The 13-year-old Kevin was already convinced that he would not get to sit in it as the girls would sit in it all the time, and that life was really unfair for him... They agreed on a schedule for the use of the rocking chair: Monday for Reelika, Tuesday for Kevin, Wednesday for Klaarika and Thursday for Herbert. The remaining three days the chair is to be "bossed around" by the teacher, who will sit it in herself or reward the children.
The following days were spent waiting for the chair just like they were waiting for the elves – is it here yet? On Friday, when the children got home from school, the rocking chair was there in the corner. As Friday was the day for the teacher and the children were going home, everyone got to sit in the chair for 15 minutes. It was indeed really nice!
The chair was also tried out by the neighbours and they enjoyed it, too – now there's even more reason to visit!
In the feedback about the Christmas presents, the mother of the family writes: "The family present we received last year was also spot on. We have fixed our bed linen and towels. We have new curtains and our trousers have been patched up. And our neighbours have done the same – the sewing machine can serve two families. It is possible to even embroider a little with the machine, so Klaarika is interested in it – she doesn't really dare to yet, but enjoys the process when assisted by the teacher."
The race with prams, BMW, tank and skis
At a home, the children were doing a "warm-up" before the arrival of Santa; they were helped by Lotte and a Snowman to whom they got to recite their poems as practice. The greatest joy came, of course, when opening the presents. Older children managed to unwrap their presents pretty quickly and were smiling contentedly at the contents. It took a while for the smaller ones to open their presents, but this only added to the excitement.
The youngest one, the 2-year-old Erica started racing with her doll pram and has not stopped since. The 9-year-old Säde got a scooter and impatiently started waiting for the snow to melt. The 7-year-old Lauri who dreamed about a tank with a soldier in it was busy with his machine, saying our country needs soldiers to protect it. The 5-year-old car make specialist Ervin jumped with joy after getting a BMW, and a remote controlled one at that! It was great to race it around the big hall.
The 2-year-old Valeria's eyes went big and her happy shrills of delight got louder when she discovered her present was a pram; with the help of teachers, it was assembled quickly and there she went, looking for the baby doll and starting her stroll.
The 7-year-old Marcus literally started jumping with joy when he saw he got his own laptop, so he can practice the games useful for starting school. He needed some assistance from the teacher for finding the games and the music and had his evening covered with the computer.
Liis, 6, who in her letter to Santa Claus wrote that she would like to get skis to put her overflowing energy to good use, was not that glad with her present at first because there was no snow that day and "putting the energy to use" would not have worked out. It snowed quite a lot at night, so next day, the girl's wish to go skiing came true. Liisi spent all the days of the Christmas holiday skiing up and down the hill.
The 10-year-old Rosalya had been dreaming about practicing dancing to music, so she got an MP4-player. Her shrill and jump were priceless! She was very, very happy. They found someone right away who knew how to put her favourite music on her player.
Special children got lots of music as presents
Children with profound disabilities are all different personalities and able to express their joy and sadness. The children who must lie in beds and could not enjoy the Christmas party together with others in the party hall were given presents by Santa Claus personally. The children expressed their joy in different ways. Kersti shilled with delight when handed the present, Anastassia's quiet smile was like sunshine to Santa Claus, Lotte and the reindeer.
In the families of many children with special needs, the rooms were filled with music right after the presents had been handed out. This year, the children got lots of music and various musical toys as presents, and these cheerful sounds and the happy eyes of the children will hopefully bring good spirits for the entire year to come, the teachers hope.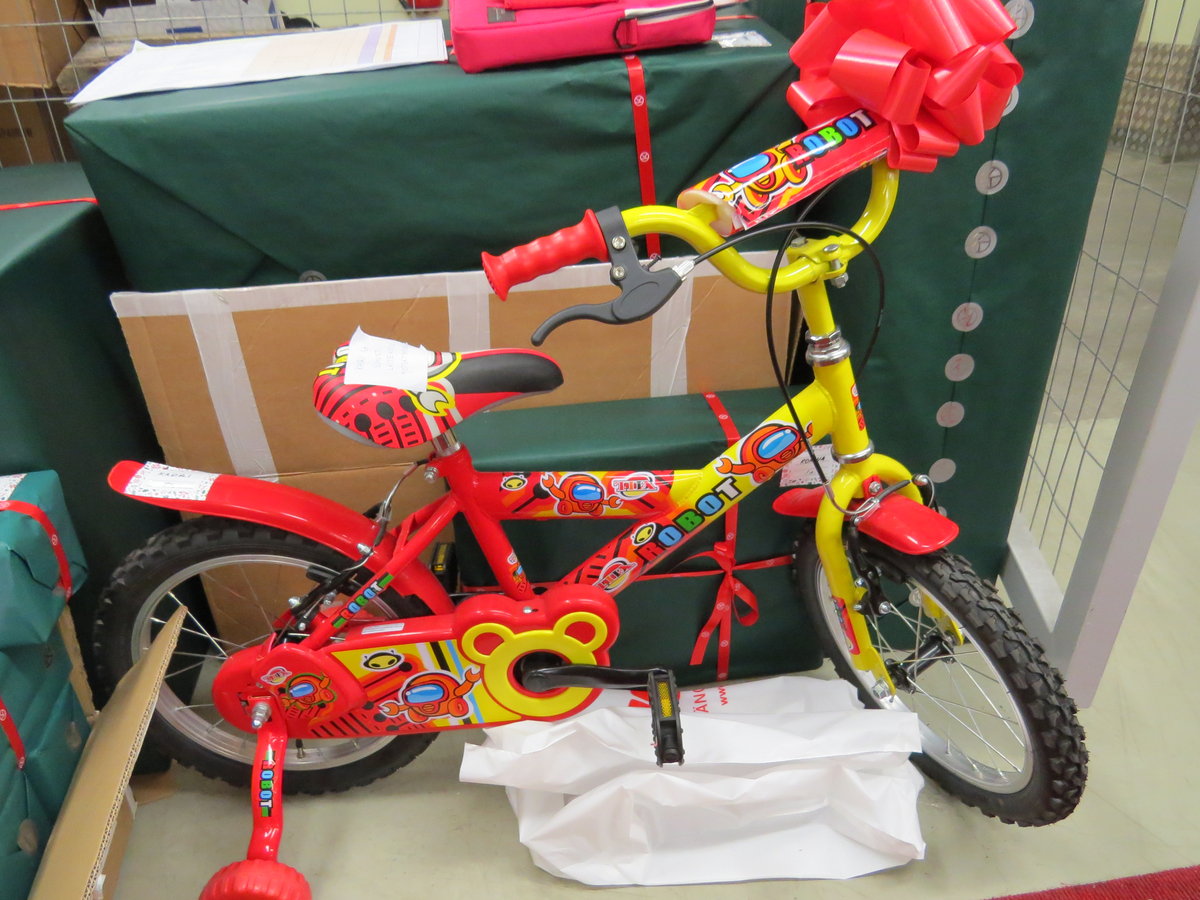 Pavel, 3, was very happy at the sight of a tractor rolling out from his wrapper – they are inseparable now. Together with little Annika, who is the happy "mother" of a cute baby doll, they get to play house now and the father can roll to work in his tractor.
Some of the children with special needs are not able to express their emotions or speak about their wishes for Christmas. This is why the teachers considered the needs of each child when ordering the presents. But there are children who are always happy with presents. Ivan got a kicksled. The next morning, the kicksled was set up as the children who can move really enjoy going sledding. And Ivan, the owner of the sled, was sitting on it like a king, waiting for someone to push him next.
Aleksi had been waiting for a guitar the entire year, and finally got one. Now, they listen to "oriental" music every evening as he told everyone he knows how to play it. Viktoria got a snow tube as a present – that day, they couldn't try it out on the hill, so they had to wait for snowy weather. The teachers hope that once the snow, hill, snow tube and Viktoria finally get together, sleighing will be a success.
Christmas Land in Maeru Forest: Santa Claus Kusti and the tree of wishes
The Christmas impressions of a family were written down by Valle, a student of physics at the University of Tartu. In the teacher's opinion, the emotions of the young man are rather modest, but actually, there was a lot of commotion that day, like there always is at a youth home where they plan something, but something completely different happens. In this family, everything started when the evening before, the pseudonyms on the presents by the Christmas tree were supposed to be replaced with the real names of the children, but due to a lack of time, this was not done.
They had agreed with Santa Claus that the presents would be handed out at Christmas Land in Maeru. The mother of the family told the children the story that the "right" sleigh of the Korvatunturi Santa Claus capsized on the way here and all the presents were scattered in the forest, but fortunately, someone named Kusti picked them up together with his elves. But they needed to find this Kusti now! So, the confusion with the names came in handy now. Luckily, the mother of the family was able to figure out who all those Gertruds and Gunillas were, so all the children got the right presents. It is funny how adults turn into children at Christmas, too, the mother of the family noted.
The 20-year-old Valle, who wrote down the events of this Christmas Eve, said the following:
"This year, the Christmas trip was different from the previous ones. As a tradition, all the youngsters dressed up nicely. Everyone was bustling about, helping each other out with tie knots or hairdos. Soon, everyone was ready for the Christmas dinner and all they had to do was wait.
When the bus reached the house, the children rushed towards the car in the snow; Marika, the head of the youth home, told us to dress warmly. Everyone wondered why we needed to dress warmly if we were only going to eat, but an order is an order. As I had left my coat in Tartu, I put on a fur-coat I found under the bed. The others were excited as I had obviously overdressed. The fur-coat was a great idea as it was heavily snowing outside.
We drove for about half an hour to a restaurant nearby, everyone was hungry and we had fun as we sat at the table. The food was already there and the youngsters calmed down and started eating. The Christmas food was the traditional potatoes with pork and sauerkraut. When full, the most awaited part of the day came – the presents. For that, we were taken out of the town. The trip seemed to last forever, but we finally made it.
By the road, we were welcomed by the elves and then we remembered Marika's words "dress warmly". We walked to a plain field surrounded by forest, with torches as the only source of light. The chatty elves handed out torches to those who wanted and we were ready to step into the unknown after the elves. There was poor visibility and the elves told us to be careful.
It wasn't long until the first youngster carrying a torch found a basket of bells attached to a tree. Each one of us got a bell around our arm and we continued, accompanied by the jingle of the bells. The road to Santa's house was full of such stops that did not let the excitement fade away. The most noteworthy of these were the candy tree to sweeten up your mouth and the wishing well where you could put your innermost wishes into a heart-shaped stone and then drop the stone into the well with the wishes so that these could be spread across the world. And then, we reached the house of Santa Claus Kusti. When we stepped inside, Santa greeted everyone personally. Right away, we noticed rabbits, who attracted lots of glances.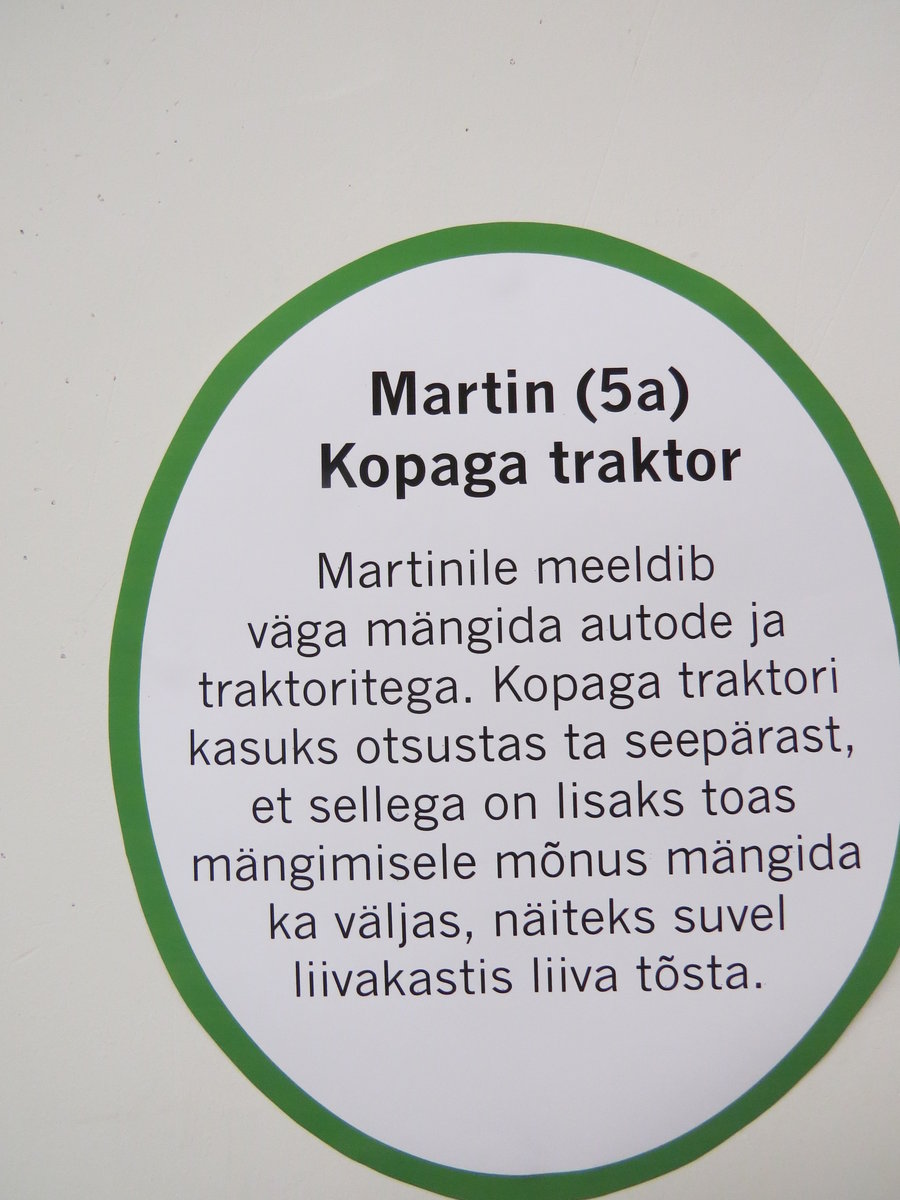 Presents were handed out. I was one of the first to get mine, but I decided to wait until at home to open it. And everyone celebrated getting their presents by singing or dancing. When all the presents had been handed out, we took a photo of us all together. It was a great Christmas event that by the look on the children's faces was enjoyed by most of them. Then it was time to head home. Santa and the elves came to see us off at the field where we first assembled. The snow was still falling, but it did not bother us at all. The way home was fast and there were others besides me who unwrapped their presents first thing. I hope the Christmas events of the following years will be just as memorable."
Pavel: "Now I am waiting for the summer to see the little fish in the water!"
In one family, everyone was very excited to see the little fireball Johanna's (3) reaction to her huge present that would hold nine little girls her age. At first, Johanna thought her bean bag chair was a ball. Once she got the hang of it, she happily jumped on it and pretended to be a starfish. During the children's TV programme in the evening, she was also lying in her new comfy chair.
The 10-year-old Pavel was very happy with his snorkeling mask. "I have been dreaming about it for a long time, I want to see under water in a pool. Now I am waiting for the summer to see the little fish in the water!" he writes in the feedback about the Christmas presents.
The 11-year-old Eliise was really looking forward to getting a handbag. On the evening of the party, she put her phone and purse in it right away, proudly lifted up her head and felt "really like a grown-up". The 8-year-old Karoliine got a new school bag and the white butterflies on the zips were a big hit. The happy girl wondered why the school holidays were so long...
Romina, 1, had put in her Christmas wish list that she was a local champion in getting into boxes, so she got a nice wooden wheelbarrow. On Christmas Eve, she assisted in the assembly of her barrow by scattering the parts along the room. Once the barrow was finally assembled, she climbed in it and demanded, with impressive persistence, that the bigger ones move her around.
The 16-year-old Victoria got the perfume she had wanted – "Rogue" by Rihanna, which, she said, she liked more and more every time she sprayed it. At first, the 17-year-old Kairi thought her Femme by Hugo Boss was "good", but soon it was "very good" and then "the best". As they had to share their joy with the family, it was a bit difficult to breathe upstairs on Christmas Eve...
Some older boys were surprised at getting cucumber skin tonic as presents. They asked where to apply it and if they could drink it as it was made of cucumber. After getting the information on how to use it from social workers, they thought they would not give it to the girls to remove their make-up and if it made the face nice and fresh, they would start refreshing themselves morning and evening. The only big problem now was how to get cotton pads to clean the face...
Christmas Eve in a bathrobe and presents for the teacher
Everyone got to see how nice and soft the young lady Kadi's bathrobe was already at the Christmas party as she spent some of this fine dinner in her new bathrobe.
The 12-year-old Martin had wished for a watch. The watch he got is very nice and practical and Martin especially likes that it is waterproof. With his teacher, however, they decided they would not try to put it in a bowl of water, just in case, but he would wear it on his wrist as intended.
The 3-year-old Ruslan got a nice set of cars, some sweets and a red motorbike. He played with his new cars the entire evening and showed how far the pull-back cars would go. Ruslan wanted to share his joy with his teacher and offered her his motorbike so that they could play together.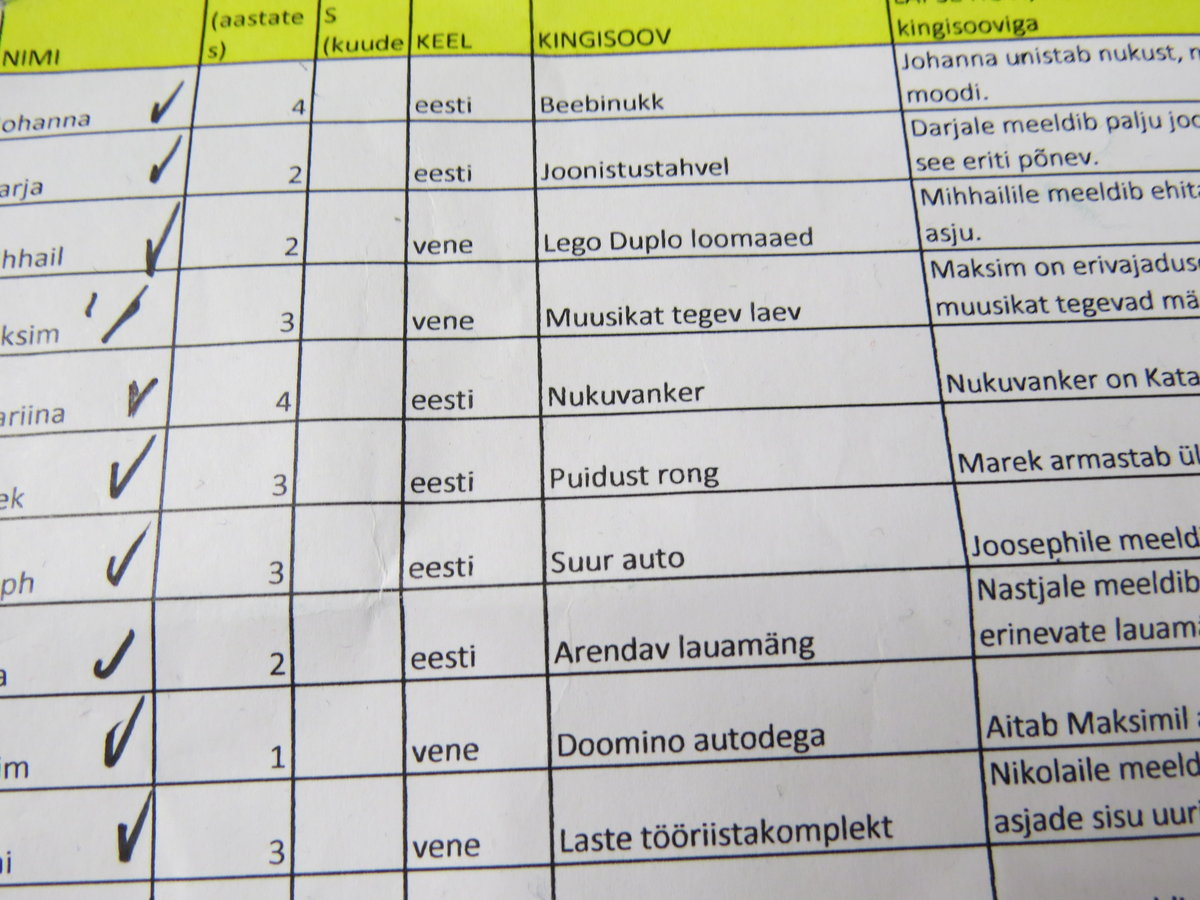 In the evening, when others went outside to sleigh, the 7-year-old Ruslan stayed inside to assemble his cool robot. When everyone got back inside, the little black-eyed boy greeted everyone with the lego-robot he had made on his own.
The teachers noted that the Christmas presents the children have wished and waited for help alleviate their homesickness at Christmas; the construction sets help develop their technical skills and the cosmetic products give them confidence and teach them how to keep clean and take care of their looks.
Kärolin: "Super present, super present!"
Kristo and Anton, both 5, great friends and room mates, got lego pieces they were extremely happy about. They poured the pieces onto the carpet of their room and no more sounds were heard from the room that evening. The one-and-a-half-year-old Kaarel got a big car from Santa, which he can sit on, so he spent the entire evening on the car. He even had his dinner, sitting on the car.
The 12-year-old Kärolin, a big fan of the TV-show "Our year in Siberia", got the book by the same name. "Super present, super present!" she only said and she was gone, to her room to read the book.
The 12-year-old Kris, big into drones, was waiting for his present, holding his breath. The chatty boy who generally comments on everything and can be seen everywhere was completely quiet throughout all of this. When the remote control helicopter he had been wishing for appeared from the wrapper, he had eyes for nothing else.
The 11-year-old Kelly got an inflatable sled or a snow tube from Santa. She was very happy and especially because this is now her very own. She handled the sled very carefully: did not dare to put it on the floor, but then still quickly pumped it up to see what it looked like.
Saskia, 11, was hoping to get a Barbie for Christmas, to comb her hair, and was happily hopping at the sight of her dreaming coming true. After Christmas, she put the patience of her teachers to test, appearing from her room every 10 minutes, showing the new hairdo of the doll and the technique she used.
Maybe it is the real Santa...
For the children of one home, this Christmas was also special because before Christmas, each one of them had received a personal letter from Santa Claus. With the help of the "teacher-elves", the Santa Claus of a charitable society was aware of the progress every child had made this year and wrote about what mattered to every child. The letters were so authentic that the little ones had no doubt it was the real Santa who sent them the letters. And not to ruin the Christmas fairytale (at least for the little ones), the elves secretly informed the visiting Santa Claus of the letters, so that he could ask everyone whether the letter reached them nicely by mail and whether they had read it through.
Christmas joy and wishes coming true made a few older children a bit suspicious as well: maybe it is the real Santa... Most children were very happy with their presents, everyone got what they wanted – but then again, the real Santa is indeed supposed to know the dreams and wishes of every child.
The presents lifted the spirits and quite a few children revealed the better part of them, which made them kinder and livelier. The 11-year-old Ira was very happy with her MP4-player – this became the inseparable companion of the dance-enthusiast. Ira was in a great mood the entire evening and the most eager to help the teachers clean up after the party, which made the mother of the family very glad as usually, the girl is not at all interested in cleaning.
Artjom: "Playing together makes us closer"
The 8-year-old Nikita spent almost the entire evening racing the new remote control car along the rooms. He had never had a remote control car before. As Nikita likes to take good care of this things, the box of the new car was turned into its home, the garage, where the car could sleep at night.
Nikita's 13-year-old brother Artjom let his younger brother join in when assembling his lego-car and started teaching Nikita, like older brothers do, how to do it properly. Nikita carefully watched and listened as Artjom read the instructions and showed where to put something. Artjom said: "I really liked today's party and Santa who sent me the letter and handed out the presents. I like Christmas parties, fireworks and decorated Christmas trees. And at Christmas, I also like it when the town gets pretty, everyone loves Christmas and we have a holiday. My present made me happy, I like assembling construction kits and I can teach my younger brother how to do it as well. Playing together makes us closer."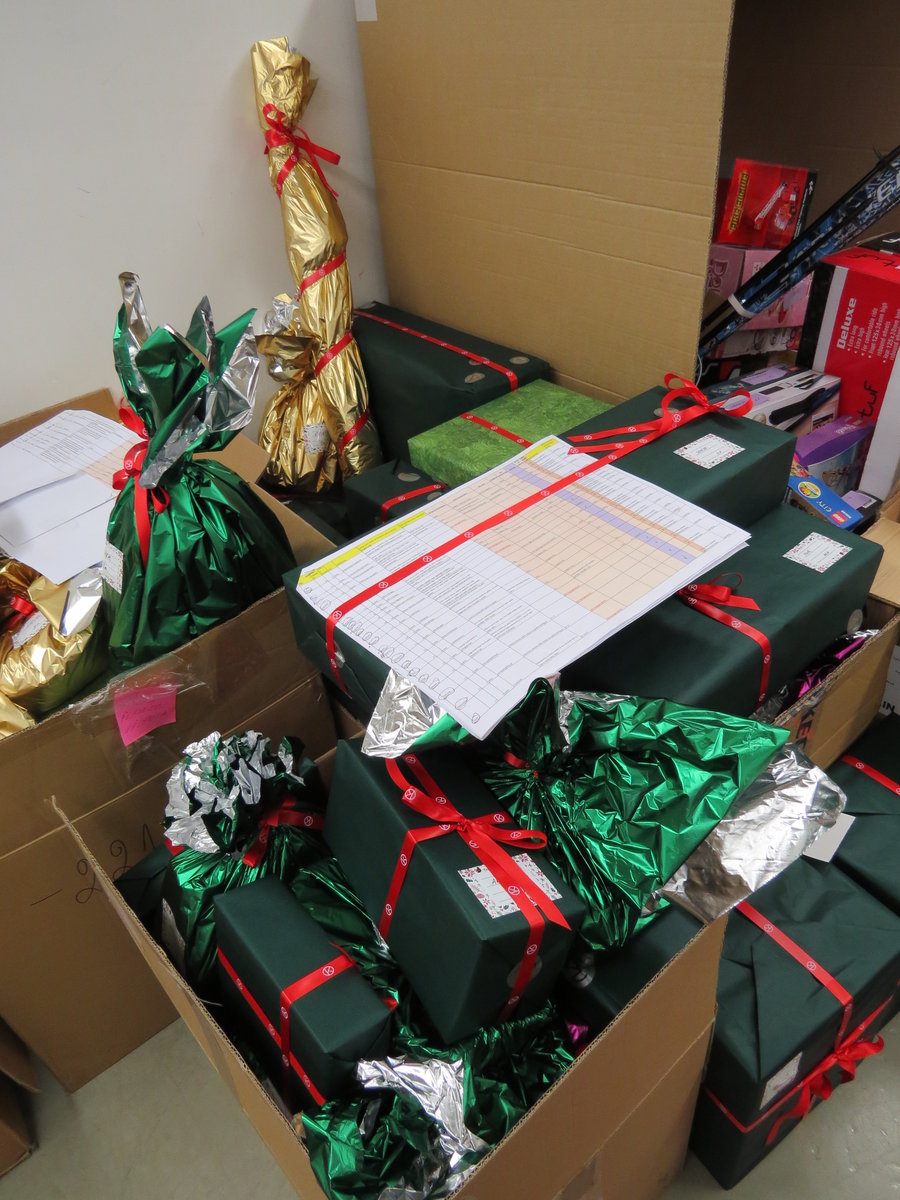 The 14-year-old Maksim was glad to get the shower gel and perfume set he had wished for and promised to use it every day and also to go to training sessions more often (that is, every time).
Afina really likes to draw. Santa brought her a drawing set – now, she keeps drawing, making cards and drawings for presents.
Katja, 3, got a doll bed from Santa, and Ruslan, 2, a nice toy car. The SOS-aunt helped assemble the doll bed and remove the car from the package. Together, they put the bed linen and the baby under the blanket in the bed and quietly carried the bed from the living-room to the children's room as the baby was asleep! Ruslan carefully raced his new car in the room and at bed-time, put it beside his bed to sleep.
The 11-year-old Owe was very glad at not having to skate in his sister's pink skates anymore. He now has his own blue roller skates. The boy is eagerly looking forward to the spring and clean asphalt to go to the park to skate.
The 14-year-old Kerli wanted to get a hairdryer and a nice white one appeared from the wrapper. Now, the girl who likes to take care of her looks can quickly dry her hair before going out to avoid going somewhere with damp hair like has happened before.
Sergei's odd-shaped present and Artjom's dashing solo
At some homes, teachers discussed with older children where the presents given by Santa Claus actually come from. The teachers thought it important to make the youngsters understand nothing comes just like that, someone gives their money for this. A teacher writes: "The teenage Meelis is aware of the fact that people donate money so that the charity fund can buy presents for the children. However, he cannot really grasp the whole concept because for as long as he can remember, he has had a roof above his head and food on the table (in his subconsciousness, there are probably other experiences as well from his early childhood, but consciously, he does not remember them) and he cannot truly perceive the life of a regular family. Where there is constant worry, to a greater or lesser extent, about how to manage financially and where the family needs to save on food to buy presents for the children, etc."
The bigger ones can discuss things, but in the case of the smaller ones, their faces and actions speak the loudest. The 7-year-old Sergei was the first brave one in his family to recite a poem to Santa. When he saw his present, he looked a bit disappointed at first, thinking it was something boring – the oblong package looked so weird and big! As Sergei did not know what to put in his Christmas wish list in the autumn, the mother of the family put his wishes on paper, taking into account his great interest in sports, so the present was a surprise to Sergei. And at first, it seemed, it was a disappointment... But when he found skis and ski poles inside, he was sincerely happy. And it seemed the others were a bit jealous. Anyway, Sergei thought the skis would help him become a better athlete. The next day when the first attempts to ski had been made, the boy thought he will become a skier when he grows up.
The 10-year-old Artjom surprised everyone by going to Santa second and announcing he would like to dance for Santa now. Usually, he keeps to a distance in situations like this and watches the others perform, but this time, he took the initiative and performed a great improvised dance. He has great musical hearing and a sense of rhythm, so it was an excellent dance! And it was really great to see how he enjoyed himself and the attention of others.
Janne: "I really didn't believe Santa would read my wish, but he did, didn't he!"
In one family, the children discovered when waiting for Santa that there was no chair for Santa – how could he have a seat then? Together, they found a good chair, put it by the Christmas tree, but Santa still did not come... Then, the children recalled that in the kindergarten, Santa always comes when they call him out together, so they opened the window and did that. And oh, the wonder! After three shout-outs, Santa's little sleigh appeared!
Janne, who had wished for an MP4-player, was extremely happy: "I really didn't believe Santa would read my wish, but he did, didn't he, otherwise he wouldn't have known to bring me exactly the MP4 I had wanted. I have even dreamed about it!" The teacher said that this present will help the girl feel special and the sincere joy and happiness radiating from the girl was a lovely sight.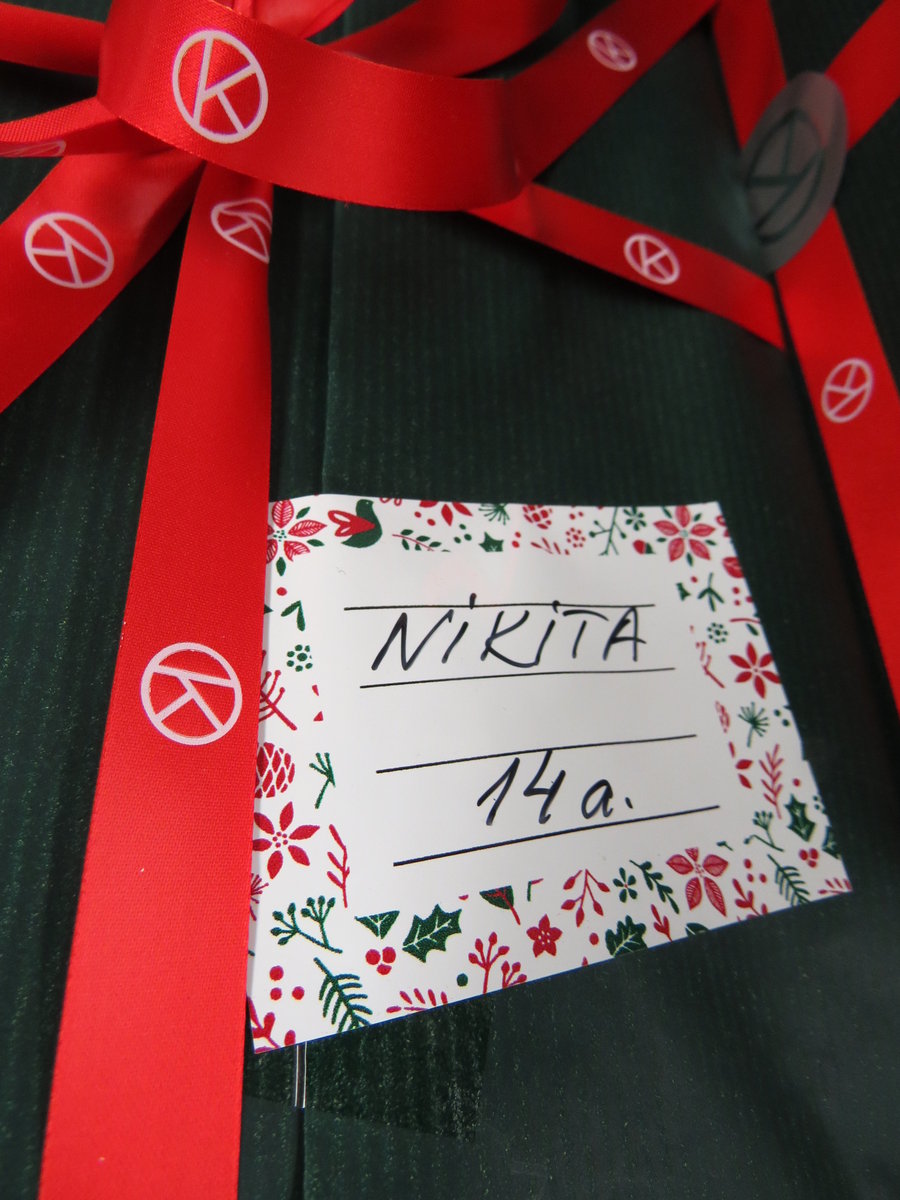 The 10-year-old Deniss, who is very restless by nature, was busy with his lego for quite a while. The 7-year-old Katja and the 5-year-old Kärola, however, opened two hair salons and visited each other – they were very happy with the doll sets they received.
And the next day, the 15-year-old Kiira who got nail decorations from Santa, turned the teachers' nails into real beauties. The teachers saw that the girl was really talented at this – at first, they had thought she just wanted to get something that was popular, but seeing how dedicated and glad she was to do the manicure, they thought it was a great hobby for her.
The 10-year-old Siret has always done up her hair at festive occasions. The crimping irons she got as a present from Santa helped her make the hair of every girl in the house beautiful the next day.
Triin: "Now, I'll never get bored anymore"
The 17-year-old Sten-Robin, who actively participates in the activities of the Defence League, wished to add a water bag to his equipment. Santa brought him what he wanted and he was very glad. He showed everyone how to use the bag and the mother of the family held her breath, hoping the bag would not break – as then, there would probably be water everywhere. But everything worked just fine.
The 16-year-old Heldur who lately has been outgrowing his things tried the ski boots on right away, just to be sure, and oh, the happiness – they fit!
Jaanika, 14, had been dreaming about a hairdryer as her thick hair takes a while to dry. The present given by Santa appeared to be a really beautiful white high-quality hairdryer with various brushes. "White is just what I had been dreaming about; I thought I'd probably get a regular black one!" Jaanika rejoiced.
The 11-year-old Triin, however, got a completely different present. She enjoys watching helicopters fly high in the sky. She wished for a remote control helicopter and got one. "Well, my present is super cool. Now, I'll never get bored anymore. I can fly my cool helicopter. The other children liked my present, too, and they waited to get their turn to try it out. Now, the first thing I think about each morning is where my helicopter is. My 15-year-old brother said right away he wants one, too," Triin wrote.
Poetry – not that easy!
Reciting a Christmas poem is not as easy as the bystanders might think. But in a family of smaller and bigger ones, help is always there at hand: when the smaller ones messed up their poems, the bigger ones took over. There was lots of fun and the children were so happy to get their presents.
The one-and-a-half-year-old Felix got a walking frame from Santa. The little boy's eyes went big at the sight of his new "vehicle" – his hands started fidgeting and his mouth started talking at the same time, there was no stopping this cheerful chat. At first, the boy was a bit scared to step in the walker, but he will definitely have the courage as he is in a stage of quick development and learning.
The 14-year-old Egon wrote to Santa that he had outgrown his old ski poles. "I have been to the Otepää ski camp every year, I hope to go this year as well." When he got his present, he unwrapped the ski poles and went skiing after Christmas lunch. Kevin put up the Christmas lights he got in his room – he really enjoyed his present.
Magnus and Rasmus going to the sea in a sink, Kelli's cuddly toy, Tiina's easel and Reeda's kitchen
The 10-year-old Magnus and the 11-year-old Rasmus are brothers, who wrote to Santa to say that they were very sad at the fact that they had never been to the sea in a boat. The boys wished to get a remote control ship for Christmas, so they could prepare for their future seaman careers. And they did get these ships for Christmas and were both very happy. Even though there is nothing to do with the ships in the winter, they are already planning on racing the ships in the lake next to the house. Until then, they can try out the engine in the sink as well!
The 13-year-old Kelli loves cute and furry animals. So she wanted another big furry cuddly toy for Christmas and was very happy with her new soft buddy – even though she has a bedful of these already, it is never too much for her.
The 8-year-old Tiina wrote to Santa that she missed having an easel and a colour mixing palette. Santa brought her what she had wished for and the young artist made some great paintings using the new easel the very same evening.
The 8-year-old Reeda, however, is a big fan of cooking for her dolls. Santa knew exactly what to do – the toy ice-cream maker and cooking set and Play Doh made the girl very happy and the dolls were all full after a great feast.
Liis: "See, teacher, I smeared my make-up..."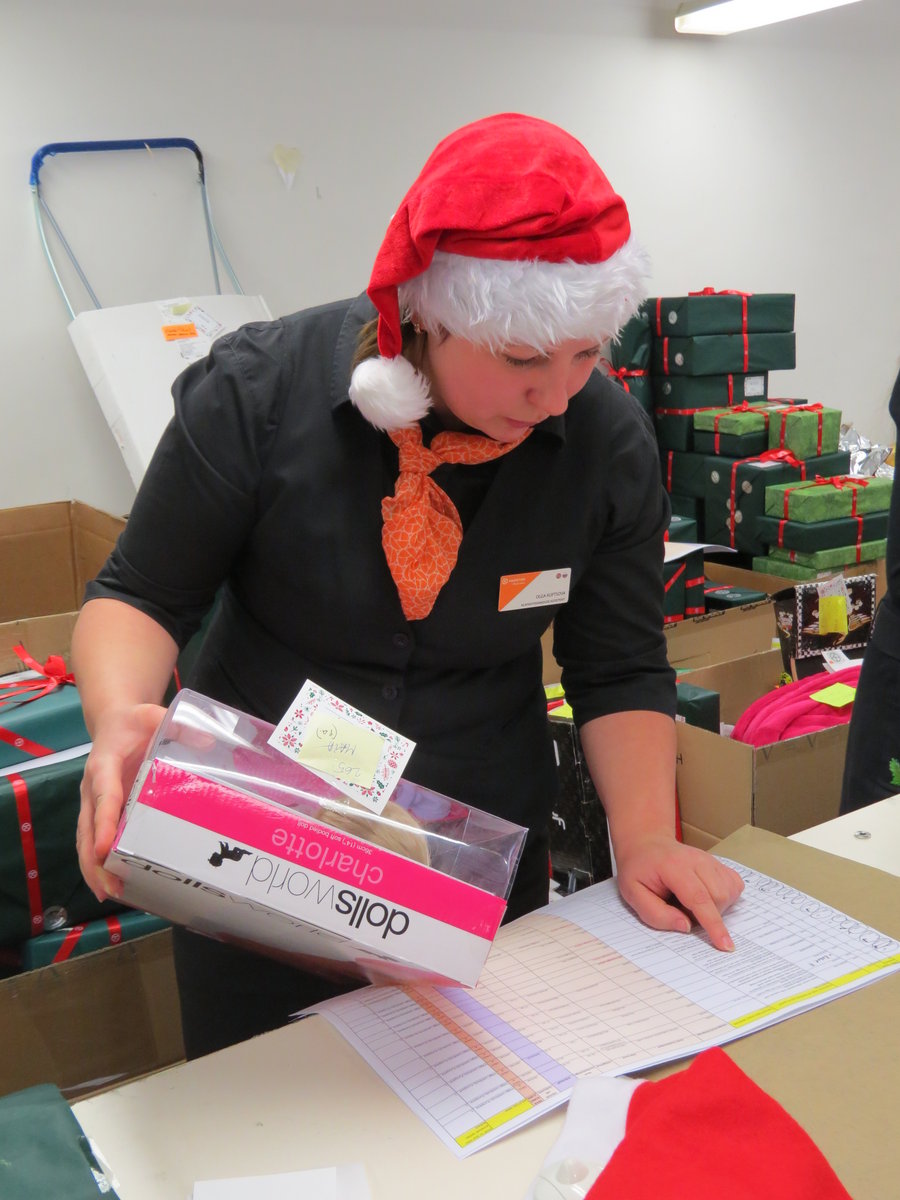 At one home, the excited Santa Claus did not find the right door straight away, so he knocked on all the doors, just in case. He finally found the right way in, and the children were there waiting for him. The children had prepared well for their turn: they recited poems, did push-ups – whatever they could – so that Santa's jaw dropped with surprise quite a few times.
After the visit by the Santa, the 13-year-old Kenneth was eagerly looking for a CD-player – the others did not understand what he needed it for, but then it appeared that he had got a CD by his big favourite, Ott Lepland, so he just HAD TO listen to it right away.
The 11-year-old Karina dreamed about a steerable sled. And she got one – the sled was wrapped, disassembled, but the industrious girl decided to assemble it on her own. It took a while, but the end result was great! The girl would have liked to go to the hill with it right away to test it out, but the teachers were able to talk her out of it: it was already dark outside, so it was better to wait until the next day.
The 15-year-old Karl was very happy with his first VERY OWN phone – he had had others' old ones so far. The 18-year-old Kadri was eagerly studying her make-up set and told her sister there would be some making up done the next day. And anyway, the Christmas holidays better be over already so she could show her present to the others at school.
The 15-year-old Liis got a CD by her favourite, Isac Elliot. She celebrated her present from the elf with a great song. There were tears of joy in her eyes and she didn't even try to hide them, only said jokingly: "See, teacher, I smeared my make-up..."
The 2-year-old Karl, however, spared a spot in his bed as well as lots of hugs for his new teddy bear.
"When I grow up, can I donate as well?"
A teacher of a family wrote that a couple of older girls who knew the presents had been made with the help of the donors to the SEB Charity Fund asked about what the fund does. When the teachers explained, one of the children asked if she could donate as well when she grows up and starts making her own money. After getting a yes in reply, she nodded thoughtfully.
The visit by the red-coated man left the tracks of a modern sleigh outside, and inside, there were cheerful children busy with the presents received. After opening her present and seeing the magic fairy wand inside, Kati hugged Santa as a thank you. The joy in Kati's eyes was that sincere and happy that even Santa, who has seen a lot, was surprised at such gratitude.
The 19-year-old Erte is a big fan of jigsaw puzzles. She got a 1,000-piece dolphin puzzle. In a few days, there were about a hundred pieces less in the box of the giant puzzle – but no, these were not missing, quite the contrary: the "puzzle master" had put together about a hundred pieces of the picture. The teachers joked that it was as if Erte had moved out. Actually, she was busy assembling the puzzle in her room.
The reading enthusiast Henriette, 11, was very happy with her new book. She is one of the youngsters who can appreciate books among all this current technology and who read books in their free time. Henriette got a collection of Christmas poems and tales. "Now I don't have to ask the teachers to find me poems anymore. Now I have it all here," she was glad.
Märt's "two hoorays in one present" and Eveli's first riding metres
The 14-year-old Märt is a boy whose present can be described with the words "two hoorays in one present". He was so happy that his wish came true: there was a package in Santa's bag for him with a watch inside. Another emotional moment for the boy was on 26 December when he was taking a closer look at his watch: "Wow, there's a stop watch, a timer, an alarm and a calendar there in addition to time?!" Märt named it a decent sports watch.
"The best thing ever" at one home or the most popular present appeared to be the scooter of the youngest one in the family, the 4-year-old Eveli. The small size and comfort of the scooter allowed it to be ridden inside as well. After Christmas, Eveli covered her first metres on her first ever bike-like vehicle. So here, the kind donor can be proud – you did not hear Eveli's first words or see the first footsteps of this young princess, but you should be proud to know that her first bike riding metres and experience come from the scooter she got as a present!
Rescue chopper brigade and just the right CD
Four children in a family (Renno, Quentin, Hans and Mihkel) got remote control helicopters for Christmas. These boys share an interesting hobby – rescuing and everything related to rescuing. The boys attend the young rescuers' camp as well. The new helicopters allowed them to make a new unit – the rescue chopper brigade! It is just brilliant what they came up with. The teachers were glad to see how the children use their imagination to come up with stories and create legends and apply their social skills to make everything go smoothly. You never know, maybe this is a basis for some of these players for working in the Flight Squadron of the Police and Border Guard Board one day!
The 17-year-old restless Kuuno really enjoys his present – the CD with fun music – it helps him calm down and focus on the music. Kuuno is rather picky when it comes to music, so it is amazing how the person who chose the CD has been able to understand this young man's feelings. This music is exactly to his liking!
Little special presents and lots of joy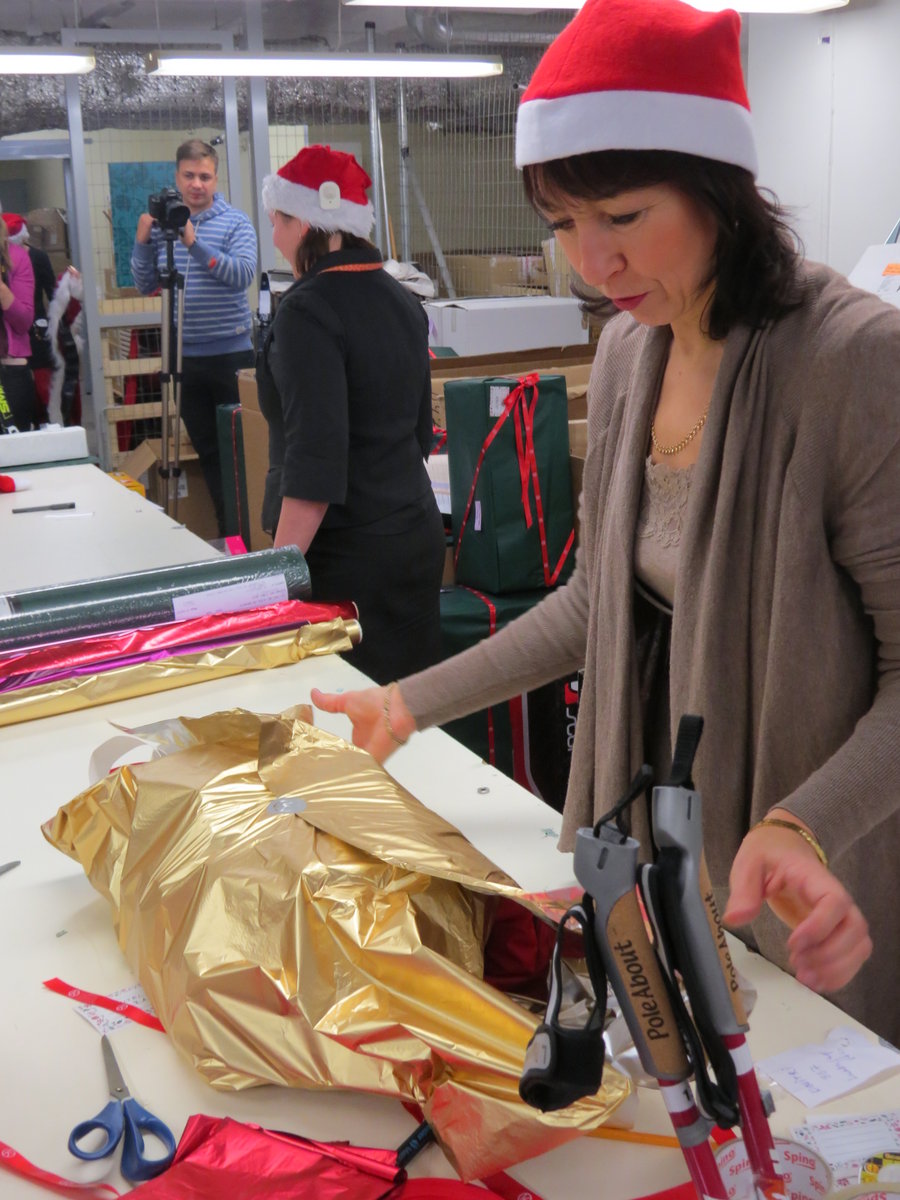 The 12-year-old Christer only plays alone and really likes to knock and shake things. His present was a great set with a hammer and other tools, making him very happy and busy right away. The 8-year-old Hanna really likes music and likes to make sounds; the little synthesiser that was her present brought her lots of joy and excitement. There was a lot to discover throughout the whole day.
The 13-year-old Sven with special needs is a very restless boy. Santa Claus brought him various rhythm instruments to help him find balance with the help of these sounds. Sven unwrapped the instruments and got busy. Later, it took a while for him to switch over to other activities again.
The 19-year-old Boriss got a very useful present from Santa – an electric shaver. At first, he did not understand what it was as he had never used one before.
Annette, 7, was really looking forward to seeing Santa. Opening her present, she was ecstatic and jumped with joy – the cash register was exactly what she had missed! When Santa Claus left, the girl played shop so eagerly she had no time for any other activities. Anette showed everyone how to play and invited them to join in.
The 6-year-old Lizette is a blind girl who was absolutely smitten with her present, the talking dog; she knew right away where to press to make the toy talk. She took the dog and went to bed to enjoy one-on-one communication with the dog.
The 15-year-old car enthusiast Markus got a red remote control Ferrari to play exciting traffic games with. Maxim, 13, got a CD with well-known Estonian children's songs. He was very glad – he shrilled with delight and laughed once the music started playing. The afternoon turned into a little song festival: those who knew the words, sang along.
The 12-year-old Mark's present was a pair of leather gloves. He put them on immediately and refused to take them off – until he finally got to try them out outside.
Not rich, but big-hearted
At one home, the children asked if only rich people who have lots of money make the donations. They learned that there are very many of those who are not rich, but big-hearted and care about those in need.
The 12-year-old technology-enthusiast Martin got a remote control helicopter. He impatiently unwrapped it and hurried away to play. He didn't even feel like eating cake! He flew the helicopter the entire evening. Loaded it and flew it.
The 17-year-old Karl had wished for an MP3-player to listen to music on the way to school. No-one managed to make contact with the boy in the next half an hour. His eyes were nailed on the display and the main thing to "worry" about was how to load lots of music on the player. So he spent the evening at the computer.
The 15-year-old Richard was given boxing gloves by Santa – just like he had wished. Richard is into sports and has grown out of his previous gloves. Now, he had a chance to get new ones and he was happy: he tried them on and performed a few boxing moves.
Ander: "With a great spinning rod like this, I can catch some fish to fry in the evening!"
At one home, the arrival of Santa Claus brought lots of excitement because his bags were so big he barely fit in the door. Accompanied by the children's happy shrills, he sat down in a comfy armchair by the Christmas tree... Sat down and started talking about his long journey and heavy bags full of presents... He could not speak for very long – the little boys and girls already hopped on his lap and started pulling on his beard. So he had no other choice but to start handing out the presents because those little sparkling eyes were REALLY looking forward to it.
The 16-year-old Ander's present had already captured his attention in the bag as it peeped out of the bag, wrapped in green paper. It was the spinning rod he had wished for. The boy was very happy: "I was really looking forward to this present because I like to fish and I've had a very lousy rod so far. Now, when at my grandmother's in the summer, I'll probably forget myself by a river or lake. With a great spinning rod like this, I get to practice my hobby and catch some fish to fry in the evening. I'll be happy and full."
The 14-year-old sports fan Janek found white basketball shoes in his gift box and immediately got everyone's attention. He put them on and looked sincerely happy. If one teacher asked for help reciting a poem from children, Janek was the one to hurry to Santa and show his new shoes to everyone while doing the boogie-woogie and expressing joy over his present. The boy said he'd go to the basketball training feeling great now, in his new shoes.
The 12-year-old Andre was sincerely happy at the sight of a new sports shirt. He said it was a cool shirt and that he liked it.
The 24-year-old Kati wrote to Santa saying that she really enjoys candles as candles create a cosy atmosphere. When she opened her present and the others also saw what was in it, she looked very glad. "My dream came true; so many beautiful candles. I can enjoy candle light at Christmas and New Year's Eve and just when I feel like thinking about something in candle light. I am so happy and pleased with the present and these candles will last me a long time."
The desired sports bag, a fancy watch, a princess puzzle and a truly own photo camera
The 15-year-old basketball enthusiast Anar showed everyone the desired sports bag, which was just as big and youthful as he had wanted. "I will gladly take it to my basketball training," he said. The other boys also praised his present, which made him even more glad.
Tatjana, 9, was super happy when a watch appeared from her package and she put it on her wrist. She pulled her sleeve up to her elbow to show the watch off to others. She demonstrated the watch to everyone and told the time. "Now, I shall not be late for anything again," she promised.
The 7-year-old Aleksandra opened her present with the help of the teacher and her whole face lit up at the sight of a beautiful princess jigsaw puzzle cover picture. "Teacher, now it's like I don't exist anymore because I'll be really quiet when playing with this," she chatted happily.
The 13-year-old Natalja's eyes showed real joy: "I have my own photo camera now. There's a manual with lots of instructions in it; I need to read it through and learn how to take photos with this camera. Tomorrow, I will go to a riding camp and there, I will take the first photos of our favourite horses and ourselves, the riders. I am really, really glad I finally got this present."
Dmitri: "I'm glad I get to wear such fancy shoes at basketball competitions!"
The present for the 4-year-old Liza was so big that the teacher had to help lift it. Seeing a doll and kitchenware in the package, the little girl took the smaller plastic package that was in the bigger one, cheerfully went to Santa and called out: "My dolly, my dolly."
Dmitri, 10, got his present and was cheerful when opening it. "Janek got white shoes, I wonder what mine look like," he said. Seeing the fancy red shoes, his face lit up; he took the shoes and immediately put them on. "Great shoes! And I'm glad I get to wear such fancy shoes at basketball competitions," he stated.
After opening her present, Ele's eyes lit up. She checked the length of the trousers right away: "Just the right size, the black colour matches my reddish coat," she happily said, adding she can wear the trousers soon on the trip to a sumo tournament in Hungary.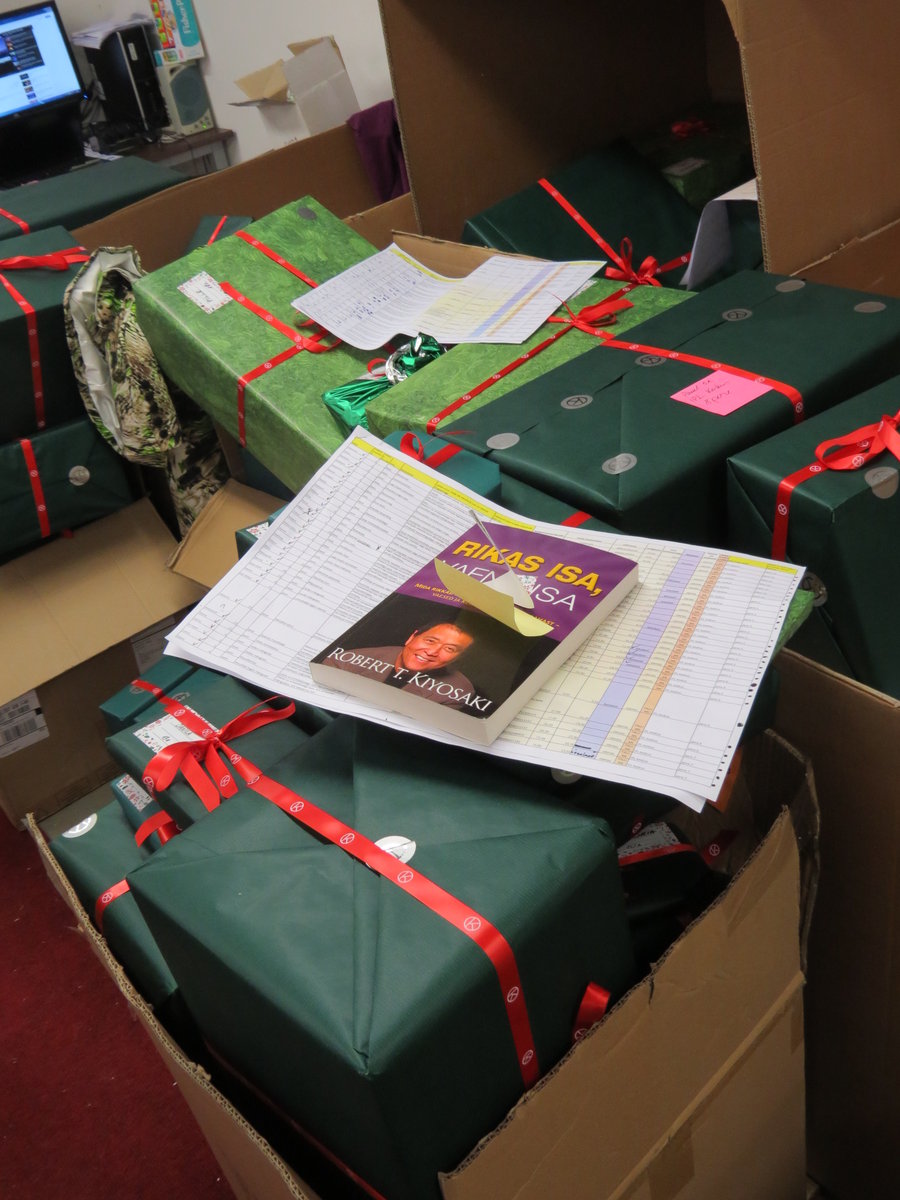 The 5-year-old Martin had wished Santa would bring him a tractor with a loader. And he got one. He was really glad and started trying out the movable parts of the tractor. There was lots of joy and happy shrills when he showed the tractor to others, explained what was moving and that in the summer, they could dig sand with it in the sandbox.
A teacher opened the present for the 2-year-old Ander and when a cute toy animal appeared, the boy shrieked with happiness and did a few victory laps before taking the toy in his hands. The toy dog went woof-woof and moved towards Santa, with Ander and all the other smaller children shrieking and jumping after it.
Peep: "Santa Claus is a really nice person, he never forgets anyone!"
Instead of Santa, one home was visited by the elves who secretly put the shiny presents under the Christmas tree. Everyone was there on all fours, handing the presents to others. There was a question: "Do the children at home also get such great presents?" Peep replied wisely: "Santa Claus is a really nice person, he never forgets anyone!"
The 13-year-old girl guide Kerli looked at her suitcase and sighed with relief: "Now there are no obstacles in the way of visiting my sister."
A teacher wrote that the 17-year-old boy in their family, who got a book, came to her afterwards and said: "It seems to me I had the most reasonable gift request." The teacher writes: "I watched him at the Christmas party and found myself thinking some children have missed the joy and fun of childhood. He went to Santa, whispered something in his ear. Santa nodded and then, he sat on Santa's lap and a photo was taken of them (he was bigger than Santa)..."
A little boy who got a dump truck was so excited that he didn't even care about food or round dancing. He only hid behind the couch with his truck to play on his own. A girl already had a gift request for next Christmas: a Monster High doll.
Elves really, truly do exist!
At one home, Santa came inside and said it was very difficult to find the children – there is no snow; so now, he is tired, the elves are missing and he left the presents somewhere on the road, he just couldn't carry them anymore... The children were startled. The 16-year-old Kätlin asked loudly: "Oh my god, what are we going to do now, everyone is waiting for the presents?!" But then, Santa Claus said ho-ho-ho, look, the elves had been missing because they had put the presents under the Christmas tree! And indeed, there were sleighs there with presents on them. The children were reassured that the elves really, truly did exist! Everyone was happy again and couldn't wait to recite their poems and dance for Santa Claus.
The 13-year-old Jaan-Robert was fast and quickly unwrapped his present: wow, a mobile phone! Now he gets to call everyone to let them know what is going on and what Santa brought! Ketu, 2, looked at her new doll with big eyes and then held it tight and wanted to check out whether her eyes were real as they kept moving.
The 19-year-old Rando got the harmonica he had desired and tried it out immediately. There was silence for a moment as Rando played a beautiful song, being really happy about that. The 12-year-old autistic Robin was so busy with his talking dog that he forgot all about the surroundings, kept laughing and petting the dog.
The children in wheelchairs got to enjoy their presents when the teachers put the lights and blinking things by their beds so that they could enjoy the lights lying down. Martin shrieked with happiness at the sight of the lights blinking.
The children for whom it was the first Christmas at the shelter were especially glad and excited. Their wishes had come true and they probably didn't really understand Christmas was different this time, something they haven't experienced before.
Hugs to the teacher instead of a poem and contagious excitement
At one home, older children did not recite poems when handed their presents; instead, they hugged the teacher hard and made promises about what they could do better next year. Some children promised to help out more in the kitchen and start cooking various dishes, some promised to keep their rooms tidier and quite a few promised to study harder.
The 6-year-old Kristjan doubted whether Santa knew he wished for a remote control car and repeated his poem. Those who got gift cards discussed who to take along and when to visit the shop to see what to buy. The 14-year-old Kelly was very happy with her speakers and said there was plenty of bass in them.
The little Grethe-Ly, who is so small she doesn't really understand the concept of elves and Santa just yet, was just as excited as everyone else – it was probably due to the others being so happy. At the end of the day, everyone was tired and quite a few of the smaller ones went to bed with their presents or placed them so they could see them from the bed.
Reinis: "I really-really-really liked it. I really-really-really-really did!"
It took a while for the 2-year-old Tõnu to unwrap his present. When the toy phone finally peeped out, his face lit up and he only said "Wow!". Jaana felt double joy as she found two PinArt toys and an elf in her package. She thought it was the best present ever.
Juulia, 3, was a bit disappointed at the size of her baby doll: it was a regular doll. She had expected a bigger one – a real baby size. She didn't even want to name the baby right away. But later when she prepared for bed it took a while as the doll was missing and there was no way she could fall asleep without the doll. It took quite a while to find the doll and put Juulia to sleep together with her baby doll.
Renee, on the other hand, was really impressed with the size of his present. There could have been anything in there, it still would have made him happy. But oh, the joy! There was a sleigh inside! The boy did not care for the poor weather, got dressed and hurried outside to try out his new vehicle.
The 12-year-old Cäroly was fascinated with her new hairdryer. She got a present that is no children's toy and she felt like a young woman – and that felt good! Renzo, 6, got a scooter and thought it MUST be really expensive – after all, it's a scooter!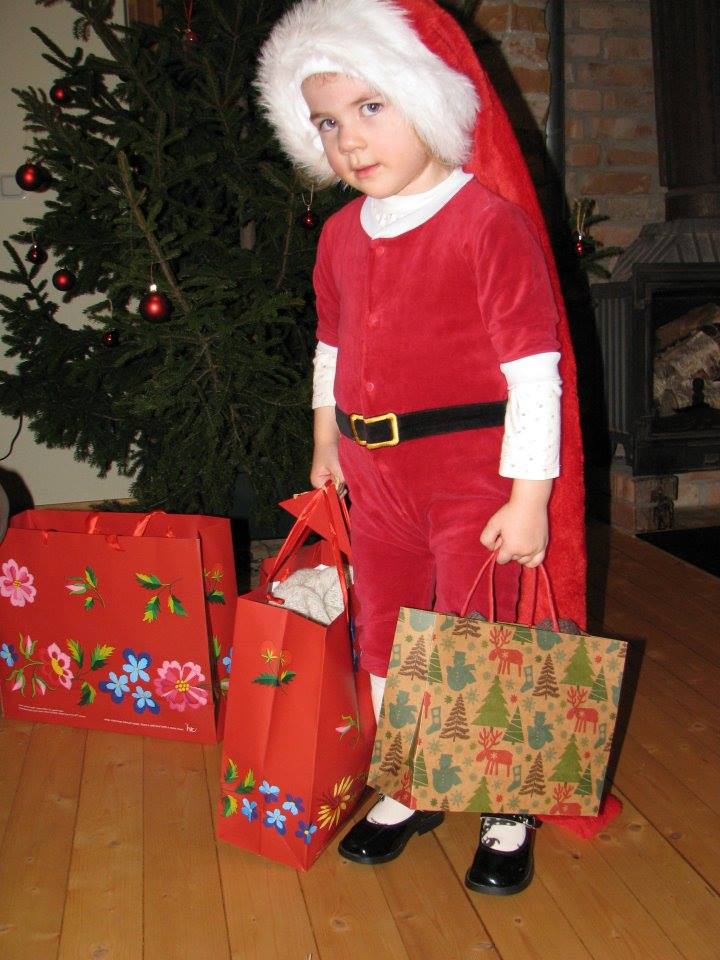 The 10-year-old Reinis could not wait to open his present. He only said: "I really-really-really liked it. I really-really-really-really did!" In the evening, everyone had to watch their heads to avoid bumping into the remote control "flying contraption".
"That big?" and "exactly the right size" presents
The 15-year-old Margus who had wished for a remote control monster truck was happy: the truck had big and powerful wheels just like Margus had wanted. Luckily, the batteries lasted through all this racing and the truck worked just fine the next morning as well.
The 9-year-old Artur was surprised seeing that his present was SO big. It was a steerable sled.
The 16-year-old Roman wished for a gift card for an electronics store. After opening his present, he hurried to the store and even forgot to eat the Christmas cake. He came back with a router and was very happy with his choice.
Mai, a 19-year-old school-leaver, got her dream curling irons with various cool barrels. First, she tried them out on herself and later promised to make others hairdos as well. She really liked her present.
Anton, 14, was very happy as he finally has a solution for travelling with his laptop. The laptop bag was just the right size and the mouse was awesome – wireless!
The little Mai got herself a Moominmamma toy and two "Train was going choo-choo-choo" CDs with children's songs. There was plenty to do in the evening: the children at the shelter were all dancing to the music on the CD, they had a disco. At bedtime, Mai took Moominmamma with her.
Kai got a picture game and the book "The little mole and a titmouse". At bedtime, Kai and Mai enjoyed a bedtime story from the new book. The 2-year-old Sander was very happy with his big lego pieces and took the set with him to the kindergarten to show it to others, too.
Ago: "Someone wished me well making me this present. Thank you!"
At the youth home, the youngsters without parental care live a half-independent life at a home that looks like a commune; they manage and organise all their daily matters on their own. At Christmas dinner, it was nice for them to sum up the year and talk about topical matters. It is a great opportunity to bond for both those who are still living at the youth home and those who already live in separate flats – to talk about the fears, worries and, of course, delights of starting one's own independent life.
So the evening was high-spirited this time as well and there was lots of chatting on every possible topic. The youngsters do not go to their "former" home (foster family or substitute home family) to eat or get a present, but to bring them a present. The youngsters from a substitute home sometimes tend to get stuck in the role of a victim with their harsh life experience, so it is great to see they can appreciate the joy of giving.
When talking about what is important at Christmas, Ago thought good food is definitely one. But in addition to food, Christmas is a time of being with your loved ones and taking time for them in your busy lives. As Ago is not that successful yet at managing his finances, he did not know if he could make presents for his brothers for Christmas. He thought if he had the money, he would bring them chocolate.
They talked about expectations for the new year as well. Ago is expecting to lead a normal life, but doesn't really specify what that might look like. He is a mentally challenged young man who has trouble adapting to change, which is why normal life probably means stability for him.
The radio clock he got as a present was something he had wished for quite a while already. He was glad he could listen to music now. Ago enjoys Estonian pop music the most, his favourites are Ott Lepland and Birgit Õigemeel. The teachers hope that with the radio, Ago can sleep in his own room and his own bed again. He is afraid of silence and solitude, so he had been sleeping in the living-room, accompanied by the TV that was on all through the night. Now, he can turn on the radio in his room and feel more cosy and safe in there. And Ago put down the following words: "Charity is a good thing. The people who cannot afford to buy themselves and others any presents can get something they need. Someone wished me well making me this present. Thank you!"
Sandra: "This Christmas present helped me"
The 20-year-old Rainer is in the habit of immediately responding to any wishes the girls might have. He tidied up the room really well for Christmas. The wishes of the girls have an effect on the 19-year-old Dima as well.
His present came with a guessing game. As usual, he didn't want to show his present to others, so the girls started guessing what he got. Sandra was the first to guess he got earphones.
The 18-year-old Sandra, who on the Christmas wish tree wished for a book on cinematography, is studying to become a stage director. She enjoys acquiring professional knowledge and putting it to use. After graduating from the Bachelor's studies, she wants to enrol for Master's studies for three years, of which two will be spent in Lisbon and Berlin. She is talented at languages and eager to learn them. So Sandra got the book she had been dreaming about and was very pleased with her present.
She writes: "For Christmas, I got the book "Film Theory" by Robert Stam, which is not only very well written, but also great comprehensive study material for a film student, and I am one. This book is pretty expensive and I wouldn't have been able to buy it without giving up some other important things. Film is one of the most important forms of art for me and I wish to engage in it in the future as well, so I want to read a lot about it, which the Christmas present helps me to do."
Emily: "In the future, I will definitely help those in need"
The 18-year-old Emily: "This year, I had a great Christmas and next year, I will be taking my driving test at the Motor Vehicle Registration Centre – I want to get my driving licence. I am very happy with my present because it is something for my future when I leave the children's home in a year and a half. I am surprised there are so many good people who want to help children. I think in the future, I will definitely help those in need. Thank you all who helped to organise this campaign!"
The 18-year-old Anna: "It is important for me that it is cold outside and there is snow at Christmas and New Year. Because everyone knows Christmas is the time for wishes to come true, like in fairy tales. And if the town is covered in fresh snow, it feels like we are all in a fairy tale and there is no doubt all your wishes will come true. Next year, I would like to meet new great people and find some good friends. My present will help me out as it gives me a chance to look good and feel more confident and bold and then it is easier for me to communicate with others. Next year, I would also like to find a hobby that I can really enjoy and that won't bore me.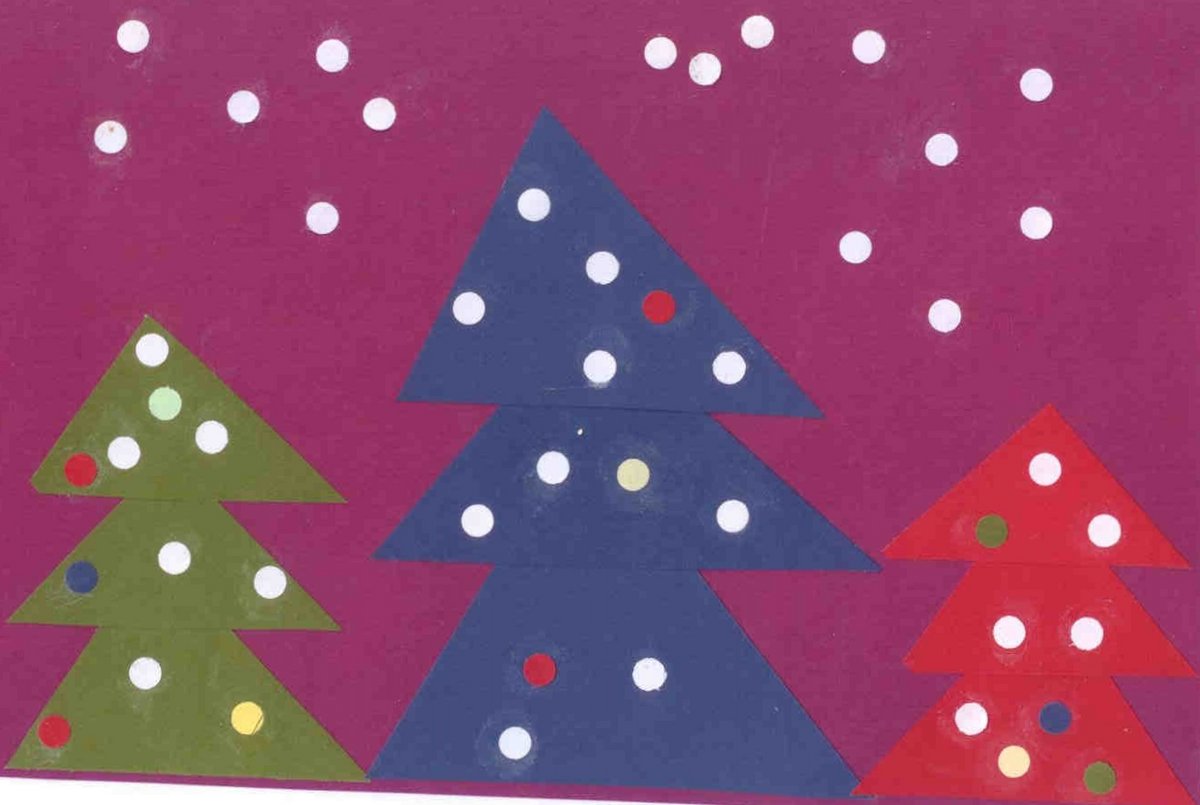 I know the "Christmas wish tree" is a charity campaign and the organisers are very understanding people in my opinion. They know attention and care is important for every child and no less important than food and a house to live in. The children at children's homes have good food and good living conditions, but they lack care and attention as there are many of us here. These charity campaigns help children understand there are lots of good people in this world. Not only problems and worries, but also kindness and love. In a way, it develops children, sets them a good example and in the future, makes them think about other people because they have experienced it and know how nice it is if someone helps you and thinks about you. Thank you all!"
 
Participate
Thank you, if you have already supported our charity programme or if you are going to do it in the future! Sign a standing payment order contract in SEB Internet Bank for 3 euros a month or support with a single donation.