Jõulusoovide puu
The Christmas wish tree is made up of the dreams and wishes of children in shelters and substitute homes, sent to Santa Clause. To make sure that these do not just remain dreams, pick a gift from the Christmas tree and make a donation to the best of your ability.
www.heategevusfond.ee/joulupuu
The "Ice Age" ice-skating spectacular enchanted children with its grand style
On 17 January, 175 children from substitute homes and safe houses in Ida-Viru County, Central Estonia, Valga County, Tartu County, Haapsalu, Pärnu, Järva County, Viljandi County, Harju County and Tallinn, travelled to Saku Suurhall to take in a performance of the ice-skating spectacular "Ice Age Live! A Mammoth Adventure"– based on the popular cartoon series.
During the gripping and truly mammoth-scale show, everyone got involved in the wild adventures of their favourite characters, to which an element of spectacle was added by the fact that everything was happening on ice. The masterful feats of skating and acrobatics, martial arts, earth-shattering technical solutions, pyrotechnic effects and video installations, along with dancing and singing, provided the children with an unforgettable experience.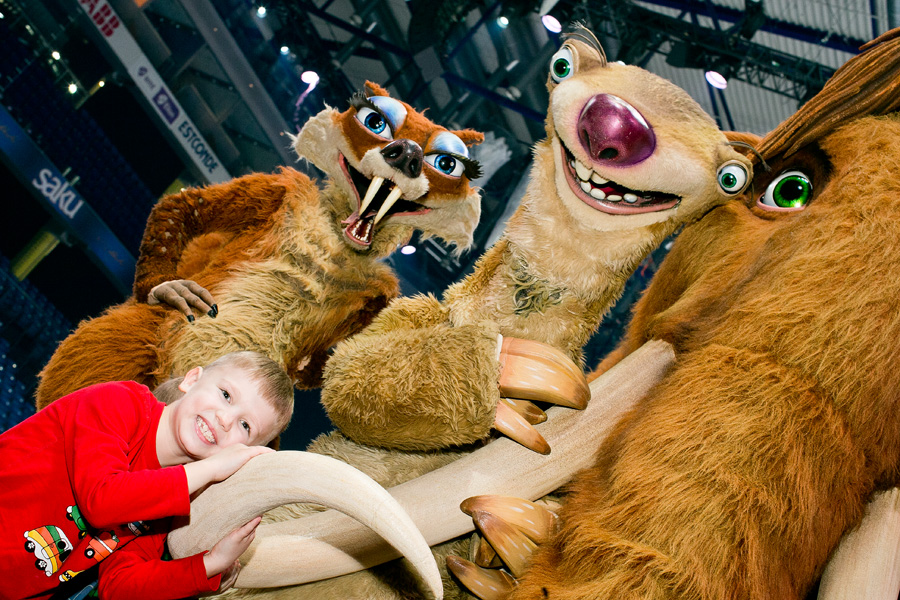 Life-size cartoon characters Scrat, Manny, Diego, Sid, Ellie, Peaches, Buck, Eddie and Crash, along with several new personages, took the children on a journey full of exciting discovery. After the show, our 175 children got the exclusive opportunity to meet with the beloved cartoon characters, with the children able to have their pictures taken with Peaches, Diego, Sid and the others.
The show was so powerful that no child had cause to be disappointed. Everyone was able to find their favourite. Enthralling thudding and jostling, wonderful musical interludes, witty dialogue and action, both on the ground and in the air, also gripped the younger fans of "Ice Age" to such a degree that everyone was singularly focused on watching the proceedings on stage, their little mouths wide open with wonder. The older children admired the actors' skating ability and the technical solutions of the show.
In many of the homes, there was the recognition that skating rose to a place of honour among the children once more – many sighed longingly that they, too, would like to be as good at skating. What is more, the children who are native Russian speakers were inspired to learn more Estonian, to be able to better understand performances of the spoken word in the future. Everybody also learned a thing or two about nature, and animals, and history.
Going to the theatre expands children's horizons, also helping them to understand that if you want to get anywhere in life, you have to work or, in case of a child, study hard. And learning is like building a house: if the foundation has been laid well, the house on top of it will stand up strong, too.
The visit to see the show became a reality thanks to teams from SEB Charity Fund, Live Nation Estonia and Stage Entertainment Touring Productions working together.
Participate
Thank you, if you have already supported our charity programme or if you are going to do it in the future! Sign a standing payment order contract in SEB Internet Bank for 3 euros a month or support with a single donation.