Lastega ja lastele
Auhinnaga "Lastega ja lastele" täname ja tunnustame inimesi ja organisatsioone, kelle uued algatused või pikemaajaline tegevus on positiivselt mõjutanud laste ja perede käekäiku.
Tunnustusauhinna taotluste voor on avatud
15. aprillini
.
Esita taotlus
"This was the first Christmas when I actually had a Christmas feeling!"
02.01.2018
Happy New Year! Dear donor, thank you for helping to realise the kids' Christmas wishes! You can see on the Christmas tree, what present was added to the gift bag for your donation. Thank you for this act of charity!
Christmas is a magical time for all kids, regardless of whether they grow up at their biological parents or in a foster home. This year, many kids living in family and foster homes experienced the real charm of Christmas that they had never experienced before - for the first time, they sat at a beautifully covered Christmas table, read their first verse to Santa or received their first Christmas present. We would like to share the kids' emotions with you.
Opening of a hair salon
This Tartumaa family raises, among others, children with special needs, whose presents were chosen by their teachers, keeping in mind the development of the children. The children do not speak but, however, express joy in their own way. The eyes of the children started sparkling, when they heard the sound of the new musical box, and the lava lamp with its soothing light had a very relaxing effect on the kids who received it.
Iiris and Kadri had wished for hairstyle mannequins and didn't have time for anything else other than dressing the hair. They spent the whole evening and even the following days on it. 4-year-old Kaisa immediately started to play house and give rides to her Barbie doll with her new toy carriage. Elari (11), on the other hand, finished putting together the Lego Ninjago he received as a present in the same evening. And exactly according to the instructions, of course! Elari already has one Lego set from before and he is very skilful in building with it. "The more Lego you have, the better constructions you can make," Elari explained.
The older children of the foster home had slightly bigger wishes and after talking with their foster parents, they agreed upon what kind of presents it would be reasonable to wish for. The presents were exactly the ones they asked for. Right away Silvi (16) started dressing the hair of other girls with her brand new hair dryer-curling iron. Rosalya (13) on the other hand, started reflecting on what she could buy with the Lõunakeskus gift card she received.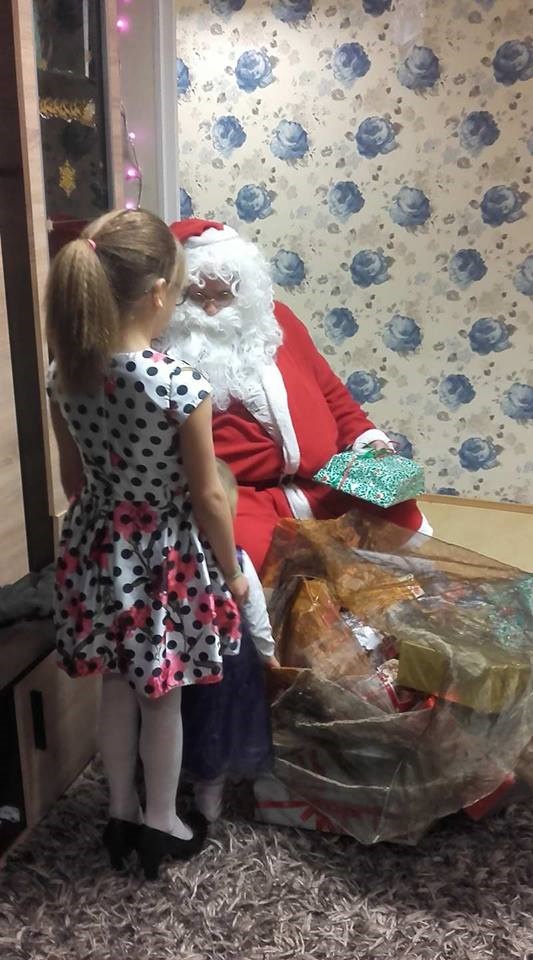 Life's first Christmas present
3-year-old Jegor, who lives in a Tallinn foster home, received the first Christmas present of his life - a toy steering wheel. Of course, the boy started playing with it right away. 15-year-old Sofia had wished for a UV-lamp for nails, which is what she received. The girl was sincerely grateful for the present and even opened her own nail salon - the whole evening and even a few following days were spent on doing the nails of her girl friends.
In another foster home of Tallinn, there is the tradition that presents are brought by Santa's elves. The whole family gathers together for the moment of distributing the gifts, remembering the happy moments of the year and talking about their future dreams and wishes. The kids were surprised that their Christmas wishes actually came true. Anna, for example, wished for an MP3-player so she could listen to music. "I have noticed that listening to music has a calming effect on me," she explained. "And I got exactly the same MP3-player that I wished for! Thank you so much!"
"My wish came true!"
The other family has two foster kids – Eerik and Egert – living there for the first year, and the boys really enjoyed Christmas this year. In the past, Egert has lived with the knowledge that wishes do not come true – but all the bigger was his surprise when unwrapping the present, his desired headphones appeared.
The older boy of the family, Andrus, had many news about his life, because last year, he went to another school in another city to learn a profession. "I really like my new school," said Andrus. The new perfume he got from Santa is very useful.
"Hey, look, there's a bag here!"
Mark (15) and Danil (10) were pretty worried before Christmas: "Will Santa's elves surely bring gifts this year?"
On Christmas Eve, nobody noticed how a huge bag with presents appeared under the Christmas tree. The surprise was obviously big, because how did the elves manage to get in with SUCH a big bag, when all the doors and windows were closed at night... And with screams of joy, they started distributing the presents.
Danil was so happy with his beautiful package that at first, he didn't even want to open it. However, seeing other kids happily unwrapping the presents, he also opened his package and was very happy to see exactly the same wooden watch he had wished for. Danil is very interested in numbers.
4-year-old Ljuba was so overwhelmingly happy with her new DIY set that the whole family had to taste her plasticine macaroni and other dishes. Mark, who is a bit older, needed a gym bag so that it would be convenient to take along clothes to school and taking a closer look, he discovered that Santa's elves had brought him a very cool and durable bag.
The most sincere joy was, however, expressed by 17-year-old Kristjan, who has special needs and who is very fond of music and toys that make sound. Pushing the buttons of his new toy plays children songs and therefore, Kristjan has been occupied with it for days already.
Ringing and blinking toys also delighted Dana and Maksim who have special needs. They don't speak, but the new toy made them raise their heads, look for the news with their eyes and smile happily.
"I will go skiing wearing my new helmet!"
Triinu (12) thought her bicycle helmet she received for Christmas was so cool that she promised to go skiing with it. When it snows, of course...
On Christmas Eve, this family was indeed missing the snow, because Santa had brought Tarvi (7) a sledge with a steering wheel. Unfortunately, they couldn't try it out right away on the nearest hill, as they have to wait for the snow to come.
Teele and Timmo were very happy with their new phones. They put the phones on to charge right away, so that they could call their friends and share their phone number first thing in the morning.
"This is the most beautiful Christmas table we have ever been to!"
That's what the kids of one family in Tallinn thought. The Christmas table of this family was indeed very rich, as the whole family had worked hard on it: already in the morning they laid out a plan about what needed to be done and when, and what time the festive dinner would take place. The table was covered with a white tablecloth and the best tableware. "This is the most beautiful Christmas table we have ever been to," said the children.
In this big hustle and bustle, nobody noticed when a huge bag with presents appeared under the Christmas tree. But when the kids saw it, the only thing in their minds was reading poems in order to receive their presents. Excited, they were showing their presents to each other and gabbling happily.
Kairi played music right away from her phone and through her new speakers and Raido let everyone smell his new shaving set. Of course, everyone took pictures of their presents to share them with friends in social media.
Big preparations
One foster home in Valgamaa started their Christmas preparations very early. They got up before 7 a.m. in the morning to try out the roast pork recipe found on the previous day. All the kids were engaged – some watched the meat, some helped to prepare snacks, some peeled the potatoes, laid the table or made gingerbread. The entire house was filled with Christmas scents.
At one moment, someone remembered that Christmas verses were completely forgotten! The kids immediately looked up their Christmas verses and learnt them off by heart. Those, who didn't have time to learn the verses, perfected some acrobatic tricks. It must be allowed to do a handspring for Santa in order to receive the present, right?!
Santa was very youthful and funny in this family. When all the presents were distributed, a fun game started. The 17-year-old boy of the family, who is also a big music enthusiast, demonstrated the power of his new speakers to everyone and the whole house was full of music. Of course, the drone and remote-controlled Ferrari car received as presents initiated an enthralling chase, and new phones were used to make calls to friends and relatives right in the same evening.
A trip to nature
Christmas can also be spent in a different way than in a decorated house. Hiking, for example. Therefore, one foster home in Viljandimaa decided to go for a 5-kilometre Christmas hike, which was also suitable for the smaller kids of the family. In the forest, the family met Santa and his elves, and had a Christmas lunch, eating sausages they had grilled in the fire.
Stiiven (7) was overwhelmingly happy with the fan book of Getter Jaani, and immediately stated that in the summer, they have to go to her concert and ask for the singer's autograph in the book. 13-year-old Andre didn't put away his kick scooter the whole evening and rode it all the time. Aivar (15) tried out his new skateboard inside the house, but was still waiting for the end of the holidays, when he could go and ride it in the local youth centre. Andrias (17) got a new shaver from Santa and would have liked to try it out the same evening. But what a misfortune – he had shaved his small beard right in the morning of Christmas Eve! "Maybe I will manage to grow a new beard for the next morning," he was wondering. "Then I could try my new shaver!"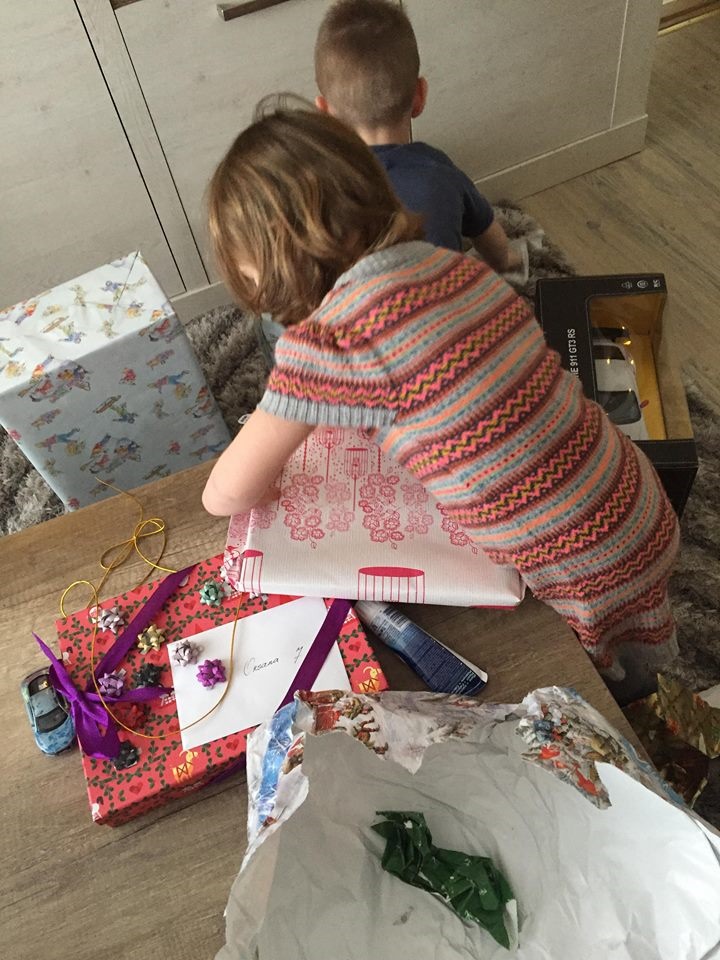 So many sincere and immediate emotions!
Diana (19): "I will definitely start using my new pan every day for making food! It is a very practical and necessary gift!"
Valeria (21): "I am very grateful for the portable speakers! By listening to high quality music, I will surely manage my daily activities better!"
Marika (18): "I haven't really been so happy with a present for years!" – Marika got a smartwatch as a present.
Juhan (16): "Yayy, I got it!" – Juhan got the Just Dance Xbox game.
Anu (6): "I will now always wear these pyjamas when I sleep! Look how cool the image it has is!"
Siiri (4): "Come inside, everyone!" – Siiri got a play tent where she invited all the kids of the family to play with her.
Klen (21), who has special needs, hugged his new companion the whole evening - he was very excited about the new teddy bear!
Ene (14), who also has special needs, held her new Frozen puzzle for the whole of Christmas Eve, waiting impatiently for the moment to start putting it together.
After switching on the lamp, Andreas (11) patiently waited for it to warm up, admiring the movement inside the lamp.
Taisi (19), who is autistic, likes to watch the colourful lights most. Taisi received the new illuminated toy, which creates a play of light on the walls and in the ceiling, with screams of joy, and the whole family watched the marvellous dance of lights.
A Christmas gift that brings joy and helps in developing oneself is the best – it sparks the drive for discovery, challenges one's knowledge, or teaches a new skill. You gave a child the best gift, appreciating his/her wishes and understanding the actual needs behind these wishes.
Receiving gifts on Christmas Eve was the highlight of the year for many children, but life goes on 12 months a year and dreams don't end with Christmas. The support of a permanent donor is invaluable because children growing up in family and foster homes want to practice activities and have hobbies all year round, just like children growing up with their parents. As a permanent donor, you can give them certainty that they will be able to practice their favourite activities now and always.
By donating 1 euro per month, you give children successful events and new experiences, or support young people in their education. Give your small contribution to children living in substitute homes so that they will have the same supportive and developing environment as children being raised in your own family: http://www.heategevusfond.ee/joulupuu/pysiannetus
Thank you on behalf of the kids! Happy New Year!
Participate
Thank you, if you have already supported our charity programme or if you are going to do it in the future! Sign a standing payment order contract in SEB Internet Bank for 3 euros a month or support with a single donation.